Highlights
Apple and OnePlus have the highest customer loyalty
Apple, Realme, OPPO and Samsung have the highest increase in customer loyalty from 2019 to 2020
The 91mobiles Smartphone Buyer Insights Survey 2020 kicked off with a look at how ownership of these devices is changing in India, and how user preferences are shifting. As part of this ongoing series based on data from our survey, we will be now focussing on brand loyalty.
Brand loyalty
A loyal set of customers is probably the best testament to a consumer brand's success, and this is where OnePlus has traditionally come out on top, based on surveys we've conducted earlier. This time too, OnePlus leads, with a whopping 67 percent of its current users saying they'll stick to the same brand when they upgrade next. This is a crucial metric for OnePlus, showing the kind of brand loyalty it enjoys. Employing hype as a means to lure customers and using the 'flagship killer' tag in the initial years, OnePlus's popularity doesn't seemed to have waned.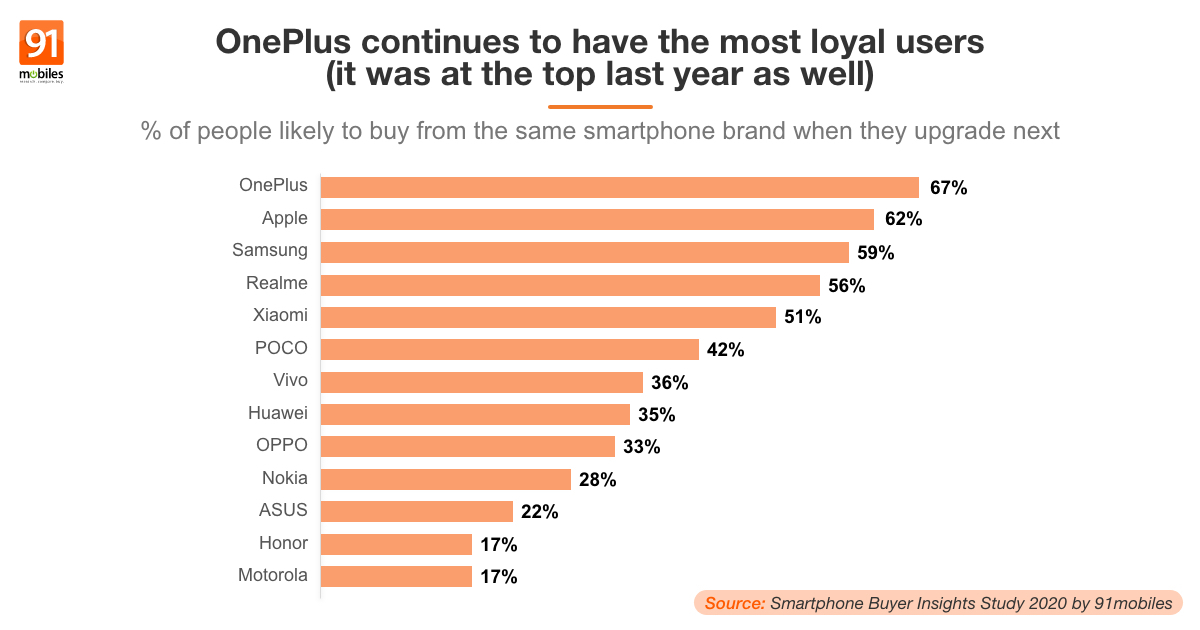 This is despite the company's smartphones moving higher up the price ladder with each successive generation, leading up to a point where its smartphones are now challenging premium flagships. Courtesy a strong focus on building a community and listening to its demands, the clean yet loaded OxygenOS platform (which is updated frequently), and an unwavering emphasis on flagship-grade hardware has worked well in its favour.
OnePlus is followed by Apple and Samsung, which also boast a loyal set of users. In Apple's case, 62 percent current iPhone owners have said they'll upgrade to another iPhone next, while 59 percent Samsung users want a new phone from the same brand.
Many iPhone users are loyalists, and tend to migrate from older models to newer ones. The reasons for this are manyfold, and include the users' own comfort with iOS, the fact that iOS is known to be a secure platform, and the guaranteed OS updates, apart from the new features and capabilities boasted by the new devices. Samsung has also been able to build a loyal fan following over the years, and while its two annual flagship launches attract a lot of eyeballs, its mid-range and affordable smartphones sell in big numbers. Samsung's brand reputation also matters to a lot of Android users, and plays a role when people migrate to newer devices. Also worth mentioning is the fact that the company has addressed most software-related and build quality issues that some of its older smartphones were plagued with.
With 56 percent current Realme users replying in the affirmative when asked whether they'll buy a phone from the same company next, it seems this brand is growing a loyal user base too. This is a good sign for Realme, apart from the strong growth it's seeing in this segment. A loyal set of users will also help the company grow more, as it diversifies into other ecosystem products like smart TVs, smartwatches, audio products and other accessories.
Change in brand loyalty
Comparing the data from 2019 when we asked survey respondents which smartphone brand they plan to buy next, to responses for the same question this year, we narrowed down brands that show the highest jump and highest drop in brand loyalty. Apple, Realme, OPPO and Samsung appear as brands with the highest jump when data from 2019 is compared against the responses we received this year. While Apple's figures, and at least a part of Samsung's numbers, could be attributed to aspirational factors, in Realme's case, it seems that its VFM offerings have successfully carved a spot for themselves when it comes to mindshare. Similarly, OPPO's strategy with its Reno series, especially the Reno 10X zoom edition that came as a disrupter in the affordable flagship space might have helped it post strong numbers.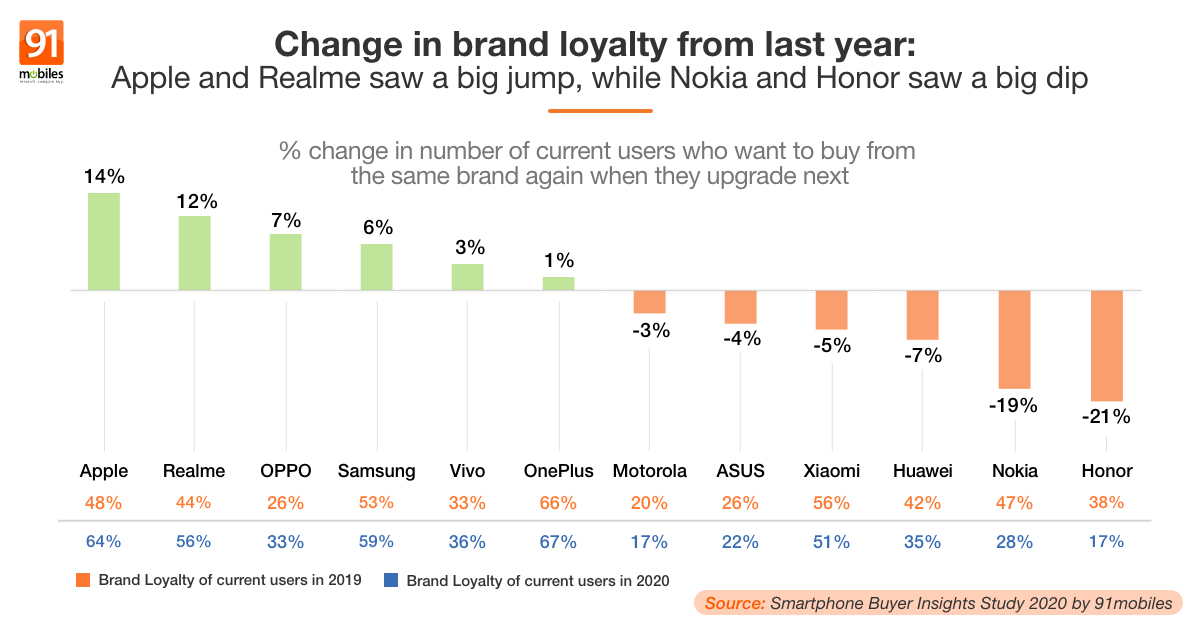 Unsurprisingly, Honor, Nokia, and Huawei have appeared as smartphone brands that don't seem to be faring well in terms of changing brand loyalty. Xiaomi, ASUS, and Motorola are in the red too, when we compare data from last year to the responses we received this time. Honor's bad run seemingly continues. Honor, along with its parent brand Huawei, has not been able to gather steam after the US trade ban last year, leaving its coming Android phones devoid of the all-important Google services. Nokia's drop could be due to unfavourable price to specs ratio offered by its devices, especially when compared to nearest rivals. Similarly, while Motorola and ASUS have been able to catch user attention intermittently, they haven't been able to retain it for long. In Xiaomi's case, 56 percent respondents said last year they want to buy from the same brand again, while this year, that number has dropped to 51 percent. This isn't a massive drop, but would still be a matter of concern to the brand. The reason could be due to MIUI's (Xiaomi's Android platform) use of ads in the interface, and other factors such as the brand appearing a little slow in offering new features like high screen refresh rates etc. Do note that these numbers don't include POCO.
How brands will gain when users migrate
We also analysed and looked at the percentage of users that wish to opt for a smartphone from a different brand than the one they're currently using, and got some interesting numbers.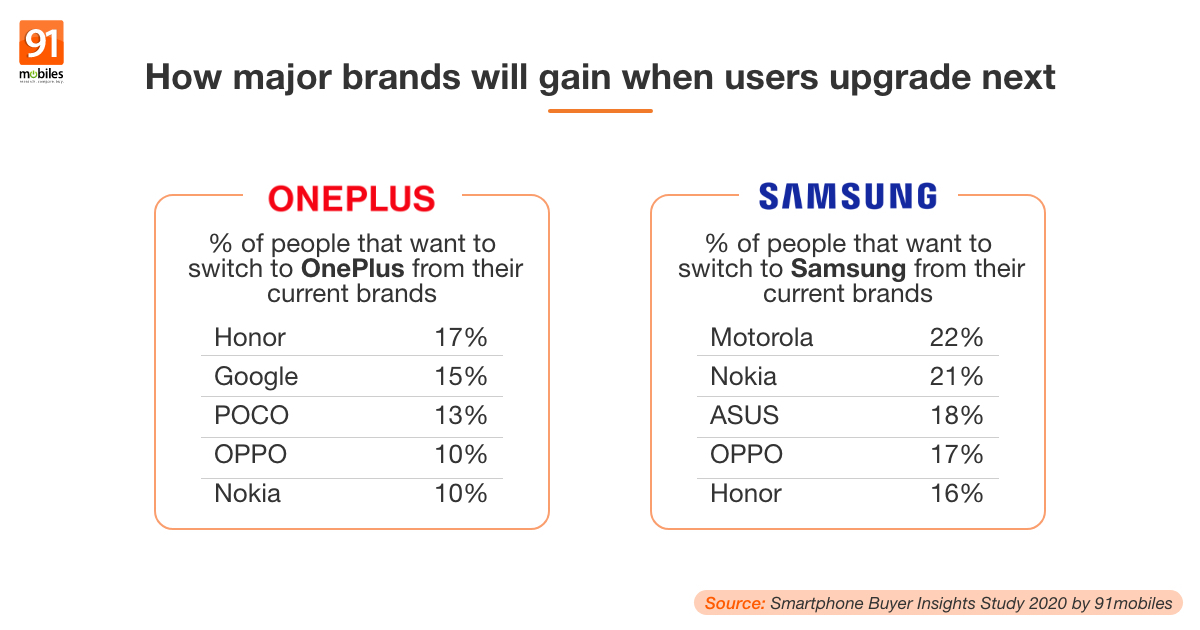 Samsung is appearing very strong, with a large number of people using other brands saying they plan to buy a Samsung phone next. Among these, 22 percent currently use Motorola, 21 percent use Nokia, 18 percent use ASUS, 17 percent use OPPO and 16 percent use Honor.
OnePlus also stands to gain quite a bit when users upgrade their smartphones. Current users of Honor and Google-branded phones top the list of those coveting OnePlus phones, but interestingly, 13 percent POCO users are there too. This is interesting because POCO's debut phone, the POCO F1, challenged OnePlus' dominance in the affordable flagship segment.
In Xiaomi's case, the list of those who use other brands now but want to move to a Redmi or a Mi-branded smartphone include users of ASUS, Huawei, Realme, Motorola and Vivo.
Watch this space for more insights from the 91mobiles Buyer Insights Survey 2020.