"Quikr's Stillopen website can tell you which grocery shop are open/closed near you and the nearest COVID-19 centre to help you save time"
With the ongoing 21-day coronavirus lockdown in India, you may be facing difficulties in locating a grocery store that's open near you or any shop for that matter to buy essential goods. You may also be looking for a COVID-19 centre near you to get tested for coronavirus. To help you in these tough times, Quikr has launched Stillopen.in, which is a website that has been created just for this problem. Stillopen.in is said to help users identify whether the nearest grocery stores, hospitals, pharmacies, COVID-19 centres, and other stores classified as "essentials" are open/ close in real-time. It even tells how far away you are from the store. "Stillopen is an initiative to support people during the COVID-19 outbreak," said Quikr in its press release. "This being a crucial time for India, the only way to break the chain of infections is to stay at home and step out only when there's an absolute need for essentials."
How to find grocery shops, medical stores, COVID-19 centres open near you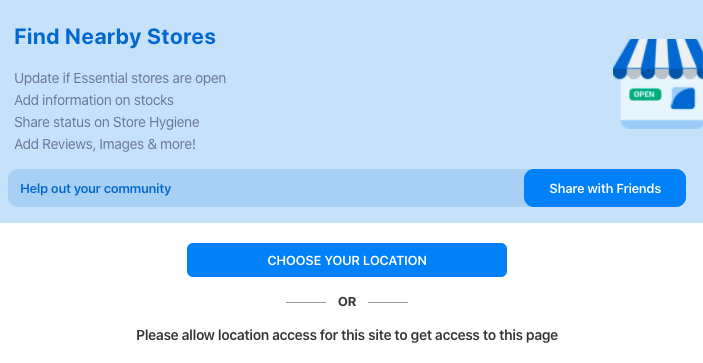 Go to Stillopen.in website
Enter your location or allow the browser to fetch your exact location
You'll have the list of grocery stores, vegetable stores, medical stores, and COVID-19 stores near you.
Select your preference and the website will tell you which stores are open/ close near you. It'll even tell your distance from the location to the store and even take you there with the help of the integrated map feature.
The Stillopen website also allows users to update store status, add info on groceries along with reviews, images, and more directly from their smartphones. The feature is currently available for access in 23 cities including Bangalore, Hyderabad, Chennai, Pune, Mumbai, Navi Mumbai, Thane, Delhi, Gurgaon, Noida, Gwalior, Ghaziabad, Faridabad, Lucknow, Kolkata, Ahmedabad, Patna, Indore, Jaipur, Kochi, Chandigarh, Coimbatore, and Secunderabad.
The website will soon be integrated into Quikr's app, but for now, you'll have to follow the steps mentioned-above to locate the stores near you.