"The MEIZU MX5 is a loaded flagship, but falls short in terms of an all-round experience"
Earlier this year, we posited that the MEIZU would be among the top brands to watch out for in 2015. While the company has a long way to go before it makes a permanent space for itself in the hyper-competitive Indian market, it seems to be on the right track with its budget phablets, the m1 note (first impressions), and its successor, the m2 note (review). The devices are quite competitive, both on the pricing and specs front, and now MEIZU is stepping up its game with the launch of a new high-end offering, the MX5 (unboxing and first impressions), which was recently introduced in China. The device is set to go on sale in India starting August 26th, and with pre-orders having commenced, the timing is just right for us to bring you our review.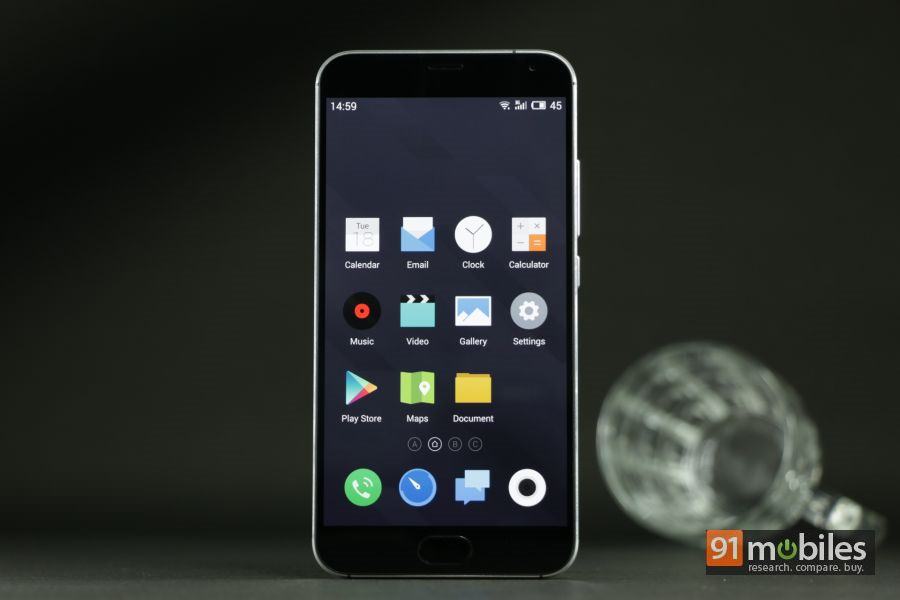 Specs at a glance
Measures 149.9 x 74.7 x 7.6mm
Weighs 149g
5.5-inch display, 1,920 x 1,080 pixels
Fingerprint sensor
MediaTek Helio X10 (MT6795) CPU
3GB RAM
16GB non-expandable storage
20.7MP primary camera with laser autofocus and dual-tone LED flash
5MP secondary camera
Dual-SIM, Wi-Fi, Bluetooth and GPS
3,150mAh battery
Android 5.0 Lollipop with Flyme OS

Metal goodness all around
Dimensions
: 149.9 x 74.7 x 7.6 mm
Thanks to the affordability factor and ease of manufacturing, plastic and polycarbonate body are a common choice for most brands when it comes to choosing an encasing for their offerings. A few devices try to go a step further by boasting a metallic frame around the edges or a glass panel at the back, but there are hardly any phones which have a complete metal body. And, these options (such as HTC's flagship, the One M9+ and its predecessors) more often than not, cost a bomb because of the complicated manufacturing process involved.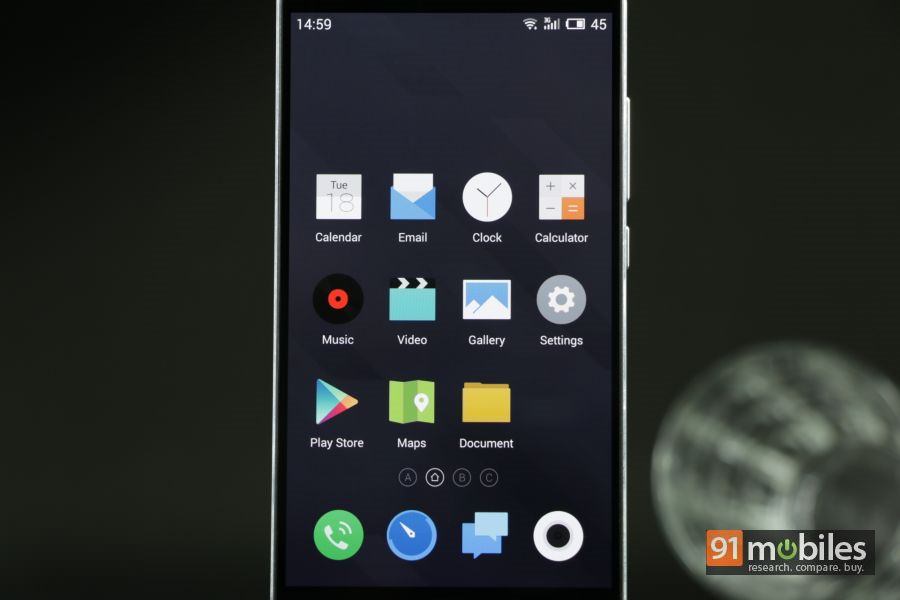 However, MEIZU has been able to figure out how to use a 100 percent metallic encasing for its latest smartphone, the MX5. During the launch event, the manufacturer highlighted the complicated 68-step process required to achieve a complete metal build. With the use of a magnesium alloy frame inside, the handset manages to be robust, while its shiny metallic exterior grabs your attention instantly. With its smooth edges and rounded corners, the phone might feel heavily inspired by the iPhone 6, but it manages to retain its own identity.
The fascia of the MEIZU MX5 is dominated by a 5.5-inch display panel, with an earpiece and a front-facing camera along with a couple of sensors above, and an oval-shaped button below. It must be noted that unlike most Android smartphones which have three navigation keys, either as part of the hardware or software, the MX5 has only one physical button. We'll talk about its usage in a bit.
The right spine of the MX5 hosts the volume up / down keys followed by the power toggle. The buttons can be accessed easily and offer good tactile feedback when pressed. On the left, you'll find an ejectable tray that can hold two SIM cards. Up top lies a 3.5mm audio socket and a noise-cancellation microphone. At the base, you'll find the micro-USB port, flanked by a primary microphone and precision-grilled speaker holes.
The MEIZU MX5 is a constructed from a single block of metal making it a unibody device. Its back sports the primary camera unit, which juts out slightly and is supplemented by a dual-tone LED flash and laser. MEIZU's logo is placed towards the bottom. The rear panel features a smooth finish and thanks to its tapered edges, is ergonomic. Another point that works in favour of the device is that it doesn't become slippery, even after extended periods of usage.
MEIZU has managed to achieve an engineering feat with the MX5. Even with its metal body, the antenna strips at the back are unobtrusive, and don't come across as a sore sight for the eyes, unlike many other devices including the Apple iPhone 6 (review | FAQs). It sports a uniform colour at the back, which is silver in our case, though you can also purchase it in deep gray, champagne or a dual-tone finish of black and silver.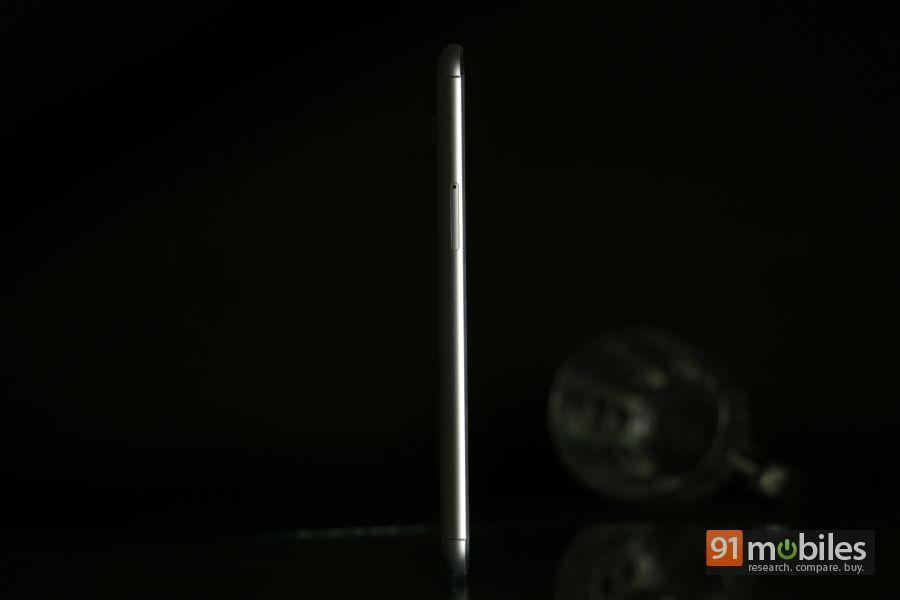 Even with a big profile, the MEIZU MX5 is quite lightweight and tips the scales at 149g. It also has a slim waistline measuring just 7.6mm. If you're comfortable with phablets, the phone can be comfortably operated with a single hand, with even the corners of the screen being easily accessible.
For your eyes only


Resolution
: Full HD (1080 x 1920 pixels)
Display Type
: Super AMOLED
The MEIZU MX5 is built around a display panel measuring 5.5-inches. Bearing a resolution of 1,920 x 1,080 pixels, the screen has a resolution of 401 pixels-per-inch, which results in sharp text and visuals. The Chinese manufacturer has opted for the highest quality display panel, with the use of Samsung's Super AMOLED technology. The display is used in flagship offerings and is known for its ability to offer vibrant colours and wide viewing angles. The handset also boasts impressive contrasts with its high contrast ratio of 10,000:1. We didn't find any issue while using the phone outdoors either as it's legible even under direct sunlight, thanks to its sunlight screen, which enhances the display on the pixel level. There's even an ultra-dimming technology for viewing content in low light without straining your eyes.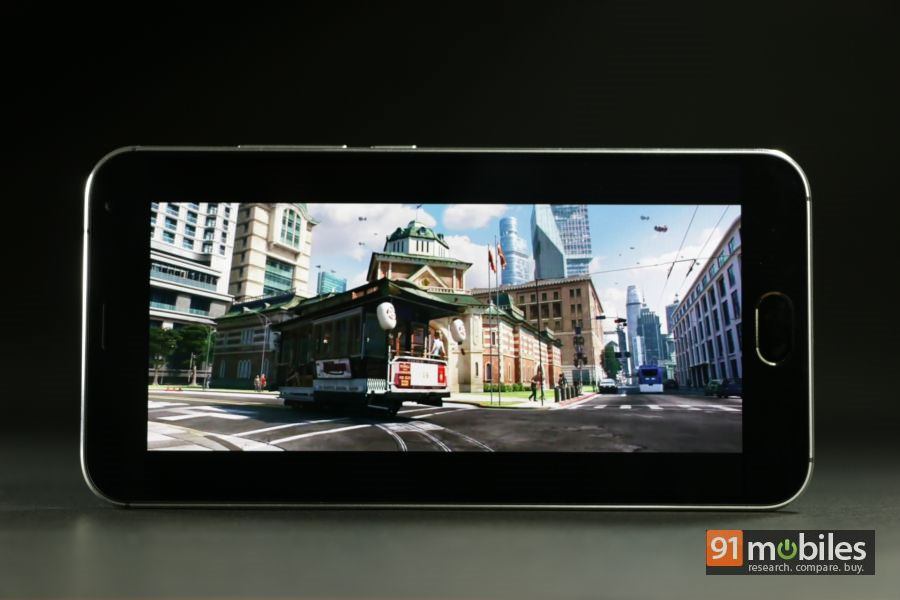 Protecting the phablet's display against scratches and slight wear-and-tear is a layer of Corning Gorilla Glass 3.
One button to do it all


Before the launch of the m2 note, MEIZU said it was aiming to revolutionise the home button, and it did to an extent with the mBack button. Now, the Chinese company has taken things to the next level with the MX5. As we have mentioned before, there's only one button available on the phablet, but it's very capable of handling the tasks of the three Android navigation keys. Dubbed mTouch 2.0, the hardware button responds differently depending upon the action. When tapped, it returns to the previous screen and when pressed, it jumps to the homescreen. It does take time getting used to, but after a while it feels seamless and efficient.
But that's not all, as the physical home key also hides a fingerprint reader underneath. Although Google doesn't support this biometric authentication method natively (the support will come with upcoming Android 6.0 Marshmallow), many Android devices have started integrating this feature, but most of them have a tacky implementation. MEIZU however, has made sure that its fingerprint sensor remains accurate, fast and thus secure. We found it to be very quick, and there were rarely any moments when it missed reading our fingerprint. Using our fingerprint to unlock the phone is a more natural action than typing a PIN or tracing a pattern, and the fact that mTouch 2.0 is extremely zippy works even more in its favour.
Registering your fingerprint is quite easy. You need to place your finger on the button multiple times until it captures the entire fingerprint. After that, you can use your fingerprint to unlock the phone, as well as login to encrypted apps. The MEIZU MX5 lets you register multiple fingerprints.
Android doesn't exactly fly with Flyme


Operating System
: Android
OS Version
: 5.0, Lollipop
MEIZU was one of the first manufacturers to emulate Apple's iOS with its custom skin. Named Flyme OS, the same layer is also available in its flagship, the MX5. The UI is built on top of latest iteration of Android, i.e. 5.0 Lollipop, however you'd be forgiven if you aren't able to find that out with its looks. With its custom icons and interface, you'd be hard-pressed to find any Material Design influences. Another issue is that the device still is laden with apps that are available only in Chinese.
We've already detailed Flyme OS v4.5 in our review of the MEIZU m2 note, so we're not going to go over it again. However, to recap, the OS, like most Chinese UI's, offers a singular interface in the form of a home screen to access all the installed apps. In terms of pre-installed content, the device offers very few Google apps along with company's own app store (primarily for China) called AppCenter. Personalize allows you to tweak the looks of the interface, and while it has only Chinese content, you can find some interesting themes if you log in and create an account. The Painter app unleashes the creator within you, letting you sketch and draw. Settings has an iOS-like two-pane interface with the menu on the left and available options for the same on the right.
Security is a one-stop tool to clean junk files, find space hogging content, manage data traffic, granularly control permissions accessed by each app and more.
In terms of additional features, the phone supports the usual gestures such as double-tap-to-wake or swipe up or down on the lockscreen to access assigned apps. One feature we found interesting is Smart Touch, which brings up a floating button. Unlike other custom skins, which bring up a menu with this concept, Flyme OS has a set of preset gestures that can be performed to initiate certain actions. To return to the previous screen, for instance, you just need to tap this button, while swiping the button to left or right will let you switch between tasks. There are several other gestures which prove to be handy, especially when you want to use the MEIZU MX5 single-handedly.
If you're wondering how you can access the multitasking menu since there's no dedicated button for the same, Flyme OS has a gesture for this too. All you need to do is swipe up from the bottom of the screen, which will bring up a bar showing all the recently-opened apps.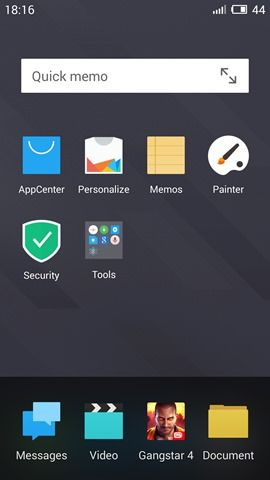 While the UI offers several compelling features, the experience wasn't as refined when compared to other proprietary interfaces. Additionally, we came across quite a few app crashes. It also seems odd that MEIZU decided not to follow Google's Material Design ethos with Android Lollipop.
Competent cameras, but fail to impress


Flash
: Dual-color LED Flash
The camera department is an important piece of the puzzle if any device wants to capture a user's attention, and the MEIZU MX5 does seem up for the task, on paper at least. The phablet comes equipped with a 20.7-megapixel snapper at the back, which features an aperture of f/2.2 and six-element lens. The camera gets help from laser autofocus that can focus on subjects almost instantly. The dual-tone LED flash is also available to illuminate poorly-lit environments.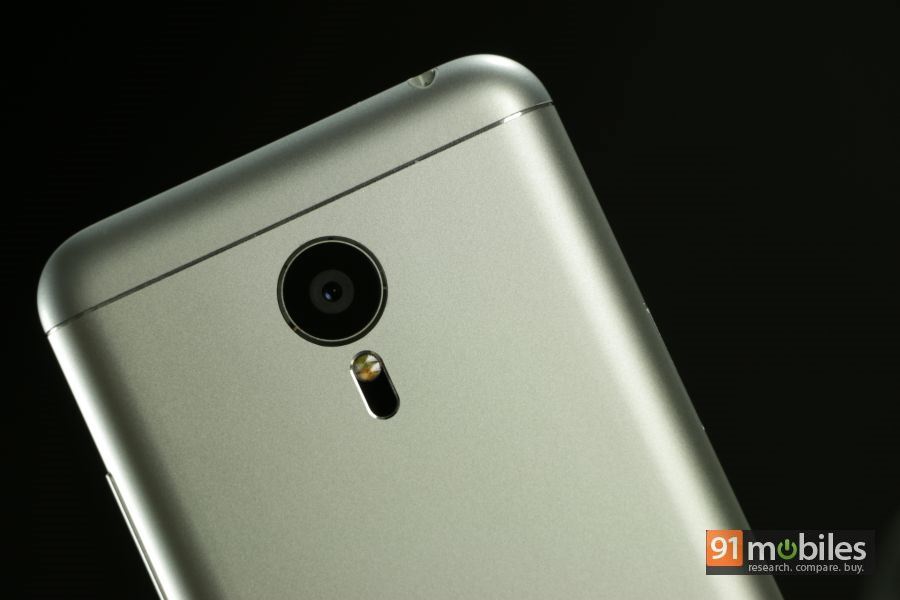 The MEIZU MX5's camera app is extremely minimal, providing you a maximum viewing area of the scene you're shooting. When viewed in landscape orientation, it has big circular buttons towards the right to switch between capturing images or recording videos. Besides them, you'll find the option to toggle the flash, turn on effects such as Film, Azure, Pale blue, etc., change to the front camera or access the complete settings menu. The menu offers features such as HDR, gridlines, an automatic timer and photo/video size options. If you're looking for some more modes, those are available towards the left and can be activated by swiping up or down (all these modes are also available in a single view when you tap the mode button on the left). The Manual mode gives you control over the shutter speed, ISO level, exposure and focal length. Some other modes on offer are beauty, panorama, light field, and slow motion (for video) among others.
In real-life performance, the primary camera of the MEIZU MX5 captures good details and natural colours. The shooter is able to keep up with a variety of conditions, be it landscape images or macro portraits and even images taken in indoor lighting. Adding to the experience further is the camera's ability to lock the focus quickly and capture the moment in almost no time. We were also impressed by the HDR capabilities, although it's not easy to access as it's hidden away in settings menu. Take a dekko at sample images captured through the MX5:

Overall, the camera is quite capable, but doesn't come across as the best shooter, especially when pitted against flagships. The colours aren't as vivid, and low-light imaging is also not up to the mark. The 5MP snapper at the front is decent and is able to display a good amount of detail and colours. The good part is that the front camera also has an autofocus mechanism.
In terms of video shooting, the primary camera can capture videos of up to UHD resolution along with slow-mo recording (720p at 100fps), while the front-facing sensor can record videos in 1080p resolution.
At full throttle


CPU
: Octa core, 2.2 GHz, MediaTek MT6795
SIM Slots
: Dual SIM , GSM+GSM
While Qualcomm dominates the mobile chipset industry with a majority of devices running its SoCs, it's leadership is increasingly threatened by Taiwan-based MediaTek. Add to it the fact that it's latest flagship chip, the Snapdragon 810, is suffering from heating issues, many smartphone manufacturers have turned to alternative solutions. MEIZU is also one such brand, and has deployed MediaTek's latest high-end silicon dubbed Helio X10.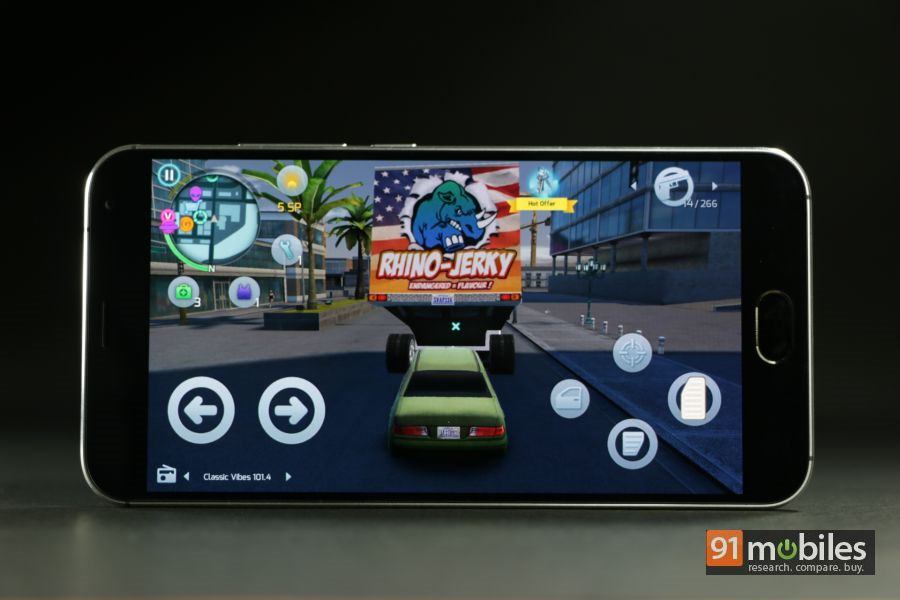 The MediaTek MT6795 is a 64-bit processor with true octa-core configuration, with each of its Cortex-A53 core humming at 2.2GHz. The powerful chip is complemented by a PowerVR G6200 GPU for enabling smooth graphics performance. 3GB of RAM is available to take care of all your multitasking needs. With such potent hardware, there was nary a hiccup on the MEIZU MX5, whether in navigation or playing graphics-heavy titles. The phablet was able to handle everything thrown at it with ease, and we enjoyed its gaming performance with titles such as Gangster Vegas.
Even with a metallic body, which is a good conductor of heat, the MEIZU MX5 doesn't show the signs of heating up as much and as quickly as other devices. The device continued to perform well even when its usage was pushed for extended periods.
One area where MEIZU has skimped on specs is its storage. It comes with 16GB of non-expandable flash memory, which is quite low for today's standards. Although you can opt for a higher storage variant (32 / 64GB) of the phone as well, our review unit offered barely over 10GB to the end user. Thankfully, there's support for USB OTG, allowing for plug-n-play of flash drives with a compatible cable.
Unlike most devices of its stature, the MEIZU MX5 is a dual-SIM smartphone and can accept a pair of nano-SIM cards. Both the slots support 4G networks and are compatible with TDD Band 3 as well as FDD Band 40. Dual-band Wi-Fi, Bluetooth 4.1 and GPS form the other connectivity options.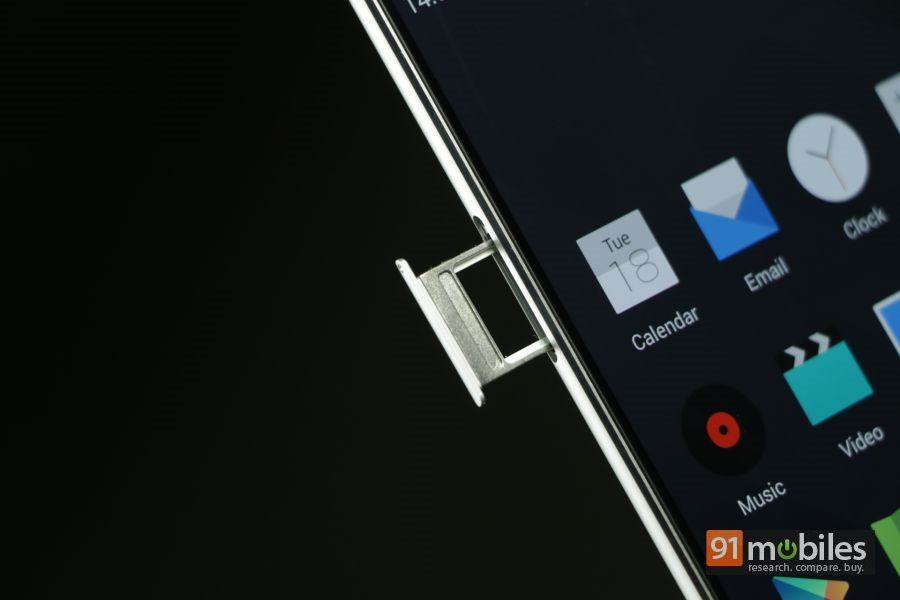 Tasked with keeping the mobile alive is a beefy 3,150mAh sealed unit. Sadly, while it might look high in terms of capacity, the usage experience tells a different story. With moderate usage of a few calls, internet surfing and playing a few games, the phone barely lasted a day. What seemed strange was the fact that phone's battery life drops considerably during standby time. In our standard battery drain test though, the MEIZU MX5 was able to run a 720p video on loop for 10 hours, which is quite good.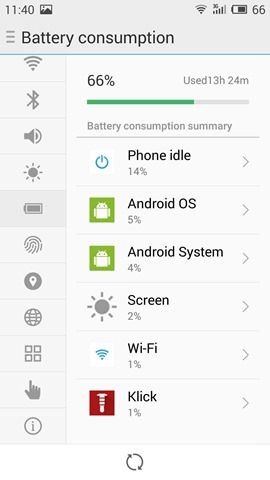 As a respite, the MEIZU MX5 supports fast charging capabilities dubbed mCharge, and the manufacturer claims that it can be charged to 60 percent in 40 minutes. There are also battery-saving modes such as the super-saver mode, which as the name indicates, turns off all the non-essential functionality and lets you use the device for only calls or messages. You can also customise a mode yourself to extend the battery life.
Verdict


Over the past one year, many attractive devices have come our way and to differentiate them from the crowd, we've coined various terms for them such as 'value-for-money' or 'budget-performance'. Another up-and-coming category these days is that of affordable flagships – smartphones that don't compromise on hardware, but are enticingly priced.
The base variant of the MEIZU MX5 retails for 1,799 Yuan, which converts to roughly Rs 18,000, while the top-end 64GB version carries an approximate pricing of Rs 24,500. At that price, the MX5 definitely comes across as a compelling option – with its gorgeous display, powerful hardware, decent snappers, and fingerprint reader – all packed into a metallic body. Our only gripe is the average battery life and the 16GB of fixed storage on the base model.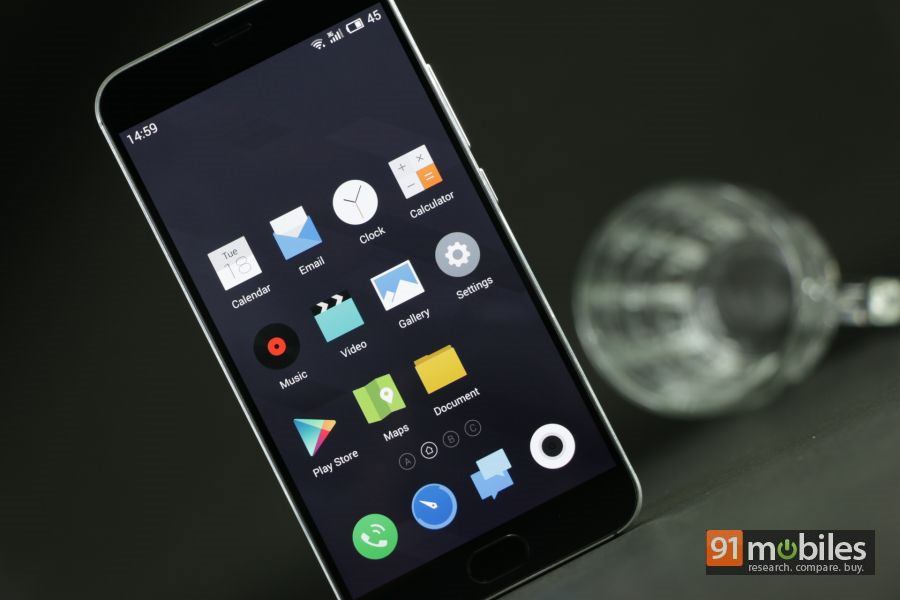 The 16GB version will compete against the likes of the OnePlus One (review | cheatsheet), ASUS ZenFone 2 (review | FAQs) and Xiaomi Mi 4 (review | cheatsheet), while the 64 gig variant will face the OnePlus 2 (review | FAQs), which offers pretty much the same package, except for its higher RAM capacity of 4GB.
Our final word on the MEIZU MX5 depends a lot upon its pricing, but based on our usage experience, the phablet comes across as a mixed bag. While it scores on aspects like design and performance, it falters on important features like battery life and software.
Editor's rating: 7 / 10


Pros
Beautiful looks
Superb display
Fast, accurate fingerprint scanner
Loaded innards

Cons
Buggy software
Average battery life
Photos by Raj Rout