Xiaomi's Mi Band needs no introduction. The budget fitness band has been so popular across its various generations that it has driven Xiaomi to the top of the charts in the wearables segment. Each time the brand launches a new version, it gets labelled as the ideal option in a segment which is now packed to the brim with choices. The new Mi Smart 5 (first impressions) comes as an iterative upgrade over its predecessor, the Mi Band 4 (review), and finds itself fending off competition from an army of rivals. Can it still stake claim over the recommended badge?
Design wise, the Mi Smart Band 5 isn't too different from the older model – it's essentially a very similar-looking band with a pill-shaped module in the middle and a silicone strap. However, the screen is bigger this time, measuring 1.1-inches across as compared to 0.95-inches previously. Thankfully, it's still AMOLED, displays vibrant colours and thanks to its high brightness levels, is visible outdoors in sunlight too. There's no ambient light sensor to adjust screen brightness automatically, but that's par for the course for a fitness band in this segment.
Maybe it's just me, but the Mi Smart Band 5's silicone strap feels softer and even more comfortable to wear than the previous model, which is great, since it's meant to be worn 24 x 7. At the back of the main module, you'll find the heart rate sensor and a couple of pogo pins for charging.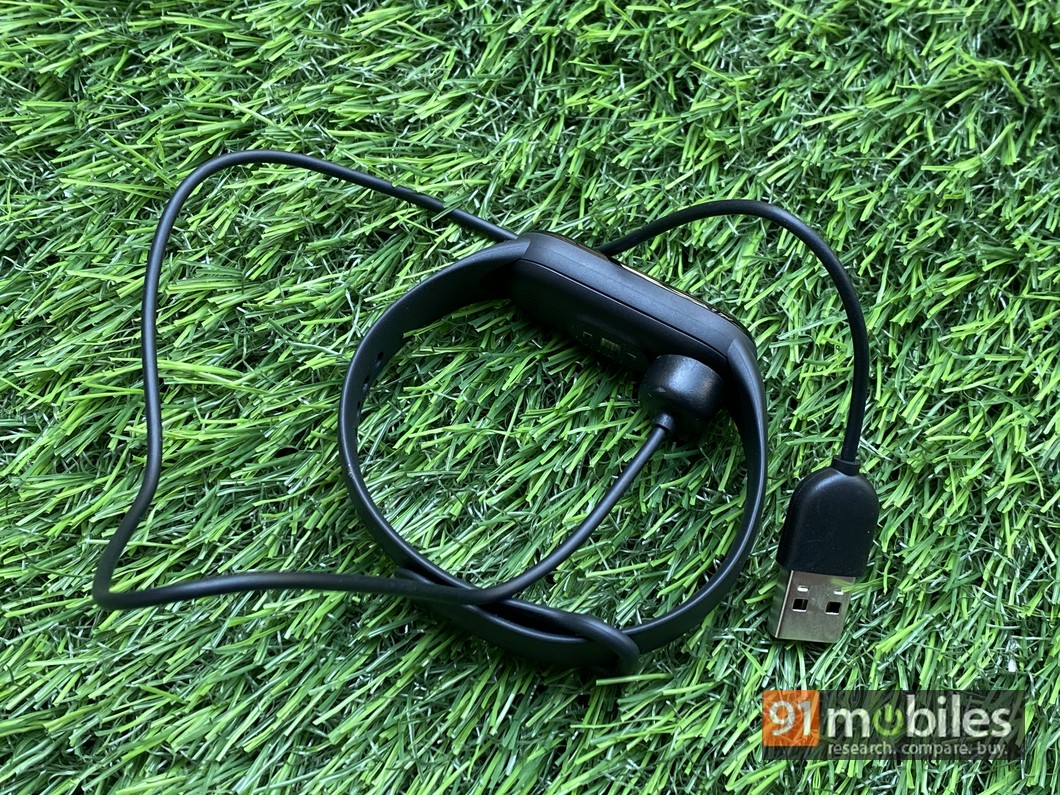 While you'd find that most of the functionality and features are the same as the Mi Band 4, the new Mi Smart 5 actually brings some useful upgrades with it. One of the most crucial ones, in my opinion, has to be the charging mechanism. The one on the predecessor had gotten some flak because the device kept popping out of the charging cradle. In the Mi Smart Band 5's case, the charger is magnetic and latches on to the pins at the bottom as soon as you bring it close enough. This means you don't even need to remove the core module from the strap for juicing up the device, and charging becomes quite convenient. On the flip side, the charger is still proprietary, with a standard USB connector at the other end which can be plugged into any USB port on a laptop or adapter. Still, that's no deal breaker, especially when you consider that the rated battery life of the Mi Smart band 5 is 14 days. What's more, it actually lives up to those claims. With regular usage, heart rate monitoring and sleep tracking turned on, and a few exercises through the week, the device lasted me around 12 days. Your mileage could vary depending upon usage, but you're still looking at a weekly charging frequency even if your usage is heavy.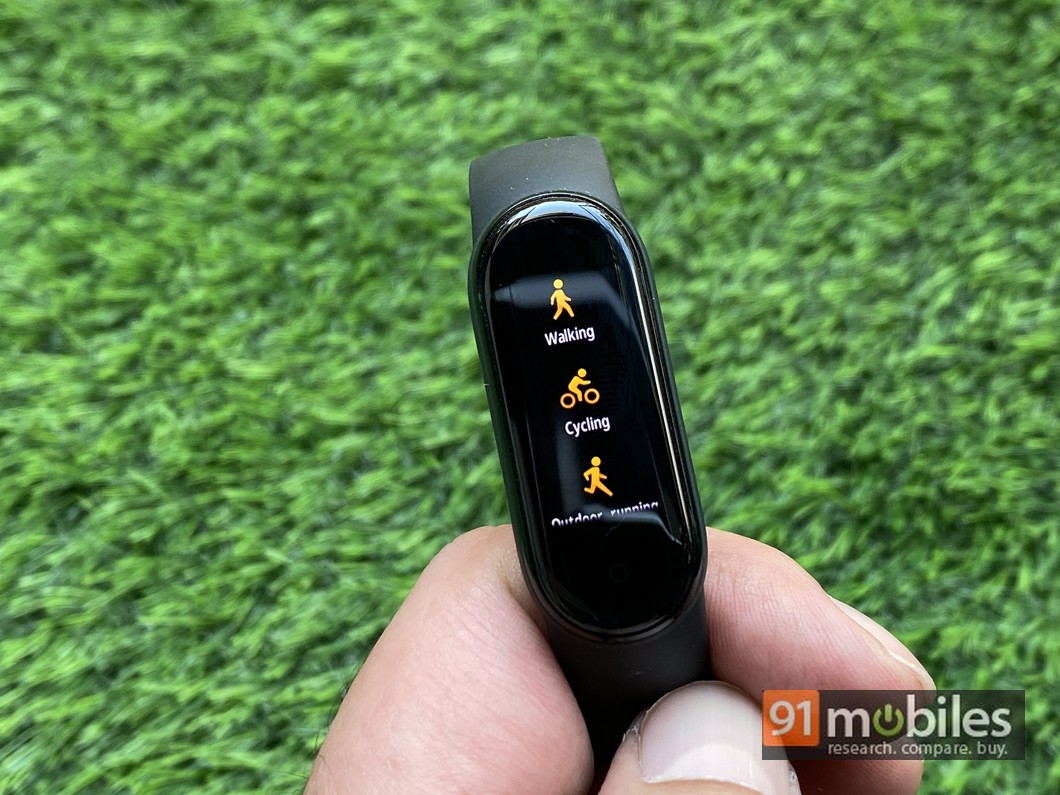 Xiaomi has also thrown in a bunch of new features this time. For one, the number of sports modes the device can track has been bumped up to 11, as compared to six on its predecessor. Yup, yoga is there now. And like before, it's resistant to water up to depths of 50m, and you can track your swims with it too. Also on offer is 24-hour heart rate and sleep monitoring. Xiaomi says the algorithms have been improved for better accuracy, but I appreciate the fact that the Mi Band can finally monitor daytime naps. I'm not a big daytime napper myself, but the lack of this feature just seemed like a big omission. Speaking of slumber, the Mi Smart Band 5 can provide detailed stats on your sleep patterns, including REM sleep. REM, in case you didn't know, stands for Rapid Eye Movement and is a specific stage of sleep where brain activity, heart rate etc rises. For those with sleep-related problems, insights on REM could be quite useful. I do wish the Indian version of the Mi Smart Band 5 had a pulse oximeter feature though, something which is boasted by the model Xiaomi sells back in its home country. A pulse oximeter, for the uninitiated, can measure blood oxygen levels, which is data that can prove to be quite useful during these pandemic times.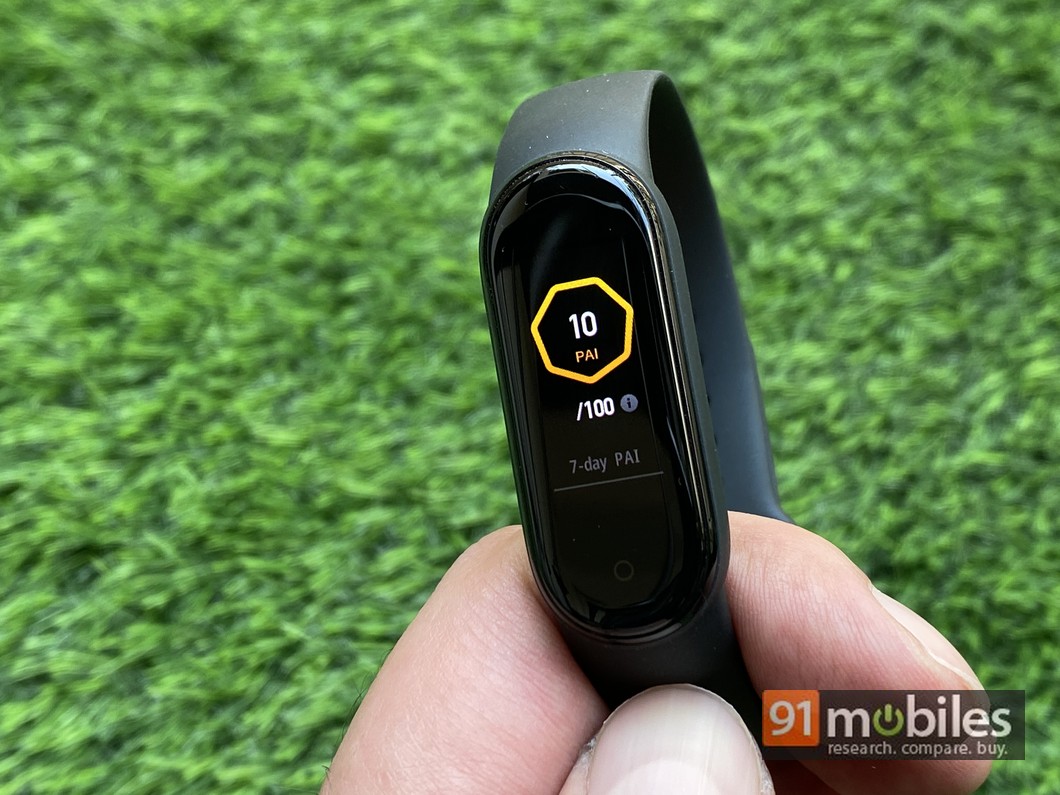 I also appreciate the addition of women's health features. The ability to track menstrual cycles and notifying users about related updates is something that should come in quite handy for users of the fairer sex. Yet one more noteworthy addition is PAI, which stands for Personal Activity Intelligence. This is basically a score out of 100, calculated over a 7-day period based on physical activity, heart rate and the user's profile. Activating PAI impacts battery life, and in my limited usage, I can't say I was able to wrack up a respectable score. However, PAI does seem very useful as a metric, and something that could incentivise users to be more active.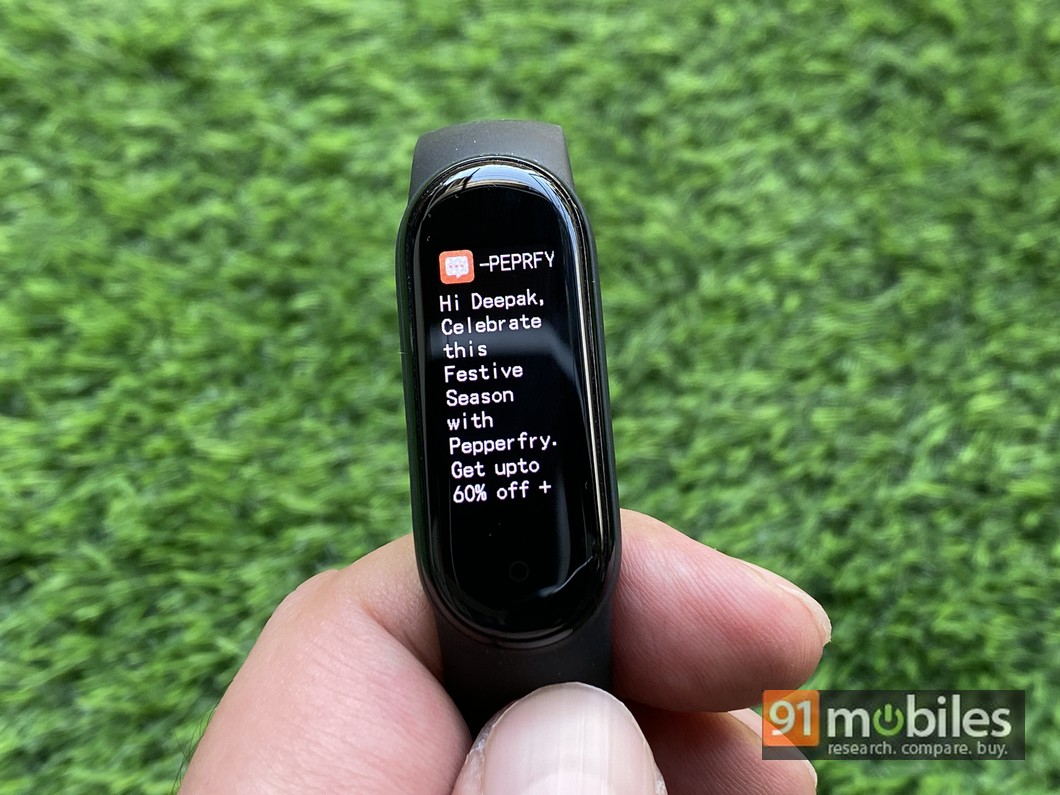 Most of the features offered by the Mi Band 4 have found their way to the new Mi Smart Band 5. While it doesn't have built-in GPS, you can use a connected phone to track routes for outdoor activities like walking, running, cycling etc. However, this is a bit fiddly and you need to use the app for this. The device also mirrors notifications from a paired phone, but there's no option to interact with them… again something which is typical for an affordable fitness band. The Mi Smart band 5 can also be used to control music playback on a paired smartphone, and to remotely trigger the camera shutter.
Data syncs, as usual, with the Mi Fit app on Android or iOS. The app provides detailed analysis of various data points based on your physical activity and sleep, and also allows you to control various settings and functions of the Mi Smart Band 5, like setting alarms etc. You can choose the functions to display on the band's screen, enable raise to wake (which works quite well I might add), set activity goals, see routes for outdoor activities, etc. I love the fact that there are now so many watch faces to choose from, and you can even make your own watch faces using pictures in your phone's gallery.
Verdict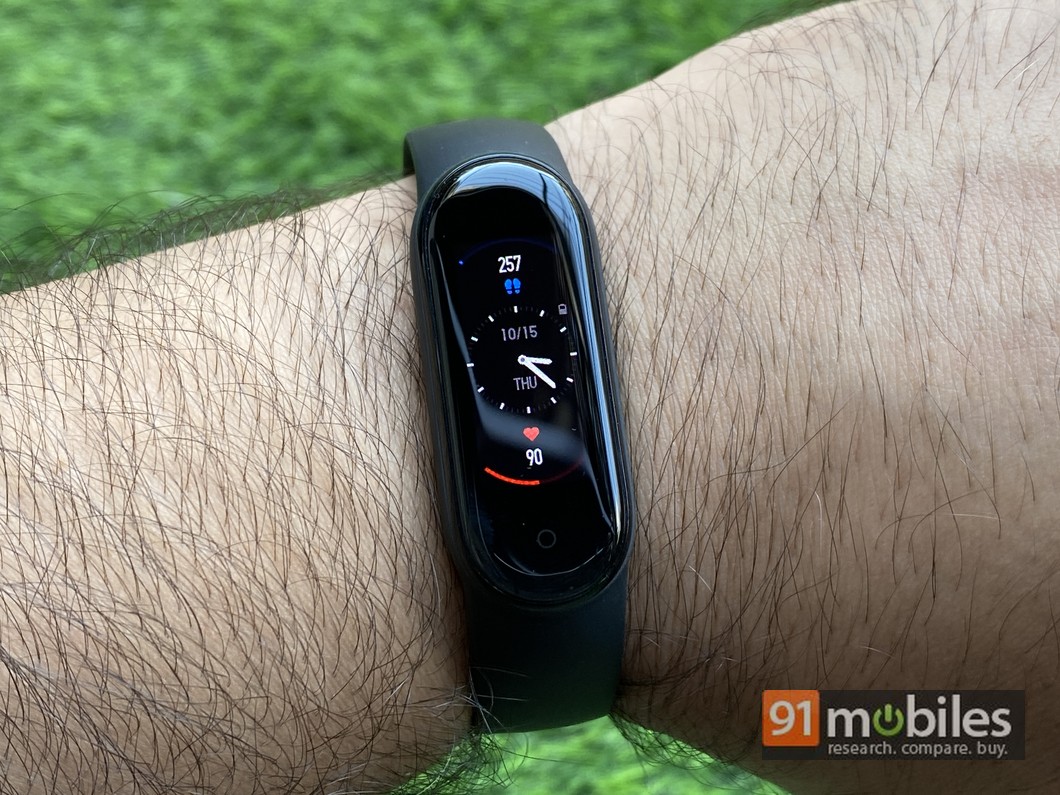 The Mi Smart Band 5 is reasonably accurate too, based on my testing. It's priced quite attractively at Rs 2.499, and for its asking price, brings lots of features to the table. Or in this case, to your wrist. While at first glance, it might not seem like a major upgrade, the new charging mechanism, the bigger screen and the whole host of new features make it a standout activity tracker. One that has made the jump from fitness to health. No surprises there – the Mi Smart Band 5 gets the 'recommended' tag yet again.
Editor's rating: 4.5 / 5
Pros
Extensive set of new and useful features
Long battery life and convenient charging
Comfortable to wear
Great value for money
Cons
Plain jane looks
Fiddly GPS setup for tracking outdoor activity
Misses out on pulse oximeter