"The Moto Turbo is a new flagship smartphone with powerful innards. Our review"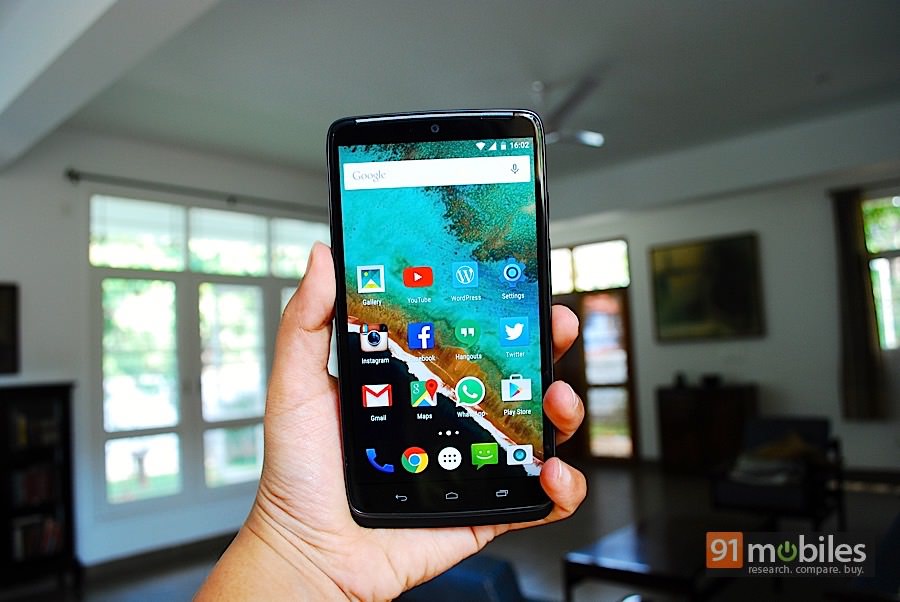 There are a trademark set of features we've come to associate with individual smartphone manufacturers. This gets more apparent in their flagship devices. Take Samsung for instance – the first thing that comes to mind is TouchWiz and plastic, although with the Galaxy S6 it might be time to forgive the latter. For HTC, we think of that unibody metal frame and UltraPixel camera. For Sony, the OmniBalance design and waterproof capabilities. For LG, the standard rear-mounted controls and pixel-packed displays. And for Motorola – stock Android with Moto software.
While most brands chose to outdo one other with design and specs, Motorola's objective was simple – deliver a clean Android interface enhanced by intelligent software. The company achieved that with the first and second-gen Moto X, but with the Moto Turbo, it's taking a leaf out of the competition, and adding liberal doses of horsepower to the mix.
As with all Motorola devices in India, the Turbo is only available to buy online via the company's exclusive retail partner, Flipkart. We went ahead and purchased a unit for ourselves, and have been using it for over two weeks to find out how if it can stand up to the competition.
Specs At A Glance
5.2-inch, 2,560 x 1,440 pixel display (565ppi)
2.7GHz quad-core Snapdragon 805 SoC, Natural Language Processor, Contextual Computing Processor
3GB RAM, Adreno 420 GPU
21-megapixel primary camera, 2MP front
64GB non-expandable storage
Wi-Fi 802.11ac, Bluetooth 4.0 LE, A-GPS, NFC, USB 2.0, USB OTG
Android 5.0.2 Lollipop
3,900mAh battery


World War II grade housing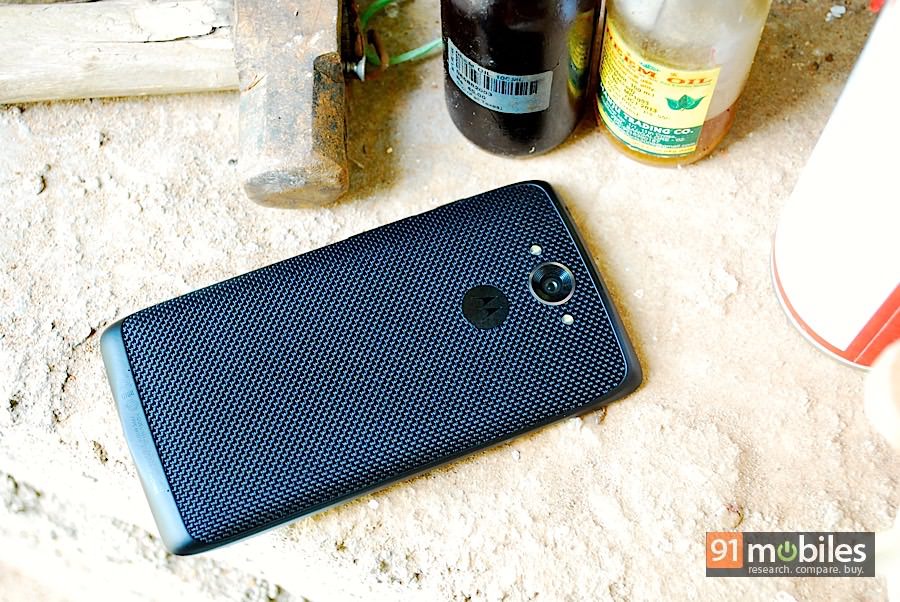 We're ecstatic that most high-end phones are beginning to wean off plastic, but metal and glass are also becoming monotonous. Which is why the Moto Turbo is so refreshingly unique. The non-removable rear panel is made of ballistic nylon, a tough, woven material that World War II airmen wore as body armour to fend off bullets and flying debris. We hope you won't have to use the phone to take a bullet, but having that kind of protection is great for when you're clumsy with your phone. We (accidentally) dropped it a few times during our testing period, and we could swear it almost bounced off the floor. Unfortunately that toughness doesn't extend to the front and sides. The tight basket-weave of the ballistic nylon makes it impenetrable to smudges, but you might want to keep your hands clean to avoid getting crumbs lodged inside the tiny stitches. If you are a messy person though, rest assured the black hue (the only one it's available in), will go a long way to hide grime. In the US, where the Moto Turbo is called the DROID Turbo, you can get the phone with a kevlar back panel – an equally tough material, but with a shiny finish.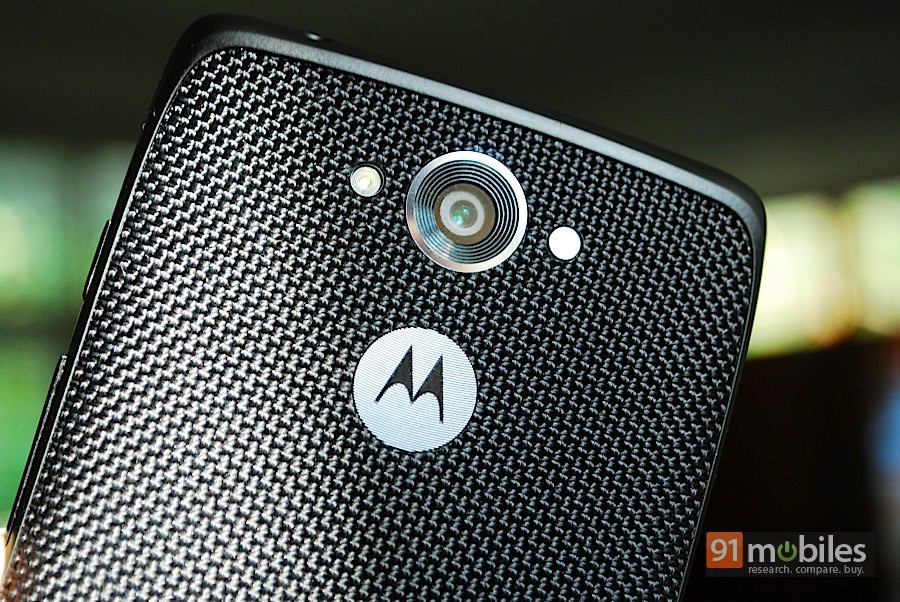 Embedded into the top of the rear case is the primary camera, resembling a tiny amphitheatre with the lens recessed in the middle and concentric metal circles meeting the nylon on top. Apart from the aesthetics, this also protects the lens when the phone is lying flat on a table. The camera is flanked by an LED flash on either side. Below it is an almost invisible noise-cancelling microphone, and the Motorola logo on a circular metal plate.
The front of the phone is far less enticing than the rear. Thin bezels keep the size down, but the protruding chin adds some bulk at the bottom. Above the screen you'll find the front camera, sensors and earpiece. A single thin speaker is located at the very top. Below the display is a trio of backlit Android capacitive keys, with two microphones underneath. The screen is surrounded by a shiny metal-finish plastic rim, which looks nice but gets scuffed easily. The top edge is where you'll find the 3.5mm audio jack, while the bottom is home to the micro-USB port. The power button and volume rocker are situated on the right spine. We searched long and hard to find the SIM-card slot, and after some effort we discovered it was integrated within the volume rocker. The button can be pulled out to reveal a plastic tray with space for one nano-SIM card. It's an interesting setup, but the quality of the tray is very flimsy, and if you damage it, you're also destroying the volume rocker.
The Moto Turbo isn't your quintessential slim and sleek smartphone. It's fairly chunky at 8.3mm, and weighs in at a meaty 176g. That said, it does feel really solid, and the ballistic nylon has a nice texture that feels good to hold and gives it some extra grippage. Like other Motorola devices, it also gets the water-repellant nano coating, so you don't need to worry about getting caught in the rain with it.
All eyes this way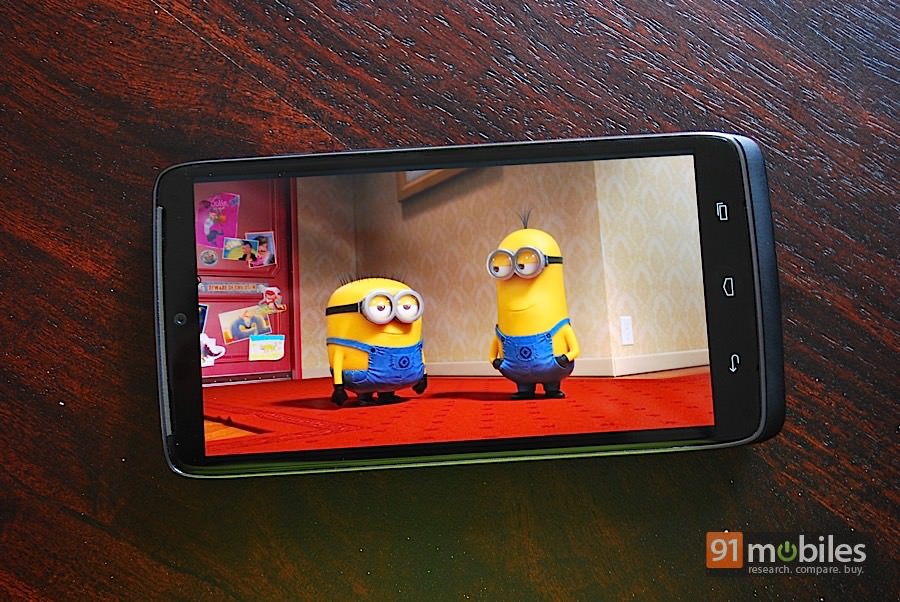 Like the second-gen Moto X, the Moto Turbo gets a 5.2-inch display, which is just about right for one-handed use. The resolution has been bumped up from 1080p to 2K, resulting in a blistering pixel density of 565ppi. Calling the display sharp is an understatement. Even peering closely at the screen, you'd be amazed at how crystal clear the icons and text appear. Like the Moto X, the Moto Turbo gets a Super AMOLED display – what we've seen on most Samsung phones. This means that colours look very vivid, saturated even. But the result is that everything from apps to videos to photos look delicious. The AMOLED tech also enables the Moto Display feature, which we'll discuss in the software section.
For protection, there's Corning Gorilla Glass 3 layered on top. Brightness levels are high, but not the highest we've seen. Nevertheless, the screen is legible in sunlight. The viewing angles are great, and the screen felt as smooth as butter under our fingers – great for typing and gaming alike. In settings, you can enable Attentive Display, another Samsung-like feature which keeps the screen on while you're looking at it.
Mixed results from the cameras
The Moto Turbo's primary camera features 21MP resolution, a big upgrade over the Moto X's 13MP snapper. The front camera remains the same at 2-megapixels, Motorola's camera app hasn't changed either, and that's a disappointment. It features extremely minimalist controls, but instead of simplifying the shooting process, it often ends up having the opposite effect. The app doesn't have an onscreen shutter button, so you have to tap on the viewfinder to shoot an image. By default, the camera is configured to focus automatically. You can change this in settings, but instead of tap-to-focus, you have to drag the bracket around the viewfinder to focus and adjust exposure. This can be annoying for those of us used to tap to focus, and we often ended up taking photos accidentally.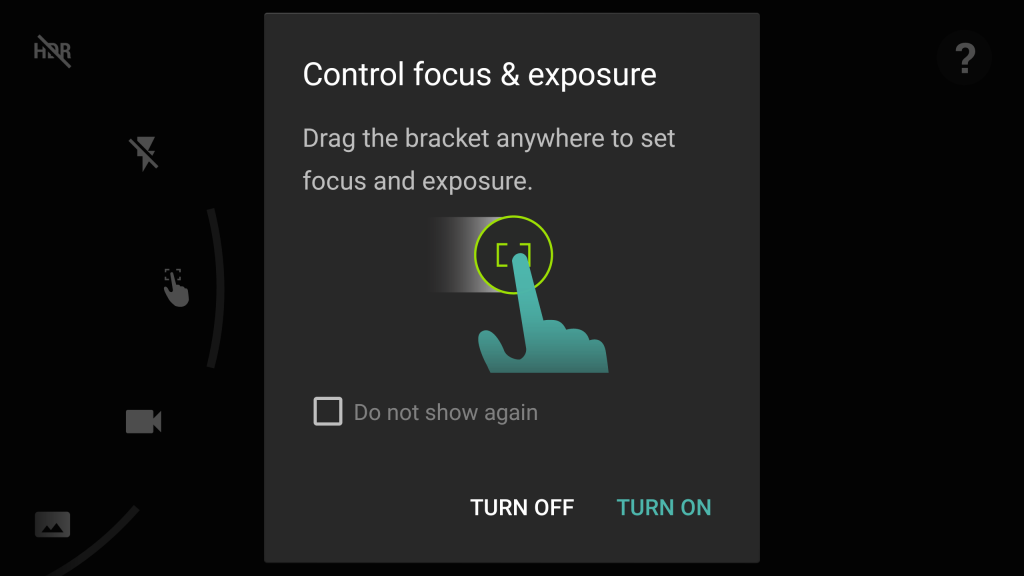 The settings menu appears as a rotating semi-circle when you swipe out from the left. The only shooting modes on offer are HDR and Panorama. Motorola hasn't added any other modes, filters or controls in the camera app, and while there are enough edits you can make from the gallery, it's always nice to have them on hand while shooting. We also wish there was a dedicated onscreen control for flash, which is difficult to dig out of settings when you're in a hurry. The primary camera shoots at full resolution when the aspect ratio is 4:3. If you want widescreen 16:9 images, the resolution will get whittled down to 16MP. You can shoot video at 1080p, 4K and in SloMo. Motorola's Quick Capture feature, where you can flick your wrist twice in quick succession to launch the camera app is also present.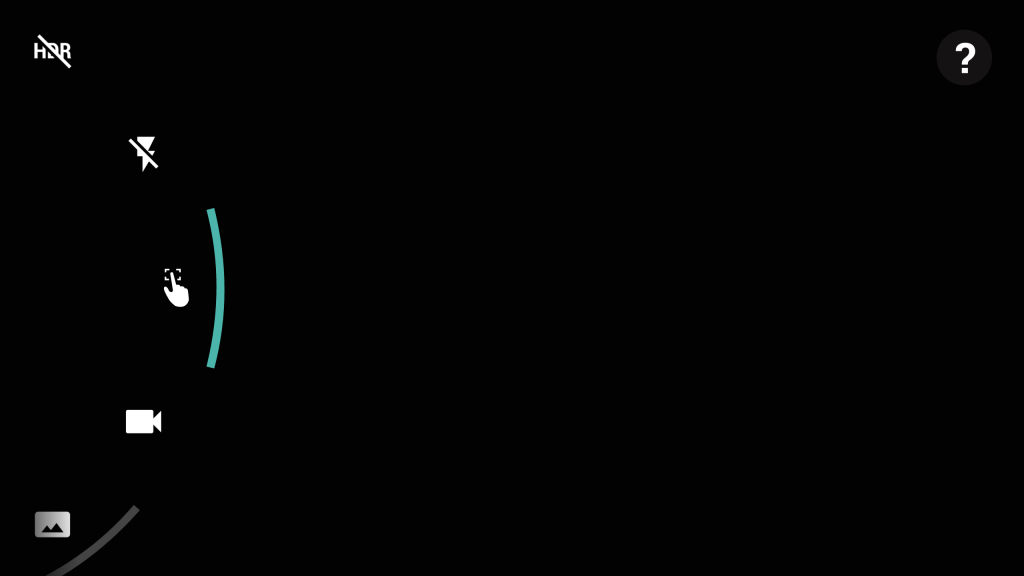 As far as the image quality is concerned, the primary camera delivers impressive results in well-lit conditions. Photos are crisp with good detail in daylight. Macro shots turned out beautifully, with the subject in focus and the background soft. Low light images steer clear of too much noise, but are quite dark which often defeats the purpose. The flash offers plenty of illumination but tends to wash out images. The front camera is great for selfies, but we did notice that skin tones tend to appear oversaturated in artificial lighting.

Here are a few images we took with the primary camera.
Lollipop with tasty Moto tidbits
Motorola's devices have a reputation for shipping with stock Android, and the Moto Turbo is no exception. It runs the latest version of Lollipop, v5.0.2, dressed with the usual Moto enhancements. The only pre-loaded apps you'll find are Motorola's own, comprsing of Alert, Connect, Migrate and one simply titled Moto. We've already covered these apps in detail in our Moto X 2nd-gen review, but we'll skim through them again.
Alert lets you set up customisable alerts that can be activated in case of an emergency. You can choose to notify particular contacts or the local authorities. Connect displays incoming notifications of calls and messages on your Chrome desktop browser. You can also send text messages, ring your phone to locate it and view your battery status. The app also works with the Moto 360. Migrate is a useful app to help you shift your data from your old phone to the new device.
The Moto app comprises of a range of Motorola features under one umbrella. It includes Moto Assist, Moto Actions, Moto Voice and Moto Display. Moto Assist lets you customise how your phone behaves when you're driving, at home or in a meeting. You can also enable Sleep Time here, which is basically a Do Not Disturb feature.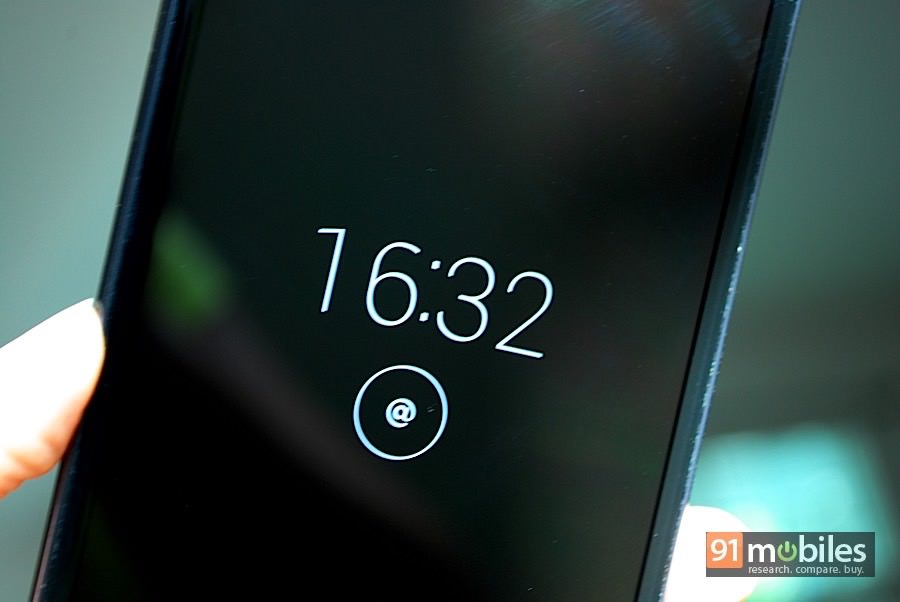 Moto Display (previously Active Display) is one of our favourite features. Thanks to the AMOLED panel, the phone is able to light up only the few pixels required to show you the time and notifications. The battery-friendly feature doesn't turn on when in your pocket or handbag. You can configure the phone to display notifications when you reach for it. It also turns on when it detects the slightest movement. Notifications can be dragged up for an expanded view, or swiped to the left or right to deal with later. You can also drag down on a notification to unlock the phone.
Moto Actions lets you wave your hand above the display to silence calls and snooze alarms. You can also enable the Quick Capture camera feature from here. Moto Voice is the company's famed Touchless Control feature that debuted with the first Moto X. It works just as brilliantly, and thanks to its always-on listening mode, can be accessed even when the display is off. You can use it for tasks like setting alarms and reminders, sending WhatsApp messages, posting updates, browsing the web or even taking a selfie. It's so conducive to hands-free use that we often found ourselves asking the phone 'What's New?' just to get an update on the time and missed notifications.
Raw horsepower goes the extra mile
The steam engine at the heart of the Moto Turbo is the powerful quad-core Snapdragon 805 chip clocked at 2.7GHz. Motorola's low-power cores for Natural Language processing and Contextual Computing processing are also present. This is paired with a generous 3GB of RAM and an Adreno 420 GPU.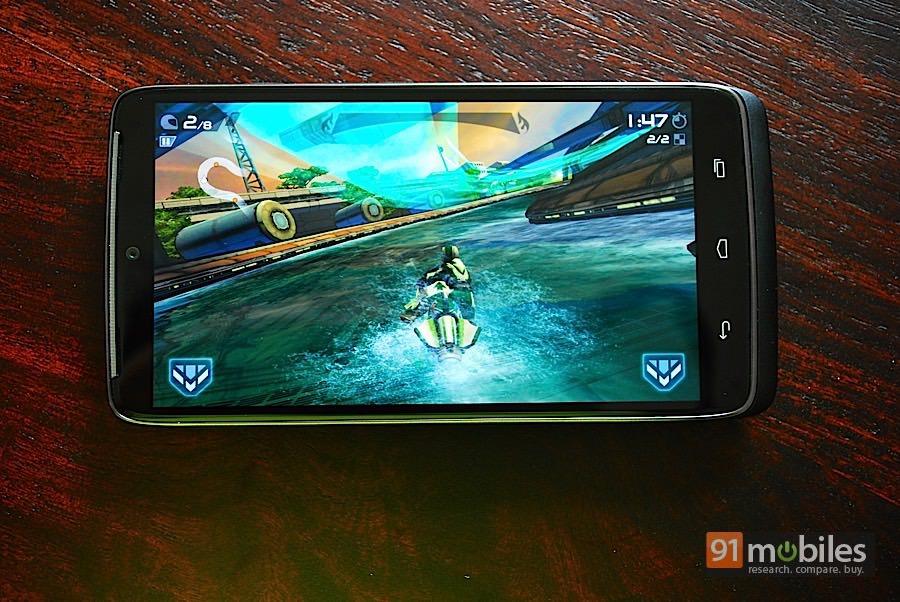 With that configuration, the Moto Turbo charged through whatever we threw at it. Graphics heavy games, 4K videos and pretty much any app works smoothly, with no lags or freezes marring the occasional Lollipop glitch. What we did notice is that the phone tends to heat up, quite a bit. It gets really hot when charging, and even while using the camera. Sometimes we noticed it randomly heating up randomly during basic tasks, like browsing Facebook or sending WhatsApp messages.
The Moto Turbo doesn't feature a microSD card slot for expansion, but since it's available only in a 64GB variant in India, that shouldn't be a problem. On a fresh reboot, there was a little over 53GB of free space available.
The battery on the Moto Turbo is arguably one of its best features. With a 3,900mAh capacity, Motorola estimates that it should last 48 hours on a single charge. Our video loop battery drain test, where we loop a 720p video with brightness and volume set to 50 percent, seemed to confirm that notion. It lasted us 16 hours and 20 minutes, which is one of the best results we've seen in our labs. Real-life usage however had a different story to tell. With normal use, we had between 30-40 percent left by the end of the day. On days when we subjected the phone to gruelling tasks, it dropped below 20 percent. Either way, we found ourselves charging the phone on a nightly basis, or at some point the next morning. But we never had to worry about carrying a power bank for extra juice over the course of the day, and that's a huge bonus. An added perk is Motorola's included Turbo Charger, which comes equipped with Qualcomm's Quick Charge 2.0 tech. This enables you to get the phone up to full capacity in two hours, which is impressive. Even with just 20 minutes of charging, the battery shot up from zero to 25 percent.
On the connectivity front, the Moto Turbo packs in dual-band Wi-Fi 802.11ac, Bluetooth 4.0 LE, USB OTG, A-GPS and NFC. It does support LTE, but only the currently unavailable Band 3, which is unfortunate considering you can now get entry-level smartphones compatible with the more popular Band 40. In our book, the lack of support for both LTE bands is one of the Moto Turbo's biggest failing points.
As far as call quality goes, we didn't have any issues with network or call drops, but call volumes were on the lower side, and callers on the other end occasionally reported that our voice sounded muffled.
Verdict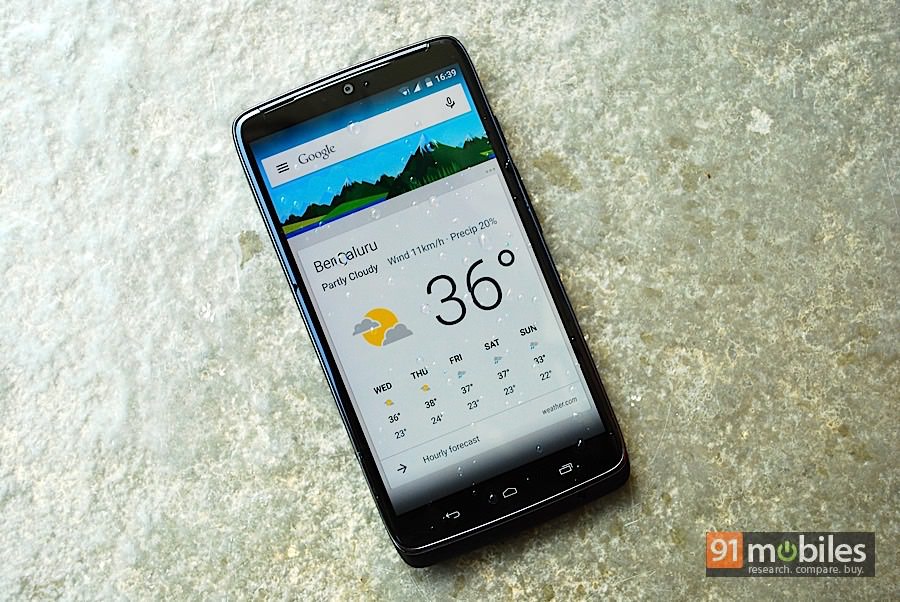 The Moto Turbo is basically the Moto X on steroids. Think of the former as The Hulk, and the latter as Bruce Banner. With its 2K display, powerful processor, larger battery, and improved camera, you can almost picture the Moto Turbo metamorphosing into a ballistic nylon-clad monster front of your eyes. As far as the user experience goes, both smartphones run stock Android, with all the intelligence of Motorola's software.
In terms of the competition, the Samsung Galaxy S6 (first impressions) and HTC One M9 (first impressions) are potential rivals, as is the bigger-screened Nexus 6. The less-than-perfect camera and lack of 4G support are it's main flaws, but other than that, we'd definitely recommend the Moto Turbo to power users looking for a rugged smartphone. If not, the second-gen Moto X still makes for a good choice.
Price: Rs 41,999
Editor's Rating: 8/10
Pros:
Sharp, vibrant display
Excellent battery life
Stock Android
Ample storage
Powerful performance
Cons:
Cameras are underwhelming
Phone tends to heat up
No support for band 40 LTE
SIM card tray is very flimsy
Competitors for Motorola Moto Maxx
| | | |
| --- | --- | --- |
| Motorola Moto Maxx | vs | Motorola Moto X Play 32GB |
| | | |
| --- | --- | --- |
| Motorola Moto Maxx | vs | Xiaomi Redmi Note 3 32GB |