Highlights
Netflix subscription plans are divided into four categories
The entry-level Netflix Mobile plan is priced at Rs 199 a month and offers only SD content
The top-end Netflix Premium plan costs Rs 799 a month and offers ultra-HD content
Netflix plans in India are available at various prices and with different benefits to cater to the varying needs of the streaming audience in the country. The plans from Netflix, one of the most popular streaming platforms, differ in terms of resolution and screens, while the catalogue of the content remains the same. Subscribers of even the most basic Netflix plan will be able to enjoy the same original TV shows and movies as the priciest plan. Netflix offers as many as four subscription plans in India to attract more users. We'll be taking a look at each of these Netflix subscription plans, including their prices, benefits, and offers, in this piece. Here are the best monthly and yearly Netflix subscription plans 2021 that are available in India right now:
Netflix plans in India
| | | | |
| --- | --- | --- | --- |
| Netflix Plan Name | Number of screens/ resolution | Monthly subscription cost | Yearly subscription cost |
| Mobile | 1 screen/ SD content | Rs 199 | Rs 2,388 |
| Basic | 1 screen/ SD content | Rs 499 | Rs 5,988 |
| Standard | 2 screens/ FHD content | Rs 649 | Rs 7,788 |
| Premium | 4 screens/ UHD content | Rs 799 | Rs 9,588 |
Netflix yearly subscription plans and offers in India
There are no Netflix yearly subscription plans in India right now. You can only subscribe to the monthly subscription plans of the streaming platform through the year on a month-on-month basis.
Netflix monthly subscription plans and offers in India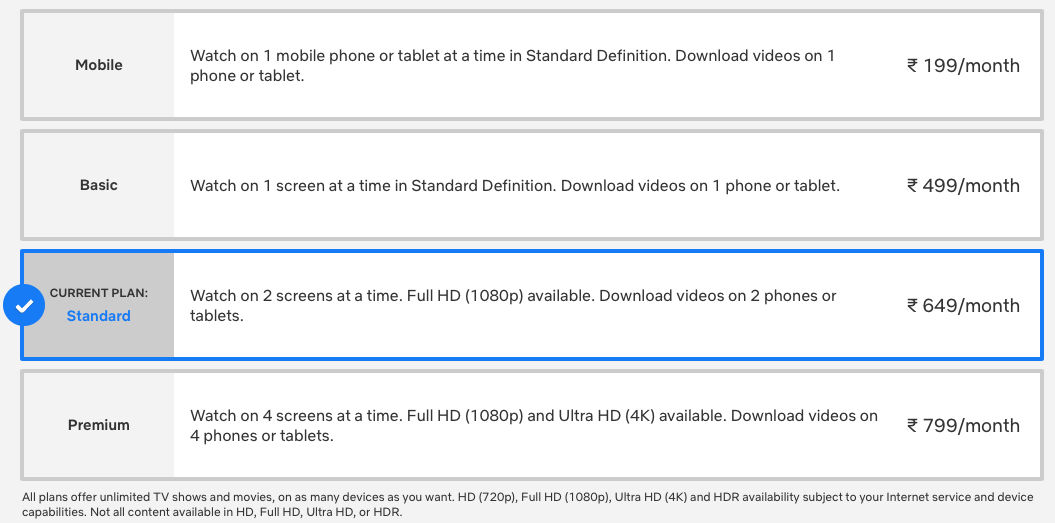 Netflix offers a variety of monthly subscription plans in India, which start at Rs 199 and go up to Rs 799 a month. The prices of the Netflix plans remain the same across regions in the country, whether it's Delhi, Mumbai, or Hyderabad. Here's a closer look at all the Netflix monthly subscription plans and offers in India:
1. Netflix Mobile plan
The Netflix Mobile plan is priced at Rs 199. It's for users who love to stream shows and movies on a smartphone. The yearly cost of this plan will set you back to Rs 2,388. Subscription to this Netflix package will include standard definition content, with just one active screen at a time and downloads on a single device. This means you can login using the Netflix Mobile plan on multiple smartphones but not on smart TVs, laptops, etc.
2. Netflix Basic plan
Apart from Mobile plan, Netflix also offers a 'Basic' plan that costs Rs 499 per month/ Rs 5,988 for a year. The plan includes pretty much the same benefits as the Netflix Mobile package, but you can stream the content on more devices, including laptops and smart TVs. The number of active screen and downloads will be limited to just one device.
3. Netflix Standard plan
If you want to stream Netflix with your friends or family and want a screen limit of more than one, the 'Netflix Standard' plan should be a good option. The plan is priced at Rs 649 a month (Rs 7,788/ year) for content at Full HD (1,080p) resolution and two-screen limit. The Netflix package also supports offline downloads on two devices at a time.
4. Netflix Premium plan
The top-end Netflix subscription plan is called 'Premium', and it'll set you back to Rs 799 per month. The plan is apt for a family of four or a group of friends looking to buy Netflix subscription together. The subscription supports FHD and Ultra HD contents. Notably, you can also stream and download TV shows and movies on up to four devices at a time.
Netflix allows you to create independent profiles for each user for a personalised experience. You can have up to five profiles within a single Netflix account irrespective of the package/ plan you chose.
Netflix FAQs
All your queries regarding Netflix subscription answered here:
Netflix free trial
Netflix doesn't offer a free trial to new users anymore, even though that was the case earlier. You will need to pay the price of the subscription in order to check out the catalogue and the experience. Of course, you will also need to share your banking details to avail the free trial. Since this makes the first-time usage a subscription plan and not a free trial, you can choose to cancel the subscription within the first month if you do not enjoy the content.
Netflix free subscription with Jio
Mukesh Ambani-promoted telco Jio offers a free Netflix subscription with its recently launched postpaid plans called JioPostpaid Plus. The connection comes bundled with the Netflix Mobile plan for free. JioPostpaid Plus plans start at Rs 399 and go up to Rs 1,499.
Can you download Netflix movies and shows?
Netflix lets you download all movies and shows on your devices for offline viewing. The number of downloads depends on the Netflix subscription you chose. The base Rs 199 package allows you to save Netflix shows on just one device, while the top-end Rs 799 plan lets you do so on as many as four devices.
How can I cancel Netflix subscription plans?

You can cancel the Netflix subscription within the app's settings anytime you want.
Go to Accounts.

This will be under the hamburger icon on mobile, while on a laptop or any other device, the option can be found by clicking on the profile icon at the top right corner.

The following screen will let you cancel the Netflix subscription.
When you cancel your Netflix subscription, you will be given the option to either downgrade to a cheaper plan or cancel your subscription entirely.
If you cancel your subscription, your access will be available till the date the ongoing plan continues, i.e. the date when your monthly Netflix account is billed.
Upon cancelling your Netflix subscription, you retain the profiles, favourites, viewing preferences, and account details for up to 10 months. So if you re-subscribe within 10 months, you can get back your profile as you left it at the time of cancellation.
Netflix billing cycle
The Netflix billing cycle is one month for all users, and it's generated on the date of purchasing the subscription. The amount is automatically debited from the registered account.
Does Netflix offer ads?
The platform offers an uninterrupted experience streaming Netflix originals, documentaries, feature films, TV shows, and more across languages. There won't be any ads whatsoever.