Xiaomi has really upped the game with its bread-and-butter Redmi series of smartphones, and that's very evident from the new Redmi 8 range. The devices carrying model number 8 in their monikers are the Redmi 8A (first impressions), the Redmi 8 (first impressions), the Redmi Note 8 and the Redmi Note 8 Pro (review), and in true Xiaomi fashion, each of these devices represents solid bang for the buck. While the two Note 8 siblings are quite distinct in what they bring to the table, the budget Redmi 8A and Redmi 8 have a lot in common.
The lowdown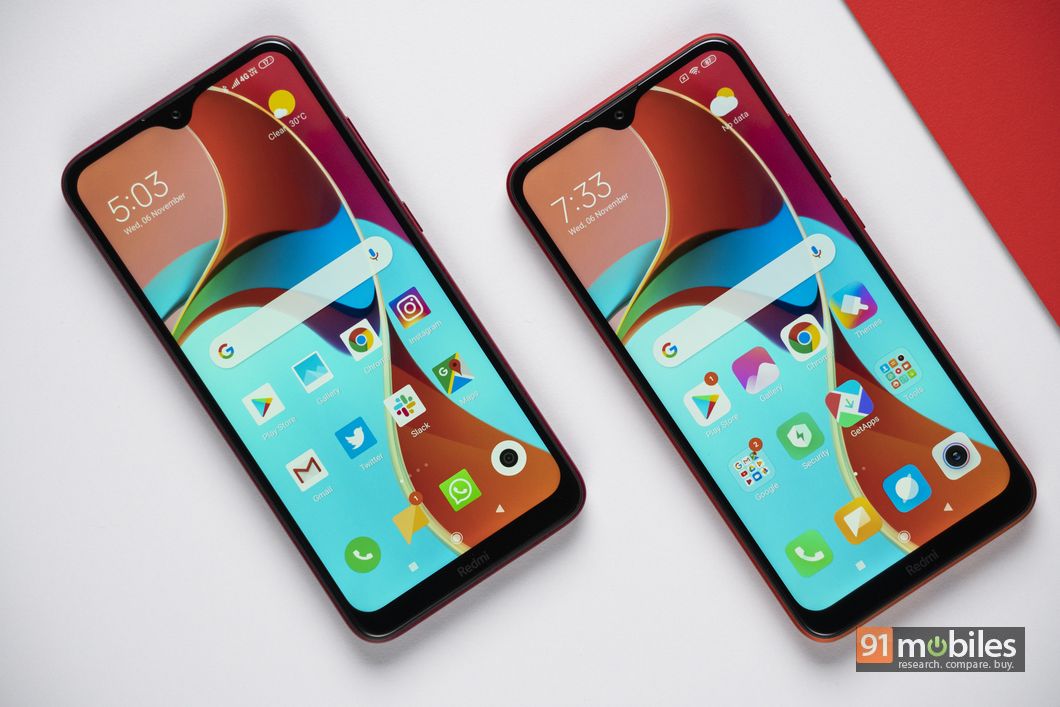 As far as the common specs are concerned, the Redmi 8A and Redmi 8 sport 6.22-inch displays that offer HD+ resolution and waterdrop notches up top. Both phones are powered by Qualcomm's Snapdragon 439 chipset, pack Sony's 12MP IMX363 camera at the rear, 8MP selfie shooters and beefy 5,000mAh batteries. The screens are protected by Gorilla Glass 5, and there's P2i nano coating for protection from liquid spills. The presence of USB Type-C ports is a nice surprise, and both phones also support 18W fast charging, though the chargers included in the box only support up to 10W. Also on board is wireless FM radio, which doesn't need you to plug in wired earphones to work. One interesting new feature lets you clear dust particles lodged inside the phone speaker by playing a sound for 30 seconds. While we can't be very sure of its effectiveness, we would urge you not to use it in public places – the sound is extremely annoying, and we're being polite here.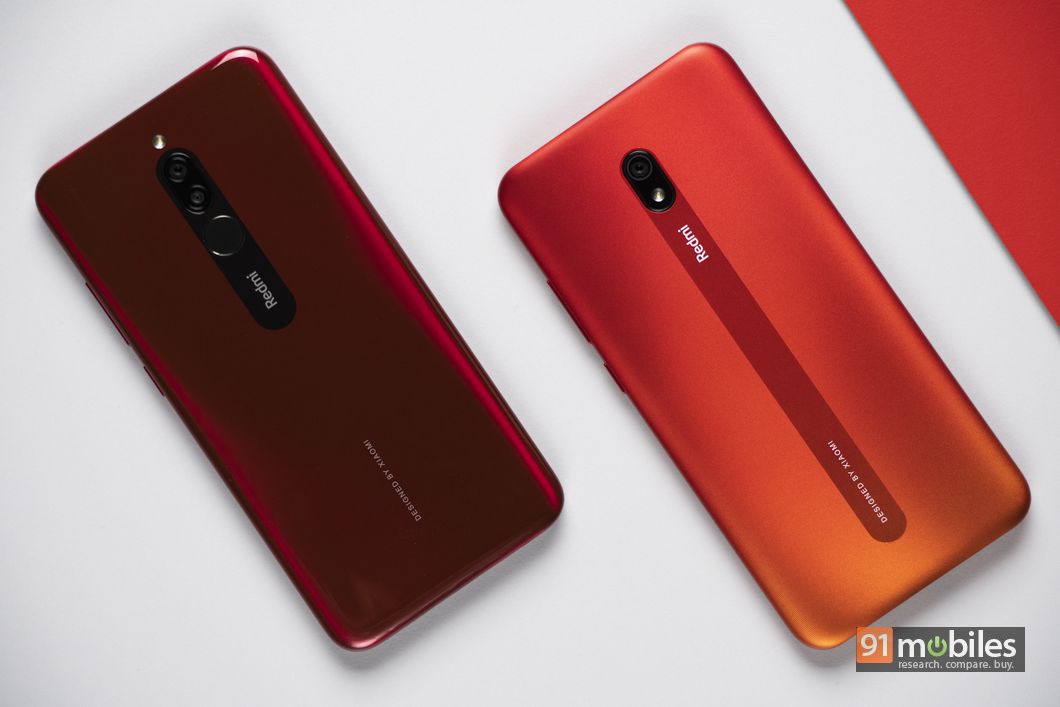 The only main differences among the two is the presence of a secondary 2MP depth sensing camera on the Redmi 8, along with a capacitive fingerprint scanner and an infrared blaster. The Redmi 8A, in comparison, only offers a single camera at the back, and misses out on a fingerprint scanner and IR blaster. However, face unlock is available on both phones, and works reasonably well. That apart, the phones have slight differences in RAM and storage as well. The Redmi 8A is available in 2/32 and 3/32 variants while the Redmi 8 comes in 3/32 and 4/64 flavours.
Design and display
Coming to the design, the two phones look slightly different from the back. While the Redmi 8 features a glossy finish which catches fingerprints easily, the 8A bears a textured back with a gradient finish. The siblings look and feel quite premium, defying their sticker prices. The 8A in fact, seems amazingly well designed, and the matte back looks great and feels solid too. The placement of ports and controls is fairly standard, and the inclusion of a dedicated microSD card slot deserves special mention. The HD+ display is responsive and outputs good colours, being fairy par for the course in this specific price segment. There's no Widevine L1 support, which means you can't stream videos in HD quality, though that's something one can live with, given the budget positioning of these devices.
Redmi 8A and Redmi 8 design
Cameras
The camera app offers all the bells and whistles you might have seen with other Xiaomi phones, and offers modes like HDR, AI, Pro and Portrait. The primary 12MP camera utilises Sony's IMX363 sensor, which can be found on the likes of the Google Pixel 3a. The Redmi 8 gets an additional 2MP depth sensor, and therefore, is able to handle portrait shots better, with better edge detection. Otherwise the image quality on both phones is about the same. In fact, we found the Redmi 8A slightly better in terms of handling lens flare from light sources (for night shots) and offer a tad more natural results in daylight shots.



Overall, image output is decent, especially when there's ample ambient lighting, but goes downhill as light decreases. The camera takes a while to focus sometimes, and images can look slightly washed out on occasion (more so in the case of the Redmi 8 than the Redmi 8A, surprisingly). If you're patient though, you can walk away with a nice-looking, detailed shot. Low-light images don't impress much. As far as the selfie camera is concerned, it does the job, but don't expect wonders.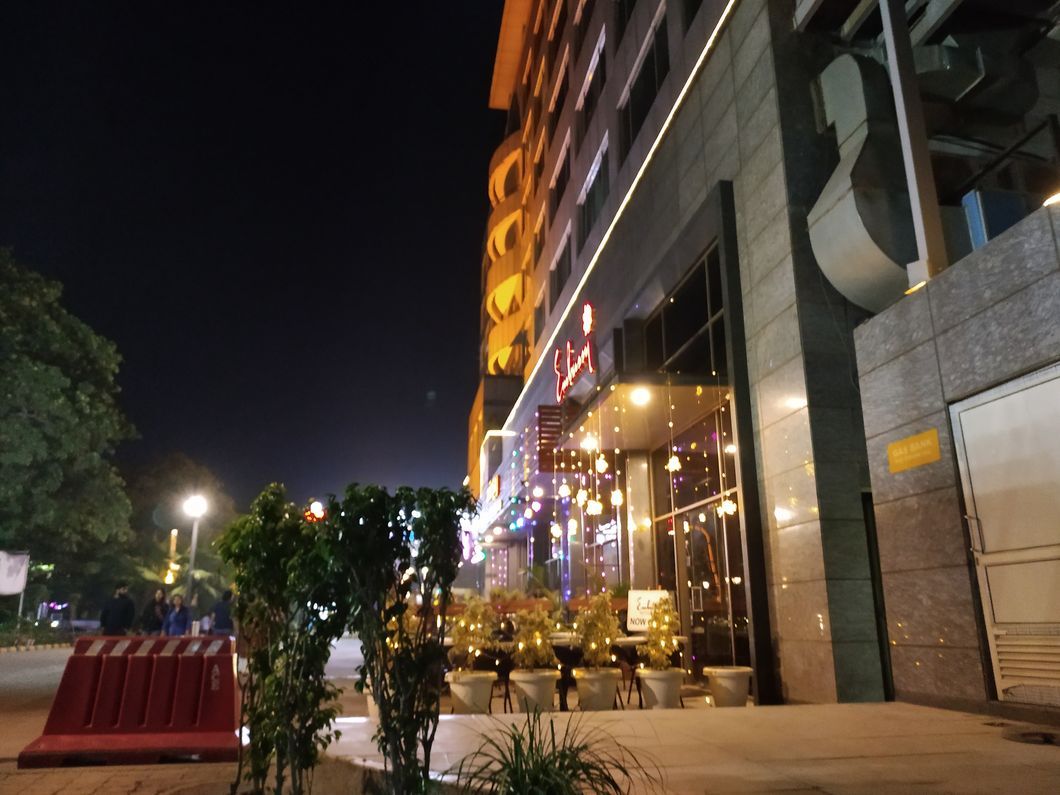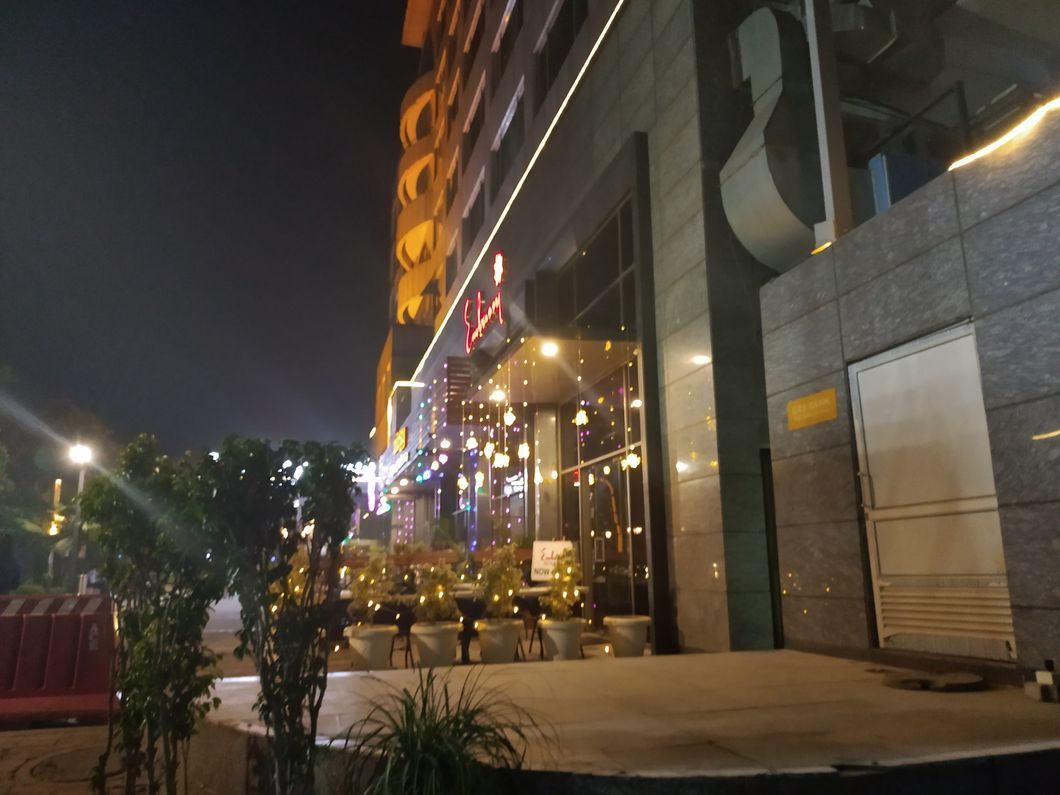 Software, performance and battery
Read More
Read Less


Pro Tip:
Redmi 8 and 8A features Glance lockscreen
Glance lockscreen is such a simple and intuitive feature that it makes you wonder why anyone didn't think of it before. It brings a ton of information at your fingertips (or in this case, the phone's lockscreen), and turns the rather useless screen into an awesome place to learn about cool stuff.
Besides serving news and stories on entertainment, fashion, food and travel, the feature let you choose from over 19 categories, and 4 languages including English, Hindi, Tamil and Telugu. You pick the ones that interest you, and Glance will show you content on those topics.
The best part is that every time you access the phone, you'll be seeing a new screen that is not only beautiful but packed with information and entertainment. Swipe left to right on the screen to get more details and swipe up or down to move to the next screen of Glance.
MIUI 10 is on board, along with Android 9 Pie. There's the usual bloatware, but thankfully, most of it can be uninstalled. You can expect some ads in the interface, along with spam notifications. On the positive side, MIUI does offer quite a few handy features and customisation options. Second Space is especially useful, allowing you to create a secondary, protected area with its own set of apps, images and accounts for separating your work stuff from your personal data (or whatever other purpose you deem fit). There's Dual Apps for running two separate social accounts, and built-in App Lock for additional security. Extensive theme support makes the platform quite customisable too.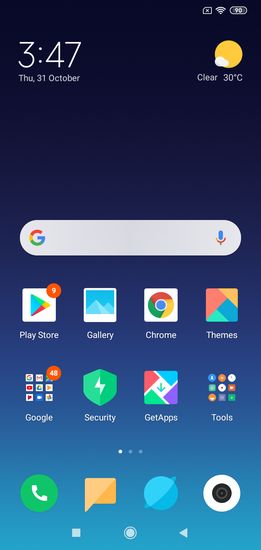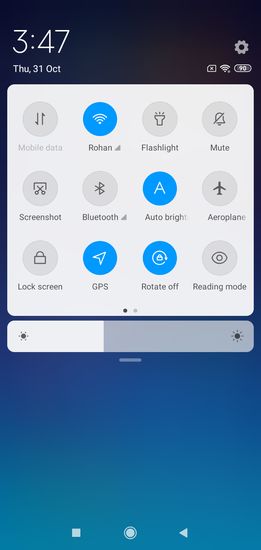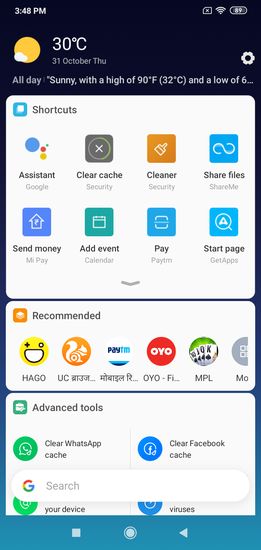 The 12nm Snapdragon 439 SoC is good enough for day-to-day tasks. Multitasking seems fine too, but heavy games like PUBG, Asphalt 9 etc don't really work smoothly, especially at high graphics settings. App loading times are on the higher side, and UI animations aren't super fast either, but on the positive side, the phones handle all the usual stuff like social networking, messaging etc reasonably well. Clearly, the phones aren't really meant for heavy-duty stuff, but you should be fine if your usage is restricted to productivity, messaging and social apps, which is what most people use smartphones for.

Battery life, to put it simply, is insane. Thanks to the 5,000mAh battery packs and the resource-efficient hardware on the Redmi 8A and 8, these phones can easily last up to two days on single charge for most users. Even if your usage is heavy, you can expect to get through a full day comfortably. The bundled 10W charger can juice up the phone up to 25 percent levels in half an hour, and about 50 percent in an hour. Get an 18W charger if you want faster charging speeds though.
Verdict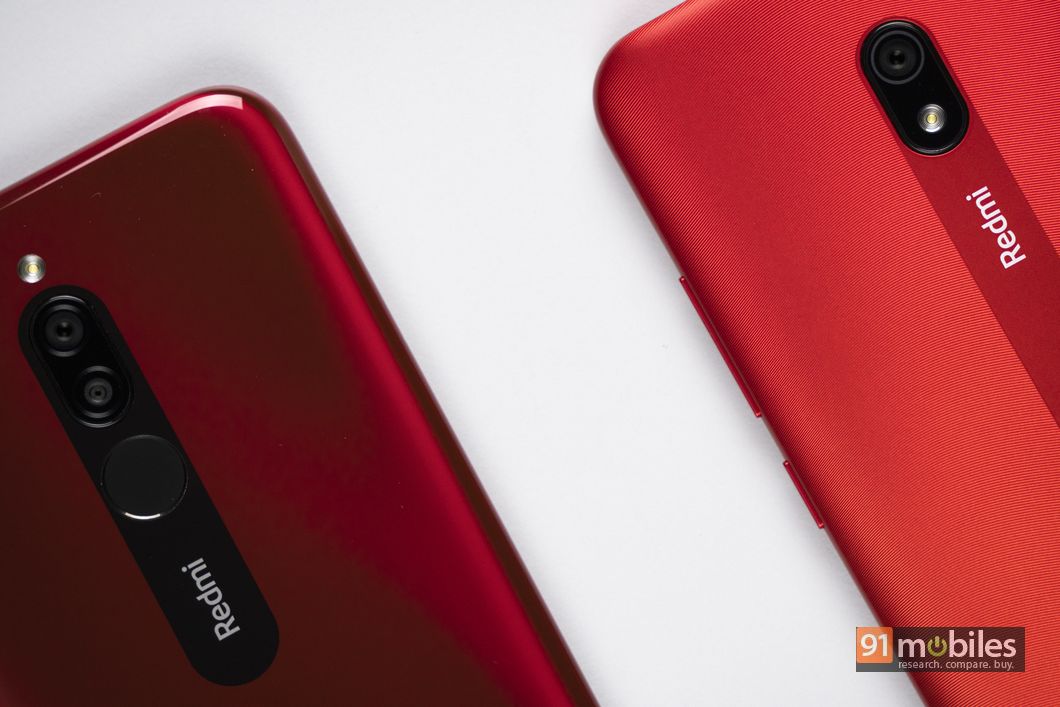 There's no doubt that the Redmi 8A and Redmi 8 are both very capable phones, though they aren't likely to find favour with those obsessed with specs. The performance, especially camera performance, leaves a little something to be desired. That said, the phones score very high on design and battery life, which are both crucial aspects for a lot of users out there. We'd say that if you're on a tight budget, the Redmi 8A makes a lot of sense, but if you can stretch a bit, the Redmi Note 8 (review) is a great buy. In this scenario, the Redmi 8 sort of gets squeezed from both sides, which is unfortunate, because it's a pretty solid phone too.
Editor's rating: 3.5 / 5
Pros
Good design and solid build
Long battery life
USB Type-C and fast charging support
Cons
Average performance
Cameras could be better
Bloatware and spam notifications in MIUI
Photos by Raj Rout
Competitors for Xiaomi Redmi 8A
| | | |
| --- | --- | --- |
| Xiaomi Redmi 8A | vs | Xiaomi Redmi 8 |
| | | |
| --- | --- | --- |
| Xiaomi Redmi 8A | vs | Xiaomi Redmi Note 8 |