"The Xperia X seems promising but… gets a big 'but' appended because of its unreasonable price"
We got introduced to Sony's new X series smartphone lineup back at MWC… and it definitely seemed like an earnest effort from the brand at the time. Focussing on basics such as camera quality and battery life, the X range promised to turn things around for the company, which isn't really been topping in charts in the smartphone segment. The first three members of the family, the Xperia XA (first impressions), the X, and the X Performance, are all 5-inch phones boasting special camera features and the usual set of enhancements Sony is known to add. A fourth member, the Xperia XA Ultra (first impressions), was added to the X range recently, and this one is a true-blue phablet with its 6-inch display size. The XA and the X (first impressions) were launched in India recently, while the XA Ultra is due for a launch pretty soon. The X Performance, which is the most powerful of the lot thanks to its Snapdragon 820 processor, may never see an Indian launch, which is a pity really… especially since its the only one in the family to boast IP68 rating and is impervious to dust and water.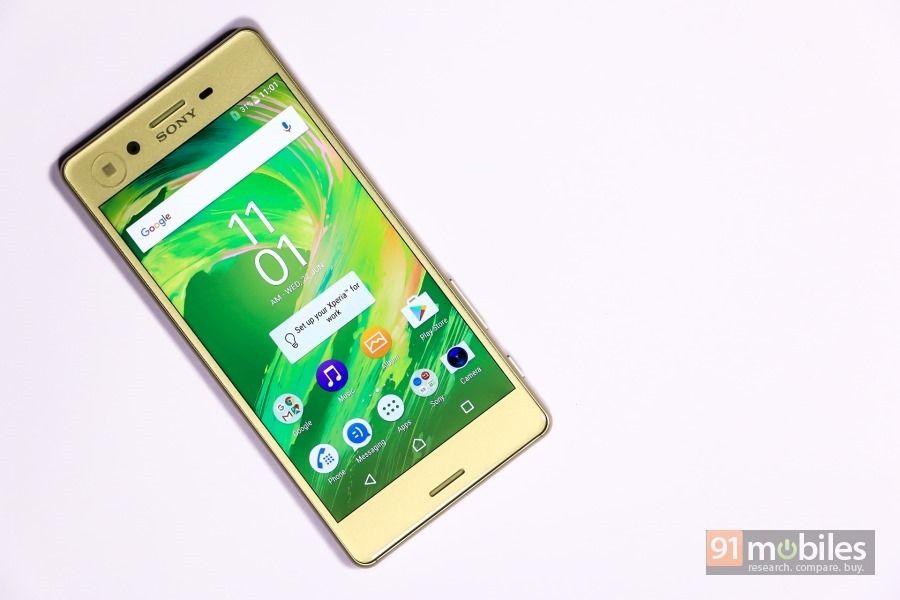 We got a chance to try out the Xperia X, which is positioned in the middle of the pile, recently, and here's our two cents worth on how it fares overall.
Specs at a glance
Display
Size
5.0 Inch
Resolution
Full HD (1080 x 1920 pixels)
Performance
CPU
Dual core, 1.8 GHz + Quad core, 1.4 GHz, Snapdragon 650
RAM
3 GB
Storage
Internal memory
64 GB
External memory
Up to 200 GB
Battery
Capacity
2620 mAH, Li-ion, Non removable
Standby Time
Up to 48 Hours (2G)
Camera
Primary camera
23 MP
Secondary camera
13 MP
Connectivity
Network support
Dual SIM 4G
Other options
Wi-Fi, Bluetooth 4.2, GPS
Others
Battery Capacity
2620
Operating system
Android 6.0 Marshmallow
Design: elegant, not drool-inducing
Dimensions
: 142.7 x 69.4 x 7.9 mm
With the Xperia X, Sony hasn't strayed away from its original OmniBalance design philosophy, so you get a rectangular slab with rounded corners. That said, the seamless blend of 2.5D curved glass at the front and the matte-finished metal back come together to result in a device that feels better in the hand than it looks. Add to that its compact size, and you have a phone that's quite comfy to hold in the hand. The assortment of hues this phone is available in adds a bit of flair to the mix, and the one we have with us for review is the interesting-looking Lime Gold version. The overall look can be described as elegant, if not head-turning.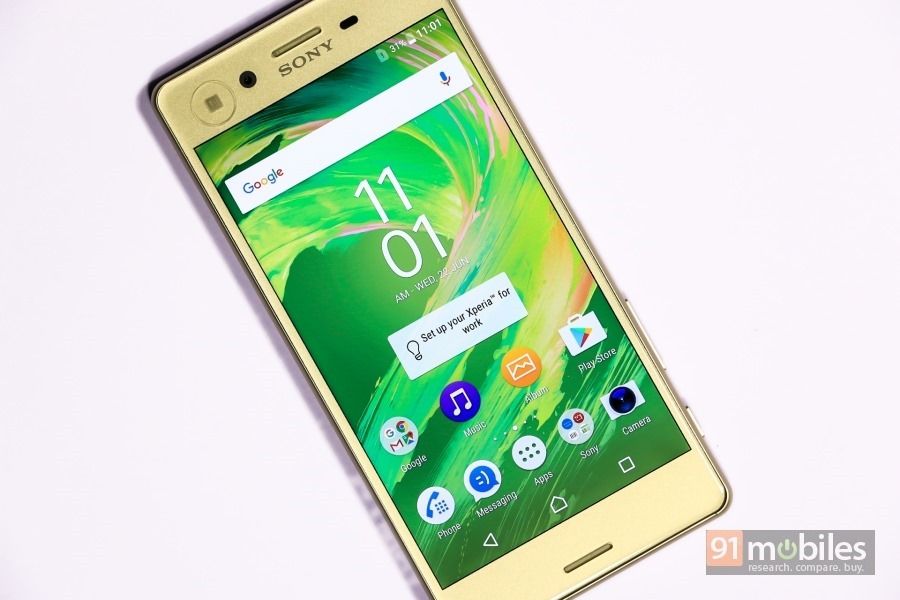 The fascia bears a pair of speakers, one on the chin and the other integrated along with the earpiece on top… both placed symmetrically opposite each other to represent balance. Apart from the earpiece, you'll also see the front camera, Sony branding, and sensors on top. Interestingly, a circular sticker placed on the top left corner at the front indicates the location of the NFC area, something that's usually found on the back of the phones that support this feature. Apparently, Sony thinks that the front is a more convenient place for this, and this should make NFC-based pairing easier to accomplish. During initial setup, a notification prompts the user, reminding him or her about the location of the NFC area. There are no dedicated navigation keys since they're virtual and implemented as software overlays.
The micro-USB port and headset socket are placed on the bottom and the top respectively, with the former accompanied by the primary microphone, and the latter giving company to the secondary mic. On the left spine, you'll find a SIM tray that can pulled out using your fingernail – no special tool required. This tray accepts a pair of nano-SIM cards, or a microSD card in lieu of the secondary SIM. Worth mentioning that the phone restarts without warning when you pull out the tray, and again when you insert it back… an inconvenience that's quite irritating if you have to do it often.
The micro-USB port and headset socket are placed on the bottom and the top respectively, with the former accompanied by the primary microphone, and the latter giving company to the secondary mic. On the left spine, you'll find a SIM tray that can pulled out using your fingernail – no special tool required. This tray accepts a pair of nano-SIM cards, or a microSD card in lieu of the secondary SIM. Worth mentioning that the phone restarts without warning when you pull out the tray, and again when you insert it back… an inconvenience that's quite irritating if you have to do it often.
On the right, you'll find an oval-shaped home key, which is slightly recessed and placed in the middle. Below that is an oddly-placed volume rocker, and a dedicated shutter key for the camera. The latter is always a useful addition, and makes even more sense in a camera-centric phone like the Xperia X. The power key integrates a fingerprint scanner as well – a unique implementation since most phones have their scanners either at the front or at the back.
At the rear, you'll see the circular camera module on top left, with a colour-matched ring encircling it. This module juts out ever so slightly out of the body, and there's a small LED flash placed below. Apart from Xperia branding and the usual regulatory info, you won't see anything else at the back.
Display: very capable
Resolution
: Full HD (1080 x 1920 pixels)
With 5-inches of 1080p goodness, and the usual bunch of Sony tweaks including TRILUMINOS tech, X-Reality for mobile, and Dynamic Contrast Enhancement, the screen on the Xperia X is quite capable. It reproduces colours faithfully, and is quite sharp, with no signs of pixelation.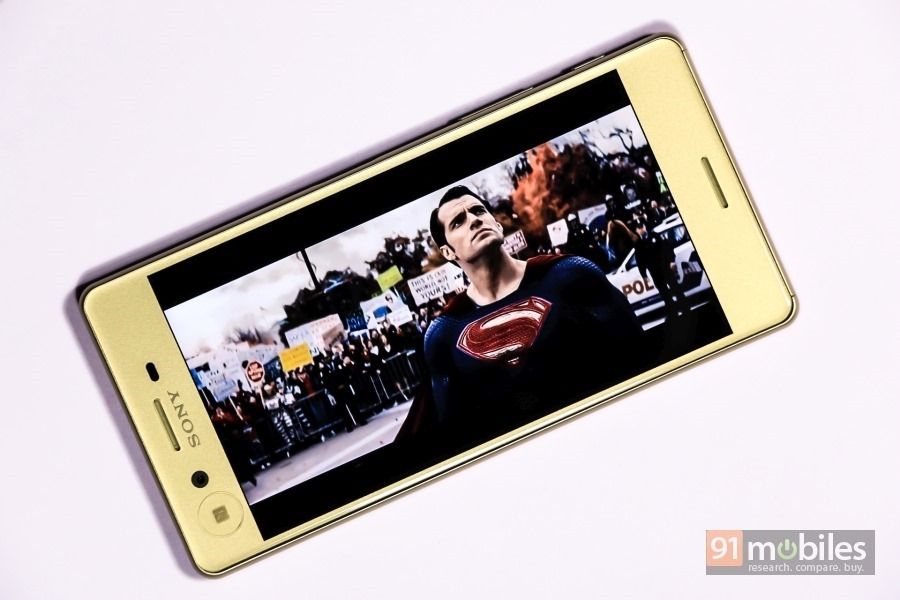 The brightness levels can go quite high, so sunlight legibility isn't an issue, and while the blacks and contrast may not match AMOLED screens on other high-end phones, they're still quite very good.
If you want the colours to look more vivid, there's a Super-vivid mode that can be selected under display settings. The white balance can be tweaked as per your liking too. A feature called Smart Backlight Control doesn't let the screen dim till the time you're peering at it. The other display-related tweaks available include double tap to wake and a glove mode for enhancing touch sensitivity.
Software: near stock, but crammed with bloatware
Operating System
: Android
OS Version
: 6.0, Marshmallow
Sony's take on Android is very close to stock, and in the Xperia X's case, the platform it ships with is Android Marshmallow.
Apart from rounded icons and a ton of preloaded apps, the overall software experience doesn't stray too far away from stock Android and offers a dedicated app drawer.
The lock screen slides to left, giving you a peek at the wallpaper below, and also lets you customise the clock display, apart from giving you quick access to the voice assistant and the camera. The app drawer offers a search bar for apps, letting you search for typed text on the Play Store in case you don't have the app installed. You also get suggestions in terms of recently-accessed apps, and suggestions to install recommended app, though thankfully, this feature can be turned off via home screen settings. This is also where you can apply icon packs, choose pane transition effects, and enable double tap to sleep. The latter works when you double tap a vacant area on any of the home screens.
Apart from the Google suit of apps, you'll find a bunch of apps from Sony, including Lounge, What's New, News, Lifelog, TrackID, Sketch and Movie Creator. Tons of other third-party apps and games are included too, and most of these can't be uninstalled. These include Clean Master, Amazon Kindle, Modern Combat 5, AVG Protection, Hungama Play etc.
Apart from support for icon packs, customisation options also includes support for basic themes, including downloadable ones. Other features include control over app permissions and battery-saving features like STAMINA and Ultra STAMINA modes.
Camera: fast, but inconsistent
The camera features on the Xperia X are among its key highlights, and for your shooting pleasure, the phone offers a 23-meg snapper at the rear, with a 13MP sensor faces the front to serve up the selfies. Strangely, 4K video support isn't included, and there's no optical image stabilisation either. Video can be shot at 60fps, while slo-motion vids go up to 120fps. The primary camera does offer some interesting features, such as predictive hybrid autofocus and object tracking. When combined, these two features not only let you track a moving subject, they actually attempt to predict the said subject's path or trajectory to be able to offer more detail and sharper shots. On top of that, the quick capture feature promises you won't miss special moments, as you can just press the physical shutter key on the side to shoot straight from standby. With a promised shooting time of just about 0.6 seconds, the phone wakes up from slumber, launches the camera, focusses, and clicks a picture. And in our tests, these features actually worked for the most part… making the Xperia X one of the fastest shooters we've seen.
The camera app offers modes like Superior Auto and manual, along with a bunch of others which Sony dubs Camera Apps. Some, like AR effect, Creative effect, Background defocus etc are built in, while others can be downloaded as per your requirements. The downloadable ones include some of Sony's own, such as AR fun and Motion Shot, and others from third parties… such as Quick PDF Scanner and even Evernote.
Now it may be fast, but the Xperia X can't touch the likes of the Samsung Galaxy S7, its edge variant, the LG G5 or even the HTC 10 in terms of image quality. Don't get us wrong, the Xperia X shoots very good stills, especially in daylight. Even the low light performance isn't too bad. Still, it isn't as consistent as we'd have liked, and sometimes, the shots end up looking a tad washed out… or in some cases, unnatural too. Fiddling with settings could eventually give you worthy results, but oftentimes, most people just end up using the auto mode, or there isn't enough time to play with setting before the moment passes. On the positive side, the front camera is pretty decent for selfies. All said and done, while we think they lack a little something, most casual users shouldn't be able to find fault with the Xperia X's shooters. Check out the camera samples we posted earlier to see what we mean, and here are some more.
Performance: a workhorse
CPU
: Dual core, 1.8 GHz + Quad cor…
Memory
: 64 GB + Up to 200 GB
SIM Slots
: Dual SIM , GSM+GSM
A hexa-core Snapdragon 650 provides the horsepower, and the chip is mated to 3 gigs of RAM. This is the same combination we've tasted earlier on the Xiaomi Redmi Note 3, and as such, we were already quite convinced about the performance it delivers. Notwithstanding the fact that the Xiaomi device is priced significantly lower than the Xperia X, Sony's new phone delivers smooth performance overall – without giving us any big reason to complain.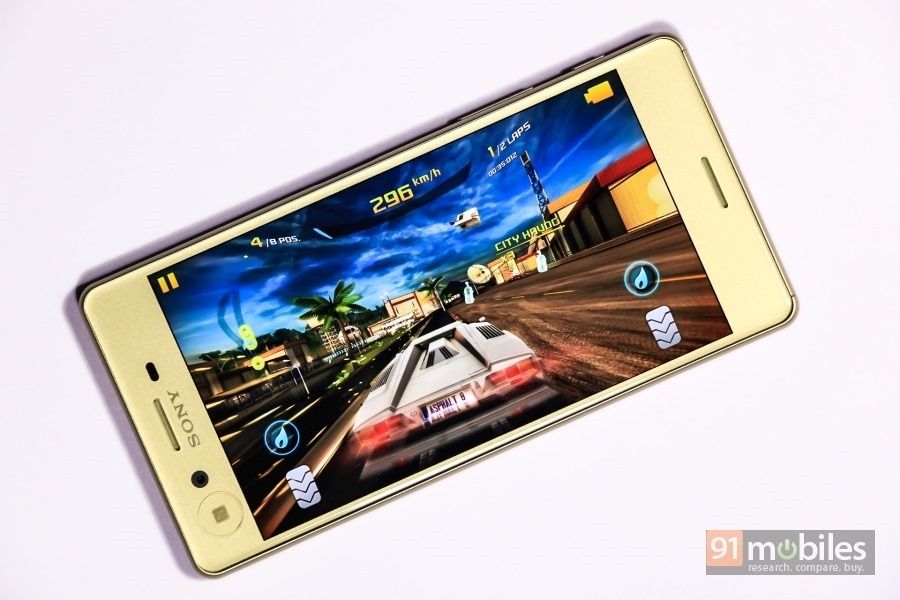 Most tasks, ranging from the usual productivity or entertainment-related ones, to intensive gaming, are handled reasonably well. That said, the phone won't give you the same performance as a recent flagship, most of which utilise Qualcomm's top tier Snapdragon 820 chipset. There are a few heating issues as well, and sometimes, you'd find the camera app shutting down because of this, if used for extended periods. The 64 gigs built in storage is generous though, and will give you about 48.5GB to use.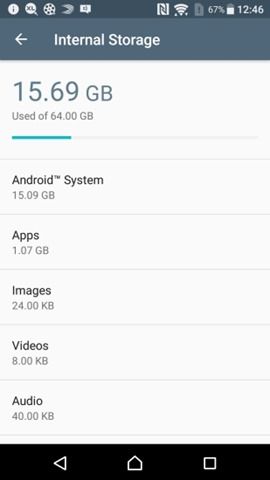 Connectivity options are loaded, covering almost everything… even stuff like NFC and DLNA. Call quality is decent, and sound output via the front-facing stereo speakers is pretty good. While we didn't get a pair of earphones in the box, the device supports Hi-Res audio, and also offers tons of audio-related enhancements that should keep music buffs happy.
The fingerprint scanner's placement on the side is interesting, and we think it's intuitive in the sense that your right thumb would fall naturally on it if you hold the phone with your right hand, and the same thing can be said for your left index finger if you hold it using the other hand. It sounds good in theory, and for the most part, even works well in real life… but you could find yourself fiddling with it sometimes. This issue comes to the fore when you pick up the phone from a table for instance, or pull it out from your pocket. Note that the home button needs to be pressed physically to wake up the phone, and doesn't recognise capacitive touch. You can just press it and unlock the phone in one fell swoop using a registered finger, and when it works, the operation can be accomplished in the blink of an eye. However, there were quite a few instances during our usage when the fingerprint sensor refused to recognise our touch, and we had to use the PIN to gain access.
The 2,620mAh battery seemed a concern initially, but while it can't match Sony's claims of two days on a single charge, we're glad to report that it should still last you a full day with medium usage. After that, you have the power saving modes to depend on, when in a crunch. Our battery drain test lasted almost 10 hours, which isn't great when compared to other phones, and in the Xperia X's, doesn't really reflect the real-world usage we were able to eke out.
Verdict
If you notice, we haven't once alluded to the pricing of the Sony Xperia X during the course of this review, and there's a solid reason for that. You see, if you don't bring the pricing into the equation, the Xperia X seems like a capable device in most respects. Sure, it does have a few niggles and may not top the charts, but it still scores reasonably well.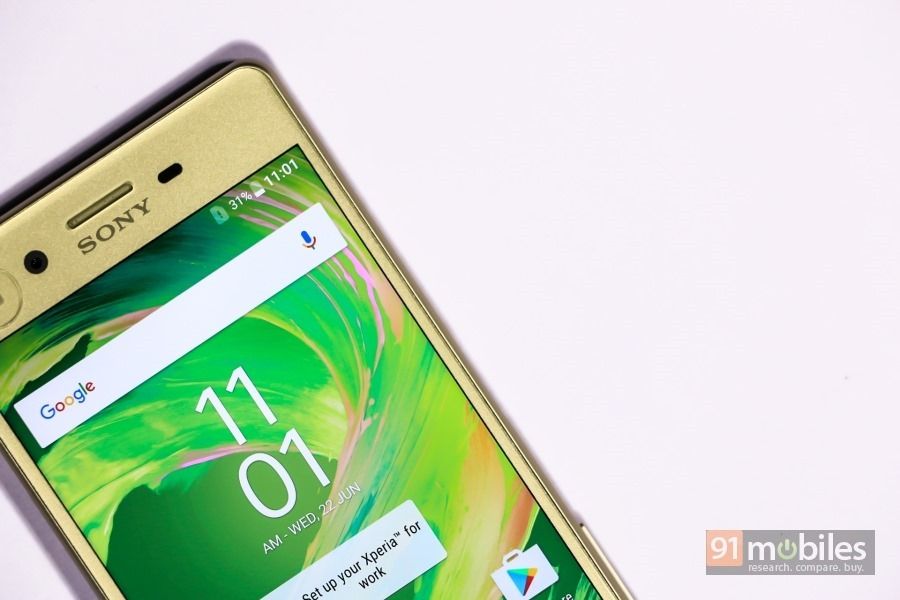 Things take a turn for the worse when the price sticker pops up though. Launched at a price of Rs 48,990, the phone is currently retailing for around Rs 47,000 online. This puts it at par with the venerable Samsung Galaxy S7 (review), which, in our books, is arguably the best Android smartphone you can buy currently… along with its edge sibling (review). Other premium flagships, like the LG G5 (first impressions) and the HTC 10 (review) are priced marginally higher, but shouldn't be out of reach for anyone willing to spend about half a lakh rupees. It'd probably have been understandable if Sony had launched the Snapdragon 820-toting Xperia X Performance at this price, especially since this variant is said to boast IP68 rating for imperviousness to the elements. But at this price, the Xperia X doesn't really stand a chance. A price cut, a big one at that, is desperately needed to make the X worth considering.
Editor's rating: 3 / 5
Pros
Decent looks and build quality
Zippy focussing and shooting speeds
Good screen
Cons
Overpriced
Inconsistent camera
Inconsistent fingerprint scanner
Heating issues
Bloatware
Photos by Raj Rout
Competitors for Sony Xperia X Dual
| | | |
| --- | --- | --- |
| Sony Xperia X Dual | vs | Samsung Galaxy S7 |
| | | |
| --- | --- | --- |
| Sony Xperia X Dual | vs | LG G5 |