The Amazfit Stratos (review) was a compelling fitness watch option when it made its debut in India back in 2018. Strangely, its successor is called Stratos 3 for some reason and has been launched recently in India. While its design may look almost identical to its predecessor, the watch has got a few iterations under the hood. The Amazfit Stratos 3 touts improved battery life, location tracking, new sports modes, and Bluetooth v5.0, among other things. I've had the Amazfit Stratos 3 strapped to my wrist for almost two weeks now, and here are my thoughts about the wearable.
Verdict
The Amazfit Stratos 3 makes a strong case for itself with its design and fitness-centric features. You can dress the watch up or down, depending on the occasion, and use it to track your fitness activities. However, it disappoints with its display quality, UI, performance, and app connectivity. Mind you, the Amazfit Stratos 3 is a fitness tracker first, and then a smartwatch. Those looking for true-blue smartwatch should look for options like Huawei Watch GT 2 (review), Samsung Galaxy Watch and Apple Watch Series.


Amazfit Stratos 3 specifications

Display

1.34-inch round TFT colour display
320 x 320p resolution
Corning Gorilla Glass
Anti-fingerprint coating

Sensors

PPG Bio Tracking optical sensor
6-axis acceleration sensor
3-axis geomagnetic sensor
Air Pressure sensor

Battery

300mAh

Connectivity

Bluetooth 4.2 + BLE 5.0
Wi-Fi 2.4GHz
Sony GNSS GPS, GLONASS, BEIDOU and GALILEO chip

Waterproof rating

5 ATM (up to 50 meters water depth)

Tracking

Continuous heart rate tracking, Sleep monitoring, Running, Walking, Outdoor Cycle, Pool Swim, Open Water, Treadmill, Indoor cycle, Elliptical, Rower, Fitness, Hike, Climb, Trail run, Triathlon, Ski, Tennis, Soccer, Multisport, Jump Rope

Operating system

Amazfit OS

Supported devices

Android 5.0 or iOS 10 and above

Straps

20mm wide, 75mm-120mm long

Charging method

USB magnetic charging stand/ 4-pins POGO pin

Other features

Apps and call notifications, Music controls, 2GB storage, Weather
Compass, Barometer
What works
You'll love the Amazfit Stratos 3 for its design and sturdy construction. The watch flaunts a carbon fibre case, zirconia ceramic bezel, and stainless steel buttons on the right spine, much like its predecessor. However, the Amazfit Stratos 3 features an improved Corning Gorilla Glass 3 layer with a dial guarding the display instead of 2.5D Gorilla Glass. Speaking of which, the wearable features a 1.34-inch Full round transflective TFT colour display with 320 x 320p resolution and anti-fingerprint coating, which works as advertised. The watch doesn't catch fingerprints or smudges that easily.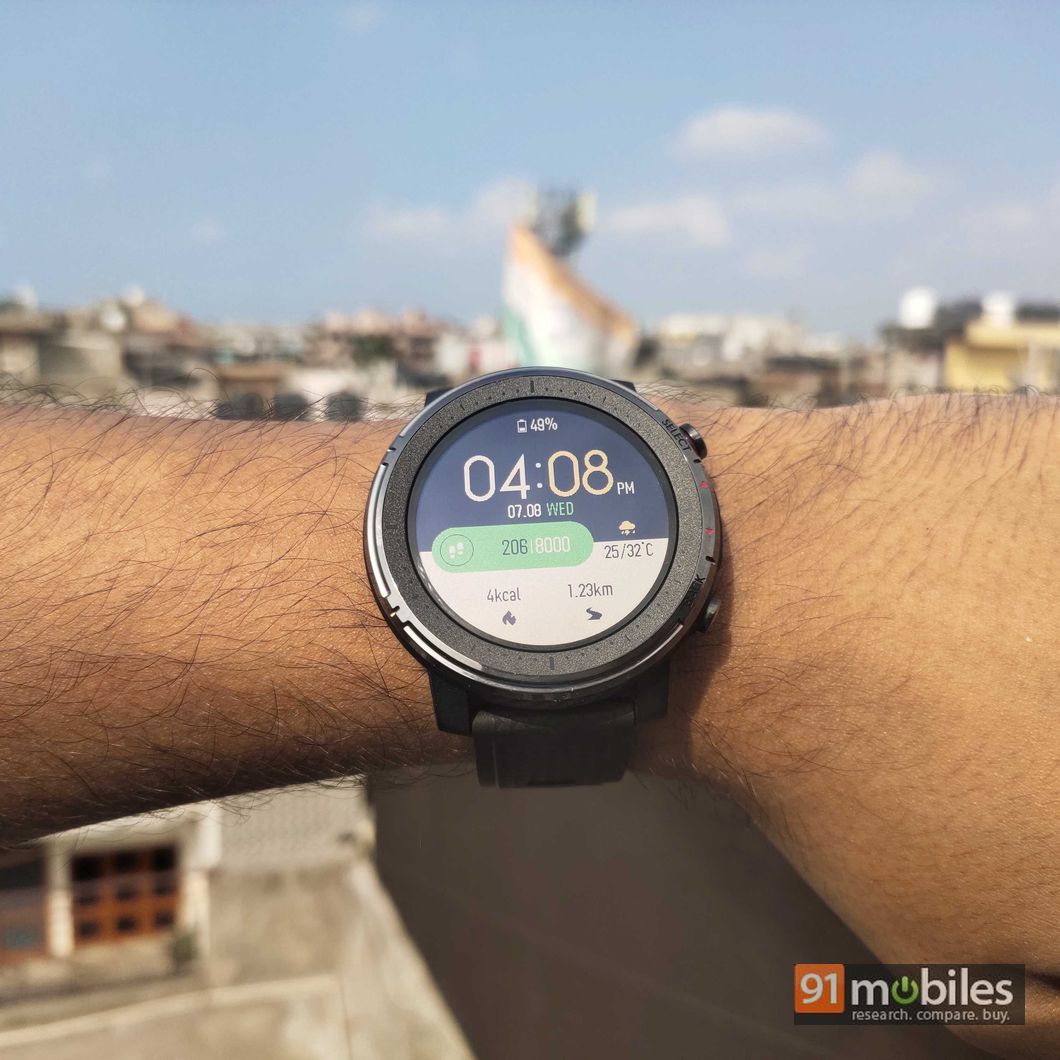 The device also has an always-on display that gets bright enough to view under direct sunlight, thanks to the transflective film on top. More the light, the brighter and easier it is to see the display, thus improving outdoor visibility. There is no auto-brightness sensor, but you do get to control the watch's brightness from 0 to 4. I had no trouble using the watch with the brightness set at two. Additionally, I was truly impressed by the "wake screen on wrist raise" feature, which as the name suggests, illuminates the screen when you raise your wrist. You don't need it in broad daylight, but the feature is very effective in low light environments.
You can navigate around the watch's UI using both the touchscreen and physical buttons. This time, however, there are two long buttons, named "Select" and "Back", instead of three and a couple of pushers for vertical scrolling. The buttons are tactile and don't protrude from the watch's body much to register any accidental touches. The screen disables itself after a few seconds, after which you'll have to press the buttons to wake it up. Otherwise, you can enable the "double-tap to unlock" feature from the watch's setting to wake the device by tapping on the screen twice.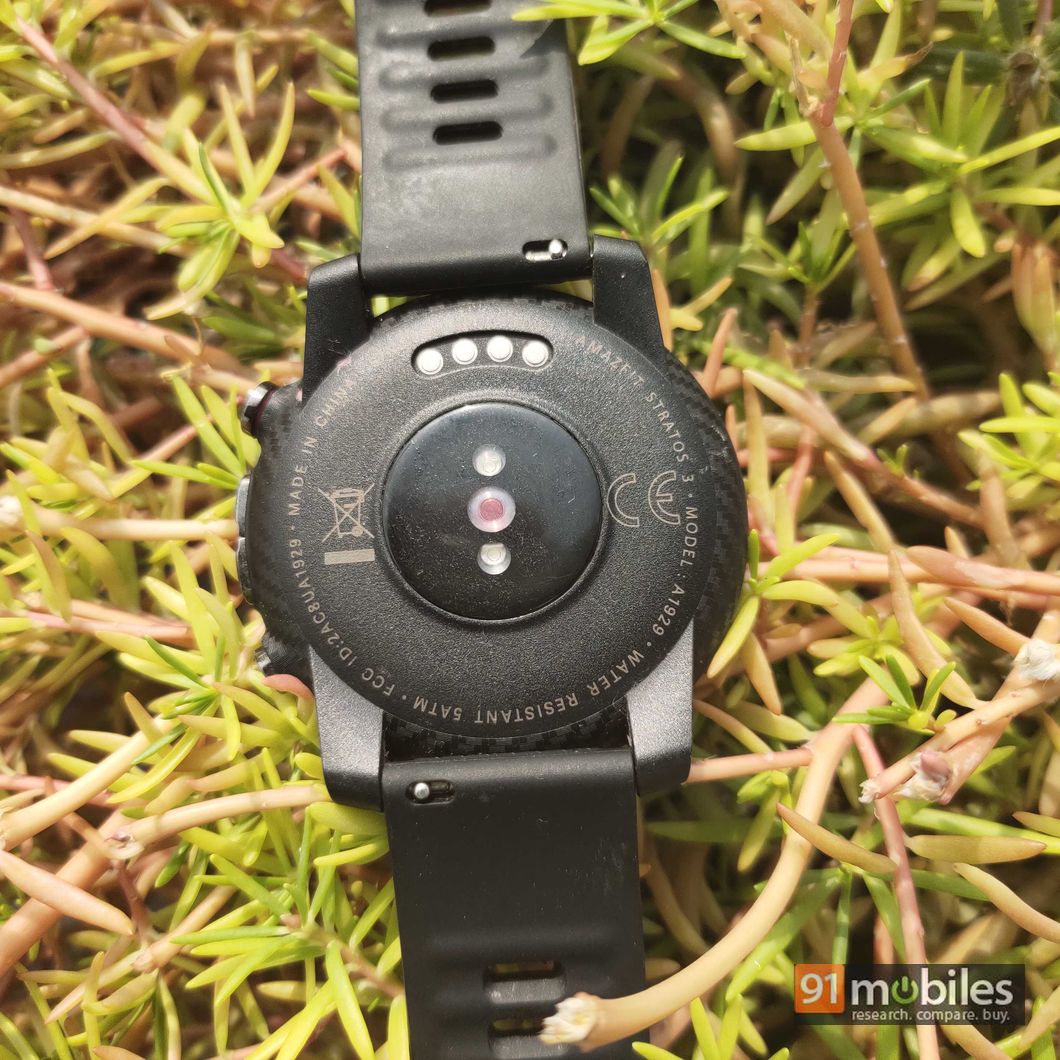 Around the back, the device sports POGO charging pins and sensors for heart-rate and activity tracking. The Amazfit Stratos 3 is accompanied by 22mm silicone rubber straps, which are user-replaceable and extremely comfortable to wear. The straps are also ideal if you're using the device while swimming. The Amazfit Stratos 3 is 5 ATM rated, which means it can withstand submersion up to 50m for 10 minutes.
As far as the fitness features are concerned, the Amazfit Stratos 3 packs 80 professional sports modes, including running, walking, cycling, pool swim, open water, treadmill, rower, fitness, hike, climb, and jump rope. Due to the current coronavirus-induced situation, I couldn't put most of those modes to test. I did, however, manage to go out for a run and walks with the watch and the data it recorded was spot on. There weren't any ghost steps, and the watch tracked my heart rate continuously. The watch also has 'sports recognition' that automatically detects (when enabled from the settings menu) whether you're running or walking. It's a nifty feature but was hit-and-miss in my case.
The other impressive feature of the smartwatch is its in-built GPS that traced my path perfectly. It's a Sony chip that supports four different global positioning systems: GPS, GLONASS, BEIDOU, and GALILEO. Amazfit claims that the watch is equipped with authoritative Firstbeat professional sports analysis that provides you with various professional data and improve your exercise capacity while avoiding the risk of injuries caused by excessive workouts. This seems apt for budding athletes.
In addition to that, the Amazfit Stratos 3 features a PPG bio-tracking optical sensor that not only tracks your heart rate but also warns the wearer on excessively high heart rate and heart rate interval values. Luckily, I didn't get such warnings as my heart rate remained normal for the most part. The device also packs sleep tracking, 2GB storage onboard to store music, and connectivity options such as Bluetooth and Wi-Fi. Built-in Wi-Fi ensures you get timely software updates, whereas Bluetooth allows you to pair wireless earphones to listen to music directly from the watch.
While Amazfit Stratos 3 is not a full-fledged smartwatch, it can mirror notifications and calls from a paired smartphone. You can ignore or reject calls and read text messages, but can't answer calls as the wearable misses out on a microphone. The other functions available on the watch include a daily overview of physical activity, weather, heart rate, alarm, compass, stopwatch, timer, VO2max that keeps track of oxygen consumption during incremental exercise, and an array of watch faces (accessible via long-press on the home screen).
What doesn't work
As much as I liked the Amazfit Stratos 3's fitness and activity tracking features, I was unimpressed by its overall performance, UI, and app support. The battery life is not that great too. It's rated to last up to seven days with factory default settings, always-on heart rate, and per day usage that involves 150 messages, lift the wrist to see the time 30 times, 30 minutes of outdoor sports, and 5 minutes of other operations. However, the watch couldn't make its way past day six on a single charge. Now, you can extend the battery life up to 14 days, as per the company, with Ultra-endurance mode but that means you'll have to give up on a lot of those features. The battery life seems sub-par when compared with its competitors such as Huawei Watch GT 2e, which promises up to two weeks of juice.
I know I've mentioned that the Amazfit Stratos 3's display has amazing outdoor visibility, but its quality is a bit underwhelming as the colours look washed out. This you'll notice when using the device indoors, and it spoils the overall experience. Another thing that didn't impress me much is its UI. The watch runs Amazfit OS, which is intuitive but involves a learning curve to get used to. The UI also felt rather static, with minimal options for customisation. For instance, you can't control music with workout mode or jump directly to the home screen from deep within a setting.
My other qualms with Amazfit Stratos 3 are app connectivity and performance. The watch pairs with Android or iOS-powered devices using the companion Amazfit app. The problems I faced were similar to the ones I had with Amazfit Bip S. The app has flaky connectivity and takes a few minutes to sync and reflect the latest data from the watch. I would have liked the watch to pair automatically when I've already given the app Bluetooth access in permissions.
The performance of the Amazfit Stratos 3 is also nothing to write home about. There was a noticeable lag when I worked around the UI or try to change watch faces directly from the device. Additionally, I had trouble recording 'Fitness' data on the Amazfit Stratos 3. For the most part, it showed that the 'Exercise time is too short to save'. This despite working out for like 40 minutes.
Final Verdict
Amazfit has rolled out three new fitness trackers in India recently, and the Stratos 3 is the most premium, followed by Amazfit T-Rex and Bip S (review). The wearable is classified for sports and fitness buffs, and it certainly lives up to that. The Stratos 3 can accurately track data, offers a dedicated mode for almost every activity whether it's cycling, walking, running, skipping, or swimming, and has a built-in geo-location chip. It can even monitor wearer's heart-rate on regular intervals and sleep. With built-in storage and ability to pair wireless earphones via Bluetooth, the Stratos 3 can act as a standalone device. The transflective always-on display and design are other advantages of the watch. You can wear the Amazfit Stratos 3 to any boardroom meeting or bash.
That said, we wish the Amazfit Stratos 3 had better battery life, customisation options, and seamless app connectivity. There are a few obvious competitors to the watch such as Amazfit GTR (review), Fossil Hybrid HR, Samsung Galaxy Watch Active (review), and Huawei Watch GT 2e (first impression). The latter has been priced in India at Rs 11,990, and it does look a compelling option as it features around two weeks of battery life and a whopping 85 custom workout modes. The Amazfit Stratos 3, on the other hand, has been priced in India at Rs 13,999.
Editor's rating: 3.5 / 5
Pros
Elegant design
An array of sports mode
Accurate tracking
Built-in GPS
Cons
Average battery life
Underwhelming display quality
Terrible app connectivity