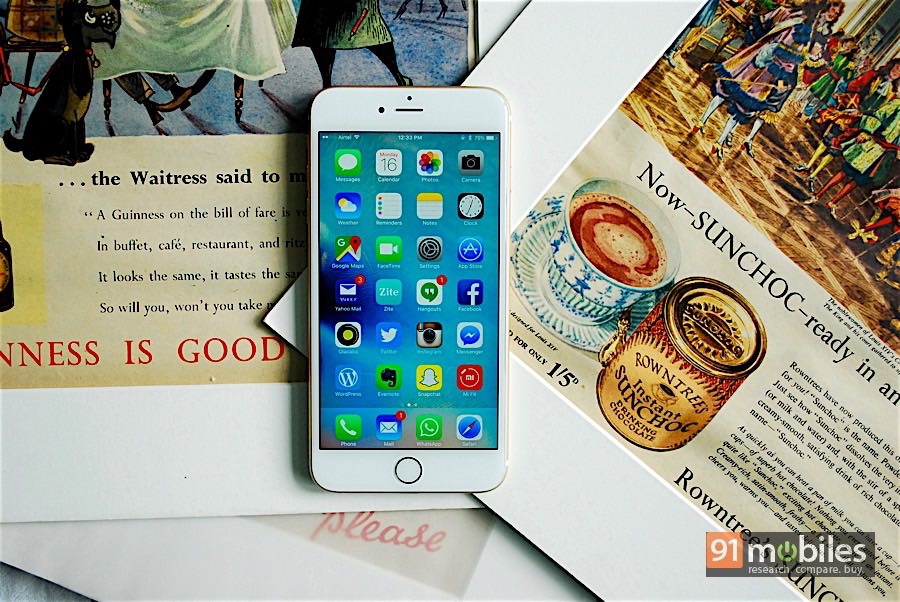 While some might argue that 's' cycle iPhones are simply last year's models recycled, we beg to differ. The iPhone 4s introduced us to Siri, while the 5s brought us Touch ID. 2015 is an 's' year for Apple, and this time, the iPhone 6s and iPhone 6s Plus have brought us 3D Touch – arguably the most revolutionary advancement in smartphone touchscreen technology in the recent past. While the 's' cycle iPhones might not look very different from their predecessors, they usually pack in some serious upgrades, and this year's duo are no different. Apart from 3D Touch, they also feature better cameras, faster processors, improved Touch ID sensors and always-on Siri, among others. Among the two iPhones, the 6s Plus (frequently asked questions), with its roomier screen, OIS in the rear camera and better battery life is what we've had our eye on. Over the course of nearly a month, we've been using the top-end 128GB model of the iPhone 6s Plus to find out if it's worth the upgrade.
Specs At A Glance
Measures 158.2 x 77.9 x 7.3 mm
Weighs 192 g
5.5-inch display with full HD resolution (1,920 x 1,080 pixels, 401ppi)
A9 processor (64-bit, 1.84GHz dual-core)
M9 motion co-processor
2GB RAM
16GB / 64GB / 128GB storage
12MP primary camera with True Tone dual-LED flash
5MP front camera
2,750mAh battery
iOS 9, upgradable to iOS 9.1
4G, dual-band Wi-Fi 802.11ac, Bluetooth 4.2, A-GPS, GLONASS, NFC (only for Apple Pay)
Touch ID Fingerprint sensor
Design: same old, same old


Dimensions

: 158.2 x 77.9 x 7.3 mm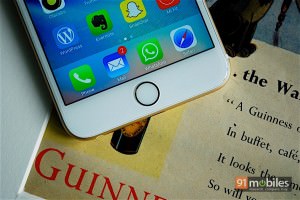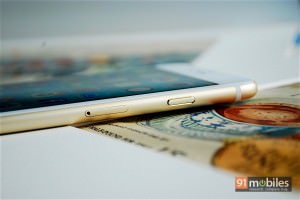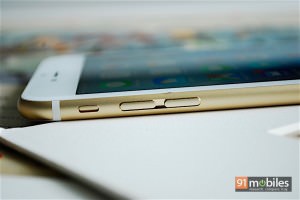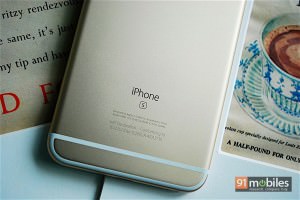 If you look at the iPhone 6 Plus and 6s Plus side by side, you'd be hard pressed to notice the difference. The rounded edges, curved corners and slim all-metal body have been retained in their entirety. The only new adornment on the 6s Plus is the little 's' lasered into the back panel. If you pick up both devices though, you'll instantly notice that the iPhone 6s Plus feels thicker around the waist, and a few grams heavier. But we don't mind, because it feels sturdier to hold. Speaking of sturdiness, Apple has used a new series 7000 aluminium alloy to construct the new iPhones, which it says it the toughest material used on an iPhone so far. Even so, it's unfortunate that the iPhone's gorgeous design is one that begs to be put in a case. It's very slippery, the aluminium gets scratched easily, and fixing any damage costs a bomb.
The unit we reviewed was a Gold one, but you can also get the new iPhones in Silver, Space Grey and the new Rose Gold hue. The iPhone 6s Plus, just like its predecessor, is very large for a 5.5-inch smartphone, thanks to the thick bezels around the screen. Coming to the placement of the various ports and sensors, you'll find the earpiece, front camera and sensors above the screen, and the Touch ID sensor just below. The right side holds the power button, slightly out of reach of our thumb, with the ejectable nano-SIM card tray just below. On the left you'll find the two volume up/down buttons, plus the Ring/Silent switch. The bottom features the Lightning port, flanked the loudspeaker on one side, and the 3.5mm audio jack and primary microphone on the other. One of the precision-drilled speaker holes disguises a second microphone.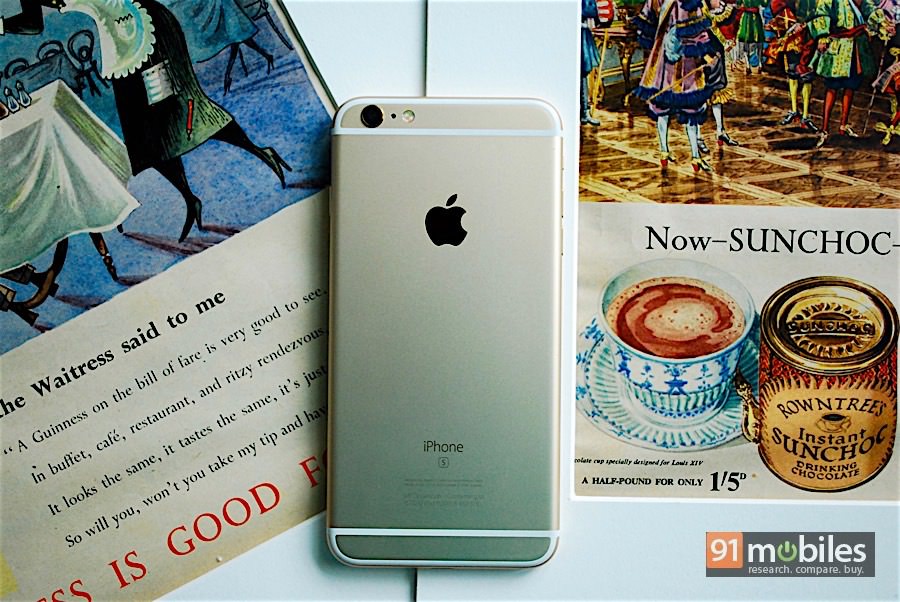 The back panel is dissected by white antenna lines at the top and bottom, and features the shiny Apple logo and iPhone S branding. At the top you'll find the slightly protruding camera lens, a third noise-cancelling microphone, and a True Tone dual-LED flash.
Display: full HD does just fine



Resolution

: Full HD (1080 x 1920 pixels)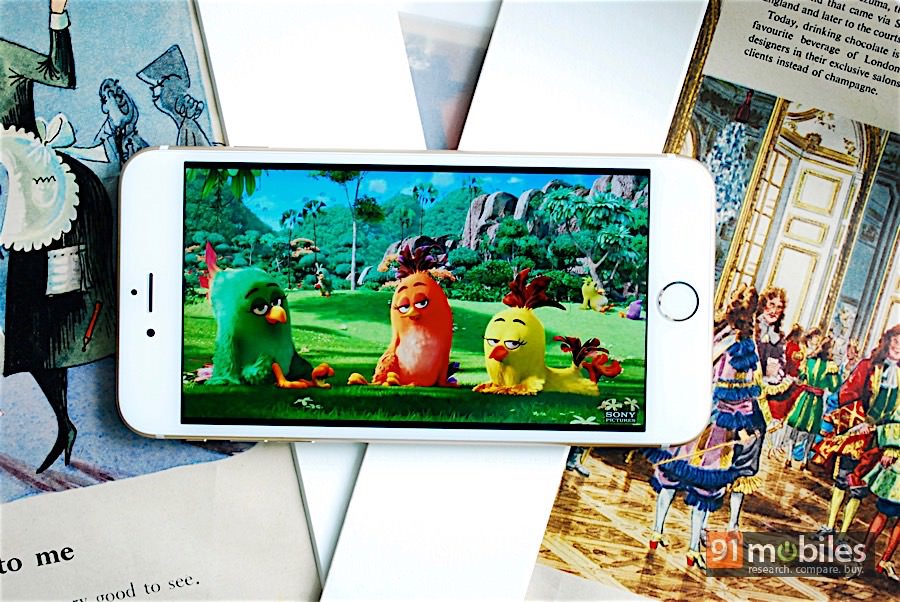 Unlike most Android flagships these days that flaunt 2K (and now, even 4K) displays, Apple has stuck to a respectable full HD resolution for the 6s Plus. We don't mind though, because the battery life compromises that come with a higher-res screen just aren't worth the extra pixels. The 5.5-inch screen means you get a pixel density of 401ppi, which is plenty sharp. Compared to last year's model, the 6s Plus' screen appears brighter, with more natural colours. Apple has also used a much stronger glass to protect the display, made using a dual ion-exchange process. The display offers excellent viewing angles, and the sunlight legibility is among the best in class.
3D Touch: deeper is better
While the iPhone 6s Plus' display might not look different, in reality, it's capable of so much more. Underneath the screen lies a network of 96 3D Touch sensors, which can detect not just pressure, but varying levels of pressure. For instance, the sensors know the difference between a light press and a deep press, letting you interact with content on your screen in different ways. Working with the sensors is a new Taptic engine, which provides haptic feedback based on how hard you press.
So what does 3D Touch do exactly? Think of it as a right click for your smartphone. When you press down on an icon on the homescreen for instance, you see a little contextual menu pop up. This is something Apple is calling Quick Actions. In the camera app, a Quick Action brings up options to take a selfie, record video, record slo-mo or take a photo. In Facebook, you'll find options to take a photo/video, upload a photo/video or write a post.
Apart from Quick Actions, 3D Touch works in two ways within apps. Apple is calling this Peek and Pop. A Peek (lighter press) brings up floating previews that disappear as soon as you take your finger off the screen, while a Pop (deeper press) opens up the content in its own window. For instance, in the Mail app, you can Peek on a mail in your inbox to preview the content, and swipe to mark it as read/unread or delete it. If you Pop an email, it opens up in it's own window, where you can take more actions like reply or forward. Similarly, pressing on a link in apps like WhatsApp will give you a Peek at the content in Safari, while a Pop will open the link in a separate Safari window. These actions are very useful, especially if you don't want to leave the app you're currently in.
Because Apple makes it own hardware and software, the integration of 3D Touch is really tight, and is something Android manufacturers just wouldn't be able to achieve. Currently, most native apps support 3D Touch in one form or another, as do a growing number of third-party apps. The potential for 3D Touch is enormous, but developers will require time to find unique (and useful) ways of integrating this tech within their apps. Instagram and WhatsApp have some of the most impressive 3D Touch integration we've seen, and we're curious to see where else it can be incorporated. The possibilites in gaming are particularly exciting – imagine a game where you can use 3D Touch instead of an awkward swipe to jump or run.
While there's no denying 3D Touch is a big deal, at this stage, you could just as easily get by without it, or worse, forget it's there. Until we see more apps using the feature, and using it well, you more likely to end up using the touchscreen the usual way.
Software: Hey Siri, a back button and more
The iPhone 6s Plus ships with iOS 9, although you'll be able to upgrade to iOS 9.1 immediately. Our favourite new feature in iOS 9 (and this is restricted just to the 6s and 6s Plus thanks to the upgraded M9 co-processor) is the ability to put 'Hey Siri' into an always-listening mode. Earlier, you could only use the voice command when the iPhone was plugged into a power source. Now, the two magic words make Siri jump to life at any time, a feature Android's 'Ok Google' has boasted of for a couple of years now.
Siri has also become smarter in iOS 9. The best example of this is Spotlight search, which now shows you results from within third-party apps. Apart from swiping down to see the search bar, you can also swipe to the left of the homescreen, where you'll find suggestions for contacts and apps you might want to access, based on your usage patterns.
Another notable new feature in iOS 9 is the Back button. This isn't a dedicated button like what you see on Android or Windows. Instead, if you open a link in an app and you're redirected to Safari, you'll now see a little 'Back to xyz app' in the top left corner, making it easy to go back to the app you were initially using. The back button also works when you are redirected to from the app you're currently using because you tapped on a new notification.
iOS 9 also brings a new Low Power mode, which disables mail fetch, background app refresh, automatic downloads and some visual effects to extend battery life by up to three hours. Additionally, the mode also detects when your iPhone is lying face down, and automatically prevents the display from lighting up when you have new notifications. While you can enable this mode in battery settings, you also get a prompt to turn it on when your battery hits 20 percent.
Another big change in iOS 9 is the fact that major iOS updates are now much smaller. Compared to the 4.6GB iOS 8 file, iOS 9 was only 1.8GB in size, and future updates will follow the same pattern (good news for 16GB iPhone users). Plus, Apple has also introduced a feature called 'app slicing', which lets you download only those parts of an app that are specific to your device, making the size much smaller. For instance, iPhone 6s Plus users will no longer have to download sections of the app that are specific to the iPad, or older-generation iPhones for that matter.
iOS 9 also brings improvements to native apps like Mail, where you can draw on image attachments, and Notes, where you can now make checklists and sketches. Then there are the 3D Touch optimisations, such as the keyboard. If you're typing text, you can now 3D Touch the keyboard to turn it into a trackpad, and scroll to a specific word or character.
Cameras: the best camera phone just got better


Flash

: Dual-color LED Flash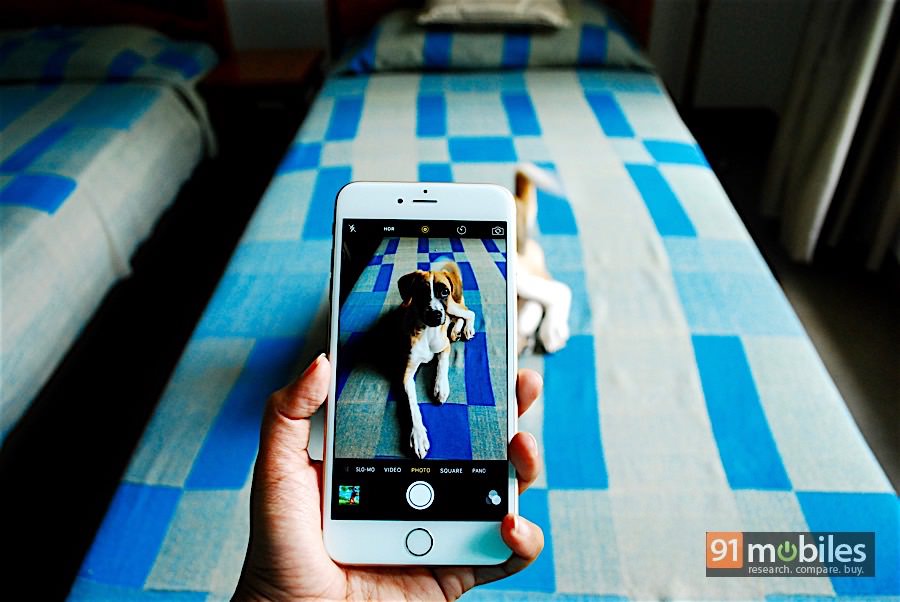 The iPhone 6s Plus gets some long overdue updates in the optics department. The 8MP iSight shooter has been bumped up to 12MP, and features an f/2.2 aperture, Focus Pixels (Apple speak for Phase Detection Autofocus), a five-element lens, a hybrid IR filter, a BSI sensor and Optical Image Stabilisation. The front 1.2MP FaceTime camera has received an even more significant boost, and is now a 5MP unit with f/2.2 aperture and a BSI sensor.
Apart from the improved cameras, the iPhone 6s Plus gets a new feature called Live Photos, similar to what HTC did with Zoe. When enabled, this mode captures 1.5 seconds of audio and video before and after an image is snapped, to give you moving images. You can press and hold on an image in the Camera Roll to view the movement, although if you transfer it to your PC, you only see a still image. The downside to Live Photos is that it takes up nearly double the space of a regular photo, so you might want to turn it off until you need it. Plus, there are no indicators on the viewfinder of the camera continuing to record after you snap, so we often ended up with Live Photos of us taking our iPhone away from the subject. Apart from the Live Photos icon, the camera app is otherwise unchanged, with minimal controls and a range of real-time filters.
The iPhone is one of the most popular digital cameras in the world, and the 6s Plus has taken image quality to a whole new level. The camera is quick to focus, snapping sharp, focussed results in a jiffy. Colours look natural, details are crisp, and bokeh results are just stunning, to say the least. Dynamic range continues to be its strong suit, with rare instances of washed out skies when we took landscape shots. If you feel like the image needs improvement though, Apple's subtle but effective HDR mode does the trick, and we'd suggest keeping Auto HDR on for this. While low light shots are still grainy, the noise levels appear improved, and colours seem better reproduced.
Fuzzy selfies are a thing of the past with the front camera, which now outputs sharper, less noisy results. A new feature called Retina Flash lights up the display to work as a stand-in flash, illuminating your selfies in low light. It does help for darker environments, but doesn't do a very good job of evenly spreading the light.
You can check out our iPhone 6s Plus camera review for more details, or click on the thumbnails below to view sample images.
Performance: a plus-sized steamroller
CPU
: Dual core, 1.84 GHz, Apple A9…
SIM Slots
: Single SIM , GSM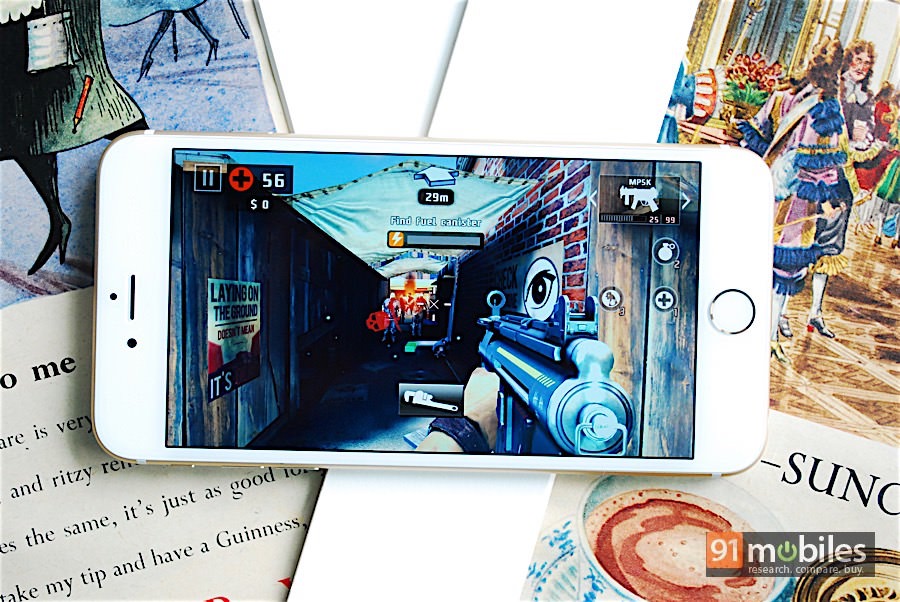 The iPhone 6s Plus is fast, really fast. Chugging at its heart is the new and improved 64-bit A9 chipset, which according to benchmarks consists of dual cores clocked at 1.84GHz. It's paired with an updated M9 co-processor, and finally gets a RAM boost of 2GB. Compared to the iPhone 6 Plus, the 6s Plus just feels so much faster. We put the two phones side by side, and noticed a visible improvement in speed, whether it was launching apps, swiping through screens, or even pulling down the drop-down notification pane. Gaming is a real pleasure on the 6s Plus, with heavier titles like Dead Trigger 2 displaying no visible frame drops or lags. The smartphone continues to run smoothly, without overheating, even after 30-40 minute gaming sessions.
Another internal component that's been ugraded is the Touch ID sensor. At version 2.0, Apple says it's much faster. In fact, we think it might be too fast. With the iPhone 6, we often ended up lightly pressing the Touch ID sensor to wake the screen to view the time or access the camera shortcut. With the iPhone 6s Plus, even a minor press of the Touch ID sensor unlocks the phone – faster, sure, but not that convenient when it comes to accessing lockscreen shortcuts. Even so, Touch ID is one of the best and most responsive fingprint sensors we've used so far. It just works, every time. And if there was a time when it didn't register our fingerprint, we can't remember.
Battery life is a major pain-point for the iPhones, so most users wouldn't be too pleased to know that Apple's actually shrunk the size of the batteries. The iPhone 6s Plus features a 2,750mAh battery, which is smaller than its predecessor's 2,915mAh unit. You have 3D Touch to thank for that – all those sensors and the Taptic engine took up quite a bit of room.
We'll be straight with you, battery life isn't the best, but it's actually on par with the iPhone 6 Plus thanks to iOS 9 optimisations. To give you an idea, if our battery was at 100 percent at about 8 am, it lasted us until about 11 pm with moderate usage involving about two hours of screen on time, which involved keeping mail push configured to two email accounts, plus active Facebook, Twitter, WhatsApp, Instagram and Snapchat accounts. We never managed to get four hours of screen on time though, and on days with heavy usage, the battery often ran into red by 6 pm. The Low Power mode we mentioned earlier comes in handy for times like these.
When it comes to storage options, for some bizarre reason, Apple has chosen to retain the 16GB base model for the new iPhones. It's a bit unfair, considering the company has added new features like Live Photos and 4K video recording, and given the increasing quantity of media and apps we're storing on our devices. Some might argue that the iPhone 16GB has a lot of takers, but that's only because there are plenty of people who want iPhones, but can't shell out the premium for the next storage variant. We hope Apple is considerate enough to up the base model to 32GB (a storage option it scrapped a few generations ago). Fortunately for us, we have the highest 128GB variant in our labs, which gives us a generous 112GB of space out of the box.

The iPhone 6s Plus accepts a single nano-SIM, and supports both 4G bands in India. The remaining connectivity specs on offer include Wi-Fi 802.11ac with MIMO, Bluetooth 4.2, GPS, GLONASS and NFC (only for Apple Pay).
Verdict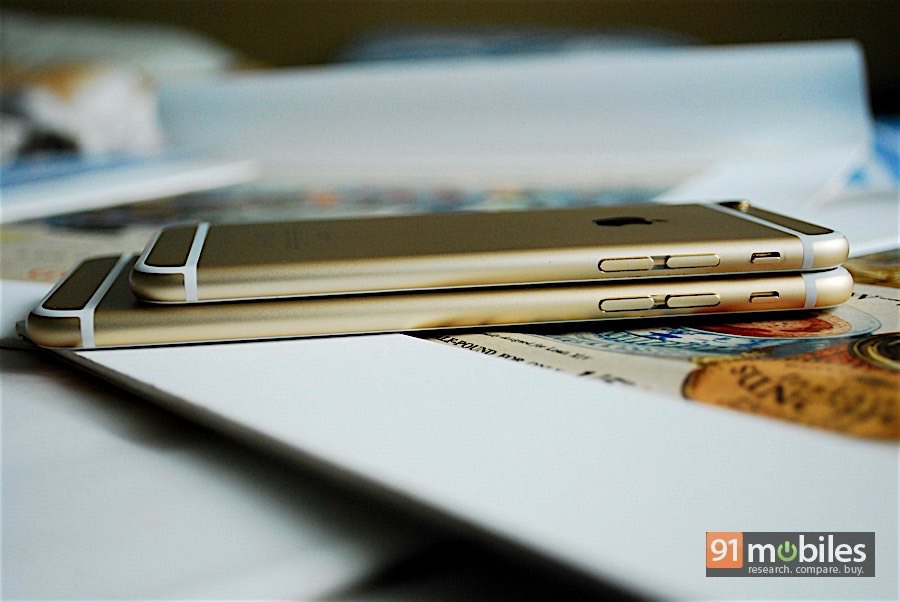 Apple always prices the iPhone at a premium, and that's ok. Apple loyalists will upgrade to the latest iPhone, irrespective of the price, provided they can afford it of course. For everyone else though, price is a huge factor, and we feel that Apple has been unfair to its Indian customers this time around. The base 16GB iPhone 6s Plus costs Rs 72,000, a whole Rs 10,000 more than the previous year's model. The 64GB model costs Rs 82,000, and the 128GB variant will set you back by Rs 92,000. As if the inflated prices weren't reason enough, a quick glance at Apple's US website will show you an even greater disparity. In the US, the iPhones are priced cheaper, way cheaper. The 16GB model costs approximately Rs 50,000, and that's a huge difference in price for a smartphone. For that reason alone, many users looking to get their hands on a flagship might consider Android alternatives like the Samsung Galaxy S6 Edge (review), Note5 (review), the LG G4 and the Nexus 6P.
If you're using last year's iPhones, you don't really need to upgrade just for 3D Touch, since the technology is still in its nascent stages and will take a few months before apps begin to use it well. If you're using an older-generation iPhone and want to upgrade, we suggest persuading a kind relative to bring one over for you from the US. If that's not feasible, the
iPhone 6
(
review
) and
iPhone 6 Plus
(
review
) are still excellent options that are now available for reduced prices online.

Editor's Rating: 4 / 5

Pros:
3D Touch
New and improved cameras
Blazing fast performance

Cons:
Slippery design still mandates using a case
Base model is still 16GB
Very expensive