Highlights
A link has gone viral which shows an Amazon-like page telling people that they have a chance to win Huawei Mate 40 Pro for free.
Newsmeter has checked the link and found it to be fake.
The fake link can steal your personal information and risks your device's security.
An attractive Amazon offer has been circulating lately on social media platforms like Facebook and Instagram and on messaging services like WhatsApp and Telegram. The offer is seemingly from e-commerce platform Amazon, which claims to offer free gifts to 100 random users on the occasion of its 30th anniversary. The Amazon link asks you to take a survey to stand a chance to win the gift. This gift, according to reports, is a free Huawei Mate 40 Pro 5G (8GB+256GB). Unsurprisingly, it turns out that this too-good-to-be-true offer is totally fake, fact-checking website Newsmeter reports.
This Amazon free phone viral link is fake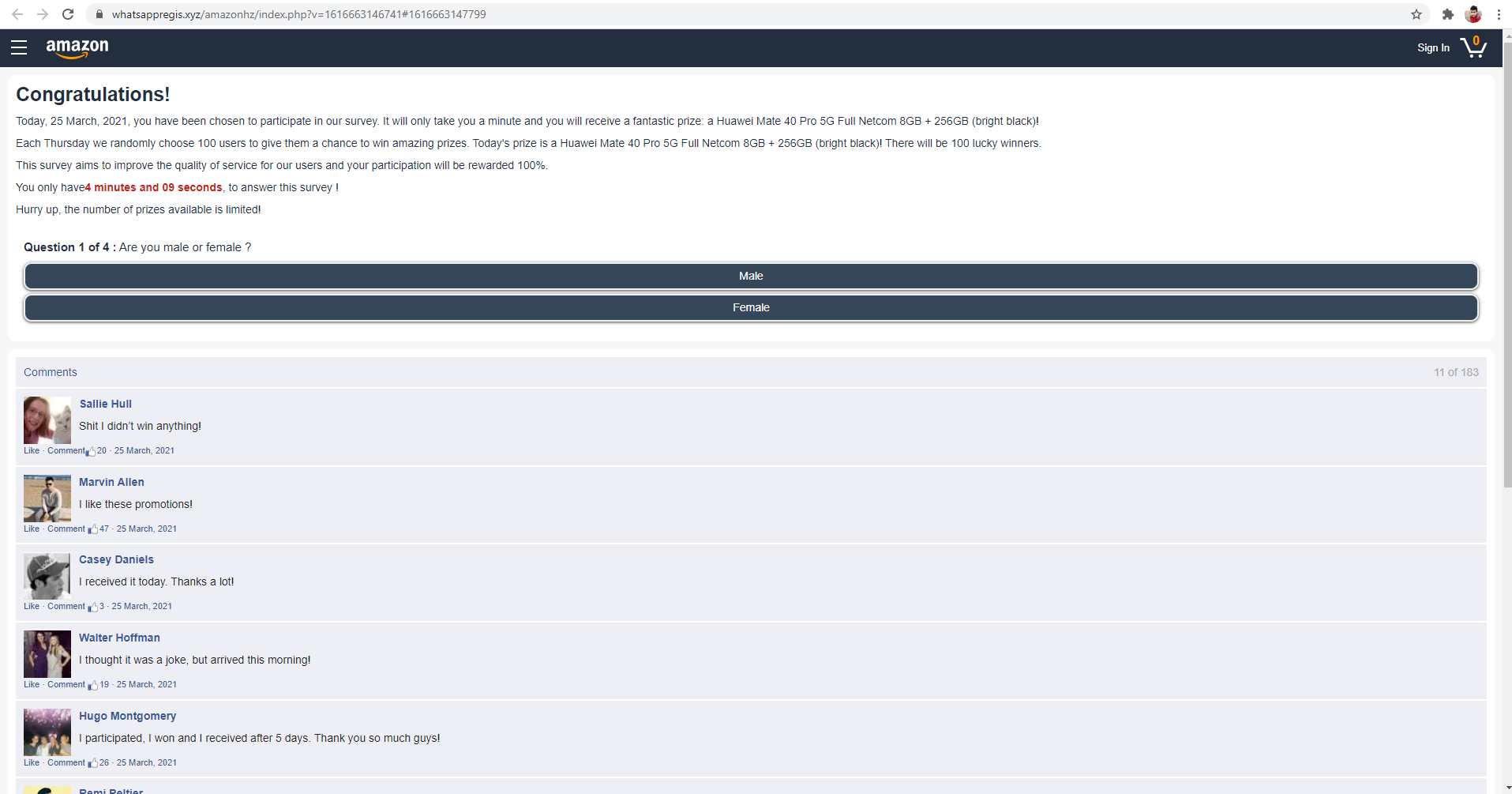 Newsmeter visited the Amazon link to check if this offer is genuine or fake. According to the publication, when you click on the link, you will be taken to a webpage that looks somewhat like that of Amazon. There is no doubt that many people won't be able to differentiate if it is a genuine Amazon page or a fake one. The best way to know for sure is to check if the link has Amazon written as the main URL. This particular link does not have Amazon written as the main URL, which means that it is fake.

Anyway, the page says that the reader has been chosen to take part in a survey and that taking this survey would get the reader a chance to win Huawei Mate 40 Pro 5G (8GB+256GB). According to it, 100 winners will be chosen every week. However, Newsmeter reports that you can take the survey again and again and that you will win every second time you take the survey. This is the second indication that this is a fake link.

The survey asks a few basic questions along with your address. It then asks you to share the link in WhatsApp groups and download a particular application to receive the gift. However, nothing happens when you complete the whole process. You never receive any gift. Because this is just a fake link to steal your personal information. Visiting such links risks your device's security. This is a common method used by many for stealing personal information and hacking devices.
The publication claims that it also called up Amazon's customer care to enquire about this offer and they confirmed that it is a fake link and Amazon does not host any such offers. Amazon also asked them to be aware of such links and scams. If you come across any such link, please do not click it. You will not get any gift of any sort. Such links and offers are fake.