Highlights
Google will display 'People Card' on top of results
The new feature is aimed at helping millions of individuals who want to be discovered on Google search
Google has launched a new feature in India called 'People Card'. The feature allows individuals to create their digital profile or a virtual visiting card that will feature on Google Search. The profile will be similar to a visiting card where users can highlight their existing websites, social media profiles, and contact details, which will show up when someone looks up your name on the search engine. "The new feature is aimed at helping the millions of individuals, influencers, entrepreneurs, prospective employees, self-employed people, freelancers, or anyone else out there who wants to be discovered and help the world find them," the company said in a blog post.
People Card can be created by anyone after signing in to your Google account. It's worth mentioning that the process requires your phone number for verification. Proceed only if you're willing to share that.
How to create People Card on Google?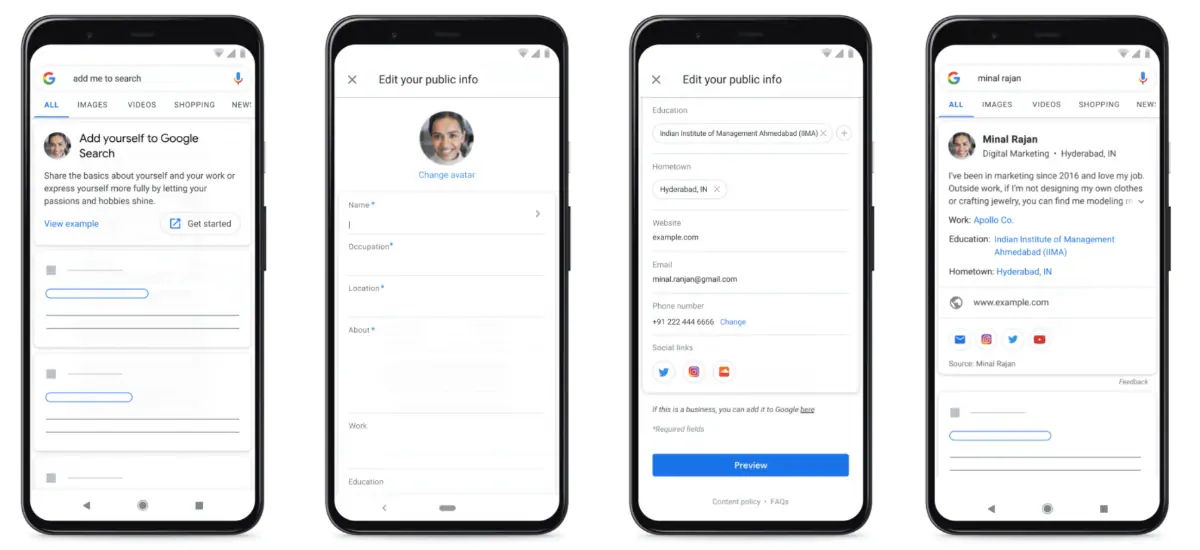 Creating a People Card on Google is a very simple procedure. All you need to do is sign-in to your Google Account and

search for "add me to Search". This will prompt the website to ask for your details with the option "Add yourself to Google Search."

Tap that prompt to make a People Card by uploading your image, adding a bio, and links to social media profiles, among other details. After that, you'll be asked to provide your phone number that will be verified through a six-digit unique code to begin the process.

Y

ou can choose whether to make your mobile number and email ID publicly available or not. Google may ask other details for verifications too. Once you're done with that your people card will be created, which will feature on top of the results.
"To make sure people find helpful and reliable information, Google has put together a variety of protections and controls to maintain the quality of information on the people card," per the company. These protections include allowing only one people card per Google account, a unique phone number for each account, an option to opt-out of the feature, and a feedback button.