Review Summary
Expert Rating
4/5
Raise your hands if you remember the Nexus range of phones from Google. Made by different manufacturers (HTC, Samsung, LG etc) across different generations, but carrying Google's promise of stock Android and timely platform updates, those phones offered solid value for money and respectable specs too. Then Google ended the Nexus program, switched to its own branded smartphones, and thus, Pixel was born. The Pixel series has seen its share of ups and downs, but the one aspect each phone in the series managed to score high on has been photography. The company stuck to its flagship guns, but last year saw Google change tack by coming up with a mid-range smartphone in the Pixel series for the first time ever. However, the Mountain View giant skipped India when the time came to launch its 2019 flagship, the Pixel 4. Finally though, we have a new Pixel in our hands, which comes in the form of the mid-range Pixel 4a. So let's end that brief history lesson right away and see what the new smartphone has to offer.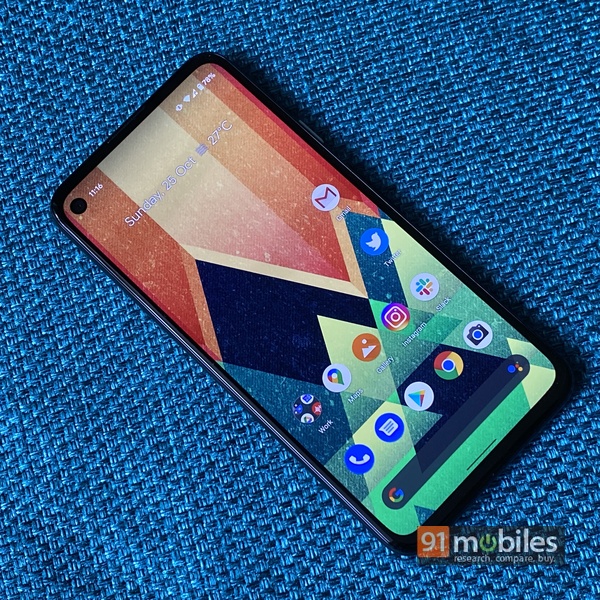 Right at the outset, let's address one of its main USPs – the camera. In case you missed the memo, the Pixel 4a holds two big surprises as far as the camera is concerned. First, it only offers a single rear camera, that too in 2020. And second, that single camera really shines. You should read our in-depth Pixel 4a camera review for more details, and there's a handy comparison with the OnePlus Nord and iPhone SE in there too.




Just to give you a gist, the Pixel 4a actually comes across as one of the best camera phones in the mid-range segment, though its closest rival, the OnePlus Nord is just a tad bit more versatile because of its extra cameras. Selfie aficionados should still probably stick to the OnePlus Nord if the choice is between these two, but overall, let's just say that the Pixel 4a won't let you down as far as camera prowess is concerned.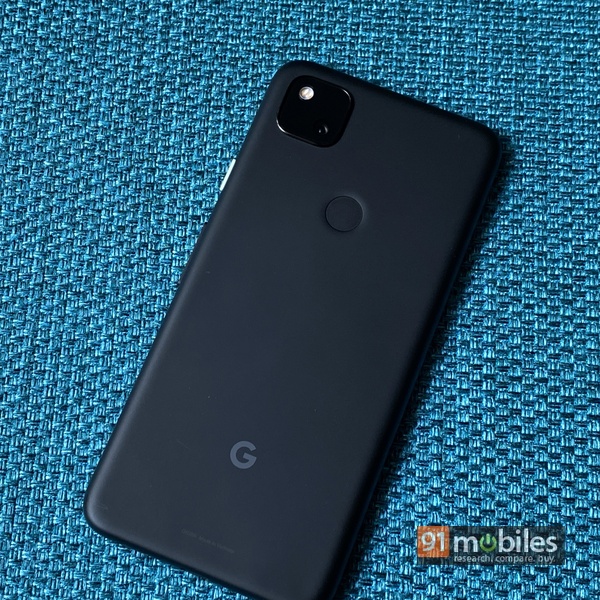 With that out of the way, let's see how the Pixel 4a fares as a daily driver in other aspects. First up, the design. Do check out my first impressions for that, but suffice it to say that with the Pixel 4a in your hand, you won't really be turning any heads. It's a plain Jane, ho-hum design that comes in a single black colour (aptly called Just Black) and is a safe option in case you want to keep a low profile. Possibly the most flamboyant aspect of its design is the mint-coloured power button that stands out against the black body. For authentication, you get a capacitive circular fingerprint scanner at the back. It's fast and responsive too. Unfortunately though, there's no face unlock. Also worth mentioning is the fact that while the Pixel 4a accepts a single physical nano-SIM, it has a built-in eSIM which you can set up for standalone use or in dual-SIM mode.
The phone is lightweight and compact, and I can safely use the "premium" word here. The in-hand feel is great, with the matte-finished rear feeling nice to the touch. At front, the phone has a modern look, thanks to slim bezels and the punch hole implementation for the selfie camera. Worth mentioning that Google has dropped the Active Edge feature this time, the one that let you invoke Google Assistant by squeezing the sides of the phone. However, you do get a 3.5mm audio jack – something that has grown significantly in importance for me personally during the WFH phase. It's just so much more convenient to hook up a pair of wired earphones / headphones when one's in a hurry, instead of looking for a Bluetooth headset or TWS earphones only to find they're out of battery. Moreover, the Pixel 4a offers stereo speakers, resulting in a good aural experience even without headphones, along with great haptics that make usage so much more intuitive and immersive.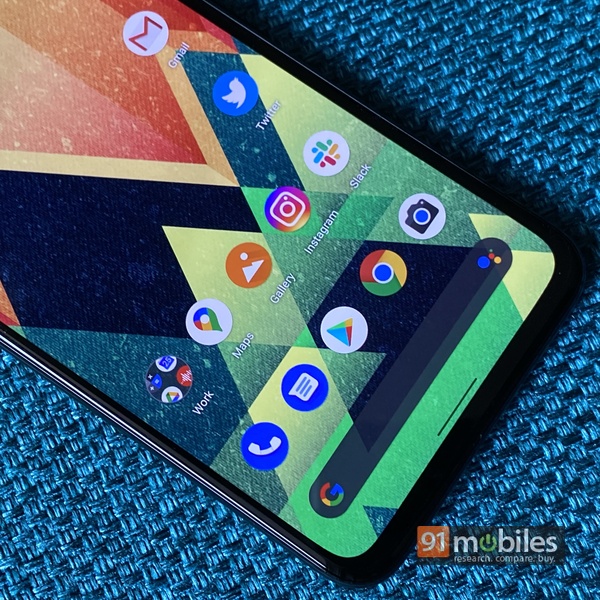 The screen is a 5.8-inch OLED panel with HDR support. Needless to say, the colours are great, the blacks are deep and viewing angles are good. It does miss out on a high screen refresh rate, but I didn't really find any issues with day-to-day usage. The screen colours can be set to natural, boosted or adaptive, while the Alway-on Display feature is quite handy.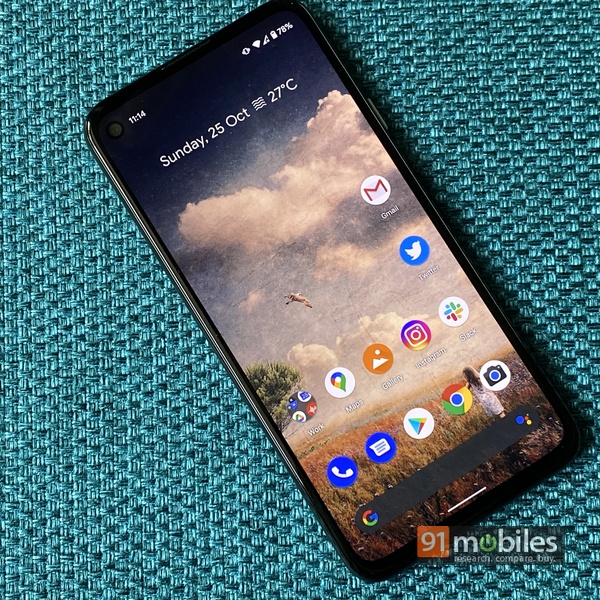 As far as performance is concerned, you get Qualcomm's tried and tested Snapdragon 730G, which is no slouch and is known for offering smooth performance. However, it's over a year old, and isn't as powerful as say, the Snapdragon 765G that finds its way into the OnePlus Nord. If you can get over that though, you'll find that the Pixel 4a turns in a fluid performance, with no hiccups or stutter of any sort. Thanks to 6 gigs of RAM, multitasking is smooth too, and you can even play some graphics-intensive games at medium settings. Do keep in mind that due to the compact display, the Pixel 4a isn't ideal for serious gaming anyway, and if you're a streaming buff, you might be left wanting for more in terms of the screen real estate, relatively speaking.
The 3,140mAh battery also feels a tad weak, when compared to the battery capacities most smartphones offer these days. The Pixel 4a isn't a two-day phone, but I'm glad to report that it can last a full day with medium usage. Battery drain on standby is minimal, in fact. The smartphone lasted 11 hours 35 minutes in the PCMark battery test, which is a good result. The bundled 18W charger, which has a Type-C port and works with the included Type-C to Type-C cable, charges the phone fully in a little over an hour and a half.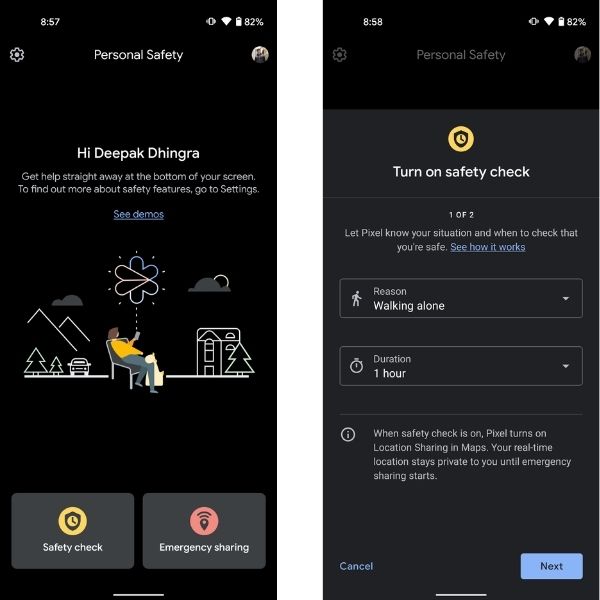 When it's a Pixel, you know what to expect in terms of software. The Pixel 4a runs stock Android 11, and doesn't have any bloatware whatsoever. There are tons of Google goodies, including Live Caption that automatically captions speech, and works on videos, calls etc. Then there's the signature Now Playing feature that can recognise music tracks, and works offline too. There's a new Safety feature Google has added which lets you share your location with specified contacts, even doing that automatically in case you don't respond after a specified time duration. This could be useful in different scenarios, like when you're walking alone or taking a cab at odd times, for example.
Final verdict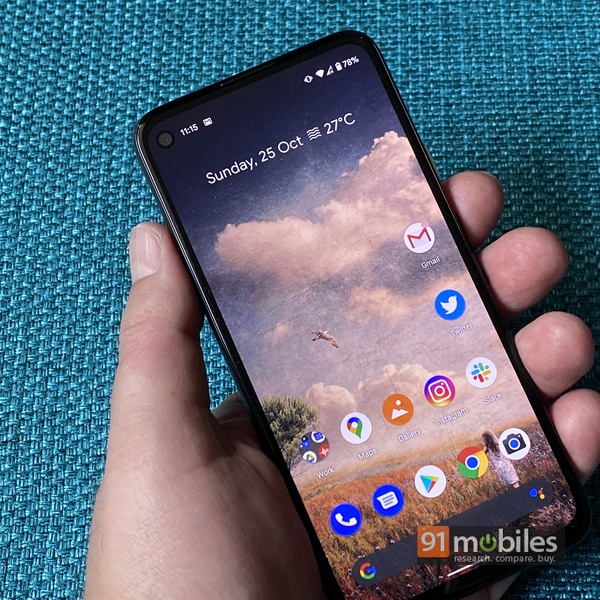 The Google Pixel 4a is a device that doesn't really offer any frills. There's no face unlock, no multiple cameras, no IP rating, no storage expansion, and no 5G support. The OnePlus Nord (review) trumps it in almost all these aspects, so you'd really need to figure out what you really need, keeping your use cases in mind.
Related read: iPhone SE vs OnePlus Nord vs Pixel 4a
It may not be for everyone, but if you do choose to spend your money on the Pixel 4a, you'd find that it's a capable daily driver that turns in smooth performance, shoots extremely well, can be used single-handedly and offers decent battery life too. The icing on the cake is the great in-hand feel, the stereo speakers, the 3.5mm jack, intuitive haptics, the fluid no-frills experience that only stock Android on a Pixel can offer, and of course, the continuing promise of software updates. Deserves a close, hard look for sure.
Editor's rating: 4 / 5
Pros
Compact, great in-hand feel
Capable camera
Stereo speakers
Clean Android, without bloatware
Cons
Can't match close rivals in terms of pure specs
No face unlock
No ultra-wide camera
Average battery
Competitors for Google Mobile Pixel 4A
| | | |
| --- | --- | --- |
| Google Mobile Pixel 4A | vs | OnePlus Nord |
| | | |
| --- | --- | --- |
| Google Mobile Pixel 4A | vs | Apple iPhone SE 2020 |