"The Honor 6 is part of a new breed of affordable flagships. We put it to the test in our review."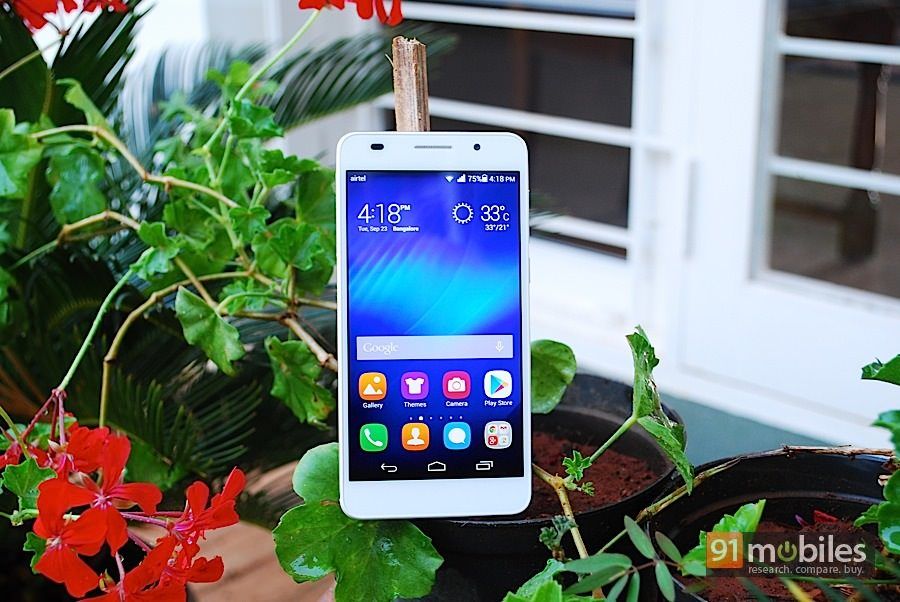 Huawei has been around in the Indian market for a long time. Over the years, the company has released a steady stream of capable, value for money devices, but for some reason, always lurked in the shadows instead of basking in the limelight. Earlier, the brand had to compete with the big guns like Samsung, LG, HTC and Sony, and as a result, never really had the chance to prove its mettle.
But the smartphone market has changed drastically this year. With Motorola, ASUS and most recently, Xiaomi entering the fray, Indian users suddenly have a wealth of choices, and have learned to look beyond the big names of the past.
While brand value still plays an important role, the Indian buyer is no longer averse to purchasing a smartphone that offers decent specs at a good price, even when it isn't backed by a trusted household name. The most compelling example in this case is Xiaomi, which has managed to garner both fame and fortune despite being virtually unknown in India at the time of launch.
In this new, open market, Huawei finally has the chance to shine, and to do this, it has chosen it's new flagship, the Honor 6. Competitively priced at Rs 19,999, could this be Huawei's gateway into the hall of fame? Let's find out.
Specs At A Glance
5-inch, 1,920 x 1,080 pixel IPS display (445ppi)
Octa-core Kirin 920 processor (1.3GHz + 1.7GHz)
3GB RAM
13-megapixel primary camera, 5MP front
16GB storage (expandable by another 64GB)
4G, Wi-Fi 802.11ac, Wi-Fi Direct, Bluetooth 4.0 and GPS
Android KitKat 4.4.2 with Emotion UI 2.3
3,100mAh battery
FM Radio

Premium materials in a compact frame

In terms of look and build, the Honor 6 looks very similar to the Xiaomi Mi 4 (review). Like the Mi 4, the all white Honor 6 sports a unibody design with a glossy back panel and chrome tipped sides.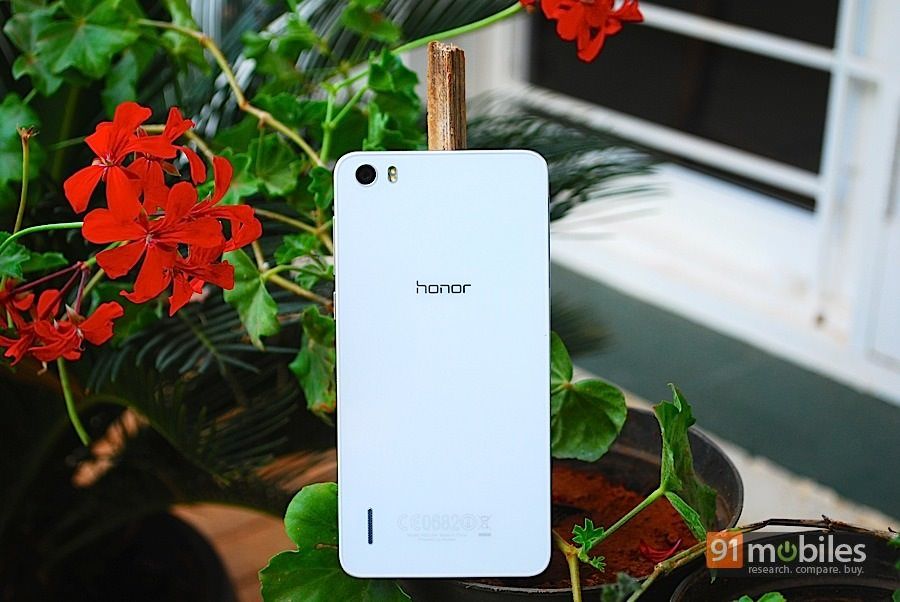 While the exterior is all plastic, the frame is made of a durable aluminium alloy. To keep the smartphone from heating up, Huawei has added thermal gel, and two pieces of Panasonic Graphite, a material known for its thermal conductivity and heat spreading properties.
We appreciate that Huawei has tried to cut down on bulk, by keeping the bezels around the display to the bare minimum, making the Honor 6 almost the same size as the iPhone 5s.
Above the screen, you'll find a slim metallic grill that functions as the earpiece, flanked by the front camera 2MP on the right and the duo of sensors and multi-coloured notification LED on the left. The fascia is completely bare, since the Android buttons appear on the display as a software overlay.
A uniform chrome bezel runs the length of the right and left spine, engulfing the top edge in the process. Even though it's made of plastic, the matte finish ensures that it isn't marred by smudges. On the top edge, you'll find the 3.5mm headphone jack, an IR blaster and the secondary microphone. While the left spine is bare, the right houses the volume rocker on top, followed by the power button and a well camouflaged flap that hides the SIM and microSD card. The bottom edge sports the same white finish as the rest of the smartphone, and features the microUSB port for charging, along with the primary microphone.
Moving over to the rear, you'll find the primary 13MP camera and dual-LED flash on the top left, and a vertical grill representing the loudspeaker at the bottom. There's also a Honor logo in the centre, but strangely Huawei's own branding is missing from device. The shiny plastic back panel features a subtle dotted pattern underneath a transparent top layer. Unfortunately, it's liable to get scratched and smudged easily, which left us wishing Huawei had opted for a matte-finish instead.
Overall, despite the plastic finish, the Honor 6 feels like a well constructed, premium device.

Delicious display we couldn't take our eyes off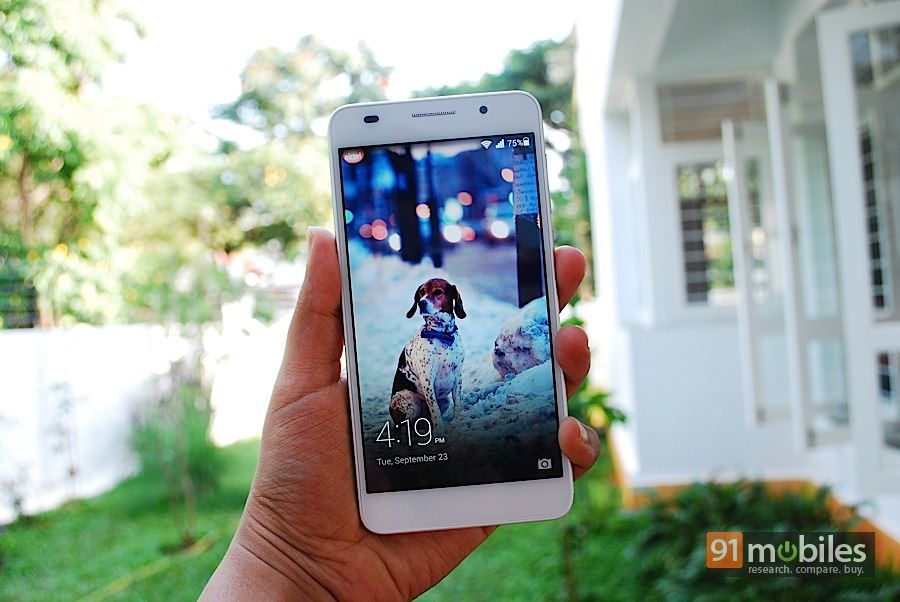 Taking pride of place on the Honor 6 is the 5-inch display with full HD (1,080 x 1,920 pixels) resolution, equating to a jam-packed pixel density of 445ppi. Protecting the display is a layer of Corning Gorilla Glass 3, as well as an oleophobic coating to keep smudges and fingerprints at bay. The display was stunning, to say the least. It's bright, extremely sharp and very responsive, and was a delight to use. It's equally good for gaming, watching videos or just typing, with no lags or jitters to mar the experience. While the high brightness levels make it legible in sunlight, it's reflective nature can disturb viewing angles.
Going into the settings lets you adjust the colour temperature to your preference, and enable a Glove Mode for extra sensitivity.


Getting emotional about software


The Honor 6 runs Huawei's Emotion UI 2.3 on top of Android 4.4.2 KitKat. Emotion UI is packed to the brim with features, several of which will seem familiar if you've used Xiaomi's MIUI. It offers a completely redesigned interface, a theme store and a ton of tools that power users will love, while maintaining the simplicity and smoothness of stock Android.


The first thing that greets you when you power on the smartphone is the lockscreen. By default, you get Huawei's Magazine Unlock lockscreen enabled. Magazine Unlock displays a different image on the lockscreen every time you unlock the phone. The images are professionally shot and beautiful, covering categories like Travel, Vehicle, Fashion and Life. We loved this dynamic element, but if you don't, you can always choose a specific wallpaper in settings. By swiping up from the bottom of the lockscreen, you'll see an iOS-style Control Center menu, which displays toggles to pause, change or save or share a lockscreen image. Also in the menu are convenient controls for the calendar, calculator, flashlight and mirror.
Coming to the main interface itself, the first thing you'll notice is the lack of an app drawer. Just like MIUI, all the icons are displayed on the homescreen itself. While the lack of an app drawer does lead to a cluttered homescreen if you tend to download lots of apps, there's nothing preventing you from installing a third-party launcher. The icons are colourful, cartoonish even, but the good news is that you're not stuck with a single look.
Thanks to the presence of a theme store, you can adorn the Honor 6 with a number of beautifully-designed themes. There are three themes loaded on the smartphone, and a wide range of others you can download for free via the online store. As an added bonus, for each theme you can customise the screen lock style, lock screen transition, lock screen wallpaper, home wallpaper, icon style, font, notification sounds and ringtones.
The notification shade is quite standard, and can be accessed via the lockscreen if you allow it. The shortcuts tab for quick settings has an expand view option, which lets you view the full list and rearrange icons in the order of your choice. The Recents key, apart from letting you individually close open apps, also has a one-touch RAM cleaner to close all running apps.

Thankfully, Huawei has kept bloatware to the minimum, with third-party pre-loaded apps including only Kingsoft Office, Flipkart and Flipkart e-books. As a bonus, you can uninstall them if you wish.
Huawei's own apps are restricted only to utilities. The most interesting of them is called Phone Manager, which functions like a dashboard packed with several controls. There's a virus scanner, a RAM cleaner, a harassment filter and a Do Not Disturb function, which are pretty straightforward. Then there are controls that would make geeks drool. Phone Accelerator shows you which apps are consuming a lot of memory. You can choose to be notified when the CPU usage is high and the phone starts becoming slow. A function called Protected Apps lets you select which apps to allow to keep running after the screen is turned off.
The Power Saving mode gives you a choice of three power plans at the basic level – Optimum, Smart and Ultra. By default, the phone is set to Smart. Optimum gets the most out of the CPU and is recommended for watching videos or gaming, while Ultra disables all functions except for calls and messages. Additionally, you can view Background Power Intensive Apps, to see how much power each app is consuming, and close the ones you want. A Power Monitoring option shows you a list "Issues to be optimised" letting you turn off select battery draining settings with a simple tap.
Networked Apps shows you a list of all apps consuming data, letting you specify whether to let them use Wi-Fi, Mobile Data, both or none – another feature we found particularly useful. Similarly, the Notification Manager lets you restrict or allow apps from sending push notifications to the lock screen. Lastly, there's a Backup option that lets you backup files to the internal storage, and even encrypt them for privacy.
The Honor 6 comes with a 'Tools' folder, where most other utility apps like the torch, calculator, FM radio, etc are neatly arranged. It also has a Magnifier app, which works really well, utilising the primary camera as a macro lens, and even letting you turn on the flash for illumination. There's also a mirror app, which starts up displaying a steamy mirror effect, which you'll need to wipe clean or press the back button to get ride off. You can choose to customise your mirror with frames, increase brightness, or even use it to snap a photo. While the smartphone does have an IR Blaster, there was no app pre-loaded on the device. However, we expect Huawei will release a software update in the future to bring this functionality.
The settings menu has a couple of neat tricks tucked away as well. Prime among them is Simple Home. Similar to Lite Mode on the Redmi 1s (review), this changes your homescreen's layout into an easy to use interface. It features large colourful blocks to depict important apps, with an option to assign them to a specific contact or app.
The storage settings has a cleaner function, which can scan your phone for useless or unused files. There are also options to clean the cache, residual files, outdated app packages, rarely used files and even larger files for when you want to free up space.
There's a also section called Smart Assistance. From here, you can activate the Suspend Button, which is a floating button that can be dragged to any edge of the screen. When touched, it opens up to display a menu with the Android capacitive keys, and shortcuts to lock the screen and clean running apps. Motion Control lets you turn on various motion based gestures like flip to mute, pick up to reduce ring volume, raise to ear to answer and make calls, shake to rearrange icons, and tilt the screen to move icons and widgets. The Glove Mode can also be enabled from here.


Shooters are a hit and miss affair


The Honor 6 is well equipped in the photography department, with a 13-megapixel Sony BSI sensor with dual-LED flash at the back, and a 5-megapixel snapper in the front.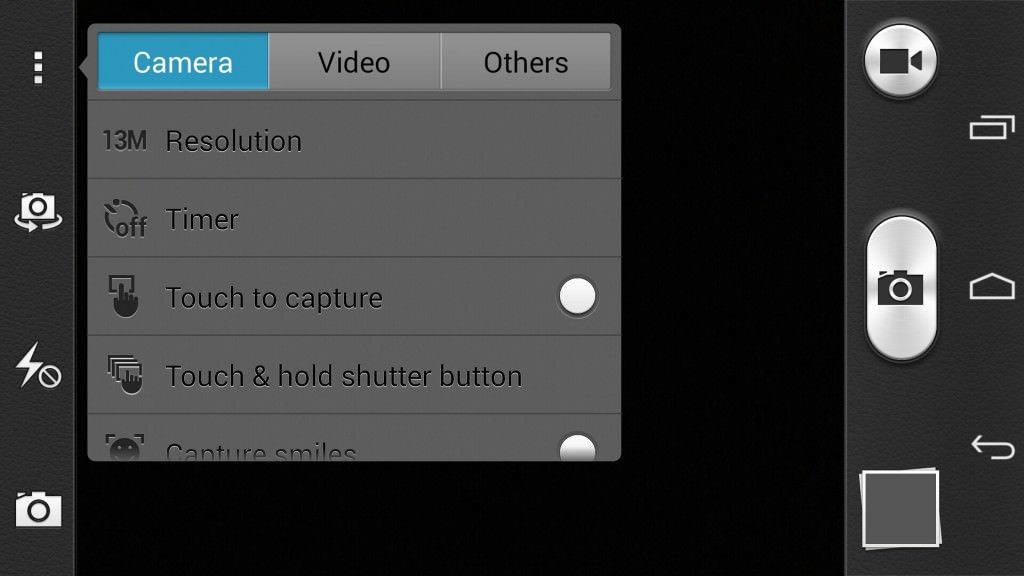 The camera app is straightforward, but by default it shoots in 16:9, which whittles the resolution down to 10MP. For the full 13MP resolution, you'll need to change the aspect ratio to 4:3. The settings tab lets you enable a timer, touch to capture, smile capture, object tracking, ISO, white balance, exposure, contrast, saturation and brightness. You can configure the volume key to enable a variety of functions, using it to zoom, capture photos, focus or take a video. When the screen is locked, you can even program it to open the camera with a double press.
There are three main shooting modes – Normal, Smart and Beauty. Then there's an interesting Watermark mode, which applies a small text and image overlay on your photo, which can be customised with text of your choice. There are 10 different watermarks available, with some letting you add the date, time and location info too. The Audio Control mode takes a photo when your voice reaches a high decibel level, while Audio Note records up to 10 seconds of audio after you take a photo. Best Photo takes 10 successive snaps, and chooses the best one to save. All Focus is similar to Nokia's Refocus tool, letting you take a photo and change the focus area later. The usual Panorama and HDR modes and array of filters are also available.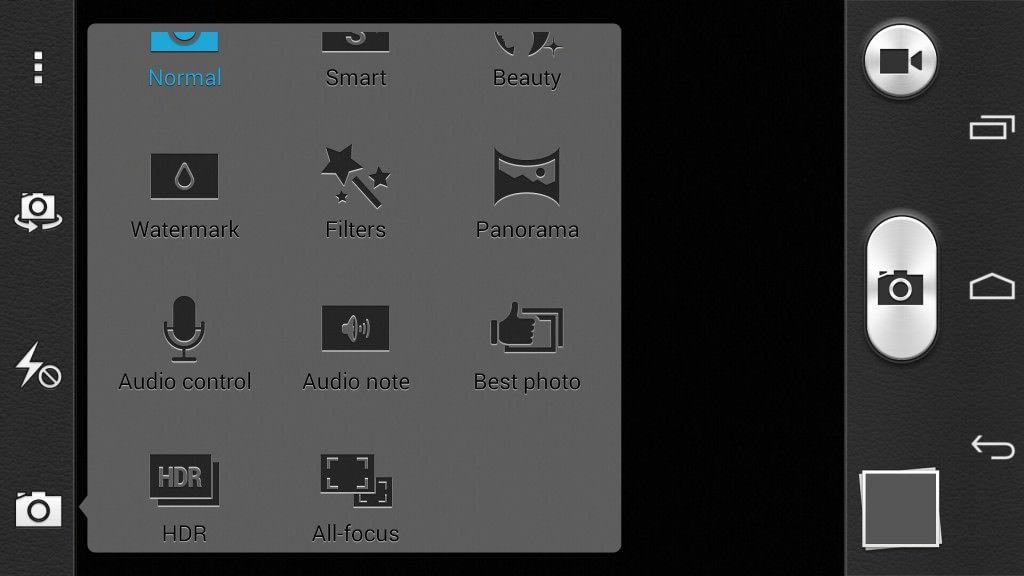 The front camera has a special mode for selfies. After you press the shutter button, it starts a countdown timer (you can specify the time in settings), and opens up a small "Selfie Window" directly under the camera, ensuring that you're looking directly at the lens. There's even a toggle to increase screen brightness to make low light selfies look better. For "groupies", the front snapper has a wide-angle 16:9 mode, but this brings the resolution down to 3.8MP.
The primary camera can record video in 1080p, and supports the Beauty Mode, Object Tracking and even HDR.
When it comes to results, the cameras were a mixed bag. The primary camera is quick to focus and offers pleasing macro results. Landscape shots are very sharp, even when zoomed in. However, colours are washed out, making photos look very drab. At night, the camera is able to capture a surprisingly good detail, without much grain. The front camera is fixed focus, but can take a good selfie.
Here are some image samples from the primary camera. Click on the thumbnails to view them in full resolution.


A beast on the inside


Powering the Huawei Honor 6 is the company's custom HiSilicon Kirin 920 chipset, which has made its debut on this smartphone. Based on ARM's big.LITTLE architecture, it consists of four Cortex-A15 cores clocked at 1.7GHz, and four Cortex-A7 cores clocked at 1.3GHz. This enables the processor to be more power efficient, but also allows it to use both clusters simultaneously when required. For graphics, the Kirin 920 is equipped with a Mali-T628MP4 quad-core GPU and a meaty 3GB of RAM. Additionally, the processor features a Cat6 LTE modem, one of the first to be commercially available.

For storage needs, you get 16GB of onboard memory, out of which around 11.3GB is available to the user. The microSD card slot supports expansion up to an additional 64GB.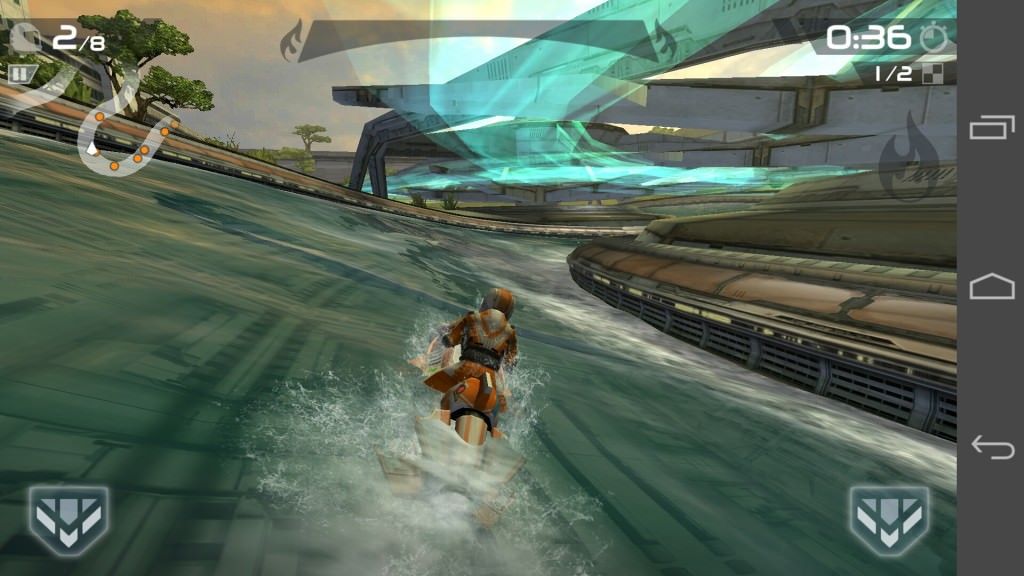 In terms of performance, the Honor 6 is blazingly fast, hungrily handling both intensive and regular tasks without stopping for a breath. Apps load instantly, multi-tasking works like a charm and lags and freezes are non-existent. It's also worth mentioning that Emotion 2.3 UI is a fairly light layer, unlike MIUI which can become sluggish sometimes. When it comes to gaming, graphics heavy games like Riptide GP2 are a delight to play, with the full HD screen making it a visual treat.
The smartphone is also very power efficient. Relying on a 3,100mAh battery, it easily lasts until the end of the day with heavy usage, and can chug on until the next morning if you're a light user. In our video loop battery drain test, where we continuously play a 720p video with brightness and volume set to 50 percent, the Honor 6 lasted us 8 hours and 30 minutes, which is an above average result. Since full HD screens aren't exactly energy efficient, Huawei has implemented a Screen Saving mode, which tones down the resolution to 720p. This is a useful feature, which should significantly boost battery life without compromising on the overall experience.
In terms of connectivity, the Honor 6 offers 4G/3G, Wi-Fi 802.11ac, Wi-Fi Direct, Bluetooth 4.0 and GPS. In India, the smartphone available only in a single SIM model. It's also worth noting that 4G on the Honor 6 will only be available when India starts supporting the 1,800MHz band.

Verdict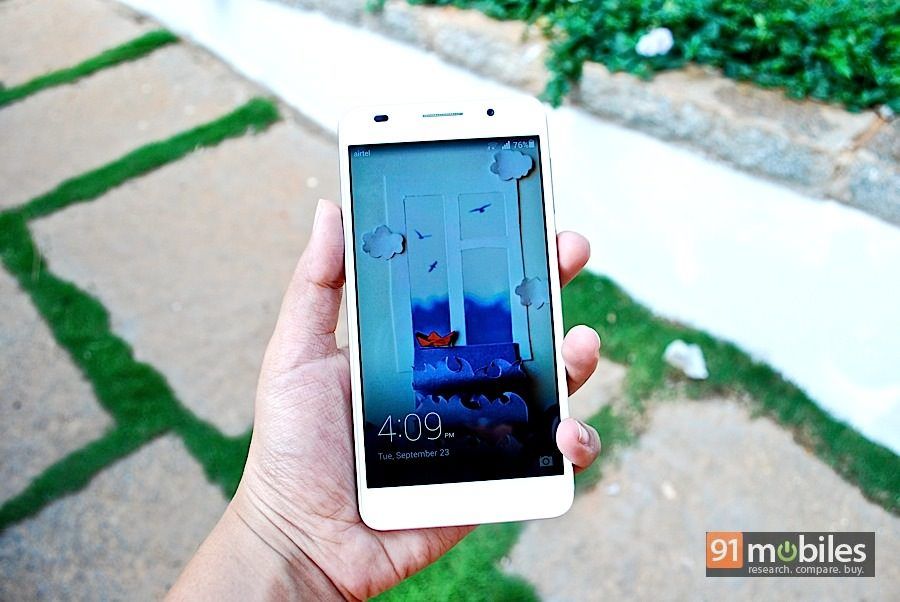 The Honor 6 is part of a new breed of flagships that aim to bring the same specifications and performance seen on its more expensive cousins, at more affordable rates. The other smartphones that fall into this category are the new Moto X, Gionee Elife E7 (review) and the Xiaomi Mi 3 (review). While these devices may not have the premium all-metal build seen on the HTC One (M8), LG G3 and iPhone 6, it's a small sacrifice to make considering the price differential.
The Honor 6 is in every way a true flagship, impressing us in day-to-day performance, battery life, display and software. The primary camera wasn't the best we've come across in this category, but it's still fairly capable and should suffice for normal use. If you're looking for a true powerhorse at a price that doesn't break the bank, the Honor 6 should be on your shortlist.
Price: Rs 19,999
Editor's rating: 8 / 10
Pros:
Gorgeous, responsive display
Blazing fast performance
Good battery life
Emotion UI is a delight to use
Cons:
Cameras are average
Glossy back panel gets scratched and smudged easily
Competitors for Huawei Honor 6
| | | |
| --- | --- | --- |
| Huawei Honor 6 | vs | Xiaomi Mi4 |
| | | |
| --- | --- | --- |
| Huawei Honor 6 | vs | Lenovo Vibe X2 |