"The Redmi 1s is one of the most compelling budget smartphones currently available. We put it to the test."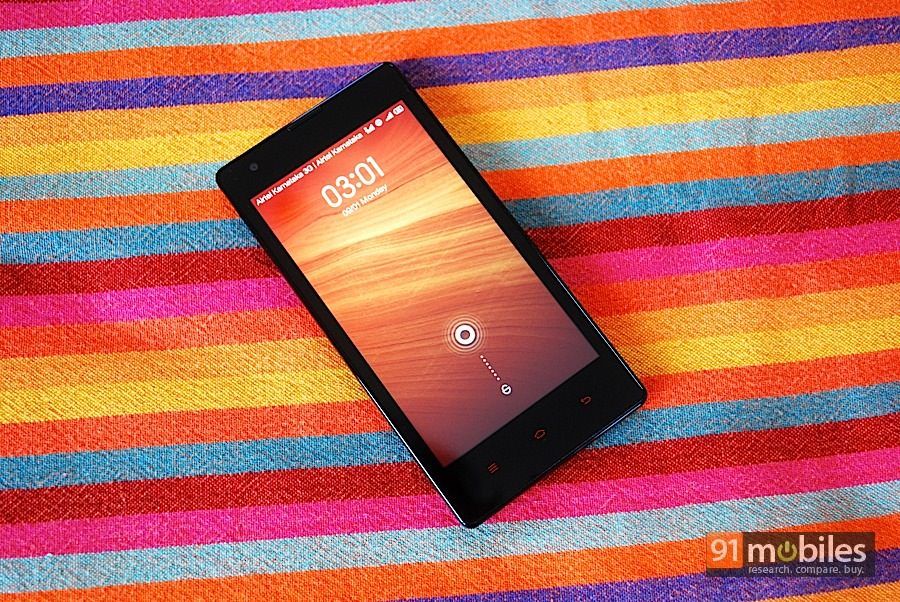 The Motos and Zenfones caused a fair bit of ruckus in India's smartphone market earlier this year, redefining what we thought was value for money at the time. But just when the excitement was beginning to die down, Xiaomi stormed in with the Mi 3. With its jaw-dropping price tag of Rs 13,999, Xiaomi did the unthinkable – it put a flagship device in the hands of the masses.
After six weeks and 95,000 units, Xiaomi decided to pause sales of the Mi 3, and concentrate wholly on its budget baby, the Redmi 1s. The Mi 3's run in India wasn't entirely untainted, but it appears that Xiaomi is a company that's willing to learn from its mistakes. Not only will the Redmi 1s go on sale alongside all its official accessories (accessories for the Mi 3 went on pre-order nearly a month after the phone was launched), Xiaomi is also bumping up available units per sale, to avoid the sold-out-in-seconds fiasco that occurred with the Mi 3. Leaving no stone unturned, Xiaomi even announced an unexpected price cut on the Redmi 1s, which was initially pegged to go on sale for Rs 6,999. Searingly hot at its new price of Rs 5,999, the Redmi 1s looks all set to burn down the competition, without leaving a hole in your pocket. Read on for our full review.
Specs at a glance
4.7-inch, 1,280 x 720 pixel IPS display (312ppi)
1.6GHz quad-core Qualcomm Snapdragon 400 processor
1GB RAM
8-megapixel primary camera, 1.6MP front
8GB storage (expandable up to 64GB)
USB OTG, 3G (only on SIM 1), Wi-Fi, Bluetooth 4.0, A-GPS, GLONASS, Wi-Fi Direct, Wi-Fi Hotspot, USB 2.0
Android 4.3 with MIUI
2,050mAh battery
FM Radio
Plastic construction that exudes premiumness
On a budget handset, we don't usually peg our hopes on build quality, but Xiaomi has managed to impress us from the get-go. The Redmi 1s is solidly built, and doesn't feel cheap or flimsy like many budget devices are wont to do.
Even though it's made out of plastic, Xiaomi hasn't compromised on the finish, which feels very premium, right from the back panel to the curved edges to the ports and buttons.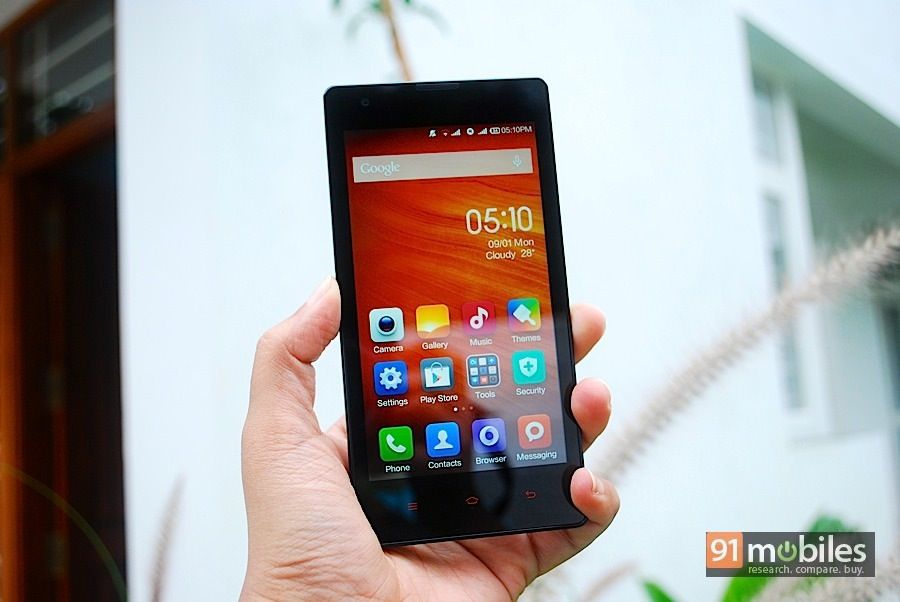 The device 1s is fairly heavy at 158g, and it's also nowhere close to being skinny, measuring 9.9mm in girth. However, the sides of the phone curve gently towards the back, making it very comfortable to hold.
The front panel has fairly thick bezels all around the display, contributing to unnecessary bulk. On top, you'll find the earpiece grille, front camera and the proximity and ambient light sensors. Below the screen is a row of capacitive Android keys. While these aren't backlit, they are cleverly painted in bright red, ensuring that they're visible even in low light. The multi-coloured notification LED, which is usually up top, is placed below the home button.
Coming to the port and button placement, the top panel holds the 3.5mm audio jack, while the micro-USB port is placed at bottom centre, flanked by the primary microphone on the right. The left spine is devoid of any embellishments, and the right features the metal-finish volume rocker and power button, with the latter placed within easy reach of the thumb.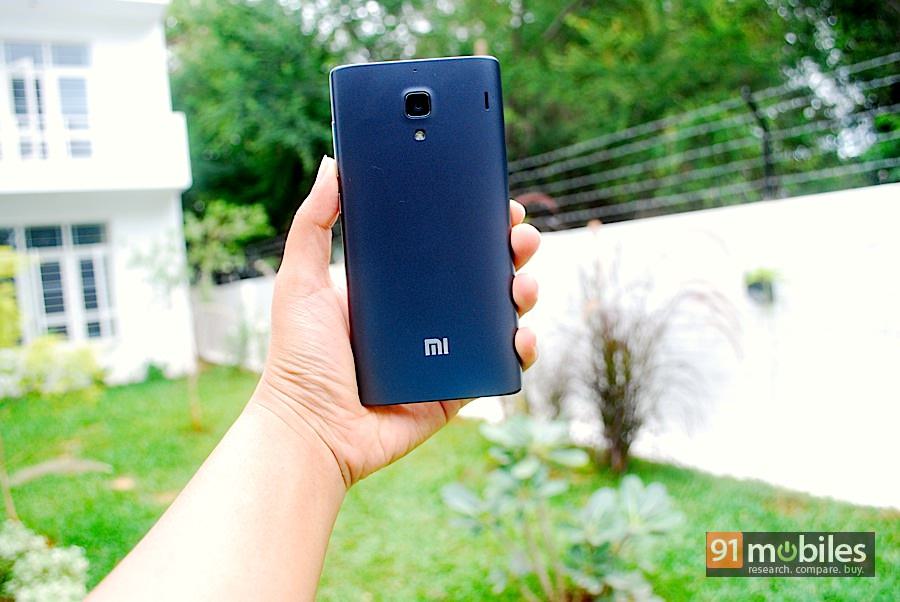 The slate grey back panel features the secondary noise-cancelling microphone right on top, with the square-shaped primary camera and flash underneath. There's a narrow slit for the loudspeaker on the right, and an engraved Mi logo in a metal finish at the bottom – the only visible branding on the phone.
While the device's staid design is nothing to write home about, Xiaomi does let you customise the phone with a range of interchangable back panels, in an array of different colours. A tiny notch on the bottom right makes it easy to pry the cover open, and inside you'll find the bright orange user-replaceable battery, underneath the microSD card slot and two regular-sized SIM card slots.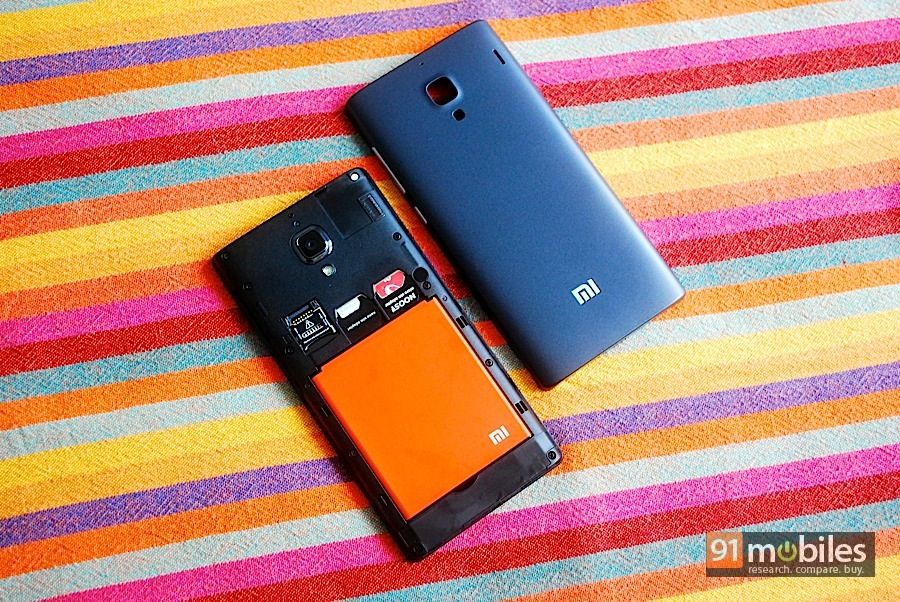 Both SIM slotsbeing regular-sized is a problem, given that micro-SIMs arefast becoming the standard. To remedy this, Xiaomi will be including a free micro-SIM adapter in the retail box of the Redmi 1s.
Crisp, buttery-smooth HD display

The Redmi 1s features a 4.7-inch IPS display, which hits the sweet spot for size, in our opinion. The display bears HD resolution, resulting in a sharp pixel density of 312ppi. The display was sharp and vibrant, and you can further adjust settings to tweak colour temperature (warm, standard or cool) and saturation (brilliant or standard).
The screen was very responsive, and was a pleasure to use for gaming, typing and watching videos. In settings, you can configure the phone to automatically lock when it's placed in a pocket, to prevent embarassing pocket dials.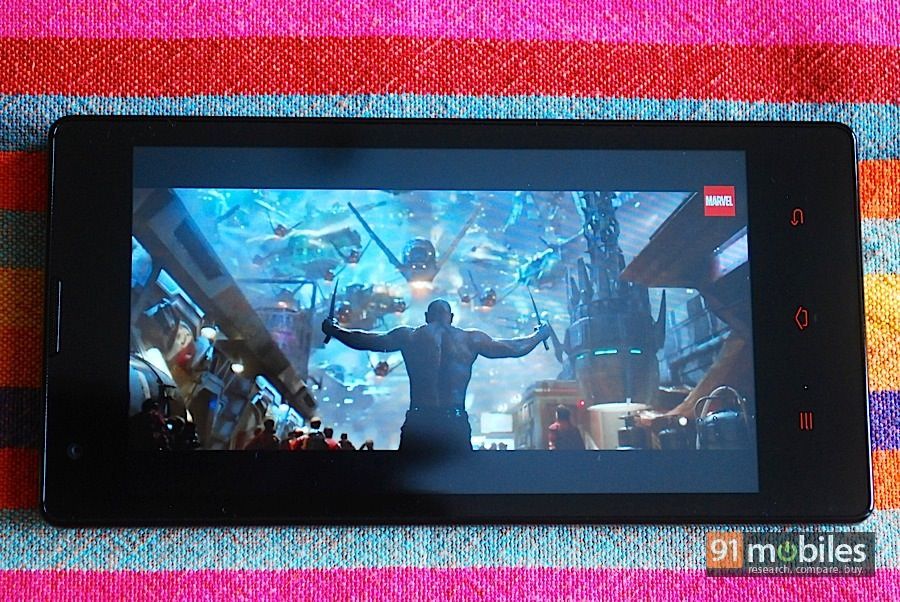 The smartphone gives Gorilla Glass the cold shoulder, and opts for a layer of Asahi Dragontrail glass instead. The Redmi 1s will also ship with a free screen guard for added protection. The screen tends to pick up smudges easily, which makes it look almost cloudy after a point. Maximum brightness levels are fine for indoor use, but in sunlight the screen isn't very legible.
Snappers to keep you trigger happy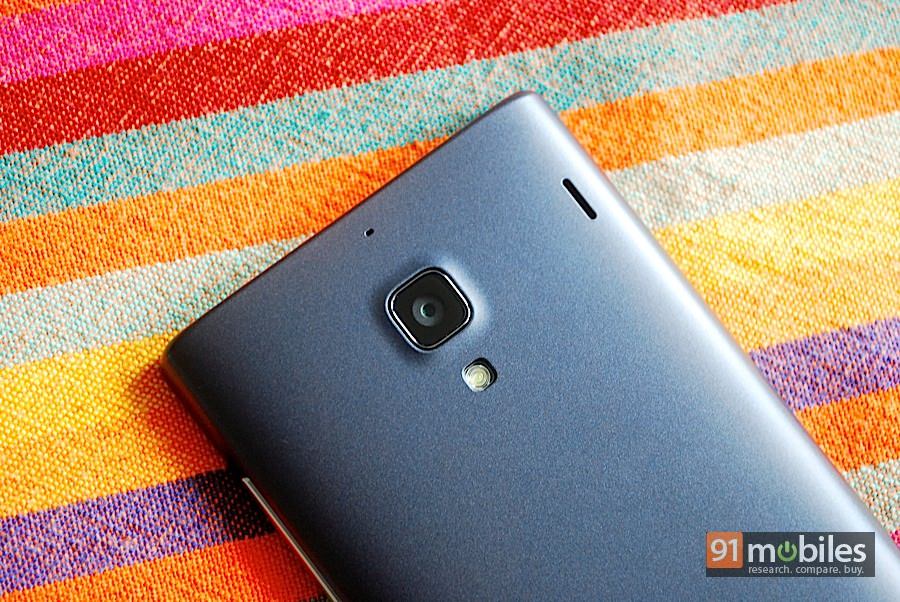 Handing the photography department on the Redmi 1s is an 8-megapixel primary shooter with LED flash, and a 1.6MP camera in the front. The camera app is quite straightforward, and can be used in either simple or advanced Mode. In the camera app, you can enable modes such as handheld twilight, HDR and panorama. There's also Audio Capture, which activates the shutter when it detects any sound that's louder than the current ambient noise levels. Plus, there are various filters which can be applied in real time.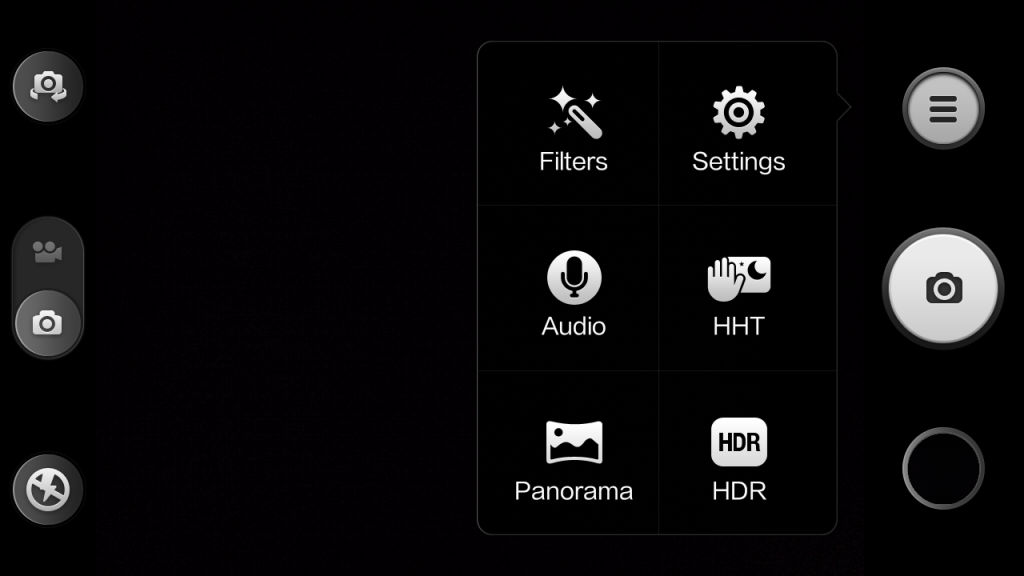 In advanced mode, apart from the aforementioned features, you also get options to change focus (autofocus or macro), ISO, exposure, white balance and scenes.
Delving into the camera settings will give you options to enable the volume button as a shutter, long press the shutter button to take a burst shot, disable camera sounds or apply a reference grid to the viewfinder. The camera app even includes a built-in QR code scanner, saving you the hassle of downloading a separate app.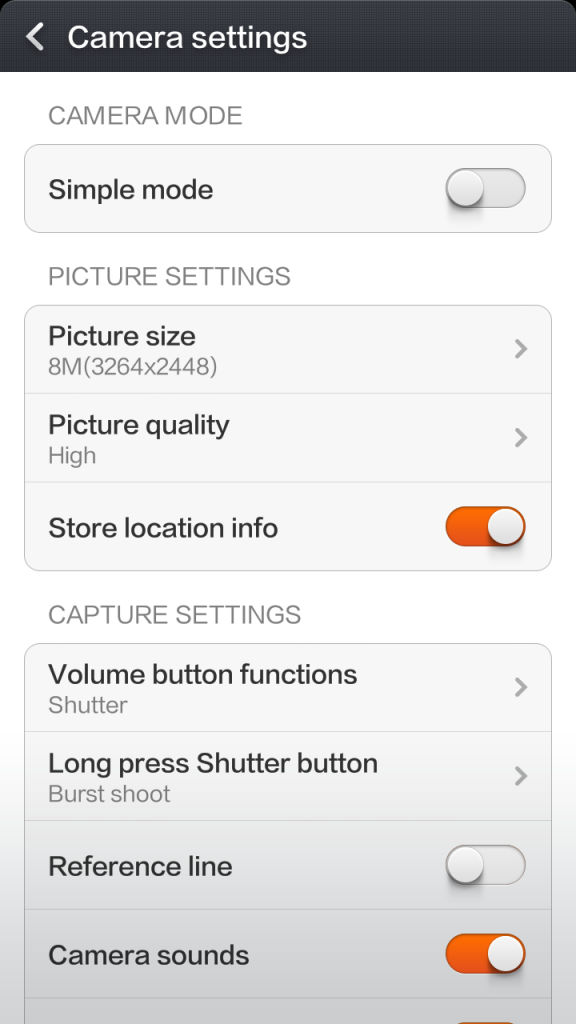 When using the front camera, you get the option to apply a filter or enable a countdown timer for selfies.
Coming to image quality, we were very impressed with both the snappers on the Redmi 1s. The cameras were quick to focus with zero shutter lag, and results were very pleasing. The primary camera takes great macro shots and good daytime shots as well, preserving detail throughout. The HDR mode was very effective too. In low light, images appear dark, and shots taken at night can be blurry, but are quite usable overall .
The front camera was surprisingly great both for video calls and selfies. Skin tones appear natural, and image quality isn't hampered by haziness or over sharpening.
Here are some image samples from the primary camera. Click on the thumbnails to view them in full resolution.

MIUI with a little something extra
The Redmi 1s runs MIUI 5, Xiaomi's custom ROM, with Android 4.3 Jelly Bean as a base. MIUI is baked deep into Android, offering a plethora of useful tweaks that we're still discovering along the way. MIUI 6 is incoming, and brings even more features that we're looking forward to trying out.
We've covered a majority of the features of MIUI in our review of the Mi 3 and the Mi 4 (review), but we'll still touch upon the basics.

MIUI does away with the standard app drawer feature of Android, and displays all the apps on the homescreen instead. There are widgets available for each app installed on your device, and the ability to segregate apps into folders.
One of MIUI's highlights is customisation. You can completely alter the look of the interface with various themes. wallpapers, fonts and widgets. You can even mix and match – apply a theme, change the font, use a widget from a different theme – there are no restrictions to your creativity.
Unlike the Mi 3 and Mi 4, the Redmi 1s is a dual-SIM device. It features a SIM management section which lets you rename SIM cards for convenience, and set a default SIM for data.
The device comes loaded with a range of security features. Apart from a full suite of security apps such as a cache cleaner, virus scan, app permissions and blocklist, you can even type owner info on the lockscreen, in case a good Samaritan finds your lost phone and wants to return it. There's also a nifty Guest Mode, which hides messages, notes, photos and incoming calls when enabled.
Other salient features include in-call recording, a private message area, and Do Not Disturb, which mutes notifications during a specified time period.
The Redmi 1s also boasts an unique feature called Lite Mode. Targeted mainly at those who want a simple, no-fuss user interface, Lite Mode is also ideal for senior citizens. The UI features a simple slide-up-to-unlock mechanism, and displays key apps as large colourful blocks on the homescreen. Font sizes are larger, and there's an entire homescreen dedicated to frequently-used contacts. When you assign a contact to a block, you'll see their name on the icon. Tapping on it will bring up options to call or text them.
By default, the notification shade in Lite Mode is disabled, but you can enable this in settings. Also enabled by default is a voice prompt for voice calls, but you can switch to a regular ringtone if you wish.
A reliable performer with great battery life
The innards of the Redmi 1s consist of a 1.6GHz quad-core Snapdragon 400 chipset, paired with 1GB of RAM and 8GB of internal storage. An Adreno 305 GPU takes care of graphics. The storage is expandable via microSD up to 64GB, and the phone also supports USB OTG to attach a flash drive. Out of the 8GB, a little over 4.5GB is available to the user.
The smartphone can handle most intensive games without faltering, play HD videos and multi-task without freezing. Navigating the smartphone was mostly a smooth experience, although we did notice slight delays while opening some apps. We also faced a few unexpected app closes, which you can choose to report to MIUI. None of these lags were significant enough to hamper the user experience though, and the device was zippy enough overall.
The Redmi 1s is backed by a 2,050mAh battery. While most budget devices are hampered by poor battery life, the Redmi 1s lasted us through over 24 hours with moderate use, and until the end of the day with heavy usage. In our video loop battery drain test, the device gave us 8 hours of juice with both SIMs inserted, which is an above average result. Xiaomi will also be selling spare batteries and a separate battery charger as optional accessories for power users.
The connectivity options on offer are quite standard, including 3G, Wi-Fi, Wi-Fi Direct, Bluetooth 4.0 and GPS. It's worth noting that 3G is supported only on the first SIM.
Call quality was crisp and clear on both ends, with no unexpected call drops. Unlike several budget handsets, the proximity sensor on the Redmi 1s works like a charm, so you don't need to worry about the screen accidentally turning on while you're on a call.
Verdict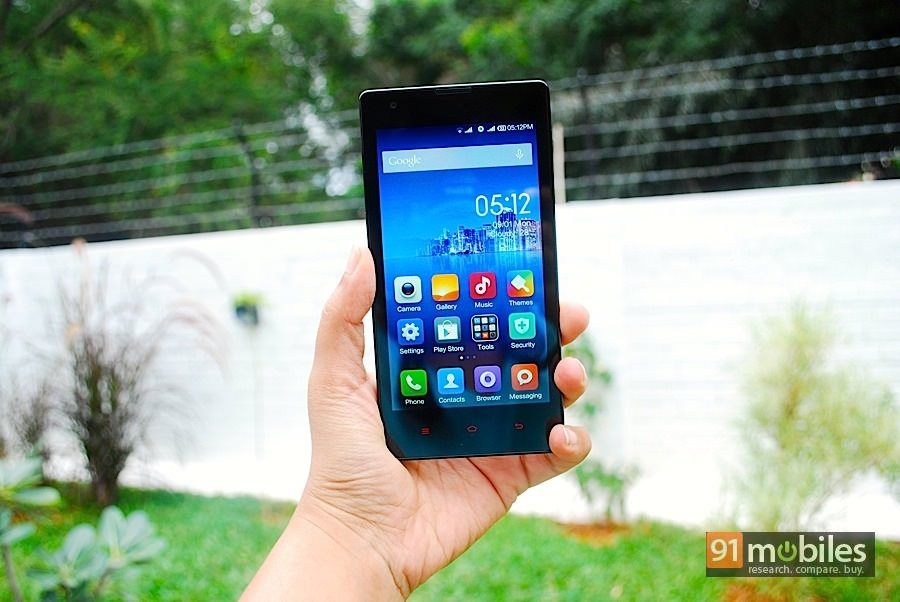 The Redmi 1s falls into the budget category only because of its pricing. It feels more like a mid-range smartphone in disguise, possible in part due to Xiaomi's sales and advertising strategy. Instead of spending on promotion, it relies more on the internet, social networks and its community of die-hard fans to spread the word about its products. Rather than invest in a cumbersome brick-and-mortar format, the company sells all its products only online, another major cost-cutting factor. With this magic formula, Xiaomi is able to sell the Redmi 1s at the price of an ASUS Zenfone 4 (review), when it's actually the Zenfone 5 (review) that comes closer to being a worthy competitor.
But it's not just the price where the Redmi 1s scores. It outclasses the competition even with performance, camera abilities, battery life and of course, a user interface that's a delight to use. Xiaomi's going in all guns-ablazing with this one, and we expect nothing less than a massacre.
Price: Rs 5,999
Editor's rating: 9 / 10
Pros:
Solid build
Sharp display
Lite Mode is a bonus
Great pair of cameras
Capable performer
Cons:
Bulky design
Minor lags when opening some apps
Video by Pratik Vyas
Competitors for Xiaomi Redmi 1S
| | | |
| --- | --- | --- |
| Xiaomi Redmi 1S | vs | Motorola Moto E |
| | | |
| --- | --- | --- |
| Xiaomi Redmi 1S | vs | Huawei Honor Holly |