"According to Counterpoint, 96 percent of all phones launched by Nokia since Q3 2018 are already running on Android Pie, the latest version of the OS"
Nokia brand licensee HMD Global is reportedly the most prompt OEM when it comes to rolling out Android updates, version upgrades, and security patches, according to a market research firm Counterpoint Research. According to the market data gathered by the market tracker, 96 percent of all Nokia phones over the past 12 months have already been upgraded to Android Pie and updated with the latest software. Furthermore, HMD Global is also the fastest adopter of updates and had updated nearly 50 percent of all its devices within the first six months of Android Pie being launched. For reference, Nokia's closest competitor was Lenovo, which had only about 25 percent devices updated to the latest Android version six months after the release of Android Pie.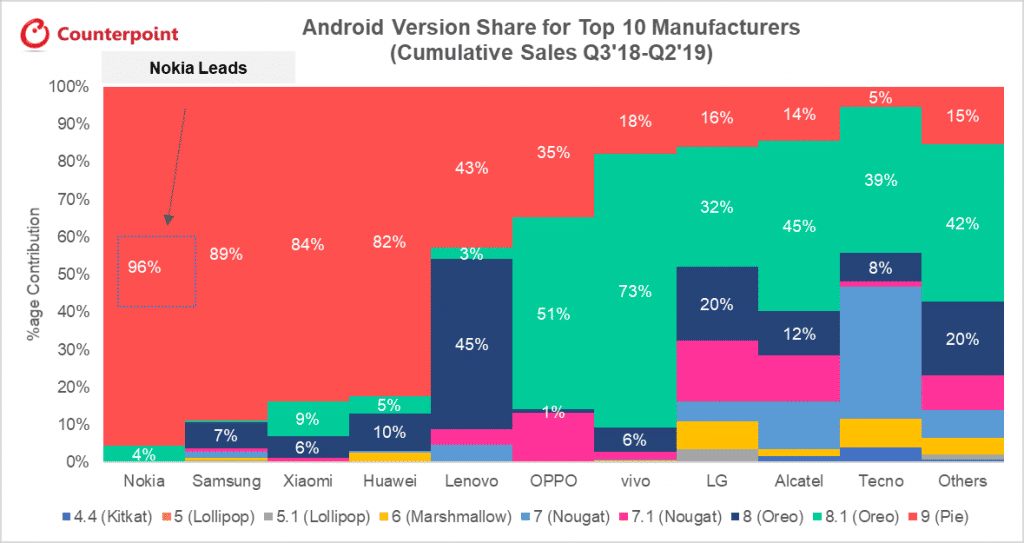 In the adoption list of Android Pie, Nokia leads with 96 percent of all devices, followed by Samsung at 89 percent, Xiaomi at 84 percent and Huawei at 82 percent, followed by the rest. In terms of speed of adoption of the latest Android versions, Nokia is followed by Xiaomi (but at a large distance), subsequently followed by Lenovo, Huawei, Vivo and Samsung.
Abhilash Kumar, Research Analyst at Counterpoint, said, "High-priced devices are often updated first, but having the latest software is as important to mid- and low-priced products as it is to flagship devices. We, therefore, looked at manufacturers' performance at updating software across all price tiers. By this analysis, Nokia stands out, again, as the brand most likely to update its full portfolio quickly. Xiaomi and Lenovo also rank high in this metric. Brands like Alcatel and Tecno are the laggards. This is because these brands have broad portfolios, mostly in the sub-US$200 segment, and the lifecycle of their models tends to be short. Their products often transition from launch to end-of-life in as little as six months, which means they have less incentive to provide long-term updates."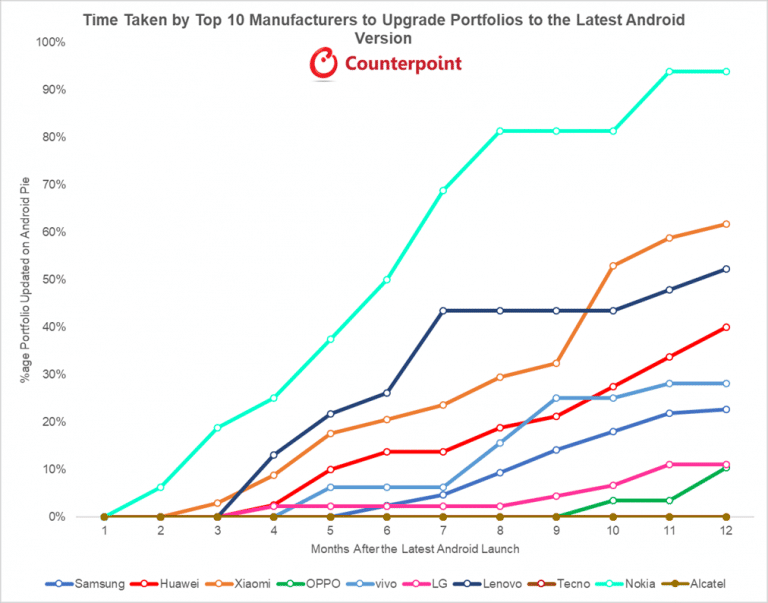 Peter Richardson, Research Director at Counterpoint, further added, "Little effort is expended by the top manufacturers in focusing on regular updates to the operating system and device security, despite it being a critical element in the continued safe performance of the smartphone. Many of the key features including battery life, processor,camera and memory are linked to the performance of the underlying operating system. We believe it is important to the overall consumer experience and is likely to become more widely recognised as such."
Given the leverage of the latest Android version being rolled out on most of its devices, Nokia phone sales do not appear to be as significantly impacted by this factor as it should be, which further reflects the lack of awareness among users with regards to the issues of security and vulnerabilities on Android.