"The update is available as OxygenOS 9.5.5 in Europe and OxygenOS 9.5.4 in other regions"
As promised, OnePlus has released a new software update for the newly-released OnePlus 7 Pro (review). This update brings several improvements to the camera and the system. Although the OnePlus 7 Pro came with a stellar DxOMark score of 111, users and critics weren't really happy with the camera performance. The images didn't seem to be in the same level as the other flagships, and hence the company then promised that it would soon deliver an update that will improve the picture quality.
OnePlus has released two versions of the new update. The OxygenOS 9.5.5 update is for the European variant of the OnePlus 7 Pro, whereas OxygenOS 9.5.4 is available for devices in other regions across the world. While the version numbers are different, there's no difference between the two builds and the change in version is only because the company had to stick to some new EU regulations.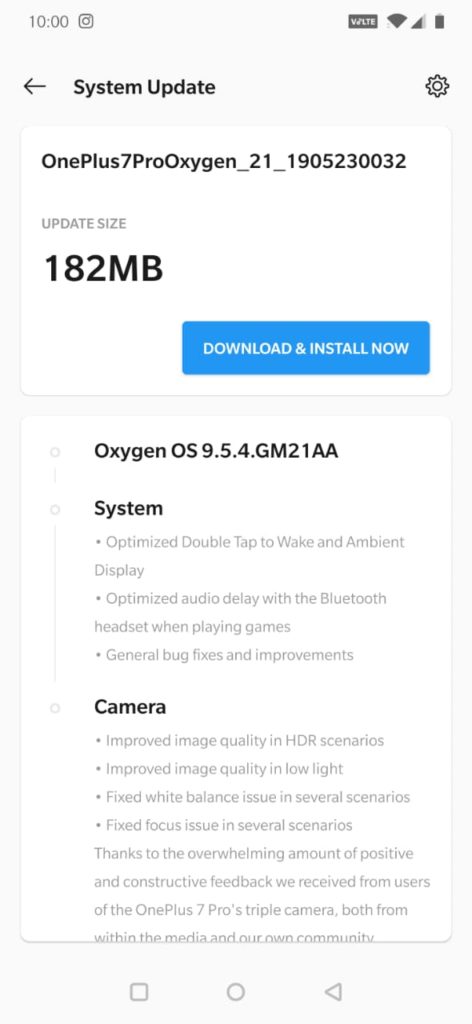 According to the official changelog, the new update will supposedly improve the camera performance. The image quality in HDR mode should now be much better than before. The company has also worked on the low-light capabilities of the phone by improving the Nightscape mode. OnePlus has also fixed issues pertaining to the white balance and fixed focus. OnePlus forums for the OnePlus 7 Pro are filled with complaints about the camera performance. Hopefully, this update should give relief to everyone.
Apart from improving the camera performance, the update also fixes certain system-related issues. For example, the Double to Wake function and Ambient Display issues have been taken care of, and should work better now. Another issue, which caused audio delay on a Bluetooth headset when playing games, has also been fixed. Finally, there are some other under-the-hood improvements and bug fixes.
The updates are currently being rolled out in stages, so it may take a while to reach all users. You can manually check for the update in the Settings app. The OTA update weighs around 180MB so make sure you are connected to a stable Wi-Fi before downloading it. Do let us know if the update has improved the camera performance on your OnePlus 7 Pro in the comments below.