"OPPO's promotional image shows off a smartphone highlighting the in-display camera, placed in the middle"
Earlier this month, OPPO demoed the in-screen camera technology that is aimed at achieving a true full-screen solution. It showcased a prototype handset with the camera module embedded under the display, in the centre. Though the demo didn't reveal the picture quality or the dimensions, it gives a fair idea of how it works. Since it is in the early stages of development, the launch of such a product was not expected until next year. Now, taking everyone by surprise, OPPO has posted a teaser image confirming that it'll be present at the Mobile World Congress 2019 Shanghai exhibition on June 26th. The promotional picture also shows off a smartphone highlighting the in-display sensor, placed in the middle, corresponding to the prototype it demoed.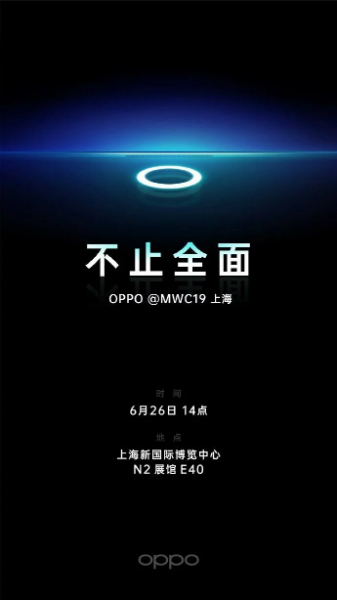 So far, vendors have relied on different types of notches, pop-up sliders to achieve a near edge-to-edge design. But the upcoming OPPO mobile, with its in-display front-camera, should be the first to offer a real full-screen solution. However, OPPO hasn't revealed any other details as of now, and even though it could showcase the in-display camera tech at the event, the product might not be commercially available right away.
With OPPO's Vice President Brian Shen confirming that the in-display camera's pictures won't be on the same levels as a regular module, a certain amount of quality loss is expected. Apart from OPPO, Xiaomi and Samsung are also working on the in-display solution of their own. But with the latest announcement, OPPO certainly has a head start in the competition. We should know more details next week.