Highlights
Realme GT Vegan Leather design revealed ahead of launch
The phone is confirmed to arrive with a s

tainless steel VC cooling system

Realme has announced a "Dual-platform Dual-flagship" strategy
Realme GT launch is scheduled for March 4th and the company has been teasing several key details about the flagship. The smartphone is confirmed to come with the Snapdragon 888 chipset and the company has teased the phone's design as well. Now, the Realme GT Vegan Leather variant has been revealed and the company has announced a "Dual-platform Dual-flagship" strategy. The design is identical to the one from the leaked poster image with Yellow and Black accents. Realme has announced that it has 70 million smartphone users worldwide in just the first two months of 2021.

Also read: Realme GT 5G camera details and design revealed via official posters
Pretty much everything you need to know about a fullspeed flagship smartphone in 2021. Tell us which spec you love most! #realmeGT #MWC2021 pic.twitter.com/SEdIOBhAg8

— realme Europe (@realmeeurope) February 23, 2021
The company has also confirmed that the Realme GT will ship with Qualcomm Snapdragon 888 5G SoC, stainless steel VC cooling system — to further improve the phone's heat dissipation performance by applying stainless steel in the cooling system and optimising the heat dissipation structure. Realme has also mentioned the GT series is based on the concept of GT sports cars, which are designed for high speed and long-distance driving.
Realme GT will arrive in a dual-tone Vegan Leather design that will use two different kinds of material in two different colours. For this, the company says that it uses a one-piece moulding process for the back cover and the inner frame. It will also use an upgraded 2nd generation vegan leather with delicate texture, softer touch and better colour effect. The volume rocker is on the left, while the power button is on the right.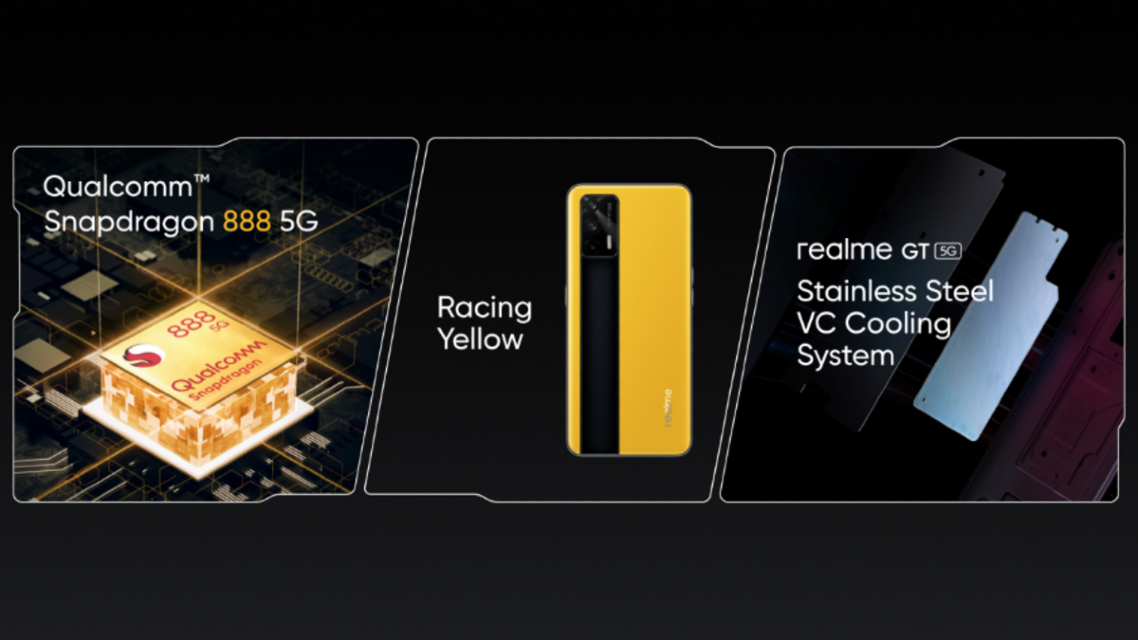 Realme to launch two flagship series in a year
Realme will adopt both Qualcomm Snapdragon 800-series and MediaTek's flagship Dimensity 5G platform for both mid-range to high-end segment and release two flagship series as a part of the "Dual-platform Dual-flagship" strategy. While one will be focusing on the performance aspect, the other will have a special focus on camera technology, respectively. The upcoming GT series will become the flagship series with high-end performance in its smartphone portfolio under the "Dual-platform Dual-flagship" strategy.