Highlights
'Remove China Apps' was launched on May 17th
The app is currently available only on Android
It was developed by a Jaipur-based startup
The political tensions between India and China have risen over the past few weeks due to border-related issues, resulting in anti-China sentiment in the country. Amid these issues, a new app called 'Remove China Apps' was launched earlier this month by a Jaipur-based startup named OneTouchAppLabs. As the name suggests, 'Remove China Apps' essentially detects Chinese apps installed on the user's phone and provides them with simple steps to uninstall them from their handsets. The rising popularity of this app is evident: it is ranked #2 on the list of top free apps on Google Play Store, has a stellar 4.8-star rating, and has already crossed a million downloads at the time of writing.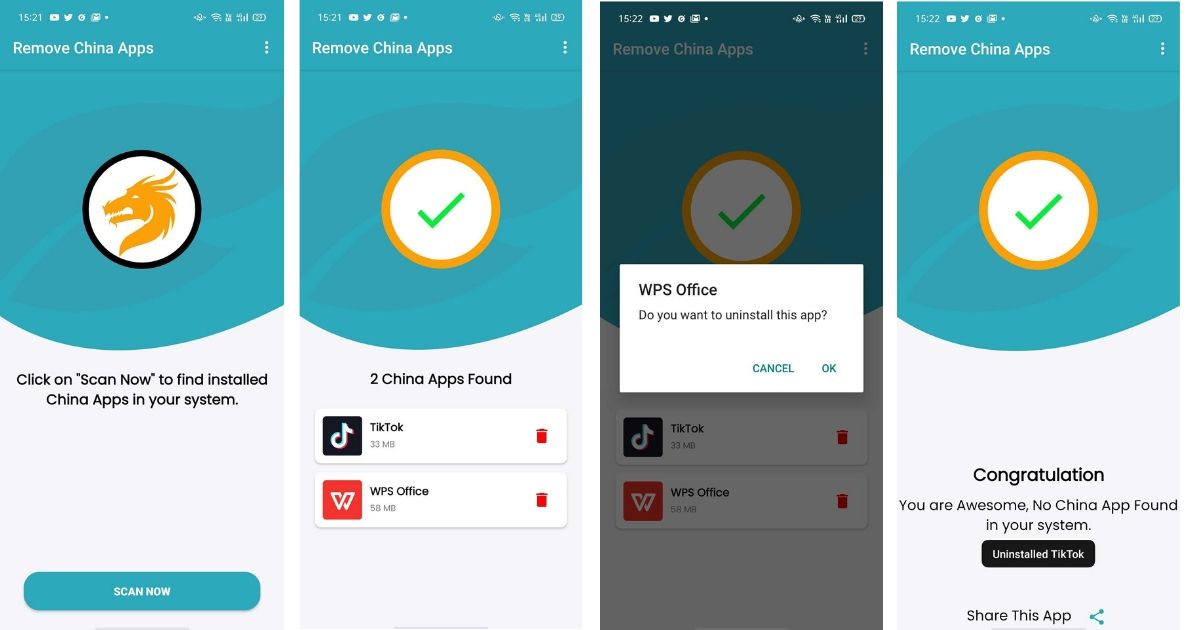 Currently available only on Android, 'Remove China Apps' is just 3.5MB in size and, as we mentioned earlier, can be downloaded for free. The app has a very simple interface where you can simply tap the Scan Now button to look for Chinese apps on your phone. The app then shows you the Chinese apps installed on your phone, which you can delete by tapping on the bin icon next to the apps' name. You will need to give 'Remove China Apps' permission to uninstall apps.
'Remove China Apps' is presently available only for Android phones and not for iOS-powered devices such as iPhones and iPads. Also, even on Android, it can only delete Chinese apps that you have downloaded — it cannot delete the Chinese apps that came pre-installed on the phone as bloatware.
Notably, the anti-China movement was recently fuelled after engineer turned reformer Sonam Wangchuk appealed Indians to boycott Chinese products and "stop virtually financing the current military bullying in Ladakh and the South China Sea." As per the reformer, Indians can economically impact China by stopping support for Chinese products, both software and hardware. In his own words, "If we citizens are clever we should use our wallet power rather than leaving it totally to our armies to respond with their bullets. The bullet response is what China is looking for as it helps unite its angry citizens to forgive the mistakes and forget the economic hardships caused by the regime's poor handling of COVID 19."
Let us know if you are also installing this app and think if this is a good or bad move. Stay tuned in for more updates on this app as developers are claiming that they will offer an option to remove Chinese bloatware in the next update.