"The Galaxy A5 marks a change in Samsung's design strategy. We have taken it through our review grind to see how it fares"
It's interesting to note the contrast in strategy adopted by leading smartphone manufacturer Samsung in the first half of 2015 vs the same period the previous year. Last year, the Chaebol focussed more on its upper end range with devices like the Galaxy S5 (review | cheatsheet) and Note 3 Neo (review). However, with the beginning of this year, the company has introduced a glut of mid-range smartphones in its new A and E series. It's not just a different naming convention, as these phones are vastly different both externally as well as internally when compared to previous devices released by Samsung. We have been playing with one such device from the brand's A series, the Galaxy A5 and now is the time to take a deeper dive into its capabilities. Let's begin.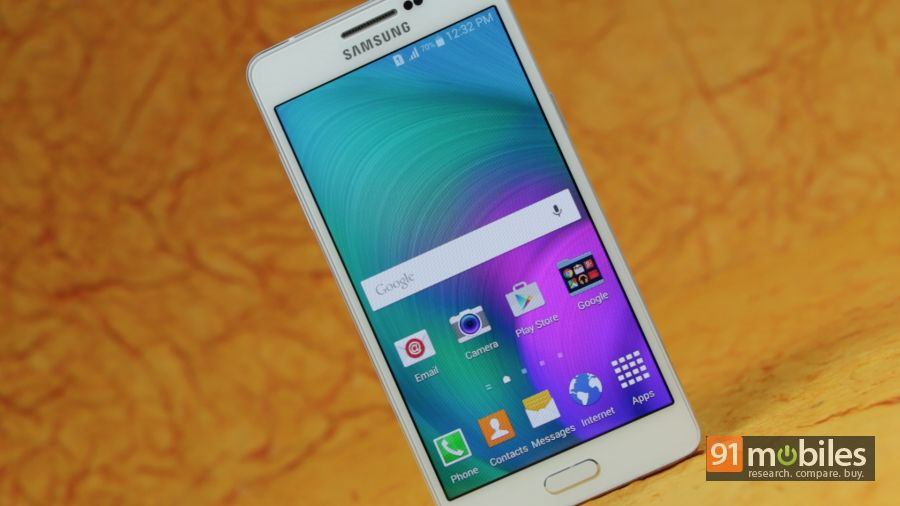 Specs at a glance
Weighs 123g
Thickness of 6.7 mm
5-inch display with HD resolution
1.2GHz Qualcomm Snapdragon 410 processor
2GB RAM
16GB internal memory, expandable up to 64GB
13-megapixel rear camera with LED flash
5MP front shooter
Support for FDD-LTE, Bluetooth 4.0, Wi-Fi, NFC and GPS
2,300mAh battery
Android 4.4 KitKat
Designed to impress
Without a doubt, the Korean behemoth has put a lot of focus on the design aspect of the Galaxy A series, including the device we're reviewing today, the Galaxy A5. Even though, at first glance, you might brush it off as just another Samsung device, but when looked upon closely… you'll surely come to appreciate the engineering gone into designing the smartphone.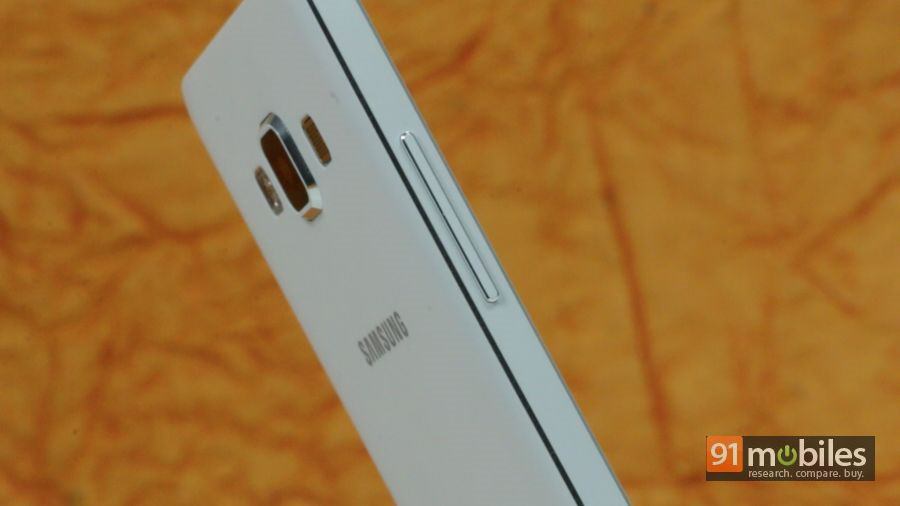 It takes off exactly from the point where the Galaxy Alpha (review) left. While the Alpha was the first device from the company to feature metal on its sides, the A5 looks and feels even better with its unibody construction. Yes, gone are the plasticky flimsy back panels with leather or dimpled textures and instead, you get a nice-looking back panel with matte finish, even though it's still constructed from plastic. The rear merges seamlessly with the metallic edges, adding to the style quotient. While our review unit is dipped in white, you can also go for black or gold variants.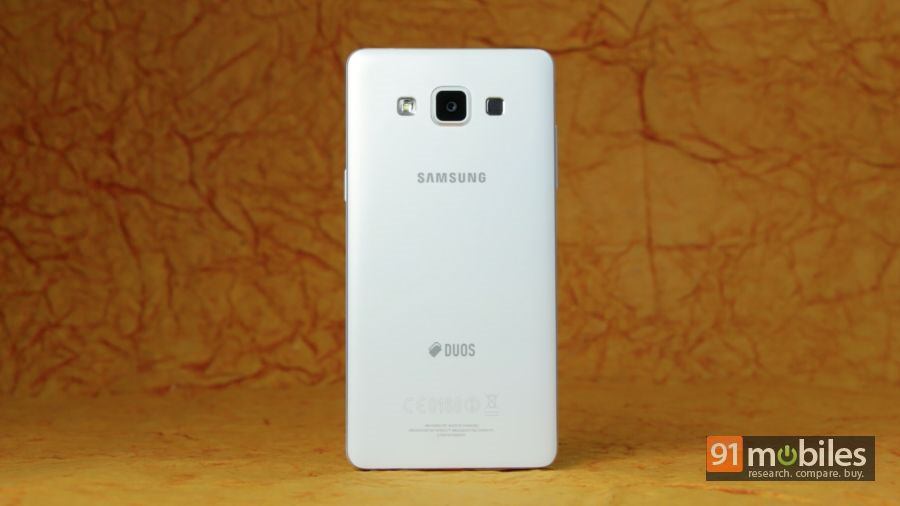 What's even more intriguing is that even with ample use of metal and aluminium, the smartphone is quite lightweight and tips the scales at 123g. The Galaxy A5 is also amongst the slimmest handsets in the Samsung's portfolio with its lean frame measuring 6.7mm (its bigger sibling, the Galaxy A7 holds the title of being the thinnest with its 6.1mm waist).
Apart from the difference in construction material, the Galaxy A5 is just like any other Samsung smartphone. Up front lies the display, which is accompanied by an earpiece, a couple of sensors and a front-facing snapper above and a row of navigation keys below. The physical home button is a regular fixture on phones from the Korean giant and the A5 also follows the same design traits. The home button is flanked by a recent apps key and a key to return to the previous screen.
Both the volume rocker and the power key can be found on the right spine of the Samsung Galaxy A5, while the left side holds a pair of slots for inserting nano-SIM cards. The The top portion is surprisingly devoid of any ports or buttons apart from the noise-cancelling mic, whereas the base hosts the micro-USB port along with a 3.5mm audio socket and a primary microphone.
The back, featuring a matte finish, hosts a primary camera and is supplemented by an LED flash. It's worth highlighting that it's the first time that Samsung has decided to do away with its removable rear covers, which are important for some consumers as they can remove the battery of the device, which isn't possible in the case of the Galaxy A5.
Overall, we are liking the design journey Samsung has embarked upon with its A series, and that hasn't changed after using the phone for past couple of weeks. In fact, the series serves as a precursor for brand's latest flagship, the Galaxy S6 which also features a unibody construction with a combination of metal and glass.
A captivating display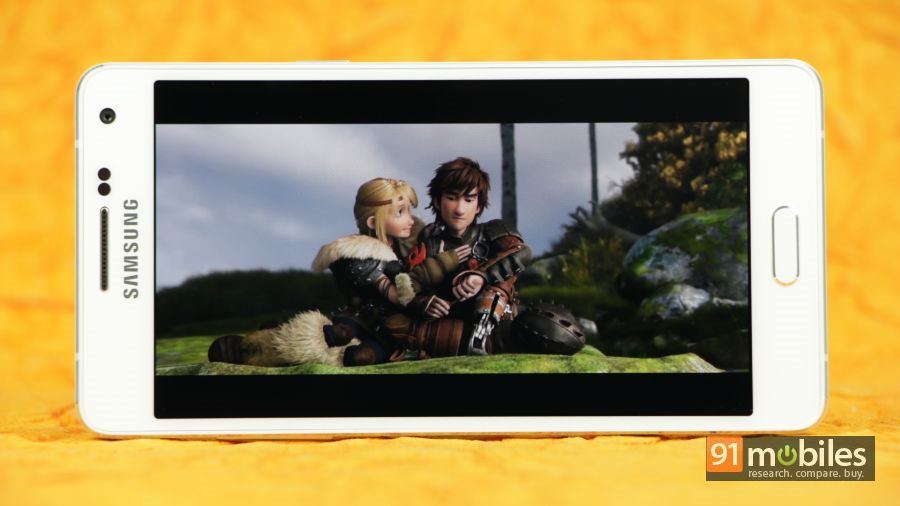 Displays used on Samsung phones are always best-in-class thanks to the use of its proprietary Super AMOLED technology, which is know for its true-to-life colour reproduction and high brightness levels. The 5-inch display panel used on the Galaxy A5 is no different and is a delight for viewing images, videos or reading text. The text also appears to be sharp as the display offers decent pixel density of 294ppi with a 720p resolution.
Making the display resilient against scratches and knocks is the latest-gen Corning Gorilla Glass. The Gorilla Glass 4 also promises improved drop performance, which means that display will not be easily shattered when the phone is dropped by mistake.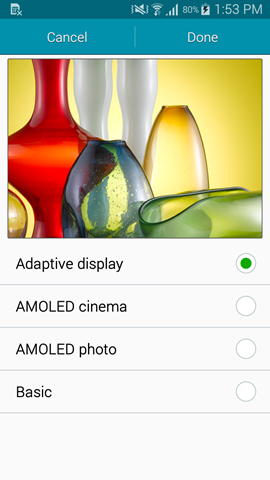 The display also brings forth configurable options for reproducing colours as per your choice. Apart from the default option, it has Adaptive display, which optimises the colour range and saturation based on the apps you are using (compatible with preloaded apps such as Gallery, Internet and Video). There are also AMOLED cinema and photo options which are suitable while you watching a movie and viewing images respectively.
Touching base with Samsung's TouchWiz interface
The Korean titan was one of the first smartphone manufacturers which layered Android with its own custom interface. Since the pre-Gingerbread era, Samsung's TouchWiz user interface has come a long way – both in good as well as bad ways. While the customisations provided by the interface pleased first time users earlier, now these changes seem like feature spam.
Thankfully, Samsung has understood this fact and its custom skin running atop Android 4.4 KitKat on the Samsung Galaxy A5 follows a lean approach. While the basics remain the same – two homescreens along with a dedicated homescreen showing news pieces dubbed as Briefing, which is powered by Flipboard. The app launcher enlists all the apps installed on the device, many of which have come preloaded. Some of such apps are Galaxy apps, Memo, My Files, and S Planner among others.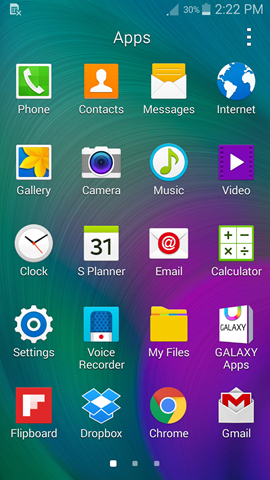 There are a few useful features available on the phone, such as the ability to use it with a single hand. The one-handed mode squeezes the screen on either side so that you can operate it comfortably. The screen can be resized as well. Samsung has also ensured that the device offers some of the features which are mainstays of its high-end offerings. Multi-window allows you to use two apps simultaneously and one can access the option by long-pressing the return key. Another useful feature is Smart stay, which keeps the screen on till the phone detects that you are watching it.
If you want to keep a few things away from prying eyes, then you can enable Private mode, which gives the option to keep items in apps such as Gallery, Video, Music, etc. away from prying eyes.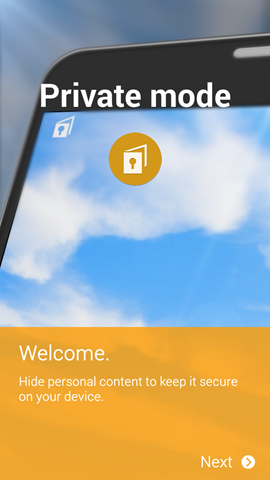 One interesting change in the TouchWiz UI running on the Galaxy A5 is its support for themes. With the click on a button, you can change the complete interface of the device, although there are a very limited number of themes available.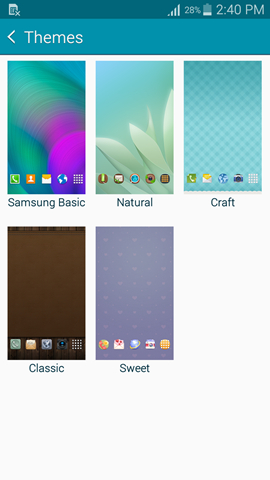 In case the whole interface seems intimidating, you can turn on the Easy Mode, which enlarges the size of the icons and font, and offers only a few apps on the homescreen (you can select if you to access more apps directly, else you can view all the installed apps alphabetically.
A delightful pair of snappers
Samsung phones are known for their image quality, especially when we talk about its top-end offerings such as the Galaxy S6 (first impressions) and Note 4 (review). But Samsung isn't keeping its camera prowess limited to its flagships and the Galaxy A5 is a prime example of that. Both in terms of the megapixel count as well as its quality, its shooters manages to impress, as highlighted in our camera review as well.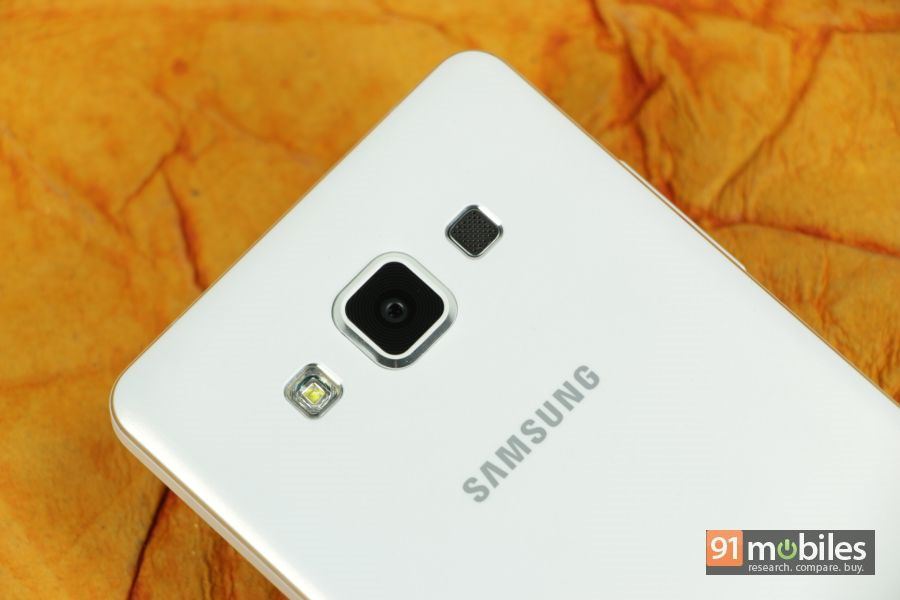 In terms of specs, the Galaxy A5 comes equipped with a 13-megapixel sensor at the rear, which is supplemented by an LED flash. To appease selfie maniacs, the handset has a 5MP camera at the front, which isn't even available in many of Samsung's flagships. Both shooters can record videos in full HD resolution at 30fps.
The custom camera interface is very easy to use and offers a plethora of options and modes. In landscape mode, it allows you to switch between rear and front cameras, enable / disable flash, use still or video cameras, preview images and most importantly, access settings as well as modes. With settings, you can optimise exposure, ISO, change metering modes and much more. Modes allow you to capture rear-cam selfies, panoramas, HDR, and you can also install some other modes such as Sound and shot.
During our review, the Samsung Galaxy A5 shooters did a great job. The images offer excellent colour variance and ample amount of detail, although low-light images could have been better. Here are a few sample shots taken from the phone for your viewing pleasure.
Zips along, but unable to zoom ahead
Samsung has made sure that the Galaxy A5 is a future-ready smartphone by equipping it with latest-gen SoC. The device is equipped with the Qualcomm Snapdragon 410, a 64-bit processor that offers four cores tuned at 1.2GHz. Even though the device can't make use of the 64-bit instruction set since that support is only available with Android Lollipop, you'll be able to exploit its capabilities whenever the A5 is updated to Android 5.0.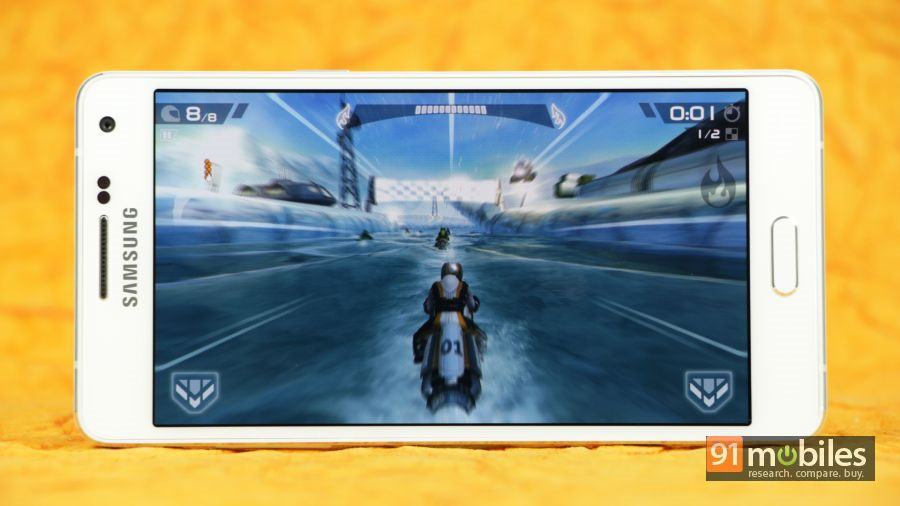 Taking care of the multitasking is capable 2GB of RAM, which makes the Galaxy A5 the most affordable offering in Samsung's stable with this capacity of RAM. The combination of the processor and RAM ensures that the smartphone zips through all kind of tasks and even games. However, the performance isn't exactly top-notch, since we noticed jitters while playing graphics-heavy titles such as Riptide GP2. If such powerful games are played for more than 20 minutes, then the handset also starts heating up.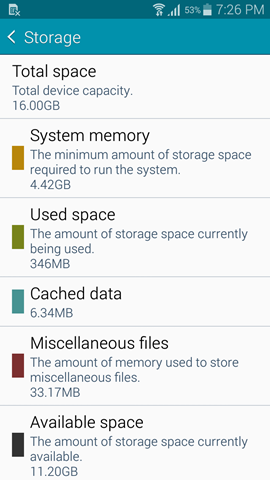 The phone provides ample amount of storage to store your personal content or installing apps with its 16GB flash memory. After accounting for the space consumed by OS and other resources, you'll be getting slightly more than 11.2GB for your use. It can also be topped up further by adding a microSD card of up to 64GB. What's surprising however, is the fact that the phone lacks USB OTG support, a feature that's available even in the budget smartphones these days.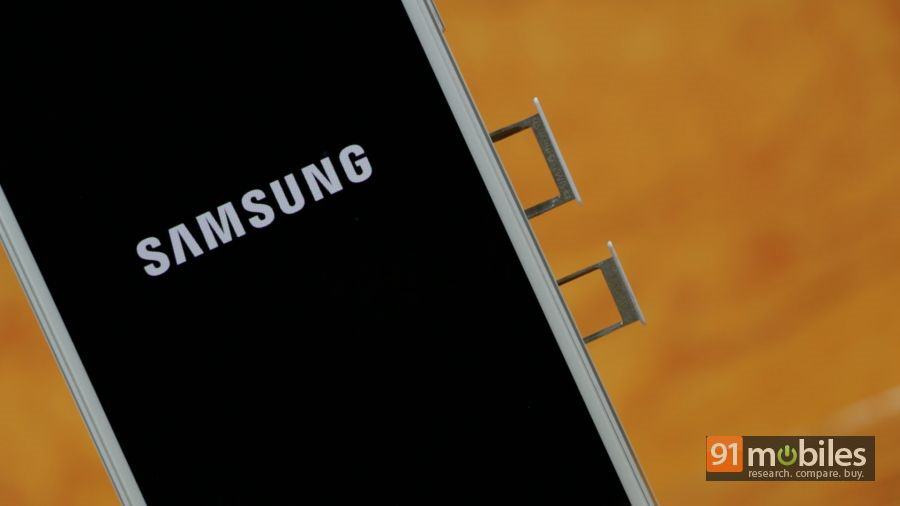 The device is fully-loaded when it comes to the connectivity department. It supports 4G networks in the upcoming 1,800MHz band, and offers dual-SIM slots. However it must be noted that the secondary SIM slot can be used either as a slot for inserting a SIM card or a microSD card. Other connectivity options include Wi-Fi, Bluetooth, NFC and GPS.
Long-lasting stamina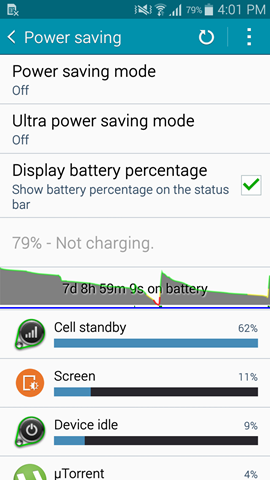 Powerful specs don't matter if the device can't even last an entire working day. And the Samsung Galaxy A5 shines in this aspect as its battery life is nothing short of impressive. While the capacity of 2,300mAh may not sound that high, the device comfortably keeps on going for almost a day and a half. Even with the use of 3G, GPS and playing games, it was able to last a day. In our standard battery test, the handset ran an HD video on a loop for about 10 hours while both the brightness and volume were at 50 percent level and Wi-Fi was off.
The device can offer even better battery life in case of emergency with the Ultra Power saving mode. The mode offers a grayscale interface, and allows you to access basic functionality such as calls, messages, and email. In case you don't want to take such extreme measure to elongate battery life, there's also a usual power saving mode which restricts cellular data and / or performance of the phone.
Verdict
If you've been following our review all along, then the verdict is pretty clear… the Samsung Galaxy A5 comes across as a worthy smartphone and offers an all-round experience. It features a classy design, which Samsung devices weren't known for before, making it easily stand out among other offerings from brand's portfolio. The display is pleasing, cameras are impressive and battery life is outstanding. Performance is also decent, though it's not for power-hungry users who want to play high-end games as it's fuelled by the budget Snapdragon 410 processor.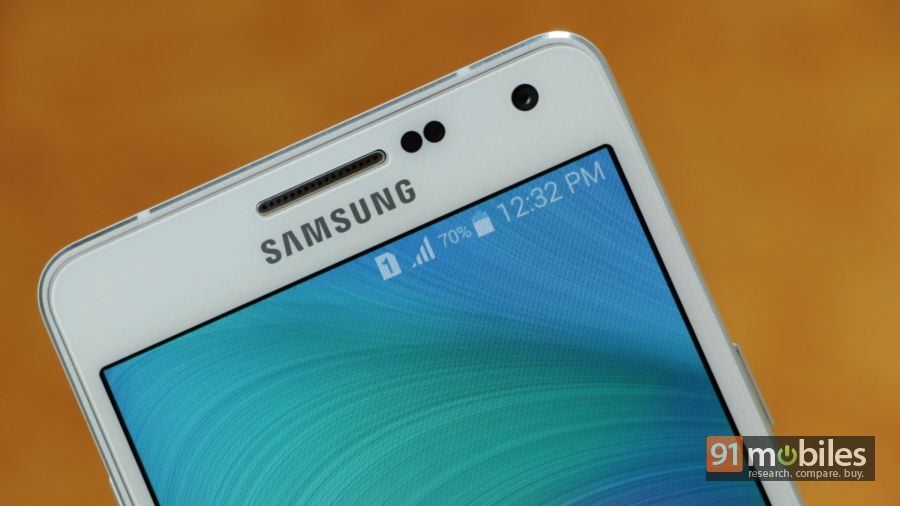 While Samsung has embraced the change with its design, the brand hasn't met with reality all the way as with the asking price of roughly around Rs 24,000, the Galaxy A5 seems like a pricey proposition. It becomes even more difficult for the device if we consider that smartphones like the OnePlus One (review | cheatsheet) and Xiaomi Mi 4 (review | cheatsheet) offer flagship-level specs at a mid-range pricing.
But that doesn't mean that the Galaxy A5 is bad in any way. If you want a reliable daily driver with an oomph factor, then it comes across as a worthy choice.


Price: ~Rs 24,000


Editor's rating: 8 / 10


Pros
Well-built and good design
Pleasing display
Impressive pair of snappers
Long-lasting battery life
Cons
Middling performance
Pricey proposition
Photos by Raj Rout. Video by Pratik Vyas
Competitors for Samsung Galaxy A5
| | | |
| --- | --- | --- |
| Samsung Galaxy A5 | vs | Samsung Galaxy A7 |
| | | |
| --- | --- | --- |
| Samsung Galaxy A5 | vs | Samsung Galaxy E7 |