"The Mi Max just about fits in the pocket, but delivers immense value"
SUVs are very popular, especially in India, where proud owners use them to muscle their way through traffic. Not just that, these vehicles are powerful, spacious, and boast commanding road presence… in most cases. They're fun to drive too, with the high driving position offering a bird's eye view of the road ahead. Good luck with finding parking space though, and well… manoeuvring SUVs through congested lanes can be a big pain too. Now apply this analogy to smartphones, and it works perfectly for phablets. Large-screened smartphones, which are also quite popular in India by the way, are ideal for consuming content, gaming, and viewing videos, but carrying them around and using them with a single hand could be an issue. Heck, there are quite a few who use tablets with voice calling as daily drivers. 91mobiles data indicates that about 30 odd tablets with voice calling capabilities were launched within the last six months alone, and that's a clear indication that there's a market for those. The point is this – it basically boils down to personal preference – both for phablets, as well as SUVs. Individuals have their own preferences in terms of matters of size, and need to weigh the pros and cons of a particular device (or vehicle) to figure out what suits them best.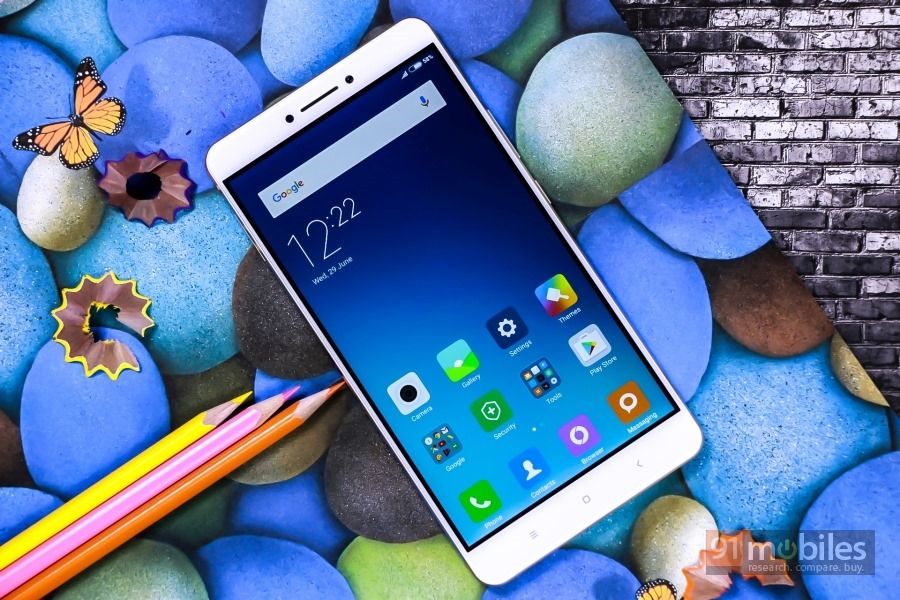 With its new Mi Max however, Xiaomi is trying to woo not just those who are comfortable with the idea of large-screened phones, but also convert others in favour of phablets. We'll see how that pans out, but for now, let's see if the Mi Max is able to make converts out of us or not.
Specs at a glance
Display
Size
6.4 Inch
Resolution
Full HD (1080 x 1920 pixels)
Performance
CPU
Dual core, 1.8 GHz + Quad core, 1.2 GHz, Snapdragon 650
RAM
3 GB
Storage
Internal memory
32 GB
External memory
Up to 128 GB
Battery
Capacity
4850 mAH, Li-ion, Non removable
Camera
Primary camera
16 MP
Secondary camera
5 MP
Connectivity
Network support
Dual SIM 4G
Other options
Wi-Fi, Bluetooth 4.2, GPS
Others
Battery Capacity
4850
Operating system
Android 6.0.1 Marshmallow
Design: big is the new small
Dimensions
: 173.1 x 88.3 x 7.5 mm
Sticking to its moniker, the Mi Max is a massive device. At first glance, it might just make your eyes pop out and make you wonder whether you'd be able to handle it. In this case however, it may not be a good idea to judge the book by its cover, because the Max does grow on you once you use it, pun unintended (and TWSS jokes notwithstanding). For a device with a 6.44-inch screen, the Max is surprisingly compact (relatively speaking of course), and with a 7.5mm profile, quite slim too. It tips the scales at over 200 grams, which could be attributed to its size and its metal chassis. The device can get slippery though.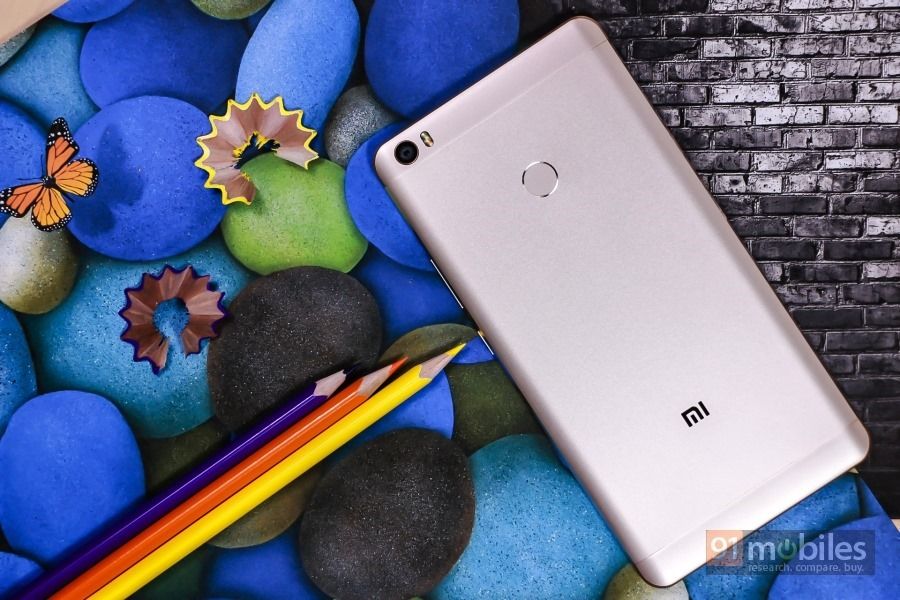 Just like the Redmi Note 3 (review), the back isn't all metal… and sports plastic caps on top and bottom to aid wireless connectivity. The design is seamless though, and you'd be hard pressed to discern that unless you observe very closely.
And thanks to chamfered edges and the use of 2.5D curved glass, the Mi Max feels much more premium and solidly built as compared to the Redmi Note 3. The edges also add to the grip, which is important considering the fact that you're dealing with a large device here. In most other respects, the Max is designed like a typical Xiaomi phone, with the usual placement of controls and buttons. More specifically, you'll see the earpiece, front camera, sensors and a notification LED on top of the screen, and a row of backlit, capacitive navigation keys below.
You'll find the headset socket and infrared blaster on top, micro-USB port and speaker at the bottom, power key and volume rocker on the right, and an ejectable SIM tray on the left. Said tray can hold a nano-SIM and a micro-SIM, but since this is a hybrid dual-SIM device, you can pop in a microSD card in place of the secondary SIM too. Worth mentioning that the bottom placement of the speaker may not be better than a front-facing option, but at least the sound doesn't get muffled the way it does on the Redmi Note 3, which has its speaker at the rear.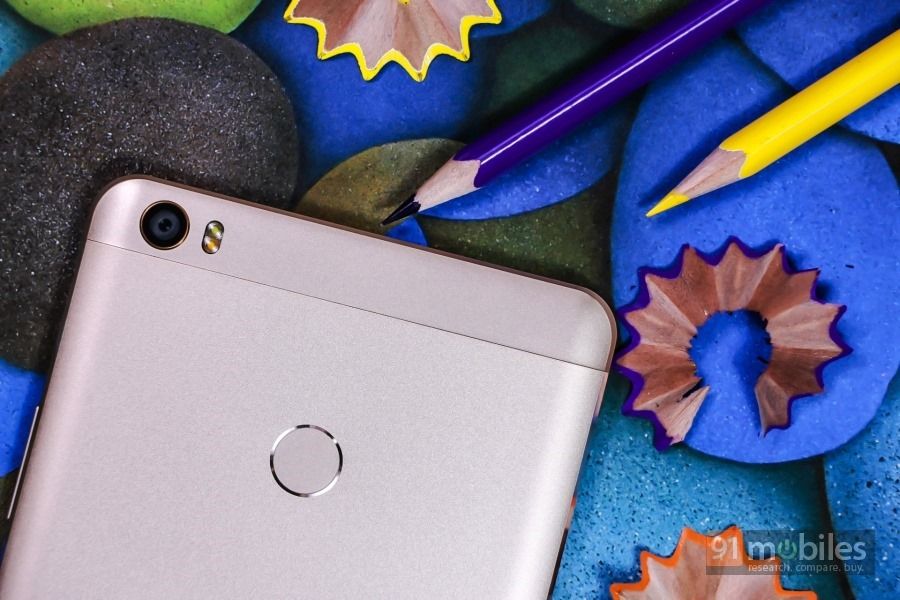 At the rear, you'll see the primary camera on top left, along with the true-tone LED flash. There's a circular fingerprint scanner too, plus Mi branding which is placed closer to the bottom.
While on the topic of design, it'd be worth highlighting more details about the handling. The Mi Max isn't ideal for one-handed usage, but MIUI's excellent one-handed mode does make things a little more palatable. And when it comes to the portability aspect, you can just about fit it into a jeans pocket… though the top of the device may still peek out in some cases. There's no way you can hide the bulge though, and you'll always feel it's there, especially while walking or climbing stairs. That's till better than carrying slates that can make calls though, since you can't possibly think of cramming them into a pocket.
Display: a window so big, it's almost a door
Resolution
: Full HD (1080 x 1920 pixels)
The display is your primary means of interaction with a smartphone, and having a large screen real estate at your disposal has obvious advantages. Photos and videos come alive, games become more immersive, and tasks like web browsing become more convenient. And if you have a screen that's as large as the Mi Max's, tasks like document editing also become possible – stuff that you'd normally not think about doing on a regular smartphone.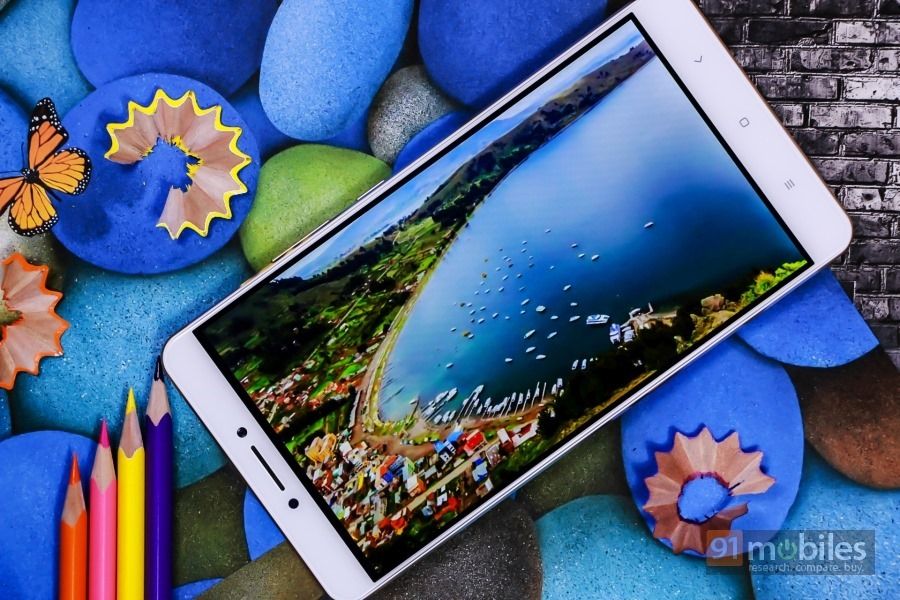 The 6.44-inch IPS LCD screen on the Mi Max sports full HD resolution, and comes with a layer of Gorilla Glass 3 for protection. The latter is nice to have for keeping scratches at bay, but we feel that large screens such as this one could be more prone to damage, especially in case of drops. So you need to be careful about that.
The touch response offered by the screen on the Mi Max is excellent, and we don't have any red flags to raise as far as sunlight legibility and viewing angles are concerned. We did have an issue with the ambient light sensor on our unit, which seemed slow to respond to changing light conditions, but we'd have to give it the benefit of doubt here. Otherwise, the screen seemed quite capable in terms of colour reproduction and sharpness.
And just in case you'd like to tweak the screen, you get settings that let you choose between automatic, increased and standard contrast, and use a slider to switch the colours to more warmer or cooler shades depending upon your preferences. MIUI also has a very usable reading mode that makes the screen more comfortable to view in dim lighting.
Software: me likey MIUI
Operating System
: Android
OS Version
: 6.0.1, Marshmallow
Xiaomi's MIUI remains one of our favourite Android-based ROMs, and the Mi Max runs exactly that. The underlying base is Android Marshmallow, and our review unit came with MIUI v7. An update to MIUI 8 is just around the corner, and the Max should be in line to get that as and when it's available. We've covered MIUI 7 extensively as part of our reviews of phones from Xiaomi, so we won't go too deep into it.
In a nutshell though, you can expect a clean, smooth interface that lacks a dedicated app drawer. There are tons of customisation options though, including extensive theme support that is actually one of the highlights. The range and sheer variety of downloadable themes on MIUI make it a fun platform to use, making sure you don't get bored of the same look and feel after using it day in and day out.
Elsewhere, you'll find handy options like a built in call recorder, a child mode, options to tweak the button behaviour and the status bar, an easy way to move app icons across different home screens, control over app notifications, customisable quick settings and customisable text size. A full-fledged security suite that integrates a cleaner, a virus scanner, a battery manager, a data monitor, a call blocker and a permissions manager is also there, as usual.
Apart from the Google suit of apps, preloaded stuff includes the standard set of first-party apps, including Mi Store, a compass, FM radio, and Mi Remote that works in tandem with the IR transmitter on top to convert the device into a universal remote.
The screen on the Mi Max can be woken up with a double tap – a handy addition for this phablet. Of course, MIUI already has a built in, customisable one-handed mode that shrinks the entire interface and docks it to either side of the screen, depending upon which way you swipe sideways from the home button. This mode is especially useful for the Mi Max, considering its size.
Xiaomi has also added a shortcut menu which appears as a floating dot that sticks to the side of the screen, and with a tap, displays a a carousel of shortcuts to help you access the home, back, recent apps, lock the screen, or capture a screenshot. These shortcuts can be customised, and you can even mark the apps over which you'd like the shortcut button to be hidden… games and video players for instance. Again, we think this is a handy addition, though its usefulness can probably be better evaluated over a longer usage period.
We wish Xiaomi could have added a little more in terms of the software features though. A multi-window mode for example, could've been a godsend on a phablet with such as large screen.
Camera: shoots share-worthy pics
Flash
: Dual-color LED Flash
Shooting prowess is an important aspect of any smartphone, and while you may raise your eyebrows at them, there are quite a few who use their tablets for capturing pics too. As a device that sits in the middle but aims to be your daily driver, the Mi Max attempts to go all out to offer you a compelling set of shooters. The camera setup on this phablet is essentially the same as the Redmi Note 3, and includes a 16-meg primary camera with PDAF and f/2.0 aperture. At the front, a 5MP sensor handles selfie duties. While the camera app on the Redmi Note 3 doesn't offer 4K video recording, the one on the Mi Max does, and it can also shoot time lapse and slo-mo videos.
Talking about the camera app, it's the same MIUI app we've seen earlier… offering modes like handheld twilight, fish eye, tilt-shift, straighten and beautify. A manual mode lets you tweak white balance, focus, exposure and ISO. The camera also offers an Auto HDR mode, plus a bunch of filters with real-time previews.
As far as overall camera performance is concerned, we'd like to say that the Mi Max shoots awesome pics… but that would be exaggeration. It does leave a little something to be desired, as some shots tend to look a tad over-sharpened, and low light images are noisy. That said, most casual users shouldn't be disappointed with the camera output, as the images generally turn out pleasing overall, especially the ones shot in daylight. The HDR mode is useful as well, while the macros look nice for the most part. Feel free to jump to the detailed camera review, but we're still going to show you some camera samples here.
Performance: smooth, but oh, what battery life
CPU
: Dual core, 1.8 GHz + Quad cor…
Memory
: 32 GB + Up to 128 GB
SIM Slots
: Dual SIM , GSM+GSM
The innards of the base version of the Mi Max, the one we're reviewing here, are essentially the same as the Redmi Note 3. These include a Snapdragon 650 processor, 3 gigs of RAM, and 32GB storage… with the latter being expandable thanks to the hybrid SIM slot. The performance therefore, is quite similar.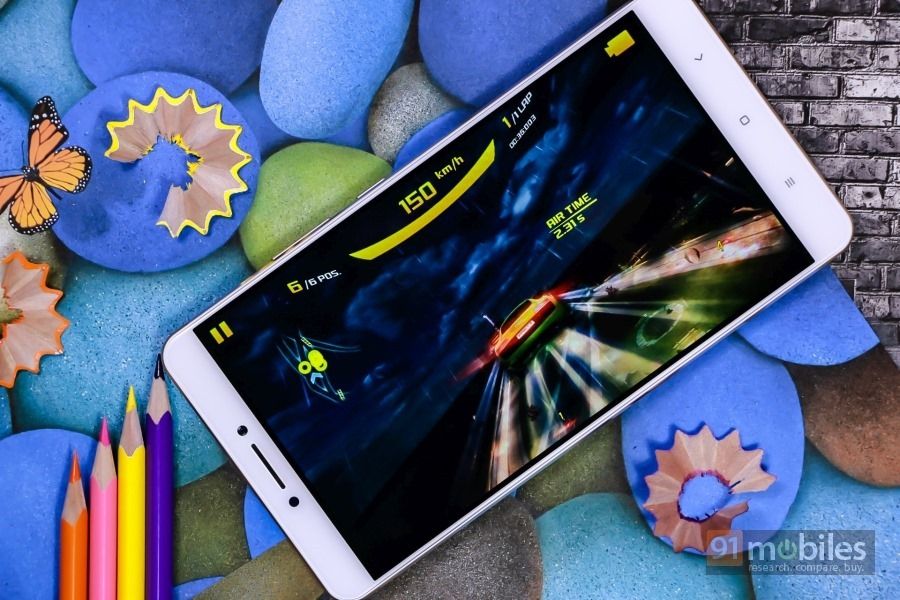 MIUI is a smooth, fluid interface anyway, and on the Mi Max, it works quite smoothly… without any noticeable signs of slowing down. During our review period, we didn't see any app crashes either. The graphics-heavy games we tried, Asphalt 8 for example, worked well too, and while the phablet does get warm, it doesn't get too hot when stressed.
Out of the built in 32GB storage, you get almost 25GB free to use… which should suffice for most. Of course, you have to option of cramming in a microSD card by forsaking the dual-SIM capabilities. USB OTG support is there too, while the other connectivity options include 4G with VoLTe, plus all the usual stuff like Wi-Fi, Bluetooth and A-GPS.
The fingerprint scanner on the Mi Max works quite well – it's accurate, and quite fast too. Surprisingly, Xiaomi seems to have removed the option that lets you click pictures by tapping the fingerprint scanner – a feature that was present on the Redmi Note 3. That would've been quite useful on the supersized Max. However, you can map the fingerprint scanner to the app lock functionality, which means that the apps you lock can only be accessed by authenticating a registered fingerprint.
While the Mi Max isn't a battery-centric device, it still manages to pack in a very healthy 4,850mAh battery… which is neat considering its slim girth. The large size helps of course. And we'd have to say that the Mi Max offers incredible battery life, possibly the best we've ever seen on a device that doesn't harp about its battery much. On regular usage, you can expect a singe charge to last you well into the second day, which means that even heavy users should easily get a day's worth. The phone lasted us a whopping 20.5 hours in our video loop test, which shows how good that battery is. You have MIUI's battery-saving modes to depend on when the juice gets too low for comfort, though you'd probably won't need to use them at all. The downside is that the Mi Max takes a long time to charge fully, as despite the Quick Charge support, a compatible charger isn't included by default.
Verdict
In a lot of ways, the Mi Max is a supersized version of the Redmi Note 3, but then, it does add up to a little more. By now, you'd have figured out that we don't have too much to complain about it in terms of overall performance. The camera quality could have been better, but the battery life is exceptionally good… something that adds more to its credibility as a device ideal for gaming and movie watching. A quick look at the large-screened options available in the same price range as the base model of the Mi Max reveals that there's nothing that comes close. There's the YU Yureka Note and the 6-inch version of the ASUS Zenfone 2 Laser, but both of these fall short when compared to the Xiaomi Mi Max. Even the Lenovo PHAB Plus doesn't really match up in terms of specs, though that gets dangerously close to tablet territory with its 6.8-inch screen. This means that if you're interested in a phablet with a really roomy screen, the Mi Max is pretty much the best large phablet priced under Rs 20,000.
The conclusion then, is pretty clear. The Mi Max is a no-brainer if you're fine with the idea of a large phablet. And if you're one of those who already use, or are considering a tablet with voice calling as a daily driver, you could do yourself a favour and opt for the Mi Max instead. It's probably not for those who want one-handed use and compact size, but those who're sitting on the fence should definitely give it a once over – who knows, it might just grow on you. The very same way it did on us.
Editor's rating: 4 / 5
Pros
A roomy screen in a palatable size
Premium looks and solid build
Smooth performance
Exceptional battery life
Cons
Camera performance could be better
Software features like a multi-window mode could be handy
Photos by Raj Rout
Competitors for Xiaomi Mi Max 32GB
| | | |
| --- | --- | --- |
| Xiaomi Mi Max 32GB | vs | Yu Yureka Note |
| | | |
| --- | --- | --- |
| Xiaomi Mi Max 32GB | vs | Lenovo Phab Plus |