"The latest contender from Xiaomi promises to rock the budget space"
Ever went to the grocery store with 10 bucks in your pocket and returned with something that cost Rs 12? If you did, remember the smile on your face or that warm, fuzzy feeling inside? The feeling you get when you know you've been able to make your money go further? Well, Xiaomi's been letting the price-conscious Indian consumers experience exactly that ever since it landed on the scene back in 2014, offering smartphones that are usually high on value and don't need a kidney in exchange. The Xiaomi Mi 3 (review), which was the brand's debut vehicle in India, also introduced the country to the concept of flash sales. Flash is an apt term, as thousands of units were lapped up by eager buyers within seconds. The Mi 3 was followed by the Redmi 1s (review), a phone which set a new benchmark for budget smartphones. We won't go into the detailed history of the brand, but suffice to say that rivals had to rethink product and pricing strategies, while newer brands entered the country almost bearing stickers saying "I want to be Xiaomi when I grow up". Fast forward two years to present day, and a lot of water has flown under the bridge. These days, Xiaomi's phones aren't really purchases you can make with your eyes closed, as was the case earlier. This is mainly due to competitors like Lenovo, plus newer kids on the block like LeEco and others… all offering aggressively-priced, yet capable smartphones. Despite the cutthroat competition though, Xiaomi's Redmi Note 3 (review) has been the most searched for smartphone on 91mobiles since its launch in March 2016.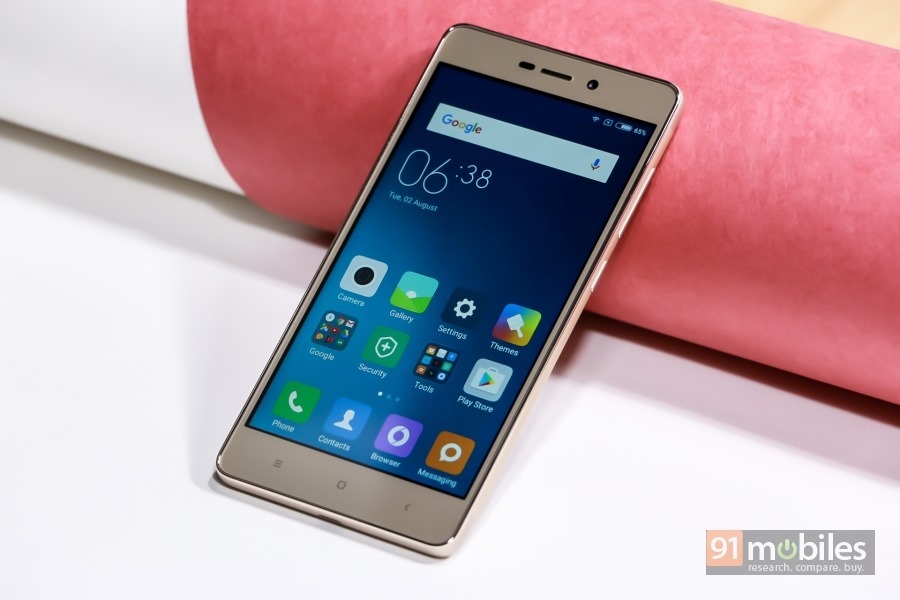 And now, Xiaomi is firing a fresh salvo in the budget compact smartphone segment, an area where it hasn't had a contender since the Redmi 2 Prime (review) that came out about a year ago. While most of the action has moved to the Rs 10,000 to Rs 13,000 category, which is where most popular smartphones (almost all with 5.5-inch displays) play these days, the budget arena is still voluminous… and that's exactly where the new Redmi 3S and its Prime variant (FAQs) land, proudly carrying made-in-India labels. We managed to spend time with a Chinese unit of the Redmi 3S (first impressions), and later the Redmi 3S Prime, though most of this review is based on our experience with the latter. Unless specifically mentioned though, the article applies to both variants, since the key differences are in the RAM, storage and availability of the fingerprint scanner. Here's the full lowdown…
Specs at a glance
Display
Size
5.0 Inch
Resolution
HD (720 x 1280 pixels)
Performance
CPU
Quad core, 1.4 GHz + Quad core, 1.1 GHz, Snapdragon 430
RAM
3 GB
Storage
Internal memory
32 GB
External memory
Up to 128 GB
Battery
Capacity
4100 mAH, Li-Polymer, Non removable
Camera
Primary camera
13 MP
Secondary camera
5 MP
Connectivity
Network support
Dual SIM 4G
Other options
Wi-Fi, Bluetooth 4.1, GPS
Others
Battery Capacity
4100
Operating system
Android 6.0 Marshmallow

Design: Honey, I shrunk the Redmi Note
Dimensions
: 139.3 x 69.6 x 8.5 mm
That just about sums it up as far as the design of the Redmi 3S duo is concerned. If you've seen a Redmi Note 3, the new 3S pair is nearly the same in terms of looks, only smaller. The same metal body, the same curvy edges and rounded corners, the same solid build – the same design philosophy in essence. The capacitive navigation keys on the 3S' fascia aren't backlit, and a tiny notification LED is present below the home button. The placement of the primary camera and flash is also a little different – top left on the rear of the 3S vs in the centre as in the case of the Redmi Note 3.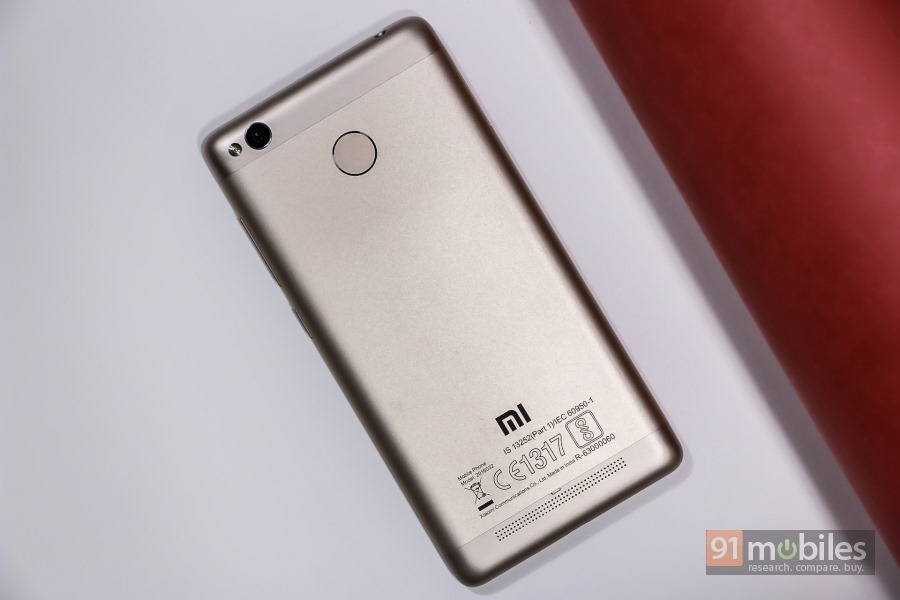 Just like its sibling though, the Redmi 3S is also a hybrid dual-SIM phone – so you get an ejectable tray on the left that gobbles up a micro-SIM and a nano-SIM, but you'll need to forget the latter if you want to insert a microSD card. Thanks to its 5-inch display and slim bezels, the Redmi 3S is quite compact, and a cinch to use with a single hand. The curvy metal body can get slightly slippery though.
Metal-bodied smartphones available at budget price points are sill rare, so we think the Redmi 3S does stand out in this respect. That said, the design is not particularly exciting. If you ask us though, the key highlight of the Redmi 3S' design isn't something that's visible right away. We're referring to the 4,100mAh battery, which is actually a shade more powerful than the Redmi Note 3's 4,050mAh pack. What's surprising is the way Xiaomi has been able to pack in such a powerful battery in a phone of this size, and the product designers definitely deserve credit for this feat.
Display: that HD feeling
Resolution
: HD (720 x 1280 pixels)
While we'd always prefer full HD resolution in our quest for value for money, we can't really complain about the 720p display the Redmi 3S offers. It's plenty sharp and serves up crisp visuals. And as usual, you get settings to tweak the display output, including a customisable reading mode, customisable colour temperature and choice of contrast levels.
Software: the trusty pillar called MIUI
Operating System
: Android
OS Version
: 6.0, Marshmallow
We've covered Xiaomi's MIUI platform extensively in the past, and would just be repeating ourselves if highlight all the features again. Suffice for you to know that the Redmi 3S runs MIUI 7, with the underlying platform being Android Marshmallow. The by-now familiar UI offers its usual signature features like theme support, a customisable notification panel with separate screens for alerts and quick settings, and a Security suite that integrates a cleaner, data monitor, blocker, battery manager, virus scanner and a permissions manager. The set of preloaded apps is also as expected, and includes Mi Remote that works in conjunction with the infrared blaster on top to convert the phone into a universal remote, and Mi Store, plus third-party apps like SwiftKey Keyboard, WPS Office, Facebook, Flipkart, Kindle and Amazon Shopping.
Other features like a Lite mode, Child mode, DND, settings to control the notification light and button behaviour, control app notifications etc can be found in device settings. While it's hardly needed for a phone of this size, a one-handed mode is present as a standard MIUI feature, and you also get a Shortcut menu that appears as a floating ball atop the display. Mi Cloud lets you sync contacts, SMSes, photos and videos, call history, notes, Wi-Fi settings, calendar, voice/call recordings and browser bookmarks with your Mi account, apart from enabling a 'Find my phone' feature. Now we did say we won't go into details and we've already mentioned quite a few. You should know however, that MIUI is one of our favourite Android-based ROMs and apart from the key ones we listed above, packs in quite a few other small yet useful features. The platform is now transitioning to version 8 (check out our MIUI 8 beta overview), which would bring even more to the table, and hopefully, the Redmi 3S will also get the same update in the near future.
Camera: shoots well, mostly
The Redmi 3S' camera app presents the same options and shooting modes as we've seen before, with the latter covering manual, beautify, handheld twilight and a bunch of scene presets. HDR and a range of colour filters are offered too. Video recording is limited to 1080p, which is acceptable at this price point.
For details on image quality, do head over to the extensive camera review, but in short, the Redmi 3S' primary 13MP shooter captures good images, especially in daylight. The auto mode sometimes blows out the brighter areas, but the HDR mode works wonders in those cases. Do note that there's no Auto HDR though. The close ups are nice too, but low light shots can be a little soft and noisy. The 5-meg sensor at front does a fair job, but again, selfies captured in low light could leave a little something to be desired. Considering its budget positioning, we think the Redmi 3S' shooters are reasonably capable, and most casual users shouldn't have reason to complain. Here are a few image samples…
Performance: a solid performer that hates the power socket
CPU
: Quad core, 1.4 GHz + Quad cor…
Memory
: 32 GB + Up to 128 GB
SIM Slots
: Dual SIM , GSM+GSM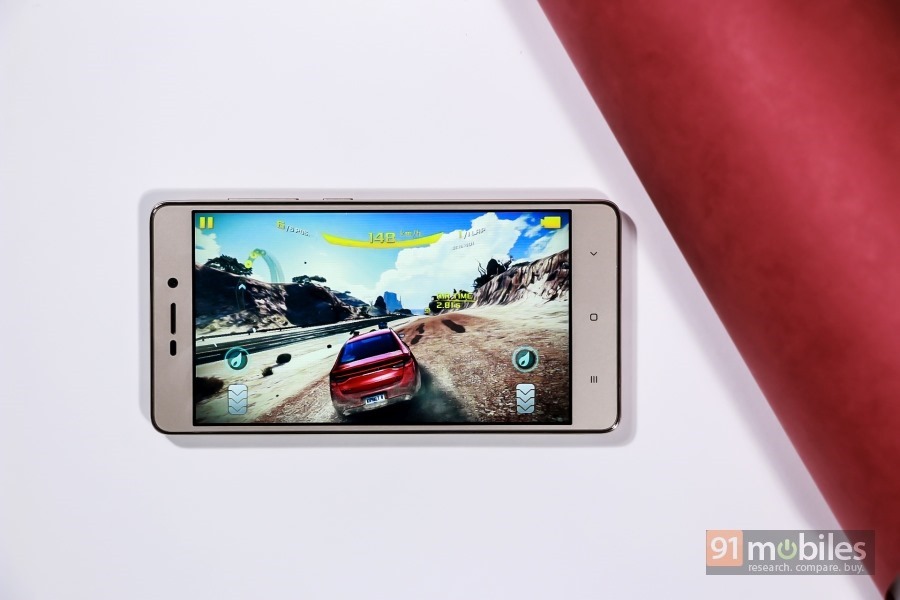 The new Redmi 3S models come powered by the new Snapdragon 430 SoC, and are the first smartphones in India to boast this chipset. The octa-core processor utilises four Cortex A53 cores clocked at 1.4GHz and another four clocked at 1.1GHz. Since we're reviewing the Redmi 3S Prime model here, that chipset is joined in by 3 gigs of RAM and 32GB storage. Just to highlight the differences, the regular Redmi 3S model comes with 2GB RAM and 16GB storage, and can't boast of a fingerprint scanner unlike its Prime cousin. The Xiaomi Redmi 3S Prime turns in very smooth performance, and everything from regular productivity / social apps to intensive games work well. We played Asphalt 8 extensively on it, and the gameplay was smooth on default graphics settings. A few hiccups are noticeable when graphics settings for the game are bumped up to high, but we'll not hold that against this device. Heat dissipation is handled pretty well too, and the phone barely got warm when stressed.
Connectivity-wise, you get 4G with VoLTE, an IR blaster, plus the usual options. Our 32GB Prime model gave us about 24.5GB to use on first boot, and you can use the hybrid SIM slot to add more storage or make use of the USB OTG feature if you wish. The fingerprint scanner (only on the 3S Prime) works pretty well too, and is quite fast and accurate. Apart from unlocking the phone, you can use it to lock individual apps, gain access to the private area and exit Child mode.
The 4,100mAh battery is really one of the strongest pillars the Redmi 3S duo stands on. That 5-inch 720p display obviously doesn't draw as much power as a full HD screen would, and combined with the other hardware and software optimisations, the combination offers stellar battery life. We were able to eke out almost two days on a single charge with regular usage, so you can rest assured that even if your usage is heavy, you should still be able to see a full day through. In our standard drain test, which involves playing an HD video on loop till the battery dies, the Redmi 3S Prime lasted almost 14 hours… showing just how good that battery is. On the flip side, juicing up takes a long time.
Verdict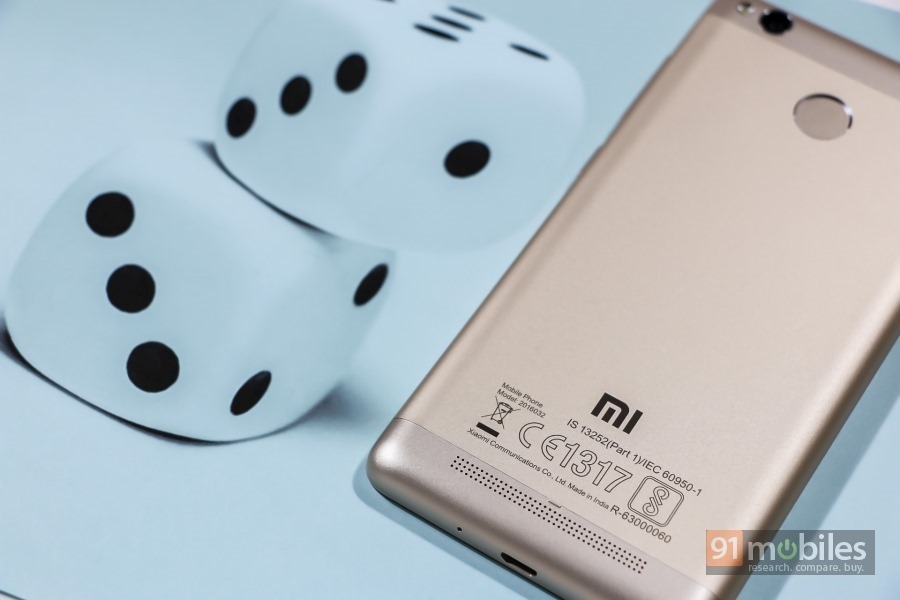 The Xiaomi Redmi 3S Prime is priced at Rs 8,999, and at that outlay, competes with the likes of the newly-launched 3GB RAM version of the Lenovo K5 Plus. The Redmi 3S regular model is priced at Rs 6,999, and goes up against the Coolpad Note 3 lite. The new Lenovo K5 Plus definitely looks strong on paper, but we can't comment on its capabilities as we haven't reviewed it yet. As we mentioned earlier, Xiaomi's phones are no longer purchases you can buy without considering other options, and the Redmi 3S also highlights the same situation… as the camera performance could have been a shade better. That's pretty much the only niggle we have with it though, as otherwise, the Redmi 3S Prime worked very well for us – with its superb battery life being the big, bright, feather in its cap. Between the two Redmi 3S variants, the Prime model is obviously the one we'd recommend, unless you're on a very tight budget, but you can't really go wrong with either one as your daily driver.
Editor's rating: 4 / 5
Pros
Compact design and solid build
MIUI and its useful features
Smooth performance
Excellent battery life
Cons
Photos by Raj Rout
Competitors for Xiaomi Redmi 3S Plus
| | | |
| --- | --- | --- |
| Xiaomi Redmi 3S Plus | vs | Xiaomi Redmi 3S 32GB |
| | | |
| --- | --- | --- |
| Xiaomi Redmi 3S Plus | vs | Xiaomi Redmi 3S |