"The Windows and Linux software was available for a certain price and worked only on photos of women"
In the last two days, an application called DeepNude went viral and gained plenty of attention all over the world. The app, which is available for Windows and Linux operating systems, can create fake nude pictures of women and was released on June 23rd. The app used artificial intelligence to remove clothing from a photo to create nude photos that looked close to reality. However, after being subjected to all the attention recently, the company has announced that it is shutting down the tool.
A lot of users have downloaded the app and have misused it, obviously. According to the company, it did not expect such interest in the app. People have been using the app to blackmail and harass women. Yes, such tools are available on the internet, but the DeepNude app could be used even by the layman. All it needed was a photo and a click of a button. Also, the tool supposedly only works on pictures of women.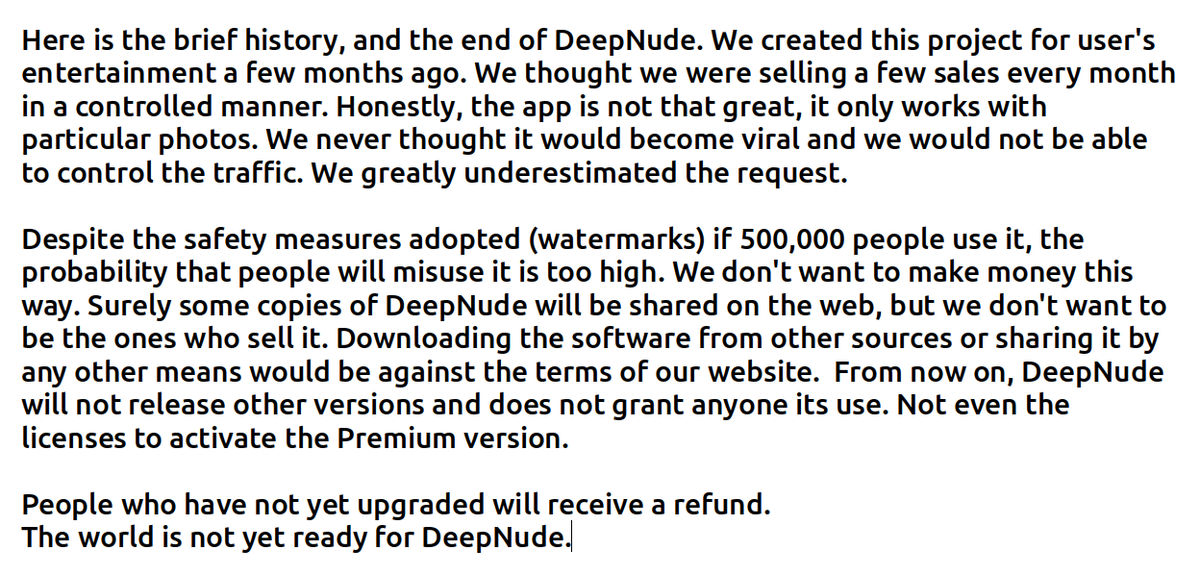 The app was available both as a free version and a paid version that cost $50. The free version would leave a large watermark on the edited image, while the paid added a tiny watermark on the corner. However, users could easily get rid of the watermark in the paid version. The app worked well enough to be noticed by some big publications and suddenly shot up in popularity and downloads. Once the image is spread, there's nothing that the women can do, which is just horrible.
In a tweet, the company stated that its is not that great and only works on some photos. It also said that the software will no longer be sold and there will be no future releases. Unfortunately, copies of the app will be available for download, but the company would be against its use. It went on to say that the company doesn't want to make money this way and will no longer provide licenses to those who purchased the app. Instead, it would be refunding the money.