"The new 10th Gen Core processors use Intel's Sunny Cove architecture and the integrated graphics can power games at 1080p in low-power ultrabooks"
In response to AMD's rather impressive showing at the ongoing Computex 2019, Intel has come up with its own set of answers, which include the overkill 9th Gen Core i9-9900KS. However, its less headline-stealing act among its latest previews and launches may hold more potential in terms of impacting the market. The product lineup in question is the 10th Gen Core processors, formerly known as Intel Ice Lake processors.
The 10th Gen Ice Lake CPUs are not a direct replacement of the high-performance 9th Gen laptop chipsets that Intel unveiled earlier this year. Instead, the new SKUs will coexist alongside the 9th Gen processors, and while the latter will cater to the high performance segment, the first of the 10th Gen processors will target the ultrabook segment with the U lineup of processors. Historically, the U lineup of processors have represented the high efficiency lineup of Intel's processor portfolio and, as such, will be present in all of the Core i3, i5, and i7 variants.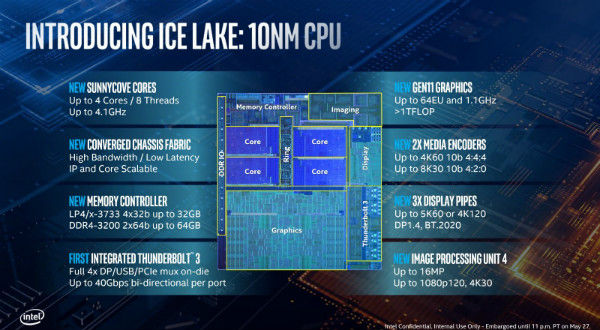 While there are multiple key factors at play here, the main takeaway from the new 10th Gen Intel Core processors is the new integrated graphics chipset — the 11th gen Iris Plus GPU. The new Iris Plus offers over 1 TFLOPs worth of core graphics performance, with core clock running at up to 1.1GHz and a total of 64 EUs (execution units). This will produce a whole world of difference, in comparison to the 8th Gen Intel UHD 620 graphics that were offered with the previous generation 'U' processors. In direct gaming comparison, the new GPU can play CS:Go at 70fps (against 45fps on UHD 620), Fortnite at 40fps (barely 20fps on UHD 620), and Rocket League at 60fps (about 40fps on UHD 620).
This means that even if your future low-power, mid-range ultrabook does not get a dedicated GPU, it will still have enough graphics prowess to let you game every now and then, at fairly decent resolution and settings. The Intel Iris Plus also adds adaptive sync support for displays, native encoding acceleration for the increasingly-adopted HEVC codec, as well as video acceleration for 4K/60p and 8K/30p footage. This would be a major boon for content creators, who previously had to opt for a dedicated GPU in case of semi-professional output.
As for other factors, the 10th Gen Intel Core processors feature the 10nm Sunny Cove architecture, which at its peak variant is configured in four-core, eight-thread arrangement, with peak native clock speed going up to 4.1GHz. According to Intel's presentation, the new processors will be able to tackle 18 percent more instructions per cycle (IPC), which means better performance at same workloads. It also features larger L1 and L2 cache for faster buffer loading, which would help during startup and other app load use cases.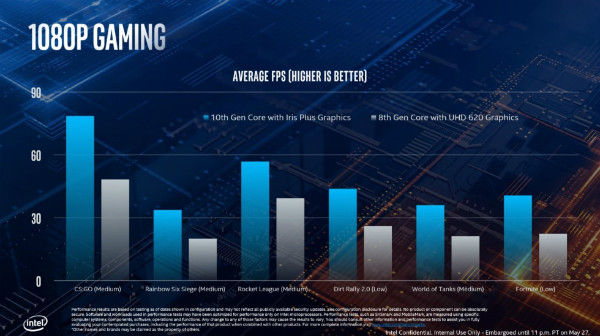 The 10th Gen Core processors support up to 64GB DDR4-3200MHz memory, integrated Thunderbolt 3 support for integrating features such as professional, uncompressed display outputs, and a new IPU (image processing unit) 4 that supports up 16-megapixel image sensors, and up to 1080p direct video transcoding at 120fps. We are not entirely sure yet, but this should help in case you plan to stream gameplay, or graphic-intensive presentations, over to clients or an audience.
Intel's 10th Gen processors also pack in the new ResNet-50 deep learning interface for faster processing of AI tasks, aided by the new branch prediction thread in the cores. Lastly, and in what is a very important factor, Intel has thrown in Wi-Fi 6 (802.11ax) support, to enable next generation connectivity in future mid-range ultrabooks. Connectivity, on top of everything, is one of the key factors for ultrabooks to perform well on and Intel appears to have considered every factor at hand when configuring the new processors.
Considering everything, the 10th Gen Intel Core processors look like very able offerings, packing in more than just incremental performance upgrades. Given what they represent, we would not be misplaced to expect ultrabooks to finally make the transition to being mainstream products.