"Jio Fiber users will have to pay at least Rs 29,988 (plus taxes) in one go if they want to subscribe to the plans with a free HD or 4K TV"
Jio Fiber plan prices have been announced by the company, with broadband speeds starting at 100Mbps with the base Rs 699 plan. However, to get the higher 1Gbps speed, subscribers will have to opt for the Jio Fiber plans priced at Rs 3,999 or Rs 8,499 per month. As part of the Welcome Offer, subscribers will get a free HD or 4K TV on Jio Fiber plans priced Rs 1,299 per month or higher — however, they will need to pay at least Rs 29,988 as the JioForever annual offer with the free TV requires an annual commitment; GST will be charged as applicable.
Bronze
Silver
Gold
Diamond
Platinum
Titanium
Price
Rs 699
Rs 849
Rs 1,299
Rs 2,499
Rs 3,999
Rs 8,499
Speed
100Mbps
100Mbps
250Mbps
500Mbps
1Gbps
1Gbps
Data for 30 days
100GB (+ 50GB extra)
200GB (+ 200GB extra)
500GB (+ 250GB extra)
1,250GB (+ 250GB extra)
2,500GB
5,000GB
Welcome Offer cost
Rs 8,388
Rs 10,188
Rs 31,176 (two-year subscription)
Rs 29,988
Rs 47,988
Rs 1,01,988
Welcome Offer gift
Muse 2 Bluetooth speaker
Thump 2 Bluetooth speaker
24-inch HD TV
24-inch HD TV
32-inch HD TV
43-inch 4K TV
OTT apps
Jio Cinema and Jio Saavn for 3 months
OTT apps for 3 months
OTT apps for a year
As can be seen in the table above, the Jio Fiber plans are priced at Rs 699, Rs 849, Rs 1,299, Rs 2,499, Rs 3,999, and Rs 8,499 and offer 100GB, 200GB, 500GB, 1,250GB, 2,500GB, and 5,000GB bundled high-speed data, respectively. These come with unlimited data, meaning once the bundled high-speed data is exhausted, the speed will be lowered though data access will continue. All the plans come with complementary data, which can be used for up to six months; after that the additional data will expire. The company says it will provide subscribers with 3, 6, and 12 month plans that provide "substantially higher value." Moreover, the company is tying up with banks to allow users to subscribe to the annual plan and pay off the cost in EMIs.
To avail the Jio Fiber service, subscribers will need to make a payment of Rs 2,500; this includes a refundable security deposit of Rs 1,500 and a non-refundable installation fee of Rs 1,000. Users will get Jio Home Gateway and 4K set-top box as part of the subscription; while they are free as part of the bundled offering, the company pegs their prices at Rs 5,000 and Rs 6,400, respectively.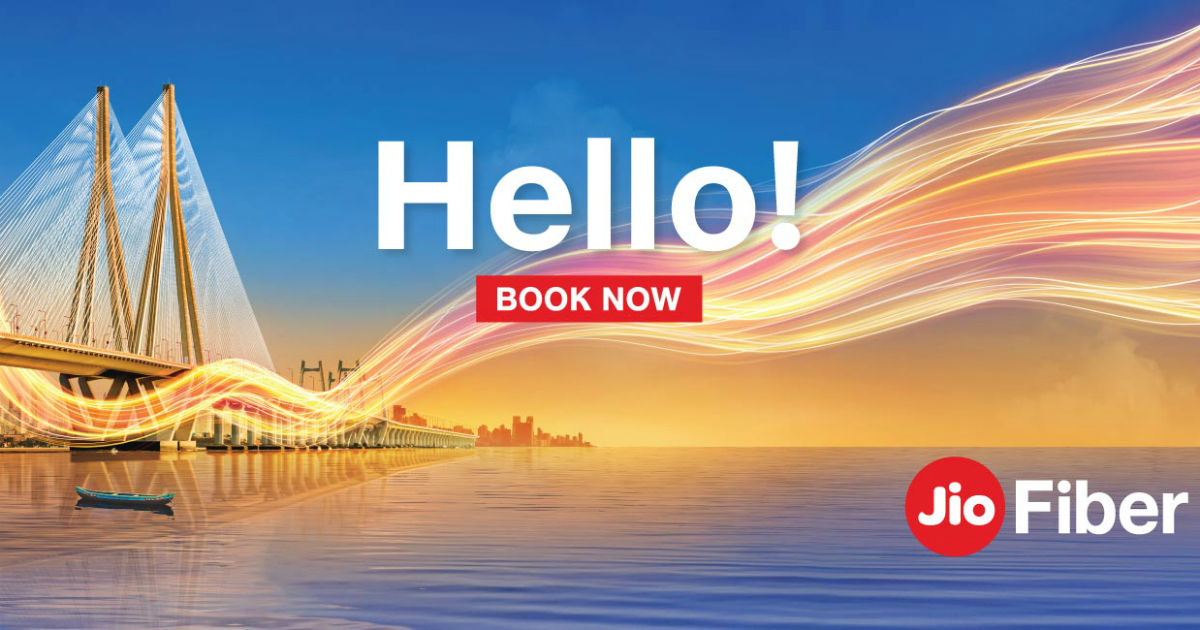 With all plans, subscribers will get free local and STD voice calls, TV-based video calling and video conferencing, interactive gaming, and a Norton antivirus protection for up to five devices. The international calls will be priced about 1/5th to 1/10th of the standard call rates. However, the VR experiences, first day first show movies (which will start next year), and special sports content will be limited to Jio Fiber plans priced Rs 2,499 and above.
As for the bundled content, the base Rs 699 Jio Fiber plan will offer free 3-month access to Jio Cinema and Jio Saavn apps whereas the Rs 849 plan will give access to OTT apps for three months. On the plans priced Rs 1,299 and above, the OTT apps will be free for a year. However, Jio has not provided the details of the OTT apps it will be bundling with the broadband service.
Users can head to the official website or the MyJio app to register for the service; if it is available in their area, they will get a call from the service representative. On the other hand, consumers who already have a Jio Fiber subscription from the testing phase will have to switch to a paid plan to continue services.