"Do you consider yourself to be a demanding user? Then the LG V20 might be for you"
There are compact digital cameras and there are professional DSLRs. There are consumer-grade headphones and there are professional headphones. There are home desktops and there are gaming desktops. In that vein, if there are smartphones, shouldn't professional smartphones be a thing too?
Well, professional smartphones are just a concept in my head for now. Having said that, last year's LG V10 (first impressions) sort of pushed the envelope when it comes to smartphones. This underrated gem of a phone offered dual displays, dual front cameras, a dedicated digital-to-analog convertor DAC for enhanced music performance, a manual mode in video recording, and more. Taking that legacy forward is 2016's LG V20.
The V20 was launched only recently in India and apart from offering dual cameras on the rear – the phone also includes an improved DAC for better audio, microphones that can record high definition audio, and video recording with manual controls. Quite evidently, these additions are meant for those who really care about listening to music in the best quality or taking photographs in RAW. Are you one of them? If yes, then keep reading the review.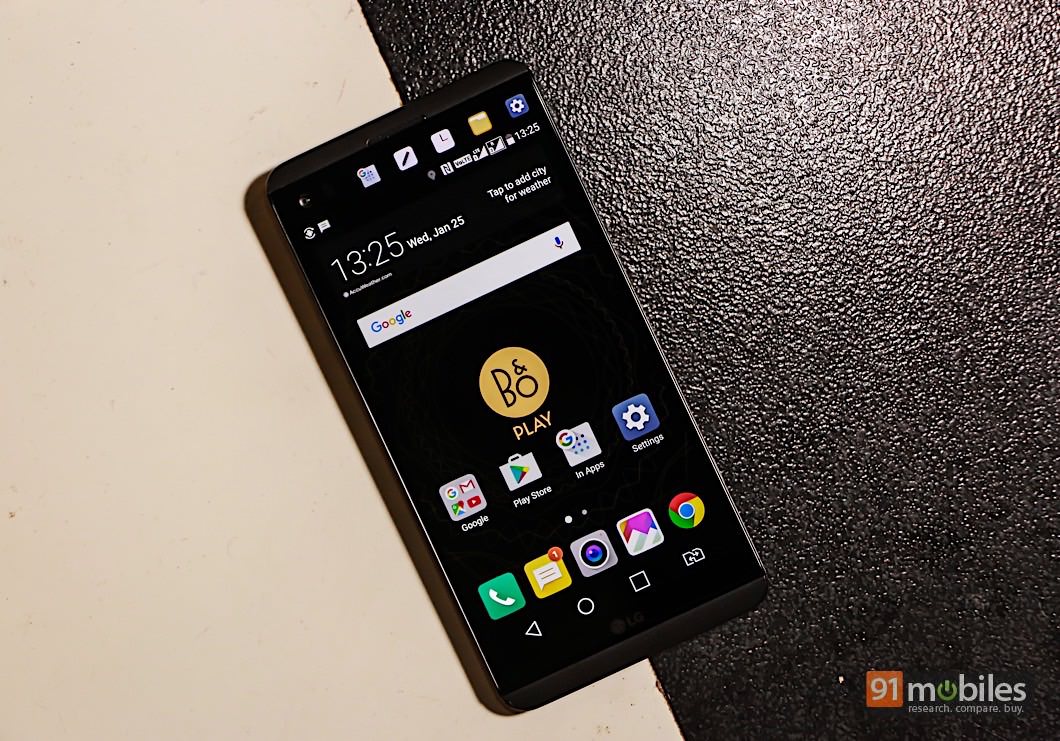 Specs at a glance
Display
Size
5.7 Inch
Resolution
1440 x 2560 pixels
Performance
CPU
Dual core, 2.15 GHz + Dual core, 1.6 GHz, Snapdragon 820
RAM
4 GB
Storage
Internal memory
64 GB
External memory
Up to 2 TB
Battery
Capacity
3200 mAH, Li-ion
Camera
Primary camera
16 MP
Secondary camera
5 MP
Connectivity
Network support
Dual SIM 4G
Other options
Wi-Fi, Bluetooth 4.2, GPS
Others
Battery Capacity
3200
Operating system
Android 7.0 Nougat
Understated functional design with an always-on secondary display
From the moment I held the V20 in my hands, I couldn't help but think that the design was more function over form. The longish phone feels slightly top heavy and, ergonomically-speaking, it is not as streamlined as some other flagship phones like the Samsung Galaxy S7, the Google Pixel, or even the LG G5 (review) for that matter. But, the phone is long and slightly unwieldy for a reason: it has two camera modules on the rear and a secondary display as well – both of which are placed near the top.
The V20 in black looks rather stealthy and classy. Keep in mind that the rear panel can be removed – a feature that is not commonplace in other smartphones anymore. What this means for the end user is that you can replace the battery or keep a secondary battery handy for desperate times. The phone is rated shock proof with a MIL-STD-810G rating but unfortunately it is not waterproof.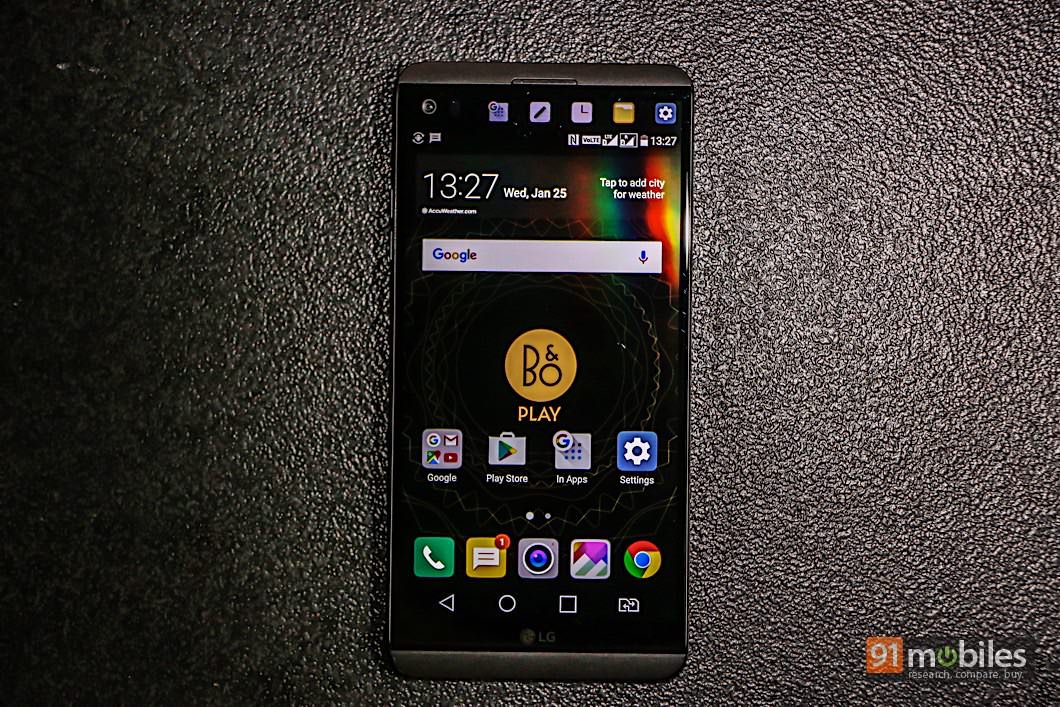 While it might feel odd that the home button and the fingerprint sensor are integrated on the rear underneath the camera modules, I got used to it pretty fast. If you do manage to use the phone on a daily basis, it won't be a problem after the initial few days. Talking about the fingerprint scanner, it is super responsive.
The volume buttons sit flush on the left edge and the tactile feedback is okay at best. There is an infrared sensor on the top edge, for those who care about the tech. LG has provided only a single loudspeaker that sits along with the USB Type-C port and the 3.5mm headphone jack at the bottom. Overall, despite being a big phone, the LG V20 is designed with ease-of-use in mind.

The V20 has a 5.7-inch QHD (1,440 x 2,560p) IPS LCD (Quantum) display with a secondary always-on display above it. The secondary 2.1-inch display offers a resolution of 160 x 1,040 pixels. Around 400 pixel space has been cut off to include the front camera and the ambient light sensor. The dual display is protected by Corning's Gorilla Glass 4. Now, the primary display looks impressive at first glance thanks to the fact that LG has cleverly used a high-contrast theme. However, I noticed that the display has an extremely cool colour temperature by default. Thankfully, the sunlight legibility and the viewing angles are good and I didn't find an issue.
Coming to the secondary display, I constantly forgot there was one and didn't use it unless I entered the camera app. Personally, the secondary display is rather underused on the LG V20 and it feels more like a gimmick in its current state.
Dual cameras for a wider perspective
The LG V20 has a dual camera on the rear like its sibling the LG G5. The primary camera is a 16MP shooter uses a 1/2.8-inch sensor with an f/1.8 aperture. The secondary supporting lens is a wide-angle 8MP camera which has a larger 1/4-inch sensor but a smaller f/2.4 aperture size. Although, the thing about the secondary lens is that it can go as wide as 12mm or 135-degrees in common parlance. Now that we are done describing the technical mumbo jumbo, let's understand if that secondary wide angle lens makes any sense or not.
I have to be honest here, my favourite implementation of dual cameras on a smartphone has to be the one on the Apple iPhone 7 Plus (review). Apart from the fact that you can do 2X optical zoom with ease, you can also create amazing portraits with bokeh. That said, the V20's wide-angle lens can be used to make some insane-looking landscape shots. Also, if you were to pair it with the HDR mode and crank up the dynamic range the images look super impressive.
I quite enjoyed using the camera app's manual mode; it is one of the best default camera apps I've used in a while now. The fact that LG has incorporated a focus peaking mode in the manual focus is real genius. This is a feature that I have seen only in some high-end SLRs and mirrorless cameras. Essentially, the software highlights the outline of the subject in green, which gives you a clear idea of the total area in focus. That way you can bring out the unique elements in certain subjects. Moreover, in the Auto mode, the V20 has a tendency to botch up the white balance more often than not. Therefore, using the Kelvin meter to adjust white balance in manual mode would be ideal.
Coming back to the image quality, in daylight the V20's 16MP camera captures an incredible amount of details; almost as much as a Samsung Galaxy S7 edge or the Google Pixel. However, in the Auto mode the camera prefers to use a slower shutter speed even in daylight which makes the exposure one stop lower than I would have ideally liked it. Thankfully, the Manual mode comes in handy in such situations. The HDR mode works well in retrieving most of the details in the highlights and shadows if not all of it. Thanks to OIS, the camera also manages to capture some of the best low-light shots. However, on closer inspection you will notice some amount of noise. Talking about the wide-angle lens, you will notice that the level of details is much lower when compared to the primary camera. Obviously, there is a lot of barrel distortion around the edges – meaning your images look warped like they were shot through a pin hole – but you can still work around it and get creative with it.
Note: Click on the pictures to view in full size.
Even in terms of video recording, LG gives you a lot of freedom to experiment with the manual mode. Note that, you can also switch to the wide-angle lens in the video and the process is fairly seamless as well, but what I noticed is that using this lens makes a drastic jump in quality – for the worse. In the manual shooting mode for video, you can also control the audio recording quality. The app gives you precise control over Directivity of the subject's voice and even wind noise. I shot a 4K video with it, and noticed that the V20 captures highly detailed footage and even better audio (thanks to the three mics used by LG) – possibly the best on a smartphone yet. However, the optical image stabilisation (OIS) is not very effective. The front camera can shoot 5MP selfies and it can go pretty wide as well. The self portraits I captured were not as impressive as some smartphones with better cameras on the front, but they were definitely serviceable. Furthermore, the fact that you can capture an entire family in a single frame by merely stretching your hands forward – thanks to the wide angle setting – is definitely an added advantage.
All things considered, if I had to sum up the V20's three cameras – they are heavy on features but you will need some experimenting to get that perfect shot.
A software that overwhelms but offers a ton of features
When it launched in the US, the V20 was the first smartphone – even before the Google Pixel – to ship with Android 7.0 Nougat. Obviously, you do not get stock Android UI and have to make do with a heavily-skinned version instead. LG uses its homegrown UX 5.0+, which is one of the most aggressive skins I have used on a smartphone. Firstly, by default the home screen does not have an app drawer but thankfully I could download a separate Home and App drawer extension to satiate my irritation.
Just like the rest of the phone, the V20's software is also packed to the hilt with features. One of the coolest additions is the ability to recover uninstalled apps, which are stored for a day. For some odd reason though, the LG Friends Manager app is also bundled with the V20 despite the fact that it is not really a modular smartphone like the G5. LG also bundles a few third-party social network apps like Facebook and Instagram, which is fine I guess considering most of us use them anyway. Apart from this, there are some few software-level tweaks that you can perform as well. What I liked most is that you can change the layout of the navigation buttons at the bottom to your preference.
At first you get overwhelmed by the number of options present in the software, but LG does a fair bit of hand-holding to help your thought the initial confusion.
Streamrolls through every task with consummate ease
The LG V20 comes fitted with Qualcomm Snapdragon 820 SoC, which also includes the Adreno 530 GPU. The phone comes with 64GB of internal storage and you can expand it by up to 2TB using a microSD card. Now, that is more storage space than you can possibly need. You also get 4GB of RAM, which should be more than sufficient for every day usage.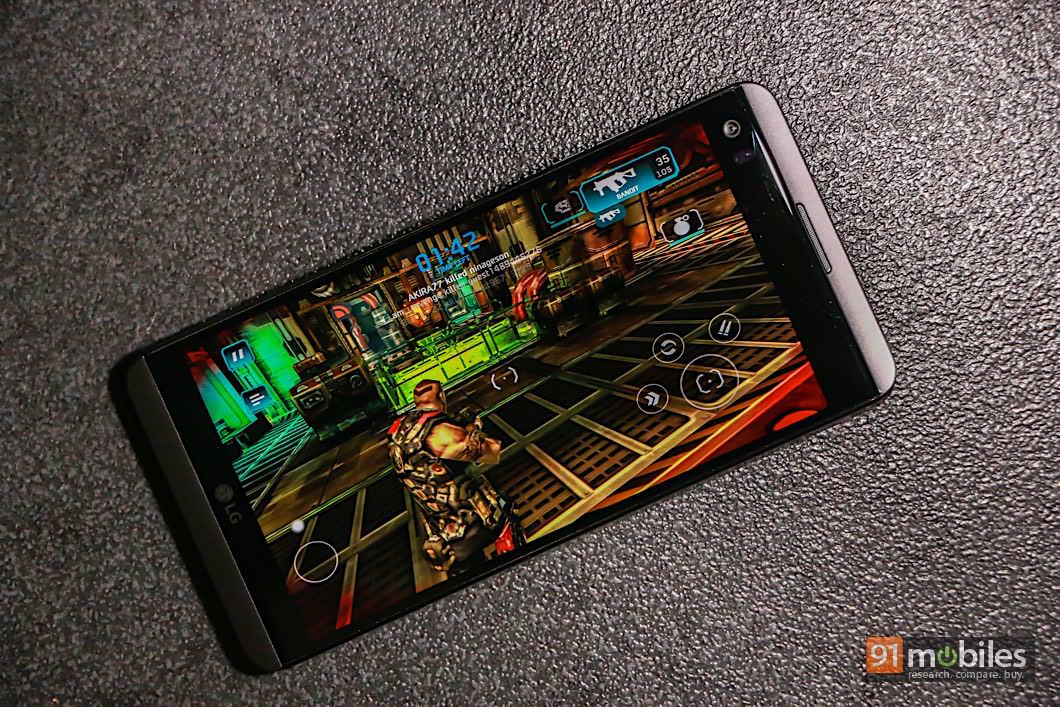 As is standard with most of the devices we get in our labs, we ran a few benchmarks on the V20 as well. The phone scored 1,30,044 points in AnTuTu and 3,878 in multi-core Geekbench test. These numbers are just shy of what we achieved on the OnePlus 3T (review). But don't let that deter you, because quite honestly I didn't face a single slowdown or stutter during my entire review period. The phone is smooth and extremely responsive. Additionally, if you are an avid gamer you will definitely enjoy gaming on the V20 as I managed to play many sessions of Modern Combat 5 and Dan the Man, without ever skipping a frame. But do note that the phone has a tendency to get hot.
I used the phone with a Reliance Jio 4G connection and a secondary Docomo SIM card. I never faced a single call drop or any problem with mobile data either. Also, the call quality was really good as well. The phone has a 3,200mAh battery, which lasts for a day at best on regular usage. I noticed an average screen on time of around three and a half hours during my usage. In our battery test, the phone lasted 10 hours and 20 minutes, which is about average. The good thing though is that the phone supports fast charging and it charges in under 1 hour and 40 minutes. Furthermore, you have the option of carrying a secondary battery and replacing it with the primary one when it dries out.
The musically-inclined will love the V20
The LG V20 is a haven for multimedia enthusiasts. It offers an excellent 32-bit DAC, which can enhance your music listening experience by leaps and bounds. In my testing I noticed that to make full use of the in-built DAC you need to use uncompressed file formats like FLACs. The DAC won't necessarily improve the sound quality of your .mp3 files because they are already compressed to an extent that all the details are lost. You also need to use a decent sounding pair of headphones to actually use it to its full potential; even the bundled B&O Play headset won't cut it. I used my reference headphones and found that there was a marked improvement in the soundstaging and the imaging as well. Use a player like PowerAmp to make full use of the V20's capabilities. Additionally, LG also bundles a very high quality voice recording app called HD Audio recorder, which is pretty efficient even with the built-in mics. I was completely blown away by the sound quality.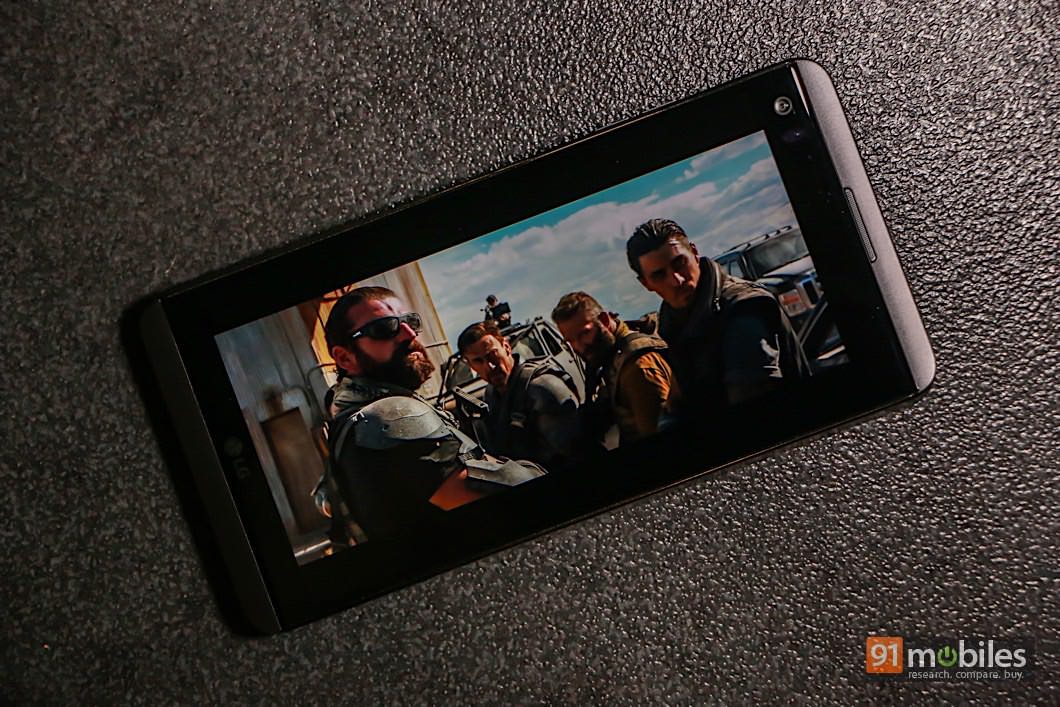 Should you buy it?
Now that you have come this far, here's an interesting titbit: this review is close to 2,500 words long. And, even if I were to just list the features of the LG V20 I would have had to write at least 1,000 words. What I am trying to say is that LG has packed the V20 with everything you'd want from a smartphone. But I am still slightly hesitant in recommending the phone outright. Why? Well, the V20 is available at an hefty sticker price of Rs 54,999 and my only concern is that equally good (or even better) phones like the Samsung Galaxy S7 edge (review) and the LG's very own G5 are available at a cheaper price. Also, since you are spending so much money anyway, you might as well buy the best Android smartphone in the market right now – the Google Pixel XL (review).
Unless you care a lot about a removable battery or a high quality audio DAC, I really don't think that the V20 should be high on your list especially considering better, more powerful phones are just around the corner as well (read: LG G6).
Now, having said that, I quite enjoyed using the V20 during the duration of the review and wouldn't mind using it as my personal daily driver. But, do note that I am a part of a niche of over-demanding smartphone users. The question is – are you one too?
| | | |
| --- | --- | --- |
| LG V20 | vs | Samsung Galaxy S7 Edge |
| | | |
| --- | --- | --- |
| LG V20 | vs | Google Mobile Pixel XL |