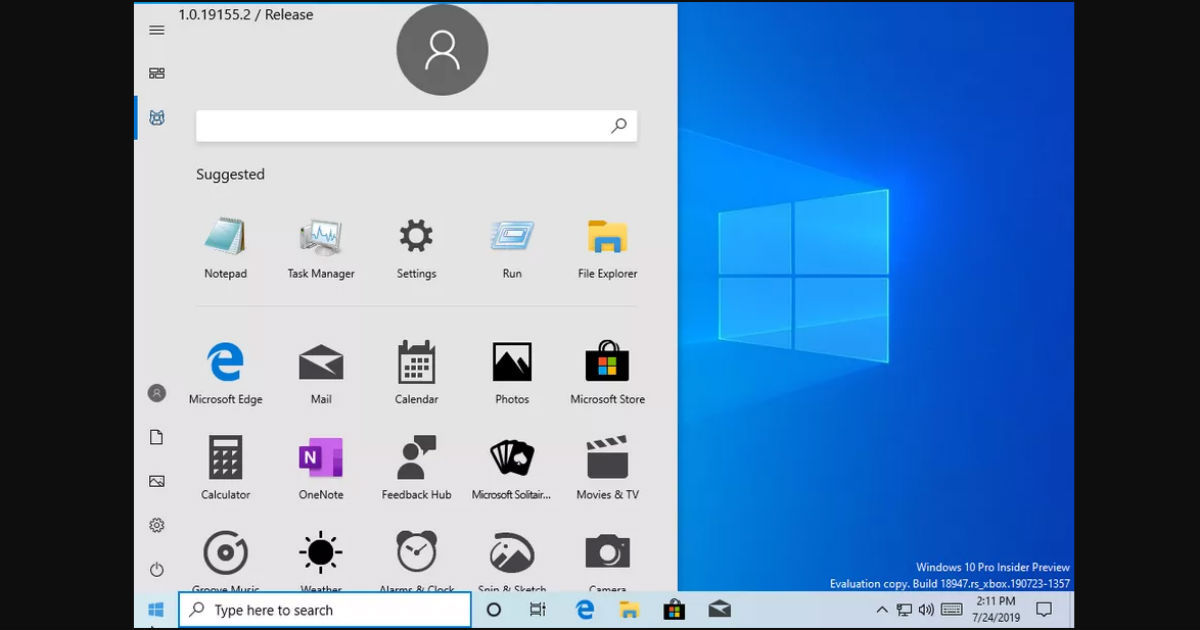 "The new Windows start menu appears to be designed for Windows Lite, devoid of the Windows Live Tiles and looking a bit barebone."
Microsoft internal Windows 10 build's premature preview, which was designed only for internal testing, has been accidentally released. The inadvertent leak has ended up previewing to users a new Start menu design, which to be frank appears a bit spartan without the usual translucent colour scheme, or Windows Live Tiles. It's not quite clear if Microsoft plans to entirely do away with Live Tiles and this is indeed a new design language that we are looking at, or if this may be a pre-production Windows 10 build that was never meant to reach the public eye. It might also be likely that the new Start menu that was seen in this build is meant for Windows Lite, the supposed low-power, always connected version of Windows that is said to be launching soon.
GIF search! pic.twitter.com/upz6ltTaM7

— NTAuthority (@NTAuthority) July 24, 2019
The preview came with Microsoft's Windows 10 build 18947, which was a part of the Canary updates meant for Xbox developers to test. Instead of reaching its intended target, some unspecified internal error led to the build reaching all Windows 10 testers — release preview builds, both the fast and slow Insider rings and anyone else in between. According to The Verge, the update has since been pulled as Microsoft acknowledged the goof-up and apologised, and it is subsequently not available. That being said, Microsoft released the update only to those running 32-bit systems, which is far limited in number in comparison to those running 64-bit systems. This would have limited the reach of the build, but that was not enough to prevent Twitter from lapping it up.
Microsoft has been having a bit of a rough time with Windows updates. Some of its latest stable updates have been remarkably buggy, featuring unresolved bugs that either require overtly complicated user-end fixes or simply do not have any resolutions, yet. Even in the testing circles, Microsoft's latest updates have been receiving a bit of a mixed response, with projections for the upcoming "major" Windows 10 update being that it won't bring in any significant change. Given that the biennial update is supposed to be major Windows upheavals, it is a bit underwhelming to see if the 19H2 update fails to bring anything major or significant. In recent past, Microsoft has spoken about switching to an always-online, background update model for Windows, and it will be interesting to see if that features in any upcoming Microsoft update, any time soon.