"The Lumia 640 XL brings a big-screen experience to Windows Phone users. Our review."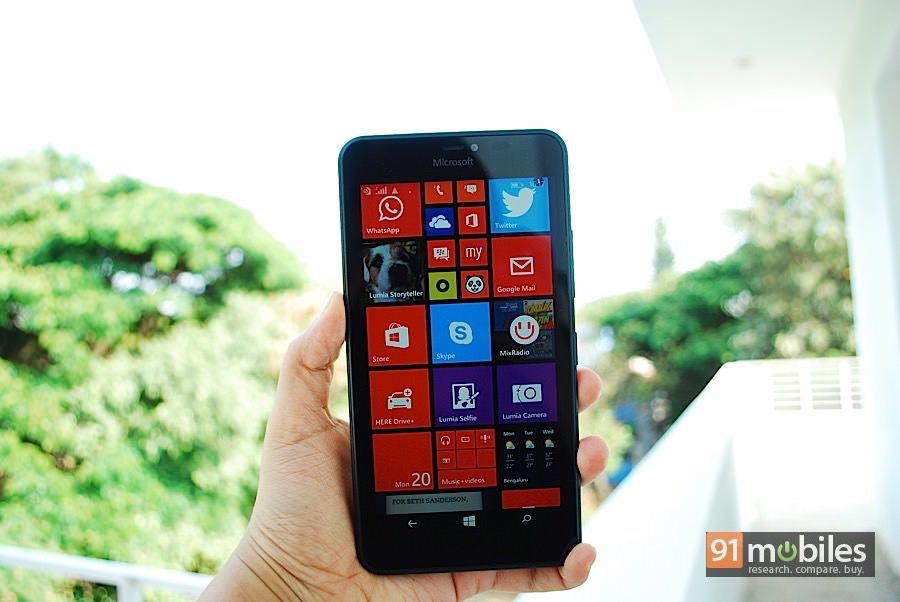 Phablet. It might be one of the most cringe-worthy terms to have ever been coined by humanity, but that hasn't stopped it from becoming a sensation in the smartphone world. These big-screen smartphones are all the rage now, with every Android manufacturer worth its salt having several options across price ranges. Even Apple, which stoically refused to be part of this trend gave up last year, and launched the iPhone 6 Plus. But Windows Phone users have sadly been left out of the game. Apart from the dated Nokia Lumia 1520 and Lumia 1320, there has been virtually no choice for those looking for a large-screen WP smartphone experience. With the Lumia 640 XL, Microsoft is looking to change that. Announced alongside the smaller Lumia 640 at MWC this year, the handset recently went on sale in India targeting the mid-range segment. Will the Lumia 640 XL be the phablet of every Windows Phone user's dreams? Our review has the answer.
Specs At A Glance
5.7-inch display, 1,280 x 720 pixels (259 ppi)
1.2GHz quad-core Snapdragon 400 processor
Adreno 305 GPU
1GB RAM
8GB internal storage, expandable up to 128GB
13MP primary camera with LED flash, 5MP front camera
Windows Phone 8.1 (Update 2) with Lumia Denim
3,000mAh battery
Dual-SIM, 3G, Wi-Fi, Bluetooth, NFC, GPS and micro-USB 2.0


Classic Lumia in a bigger guise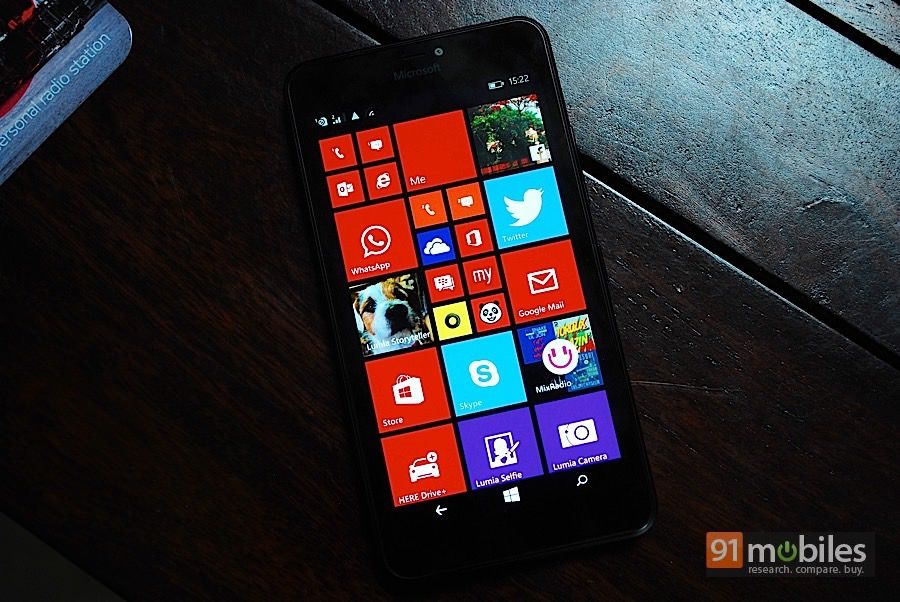 Microsoft hasn't tampered much with Nokia's design philosophy, and the 640 XL is quintessentially Lumia in every way. It features sharp edges and rounded corners, and comes in the usual array of colours like black, white, orange and the sorely missed cyan. Thanks to its 5.7-inch display, the Lumia 640 XL is very big, even for a phablet. It's almost impossible to use with one hand, and the ample bezels above and below the screen add to its height, making it awkward to access the top half of the screen. Like most recent Lumias, the 640 XL features an onscreen navigation bar. It disappears while using apps, but you can always swipe up from the bottom to bring it up again.
Above the display you'll find the front camera, sensors, earpiece and Microsoft logo. The top edge is home to the 3.5mm audio jack, while the bottom holds the micro-USB port. The volume buttons and power are on the right spine, with the latter placed at the centre for easy access. The plastic used for the back panel is of a superior quality, and our black unit came in a matte finish. Despite this, it still tends to pick up smudges easily, and it looks worse on the glossy cyan and orange variants. The top of the back panel is where you'll find the large primary camera, LED flash and single loudspeaker. Microsoft branding is present in the centre.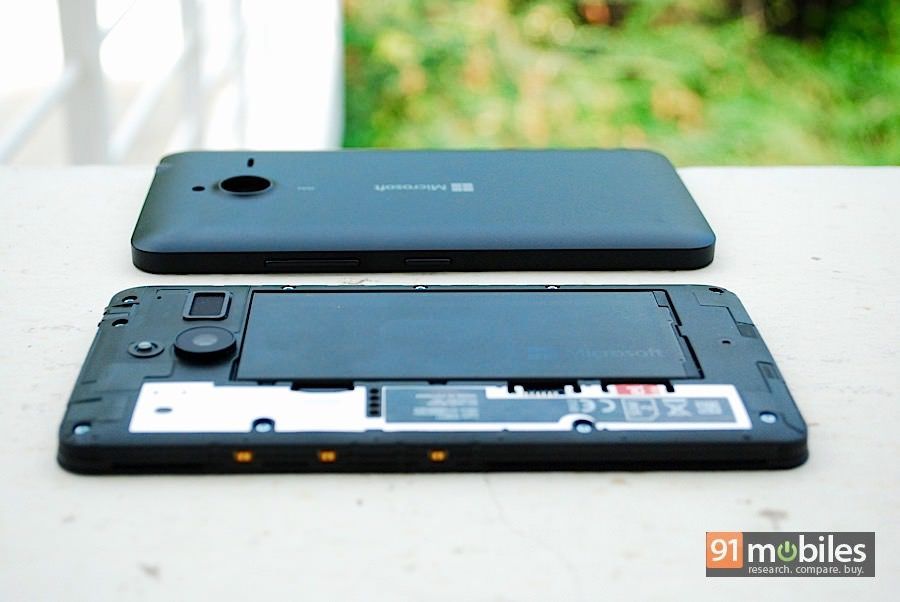 The camera protrudes slightly, but is protected by a raised bump around the edges. The back panel can be easily opened to reveal the removable 3,000mAh battery, dual micro-SIM card slots and the microSD card slot.
Big on size, small on pixels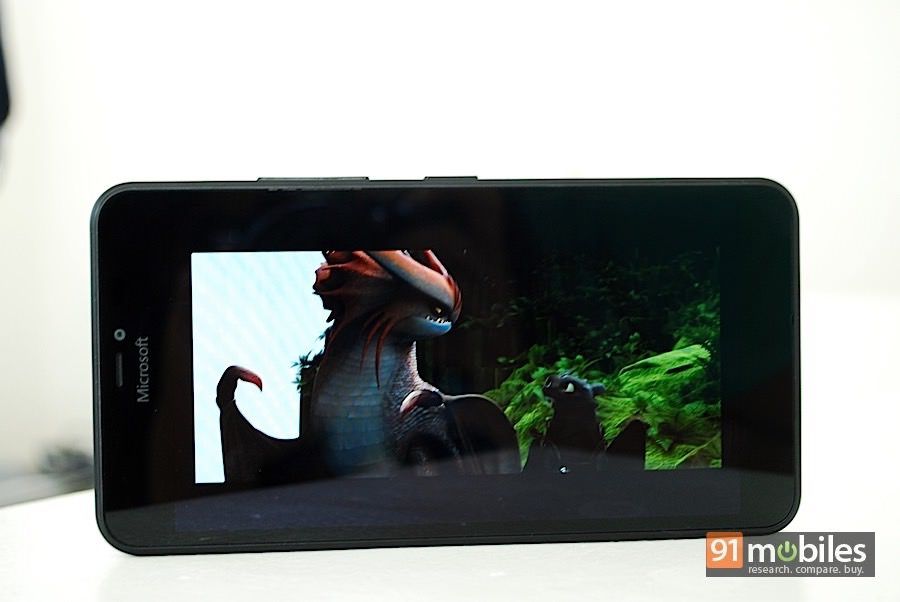 At 5.7-inches, the Lumia 640 XL's display is large – even for a phablet. Pair that with the HD resolution and it translates into a measly pixel density of 259ppi. At first glance the display seems sharp enough, but you can tell that it doesn't have the clarity of the Lumia 640. Zooming in often reveals text with jagged edges and pixelated images. The display comes equipped with ClearBlack technology, which helps to reduce reflections and improve legibility outdoors. While we found the screen to be quite reflective under artificial lighting, its performance in bright sunlight was exemplary. Brightness levels are quite high, and we often turned off the auto brightness in favour of the low brightness setting. A layer of Corning Gorilla Glass 3 protects the screen from scratches.
In settings, you can adjust the display's colour profile. We prefer it set to standard, but if you like the more saturated AMOLED–like colours you can enable the vivid mode. Another handy addition to the display is double-tap-to-wake. Unlike previous affordable Lumias, the 640 XL also comes with Glance Screen, a battery-friendly feature that displays the time and missed notifications when the phone is in standby.

Cameras that don't disappoint

The Lumia 640 XL features a 13MP snapper with ZEISS optics and an LED flash at the rear, and a 5MP camera in the front. The primary camera shoots in full resolution when the aspect ratio is set to 4:3. If you want widescreen 16:9 images, the resolution is lowered to 10MP.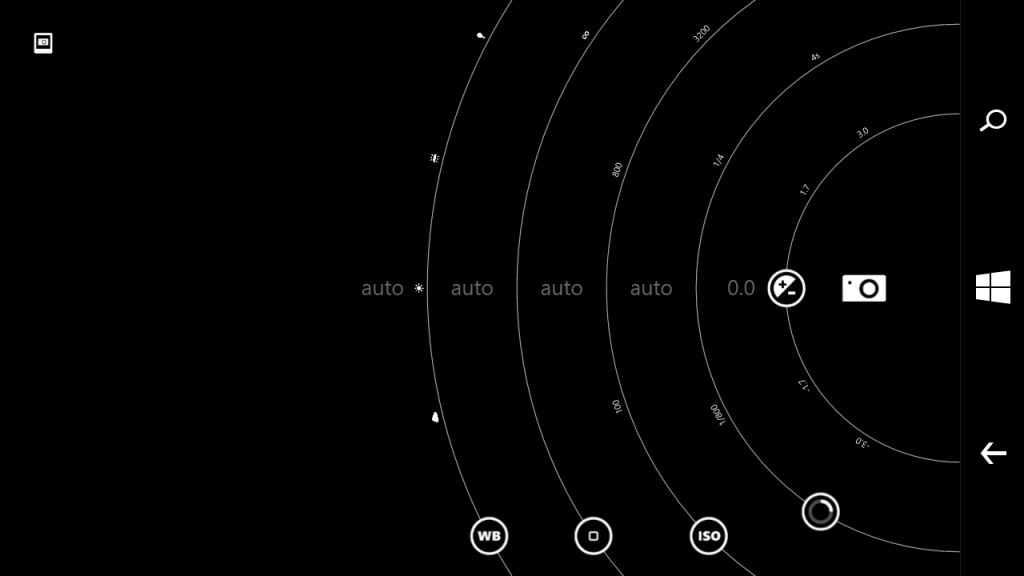 The Lumia Camera app is a standard affair. You can swipe outward from the shutter button to bring up adjustable sliders for focus, ISO, shutter speed and white balance. On top you'll find controls to switch between cameras, turn on the flash and enable Rich Capture. The Rich Capture feature is a particular favourite, capturing multiple images when you press the shutter button and letting you make edits later. When flash is turned off, Auto HDR is enabled. The camera captures a natural image, one with HDR and one without. You can also use the slider to customise the intensity of HDR to your liking. Turning on the flash with Rich Capture will enable Dynamic Flash. The camera will then capture one image with flash and one without. Here too, you can adjust the flash intensity in edit mode. The only downside to using Rich Capture is the processing time – it's anywhere between 15-20 seconds which can be agonisingly long when you want to quickly review results.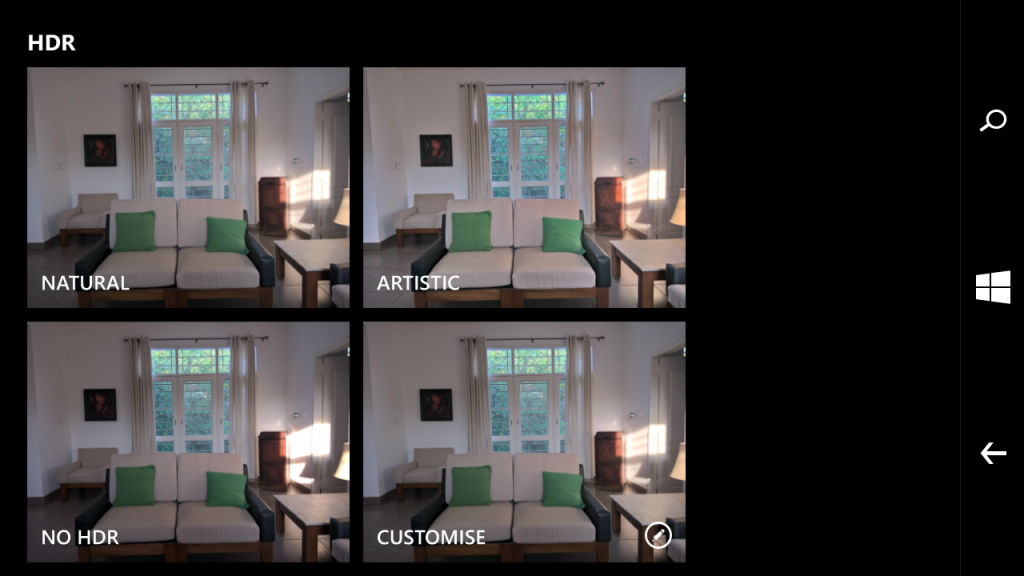 Another feature which can be enabled in settings is Living Images, which captures a few seconds of video footage before you press the shutter button. Additionally, you can also download a range of lenses for the app. Lumia Selfie and Lumia Refocus are installed by default.
Coming to the results, the primary camera is a surprisingly accomplished shooter. It takes lovely images in daylight, with good contrast levels and natural colour reproduction. What's even more impressive is its low-light performance. Even in a dark environment, results look surprisingly well lit (we suspect the camera's ISO automatically kicks in), with noise levels kept to a minimum. The front camera is good enough for selfies, and you can get more people into the frame by enabling the widescreen mode.

Here are some image samples from the 640 XL's primary camera.
WP 8.1 packed with bloatware
The Lumia 640 XL runs Windows Phone 8.1 Update 2 with Lumia Denim. An update to Windows 10 will be available later this year. WP 8.1 Update 2 tries to fix Windows Phone's dismal settings menu by sorting different items according to function like personalisation, accounts, system, etc.
Clicking on any of the group heads shows you all the categories in a list, making it easier to navigate. Settings are also searchable now thanks to the addition of a search button at the bottom. Additionally, you can pin an individual setting to the homescreen for easy access. The only other major addition in Update 2 is App Permissions. By going into this setting, you can control which apps have access to your calendar, camera, contacts, messages and microphone.
Other Windows Phone 8.1 features are standard. You can add a background image to your homescreen, as well as create app folders. Microsoft's virtual voice-assistant Cortana is still unavailable for India, but you can easily enable it by changing your speech settings to English UK.
We've complained about Android smartphones coming loaded with bloatware, but the Lumia 640 XL is just, well… bloated. Among the pre-loaded apps on the phone, we found BookMyShow, Fitbit, Foodpanda, MakeMyTrip, MobiKwik, MixRadio, OlaCabs and WeChat. Thankfully, most of these can be removed. The other standard additions like HERE Drive+, HERE Maps, Office, OneDrive, Skype and our favourite MixRadio are also present.
Reliable performer
The Lumia 640 XL is powered by the slightly dated Qualcomm Snapdragon 400 processor, consisting of four Cortex-A7 cores clocked at 1.2GHz. The chipset is assisted by 1GB of RAM, and packs in an Adreno 305 GPU. The handset works smoothly for most tasks like email, social networking, gaming and watching videos. However, there are noticeable lags when multi-tasking and opening apps, so it's not exactly zippy.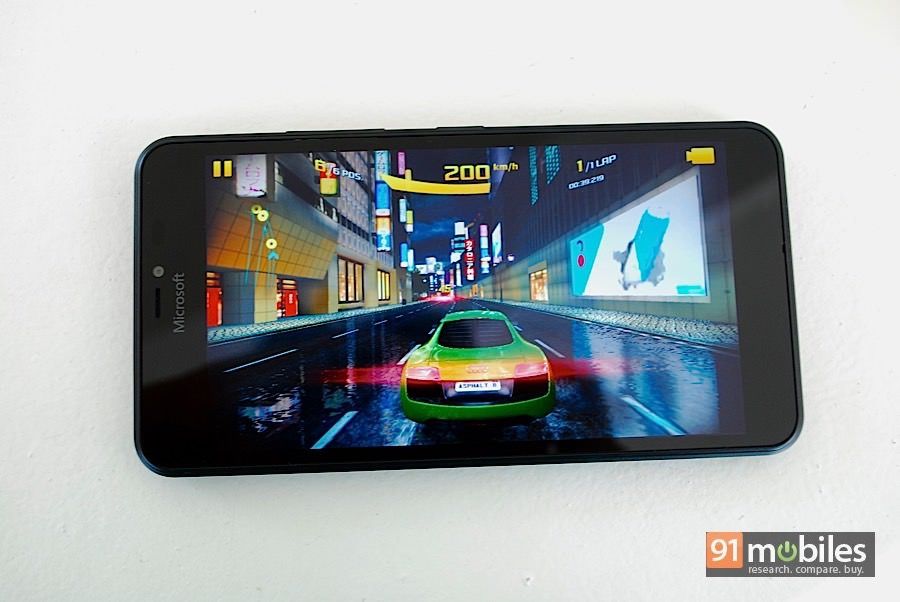 The large screen makes it ideal for gaming, although it's annoying that if you choose to keep the virtual controls on, they cover part of the screen, often hampering the gaming experience. Unlike previous budget Lumias powered by the Snapdragon 200 chip, the 640 XL can play 720p videos without any hiccups, which is a big improvement. The tiny mono speaker is surprisingly loud, but sound tends to get muffled when the phone is placed flat down on a surface. We tested a few games on it, and titles like Beach Buggy Racing played smoothly without any lags or freezes. With more intensive titles like Asphalt 8: Airborne we experienced a few frame drops and cracks in the audio.
The 640 XL features SensorCore technology, which first debuted with the Lumia 630. SensorCore is designed to work with Qualcomm chipsets, collecting data like steps, motion, distance, location and time from the various sensors without affecting battery life. By going into Motion Data in settings, you can see which apps are using SensorCore to collect information. In our case, it was MSN Health & Fitness and Fitbit.
On the storage front, the 640 XL offers 8GB of internal storage, out of which just 3.62GB is free to use on a fresh reboot. The storage is expandable up to 128GB though, and Windows Phone lets you install apps from/to the SD card so you don't need to worry about running out of space.
Fuelling the smartphone is an ample 3,000mAh battery. On a day with regular usage, involving an hour or so of calls, WhatsApp, Facebook and Twitter usage, as well as listening to MixRadio, we still had about 30 percent of battery remaining by the end. You should be able to comfortably use the phone for an entire day without requiring a recharge.
Call quality was loud and clear on both ends, without any network drops. On the connectivity front, the 640 XL offers Wi-Fi 802.11, DLNA, Wi-Fi Hotspot, Bluetooth 4.0, NFC, A-GPS, GLONASS and USB 2.0. The phone supports 3G on both SIM card slots, but 4G is unfortunately absent. Microsoft claims all its Lumia phones are '4G ready', but it's still unclear what that means. For those keen on 4G connectivity, we suggest you wait for the Lumia 640 XL LTE which is expected to be launched in India soon.
Verdict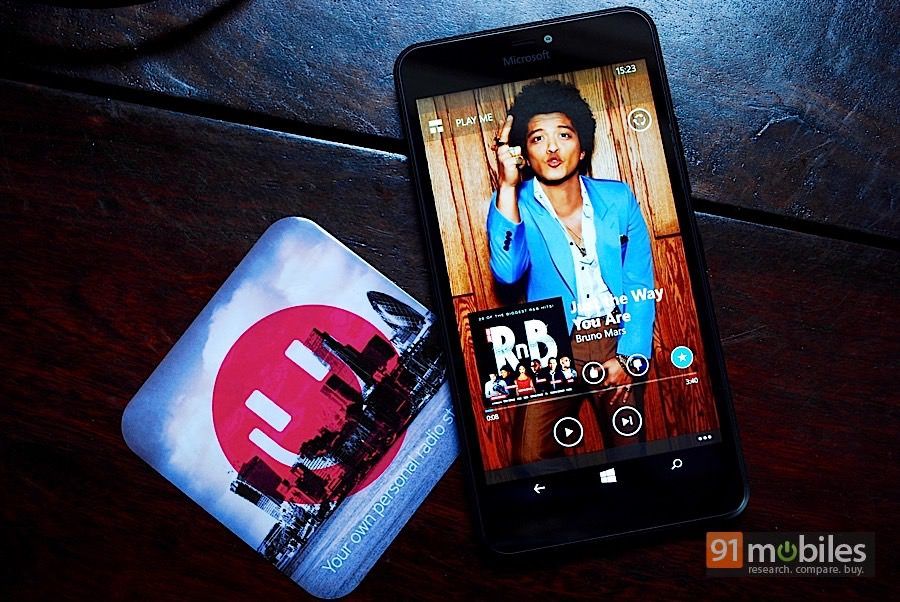 On its own, the Lumia 640 XL is a capable device – it's reliable, functional and no-nonsense, and should be adequate for most casual users. The addition of more premium Lumia features like Glance Screen, Rich Capture and SensorCore add to its appeal. But when you pit it against the Android competition, it becomes hard to recommend. At its price of Rs 15,799, it's overpriced by a mile. Devices like the Honor 4x (review), Xiaomi Redmi Note 4G (review), YU Yureka (review) and Lenovo A7000 (first impressions) all offer similar, if not better specifications, and are priced under Rs 10,000.
However, if you're keen on a Windows Phone device and have been waiting for a large-screen smartphone, the Lumia 640 XL is currently your best, and only option.
Editor's Rating: 7 / 10

Price: Rs 15,799
Pros:
Large display
Good cameras
Long battery life
Cons:
Display sharpness is a tad low
No 4G support
Overpriced considering the competition
Competitors for Microsoft Lumia 640 XL Dual SIM
| | | |
| --- | --- | --- |
| Microsoft Lumia 640 XL Dual SIM | vs | Microsoft Lumia 640 Dual SIM |
| | | |
| --- | --- | --- |
| Microsoft Lumia 640 XL Dual SIM | vs | Microsoft Lumia 640 XL LTE Dual SIM |