Highlights
Nothing has now acquired Andy Rubin's Essential smartphone company

The process was completed on January 6th, 2021

All existing Essential's trademarks, logo, and more now belong to Carl Pei's startup
Carl Pei's Nothing startup company has been making news for all the right reasons in recent times. After securing 7 million in round one funding, Alphabet's GV had also invested in this Carl Pei-led brand. Nothing will be all about creating audio products and is confirmed to launch a wide variety of wireless earbuds with a focus on smart home technology and integration. Now, amidst the reports and rumours, Nothing has silently acquired Andy Rubin's Essential brand, according to recent filings at the UK Intellectual Property Office, as spotted by 9to5Google. The process was completed on January 6th, 2021, with the application actually being made as early as November 11, 2020.
Is Nothing planning to launch smartphones in the future?
All existing Essential trademarks, logos, and more now belong to Carl Pei's startup. However, it isn't clear at the moment if Nothing is planning to foray into the smartphone space, but it is certainly a possibility. Essential was said to be working on its own Home Smart Hub and a speaker that would run "Ambient OS". The was originally planned to launch in 2017 but didn't for reasons unknown. Since Nothing is about audio, it makes sense for it to acquire Essential considering the latter was reportedly working on audio products as well. It isn't clear whether Essential engineers' have also joined Pei's startup as a part of the acquisition.
Speculations are rife that Nothing may have acquired Essential to get access to the latter's patent catalogue based on "voice-enabled home setup and Voice setup instructions". This should help the company with faster development of enhanced technologies as the brand grows. Former Essential employees that were part of PH-1 development have also formed OSOM Privacy, with an aim to create a privacy-focused Android device and launch it in early 2021. It's unclear where Nothing is placed in this situation given the Essential acquisition. Nothing is expected to reveal more information about upcoming products in the days to come through their official site.
Nothing is coming to India?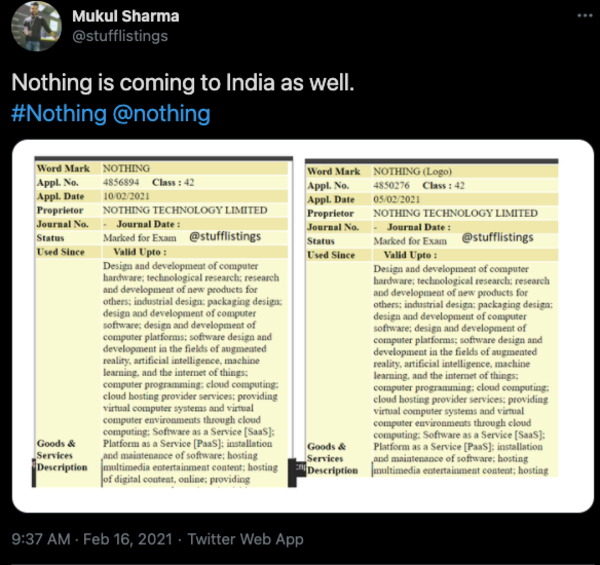 Pei's Nothing will be coming to India as well, according to what looks like a trademark application filed in the country and spotted by Mukul Sharma. Considering India is one of the fast-growing markets with regards to electronics and connected home solutions, it only makes sense for Nothing to leverage on that.