"All four brands have confirmed they will launch all their future smartphones at the same time and same price on both online and offline channels"
Smartphone majors Realme, Samsung, Vivo, and OPPO have decided to end all online-exclusivity pacts starting 2020, promising brick-and-mortar retailers that all their products will be sold online and offline simultaneously. The four players account for four of the top five biggest smartphone brands in India. This marks a big win for offline retailers, which saw Samsung, OPPO, and Vivo launch online-exclusive series in 2019 and take away sales from offline sellers, especially during the festive season.
Nikunj Patel, Secretary — Mobile Dealers Association, Ahmedabad, told 91mobiles, "We have received written confirmation from Vivo as well as Realme, Samsung, and OPPO that they will launch all future smartphones online and offline simultaneously. All models, Vivo phones in particular, will be sold at the same price, same day, and with the same offer on both channels. The existing Vivo U and Z series handsets [which are online-exclusive at the moment] too will be made available to offline retailers as soon as possible."
Moving on to Realme's olive branch to offline retailers, Patel says, "Starting January 1st, Realme will launch a Realme partner programme. Under this programme, partner offline retailers will get Realme smartphones launching in 2020 at the same time as Flipkart/ Amazon. Retailers who are not part of the Realme Partner programme will get the same device after 7 days." This move will help Realme expand its offline presence while also alleviating concerns of industry bodies such as All India Mobile Retailers Association (AIMRA).
In a note sent by AIMRA to offline retailers, accessed by 91mobiles, the industry body says Vivo is also putting a stop to deep discounting of its phones by online players, which has been a pain point for offline sellers since it is hard to match the same level of discounts due to the differences in size and scale.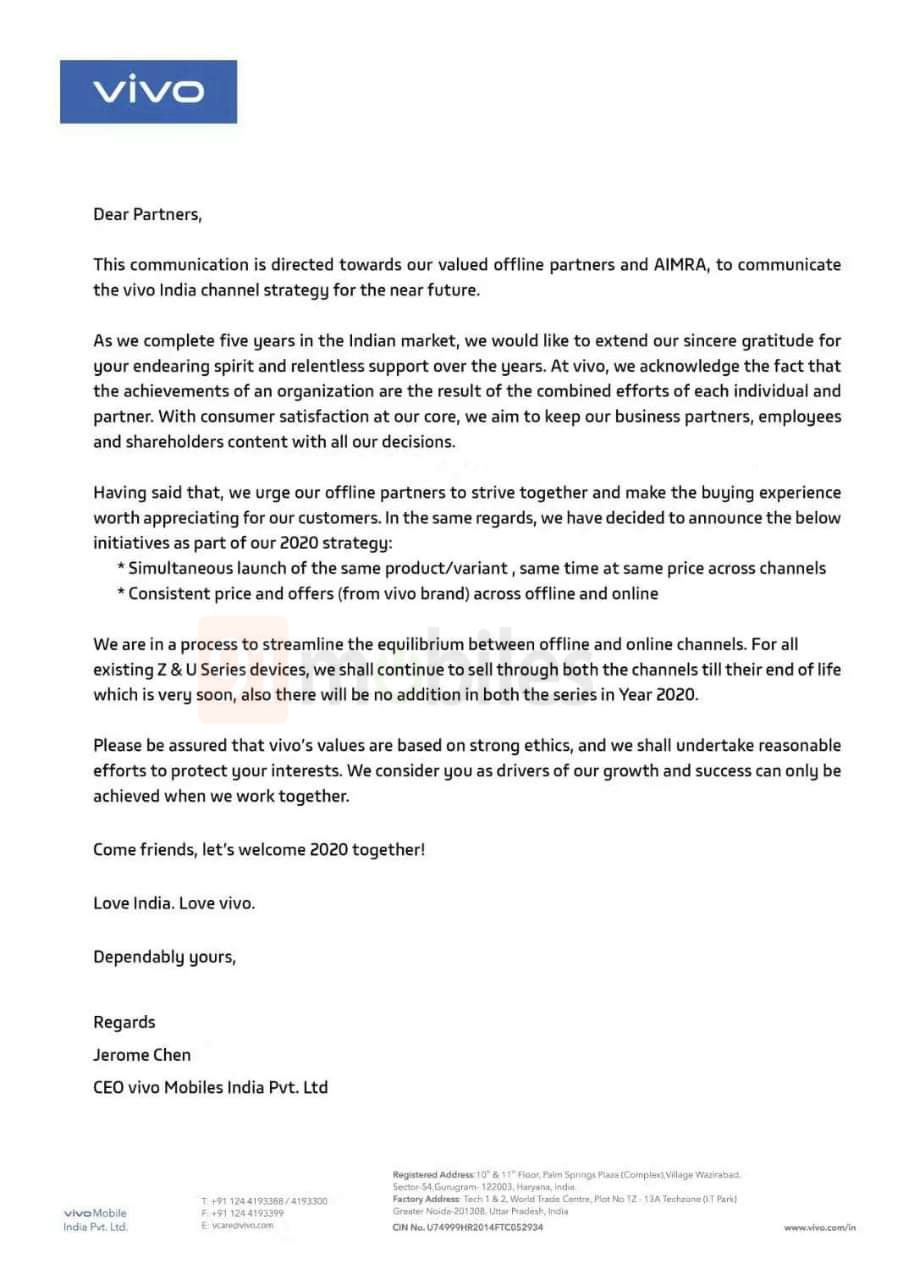 These moves by four of the five biggest smartphone brands of the country will somewhat strengthen the position of offline retailers against Flipkart and Amazon, which made quick inroads into the Indian markets a few years ago on the back of a pan-India delivery network and deep discounts. Market leader Xiaomi, however, is still a holdout, along with OnePlus.
To recall, Samsung kicked off 2019 with the launch of its M series, which has been quite successful in the Indian market. Vivo joined the online-only segment a few months later with its Z and U series, while OPPO had its K series for the online segment. Realme had been an online-first player since its launch in 2018. But with online sales hitting a plateau of sorts, all brands are looking at offline to support their growth plans, especially Realme as it doesn't have as much offline presence as Vivo, Samsung, and OPPO. All three brands have a huge network in offline retail and are much ahead of Xiaomi in that aspect.
Xiaomi itself has big plans for the offline segment, but there has been no indication so far of the company giving up the online-first model anytime soon. OnePlus is also planning on launching 50 more exclusive Experience Stores as well as expanding presence in 2,000 multi-brand retail stores to reach the tier-2 buyers.
~With inputs from Mukesh Kumar Singh