"Does the Sony Xperia XZ have what it takes to win the title of the best flagship smartphone?"
Reinvigorating its mobile division in extremis, Sony adopted a strategy where it streamlined its entire smartphone business. In fact, Sony has categorically stated that it will sell only its premium Xperia X range of smartphones in India. This change in strategy seems to have worked for the brand, at least on a global scale, as Sony Mobile posted a minuscule but important profit in its latest quarter.
Having painted a pretty picture upfront, it is still very important to note that Sony's last top-end flagship in India – the Xperia X (review) – met with a lot of backlash from critics for its inane pricing. To give you a perspective, the Xperia X was available for four times the price of a Xiaomi Redmi Note 3 (review), which incidentally had the same specs. We'd said in our review, "a price cut, a big one at that, is desperately needed to make the Xperia X worth considering." What was even more baffling is that Sony never launched the Xperia X Performance – arguably a much better device – in the country.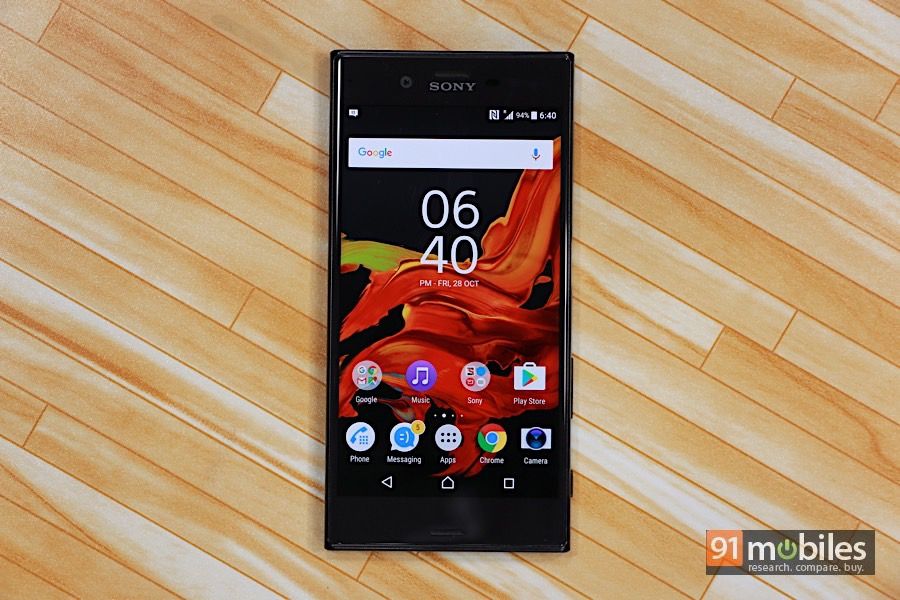 Thankfully, Sony's latest flagship smartphone in India Xperia XZ seems to be more grounded in reality with top-of-the-line specs justifying its price tag. That said, the high-end smartphones space is crowded with some really good phones like the Samsung Galaxy S7 (review), Google Pixel, HTC 10 (review), LG G5 (review), Moto Z (review), and the Apple iPhone 7. Therefore, for the Xperia XZ to rise above the rest, it has to be more than just a good smartphone. It needs an 'X' factor, pun intended.

Specs At A Glance
Display
Size
5.2 Inch
Resolution
Full HD (1080 x 1920 pixels)
Performance
CPU
Dual core, 2.15 GHz + Dual core, 1.6 GHz, Snapdragon 820
RAM
3 GB
Storage
Internal memory
64 GB
External memory
Up to 256 GB
Battery
Capacity
2900 mAH, Li-Polymer, Non removable
Camera
Primary camera
23 MP
Secondary camera
13 MP
Connectivity
Network support
Dual SIM 4G
Other options
Wi-Fi, Bluetooth 4.2, GPS
Others
Battery Capacity
2900
Operating system
Android 6.0 Marshmallow
Design: Refinements Galore
Dimensions
: 146 x 72 x 8.1 mm
The Sony Xperia XZ is a very good looking phone, no two ways about it. It oozes a premium feel that we've come to expect from high-end flagship smartphones these days — and that is precisely why our first impression immediately fades away after about two hours because it doesn't do anything truly revolutionary with the design like the Moto Z. The phone is available in three colours – Forest Blue, Mineral Black, and Platinum. We got the Mineral Black variant for review and if not for the silver-coloured power button, the Xperia XZ would easily vanish into the dark like a stealth assassin.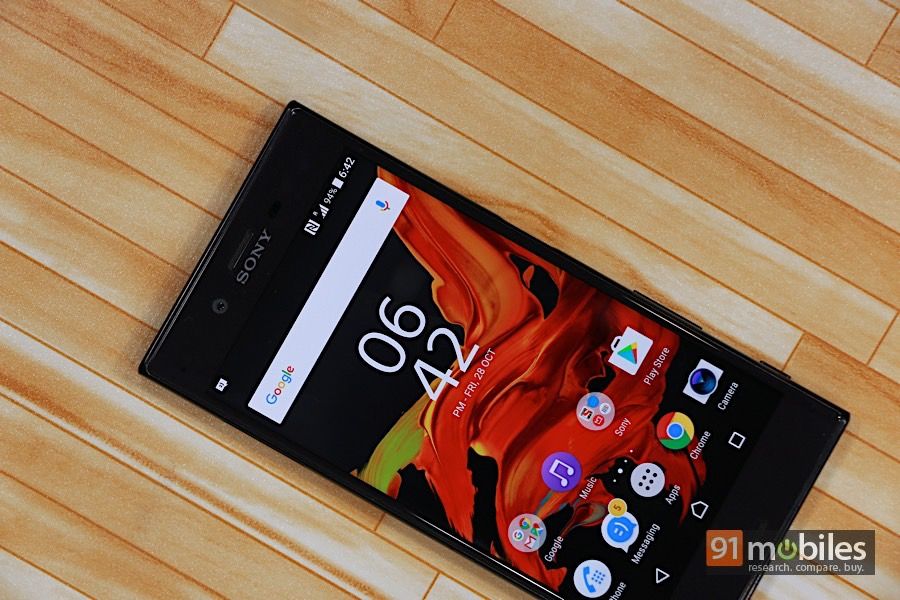 The Sony Xperia XZ continues to use the Omnibalance design language but there are a ton of refinements. For example, the phone now has a subtly-curved 2.5D display on the front with a layer of Corning's Gorilla Glass 4 for protection. The one thing to note is that the Xperia XZ is not a unibody design and has multiple parts. Sony uses a new kind of metal called ALKALEIDO on the rear which actually gives it a lot more sheen. Our review unit came with a lot of scratches which we presume is a case of prolonged usage by other reviewers more than anything else. However, it is important to note that the XZ is susceptible to scratches, scuffs, and smudges. Put a case on it.

The clean curves of metal and glass are broken by flat plastic surfaces and and harsh edges on the top and the bottom. There's also a tiny strip of plastic on the rear. All the plastic inserts are there for a reason too: to let network signals reach the antenna inside the phone. Thankfully, Sony has gone back to waterproofing its premium smartphone – the Xperia XZ comes with IP68 protection that makes it not just waterproof but also dustproof. The phone itself is easy to hold and use with one hand with the thumb reaching the top of the screen with ease. Furthermore, the weight of 161g is evenly distributed across the device making it feel lighter than it actually is.
The power button is placed ergonomically bang in the centre of the right edge of the phone. The best part is that the fingerprint scanner is also embedded into this power button — this is possibly one of the most natural implementation of fingerprint scanner on a phone. Your right thumb (or index finger if you hold the phone in your left hand) inevitably reaches for the button and you can unlock the screen in under one swift second. While the placement of the fingerprint scanner is convenient, the placement of the volume rocker right below it is equally annoying. Like most Sony smartphones, the Xperia XZ also comes with a dedicated shutter button for the camera, the placement of which is fine. Sony uses a USB Type-C port at the bottom and a dedicated headphone jack on top. Another annoyance is the SIM card tray – the plastic flap is attached to the tray itself, and it is easy to remove and as a result easy to lose as well. You've got to be doubly careful while using it.

Display: Not The Best But Good Nonetheless
Resolution
: Full HD (1080 x 1920 pixels)
The one thing that most of us expect in our flagship smartphones these days is a 2K display but the Sony Xperia XZ's 5.2-inch display uses a full HD (1,920 x 1,080) IPS LCD panel. And quite honestly, a display of this resolution is more than sufficient for daily usage. The only quantifiable benefit of a higher resolution display is in virtual reality but mainstream adoption is still pretty far away. Moreover, considering Sony's penchant for making flagship smartphones every six months, using a FHD display in its current one is clearly a non-issue.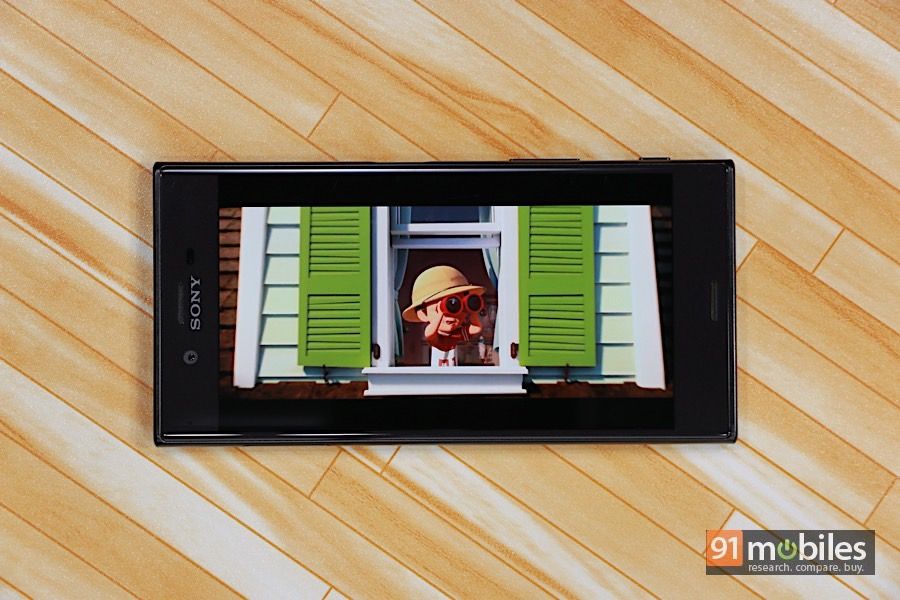 Now, the panel on the Xperia XZ has punchy colours and deep blacks. In fact, we had to confirm that Sony was actually using IPS LCD tech and not AMOLED. Of course, considering this is a Sony display the company uses its own tech to enhance the viewing experience. The TRILUMINOS Display for Mobile tech is used to showcase a wider range of colours and to output vivid colours without over saturating, whereas the X-Reality engine adds missing pixels, reduces noise, and sharpens the image. Trust us when we say this, all this is marketing mumbo-jumbo and you'd be hard pressed to notice any perceptible difference in clarity on such a small screen. If anything, toggling the X-Reality mode only makes the colours pop and look unnatural. We know that some folks will prefer this but display nerds will scoff at it.
However, Sony does allow control of white balance and the option to switch of any image enhancement whatsoever. Without these enhancements, the display's colour accuracy is good enough. The best thing about this display is that it has one of the best viewing angles we've ever seen on a phone. The display's max brightness levels are also pretty good so much so that legibility even under harsh sunlight won't be a problem at all. All in all, the display on the Xperia XZ is not the best one out there but it is more than just good.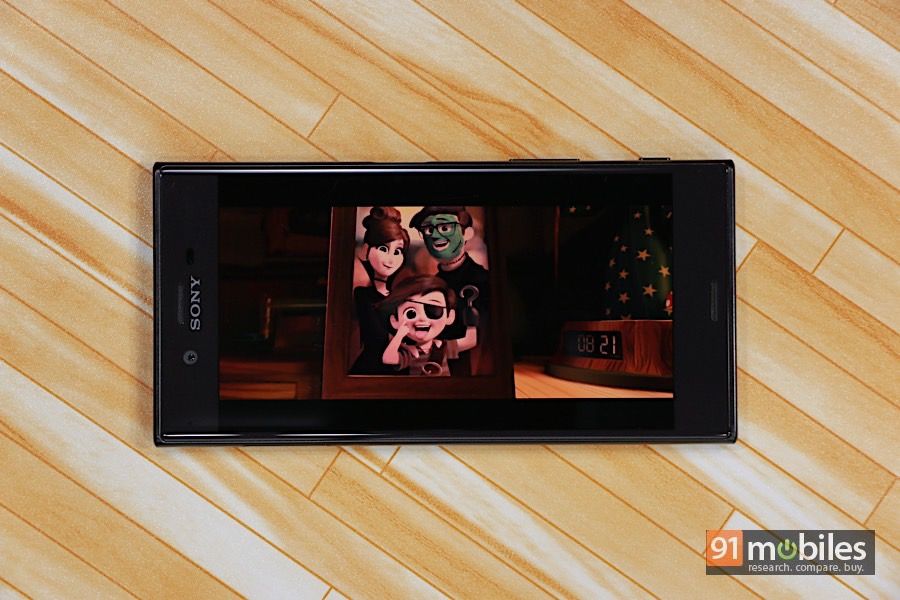 Software: Loaded With Bloatware
Operating System
: Android
OS Version
: 6.0, Marshmallow
Over the years, Sony has been bringing minor refinements to its software. Now the UI of the software is close to stock, which is a good thing. On the flipside, you get a load of bloatware and annoying embellishments that feel rather unnecessary.
Let's start with the lock screen, where you get a customisable clock and actionable notifications. You can also configure the screen to wake up with a double tap. Sliding the lock screen from right to left gives you a peek into the home screen. Once unlocked, you will notice that the home screen setup is identical to what you get on stock Android Lollipop. The first screen on the left is your Google Now screen with the Google cards setup, and on the rest of the home screens you can add icons and widgets of your choice. If you wish, you can also use themes to differentiate the look of your phone. Once you open the app drawer, you will notice that by default you get a sticky search bar on top. You can also tinker with the settings to change app drawer animations or customise app recommendations from the Google Play Store.

Talking about the bloatware, you get Sony's very own apps like one for PlayStation, Weather, News, Lifelog, Movie Creator, Sketch. Lounge… you get the drift — the list is endless. Mercifully, Sony does give you an option to uninstall all these apps. So, good riddance unless you actually like them. One thing we got really excited about was PS4 Remote Play. We went ahead and tried it only to be disappointed by the fact that it needs a steady 5Mbps connection for it to work properly – a rarity in most parts of India. There's a good hack though, you can hook up your PS4 directly with an ethernet cable.
Sony's skin on top of Android Lollipop is quite honestly a hodgepodge of ideas that doesn't come together.
Camera: Average At Best
The thing with flagship smartphones these days is that we expect the absolute best in terms of the camera, and the long and short of it is that the Sony Xperia XZ has an average one at best despite using custom 23-megapixel IMX300 sensor. This doesn't bode well for a company that essentially makes the best camera sensors out there. The 23MP 1/2.3-inch sensor which has an aperture of f/2.0 and it is coupled with a 24mm lens. On the front is a 13MP shooter with a 22mm wide angle lens. The camera also comes with three autofocus technologies – a hybrid of contrast and phase detection, and a separate laser autofocus. Sony has also added an RGBC-IR sensor (RedGreenBlueClear-InfraRed) to automatically sense the correct white balance for the particular lighting condition. The dedicated shutter button is a neat addition in our opinion; it opens the app swiftly and is ready to take a photo in a jiffy.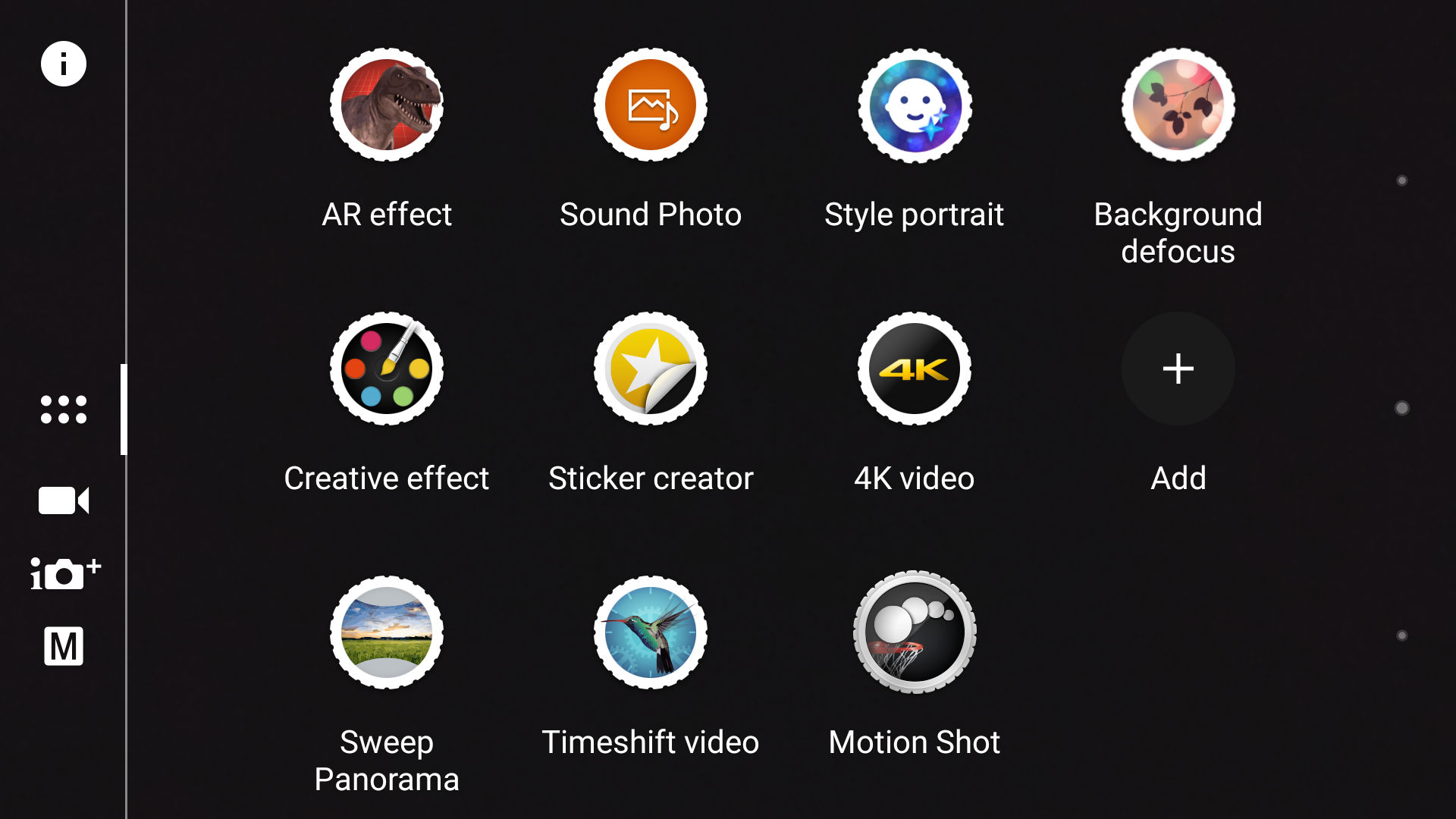 Before we delve into the performance of the camera, lets take a look at the camera app and what's on offer. While swiping through the screen to sift through the various modes is a handy new addition, minor quirks like downloading a dedicated app to shoot 4K and slow motion video or the fact that the app shoots 8MP (16:9) by default are irritating to say the least. Even in the dedicated Manual mode, if you want to make changes to the ISO speed you will have to do so from the Settings menu. By the way, there are separate apps for all the cool things that you want to do with the camera like Background Defocus, AR effect, Motion Shot for GIFs, and the list goes on.

The IMX300 sensor captures a lot of details owing to its big sensor but there is still a lot of noise even in shots taken in day light. Moreover, in shots taken indoors – apart from the noise – there is a distinctive pink cast over the image which means that the auto white balance failed to detect the incandescent light setting properly. The default dynamic range of our samples were pretty good though. The colour accuracy was a bit off for most of our shooting experience. Another problem was that we could notice a very evident barrel distortion at the corner of the images. Low light shots were barely usable actually.

The camera does a good job with 4K video recording, thankfully. Also, the 13-megapixel selfie camera is possibly the highest resolution one on a premium flagship smartphone today and it takes really good self portraits loaded with details in good lighting conditions. Overall, the 23-megapixel camera is a bit of a disappointment but the 13-megapixel selfie shooter makes up for it.

Performance: Great With A Few Quirks
CPU
: Dual core, 2.15 GHz + Dual co…
Memory
: 64 GB + Up to 256 GB
SIM Slots
: Dual SIM , GSM+GSM
The Sony Xperia XZ uses the fairly standard Snapdragon 820 quad-core SoC that uses two pairs of Kyro cores clocked at 2.15GHz and 1.6GHz each. This SoC also includes an Adreno 530 GPU for graphics intensive applications. Sony has added 3GB of RAM for apps and services as well, which might seem low but we still don't have conclusive proof that more RAM means better performance. And, for most use cases the 3GB RAM is more than sufficient.
The phone is a pretty stable in daily usage and the performance is on par with most flagships out there. We had no qualms with multitasking or even using intensive video editing apps. In our AnTuTu test, the phone scored 1,24,023 points which is not as high as what we achieved on other flagships — possibly owing to the lower RAM — but these tests scores aren't really a clear indication of real world performance. We also tested games like the new Asphalt Xtreme and Modern Combat 5, and they both played smoothly thanks mostly to the beefy new Adreno 530 GPU.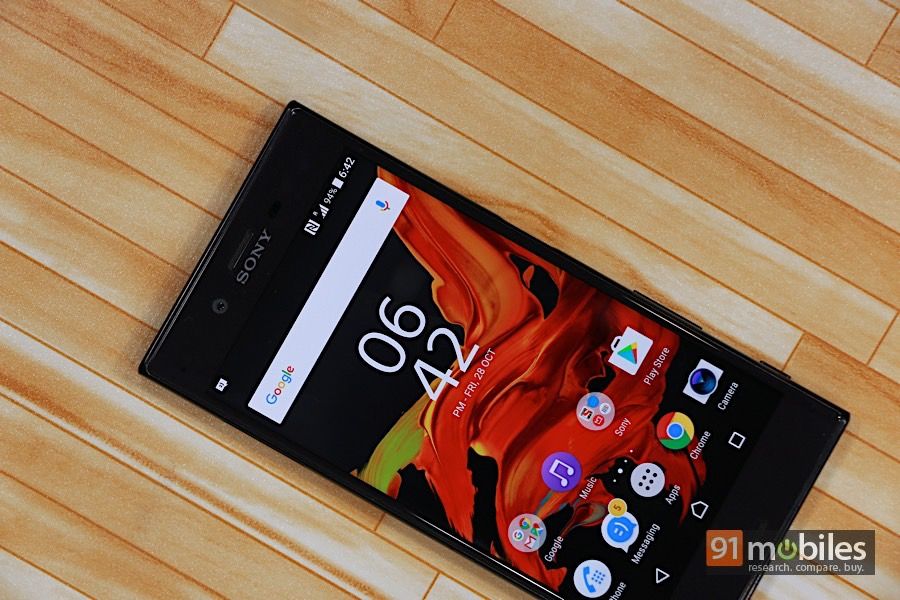 Moving on to the multimedia performance, the Sony Xperia XZ played our FLAC music files and 4K videos with utmost ease. We tested FLAC files on the phone for a reason because Sony has been advertising the Hi-Res audio capabilities of the phone. This means that the phone has a good quality DAC inside it. We tested this capability using our Jays Four in-ear headphones review unit. Quite honestly, all we noticed is an increased brightness in the treble which could be annoying for many. In fact, there was more depth in the same FLAC files we played using the Apple iPhone 7 Plus (review) over Vox app, and its 3.5mm dongle as the connector for the Jays Four. So essentially, even the Hi-Res audio tag feels more like a marketing push than a quantifiable performance improvement. Even, the front-facing speaker is not very loud. However, the clarity is pretty good.
One thing that is great on the Sony Xperia XZ is the call quality and 4G performance. No complaints there. In our proprietary battery test, the phone lasted us 10 hours, which is slightly above average. During the course of using the phone daily we noticed that the phone loses less charge in standby, which is good. It should ideally last you a day of regular usage…not bad but it could've been better.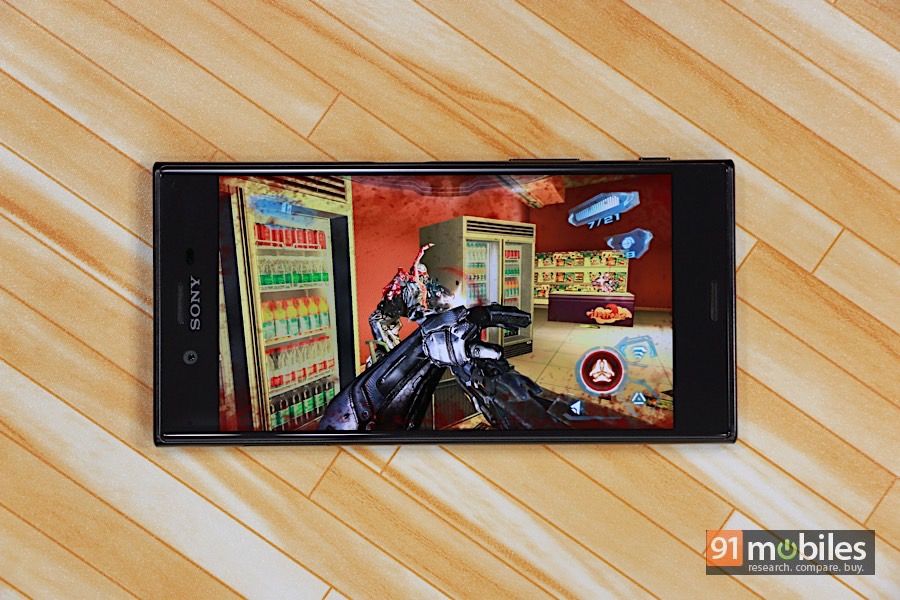 Verdict
If you've patiently read our review until this point, you'd have noticed a trend – in most aspects of our review criteria the Sony Xperia XZ is a good performer but not the best. Moreover, like we mentioned at the onset of the review, the phone needed to have an x-factor for it to stand out from the rest. Unfortunately, the Xperia XZ doesn't have one. We don't see why anyone would go for the Xperia XZ over more affordable options like the Samsung Galaxy S7, Galaxy S7 edge, or even the OnePlus 3 (review) for that matter. Additionally, when phones like the Google Pixel and the Apple iPhone 7 are in touching distance of the Xperia XZ, in terms of its price, it really doesn't make sense for one to choose this one over those two.
Having said all that, the Sony Xperia XZ is not a bad phone by any stretch. If anything, we can see why one would prefer this phone over the rest. In fact, we still know of a few Sony fans still lurking around and for them the Xperia XZ could be the best flagship smartphone the company has made in years.


Editor's Rating: 3.5 / 5

Pros:
Compact design
Good gaming performance
Good call quality

Cons:
Underwhelming rear camera
Clunky software UI
Expensive

Photos by Raj Rout
Competitors for Sony Xperia XZ
| | | |
| --- | --- | --- |
| Sony Xperia XZ | vs | Samsung Galaxy S7 |
| | | |
| --- | --- | --- |
| Sony Xperia XZ | vs | HTC Mobiles One M10 |