A couple of weeks ago, I switched from the iPhone 6s Plus (review) to the new iPhone SE (first impressions) as my daily driver, and it turned out to be a mistake. The first couple of days, I was just fiddling with it – everything seemed shrunken down and tiny – my apps occupied more home screens, web pages and lists needed more scrolling, and the games I played looked, well… small. Turns out, I may not be the right target audience for the latest from Apple, as it isn't meant for people already used to the idea of large screens on their smartphones.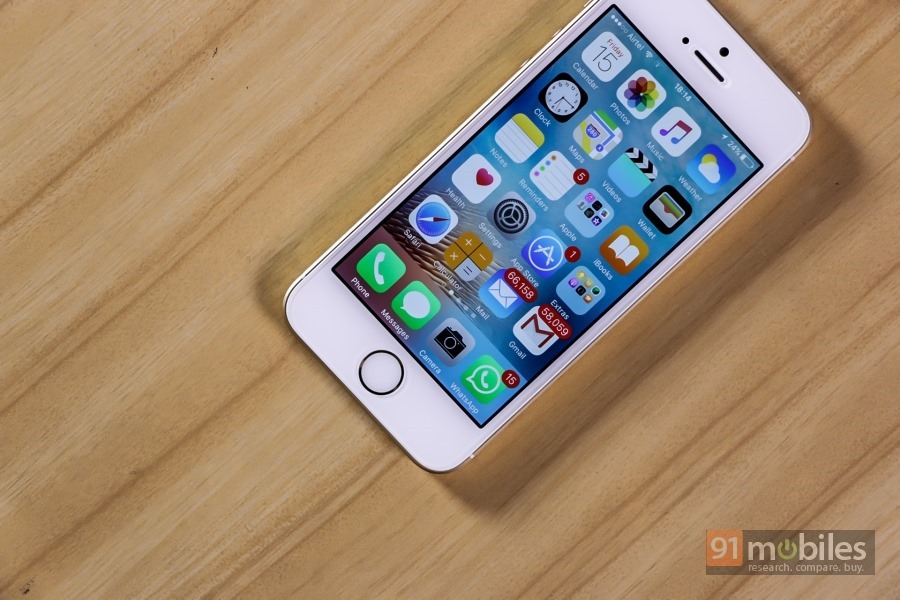 Let's just backtrack for a bit. By now, you'll already know the basics of the hardware – the SE is a new smartphone that packs in iPhone 6s hardware inside a body that's borrowed from the iPhone 5. The iPhone 5, if you recall, was launched back in 2012, and was the first device that switched from Apple's 30-pin connector to the Lightning port, and utilised a nano-SIM instead of a micro-SIM. In keeping with Apple's refresh cycle that alternates between upgrading the design and adding new features each year, the iPhone 5s that came out in 2013 stuck to the same design, and apart from upgraded internals, brought new features like the Touch ID fingerprint sensor. The iPhone SE then, follows the same design that's almost four years old… but that may not be a bad thing depending on how you look at it.
You see, it's 2016, and large-screened smartphones have all but taken over the mobile world. Tablets made the concept of content consumption on portable devices popular, but the so-called phablets is where most of the action is right now. Smartphones, as you know, aren't just used for calls or messaging – they are our window into the smart world with all its social stuff, instant communications, apps, games and entertainment, all a tap away. It's easy to see why phablets became popular – they're best suited to deliver all the goodness of their respective mobile ecosystems in a form factor that offers a large screen real estate, and yet, can just about fit in a pocket. With that in mind, Apple's decision to launch a 4-inch iPhone seems puzzling, especially with a design that's, well, old.
Let's get this straight – with the iPhone SE in your hands, you can't expect to make a statement. Sure, it carries the Apple logo, but it doesn't look any different from an iPhone 5 or 5s, except for the new rose gold colour. That said, it's an iPhone – so it definitely feels premium.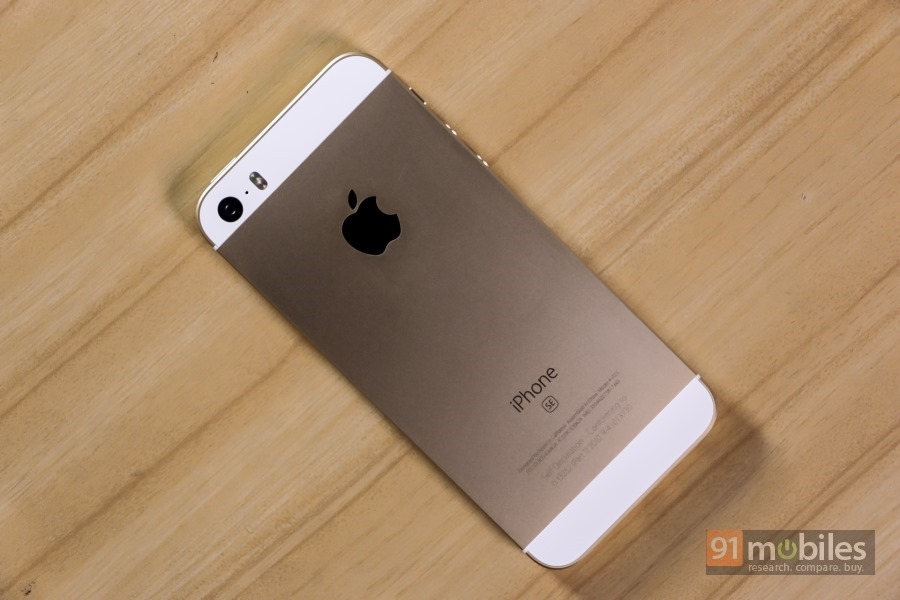 Clad in an aluminium unibody, the design screams iPhone, with a retro-chic charm as it not just nestles well in the hand, it can disappear altogether. The smooth metal bod with its matte-finished edges, the signature home key, and the dual-tone rear, are all typical Apple.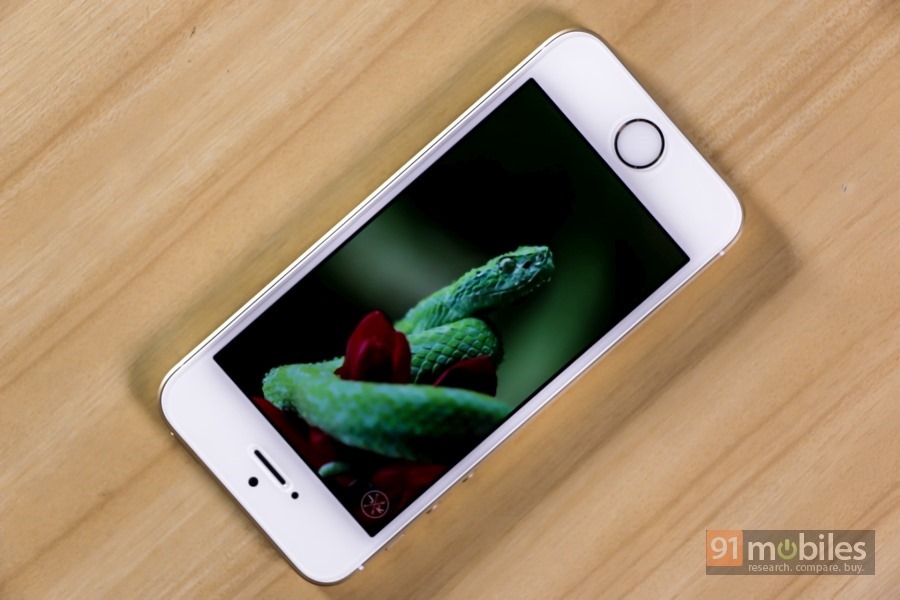 The 4-inch screen sports a resolution of 640 x 1,136 pixels, which translates to a pixel density of 326 ppi. This is the same screen resolution that the iPhone 5 / 5s sported, in fact. The figures don't seem worth shouting about in an era where flagships rock 2K displays, but don't let that sour the deal for you. The SE's 4-incher looks quite vibrant, and I didn't really have any issue with the colours or the text sharpness.
The upgraded camera is a big part of the story, and the iPhone SE boasts the same primary snapper as the 6s – complete with its 12MP resolution, phase detection autofocus, and the capability to shoot 4K video. For some reason though, the front camera hasn't received the same love, and is stuck to the 1.2-meg resolution from ages ago. Now that could be a deal killer for selfie lovers, but at least, the Retina Flash feature that brightens up the screen for better low-light self-portraits is there. Features such as the fun Live Photos function are there too.
And the image quality from the camera is as expected – divine. Sure, it may not be able to match what the new Samsung Galaxy S7 (review) and S7 edge (review) have to offer in terms of camera quality, but the iPhone SE can still take pretty good shots in almost all lighting conditions. The low-light shots can leave a little something to be desired sometimes, but in almost all other cases, you can walk away with brilliant-looking images you'll be proud to share. 4K videos shot with the iPhone SE look nice and smooth, and so do slo-mo and hyperlapse videos. Here are some image samples.
The iPhone SE runs iOS 9.3, with the usual bells and whistles – so nothing new to report on the software front. The UI and set of preloaded apps are all standard, and if you've used or seen any other iPhone model running one of the newer iterations of iOS, you should know exactly what to expect.
I would like to mention that the new Night Shift feature is definitely useful – I was sceptical about it at first and the yellowish screen took a little while to get used to, but now I think it does help me sleep better, and is quite easy on the eyes. If you don't know what I'm talking about, Night Shift is one of iOS 9.3's key new features, and it basically kills the blue hues to make the display more comfortable for night-time viewing.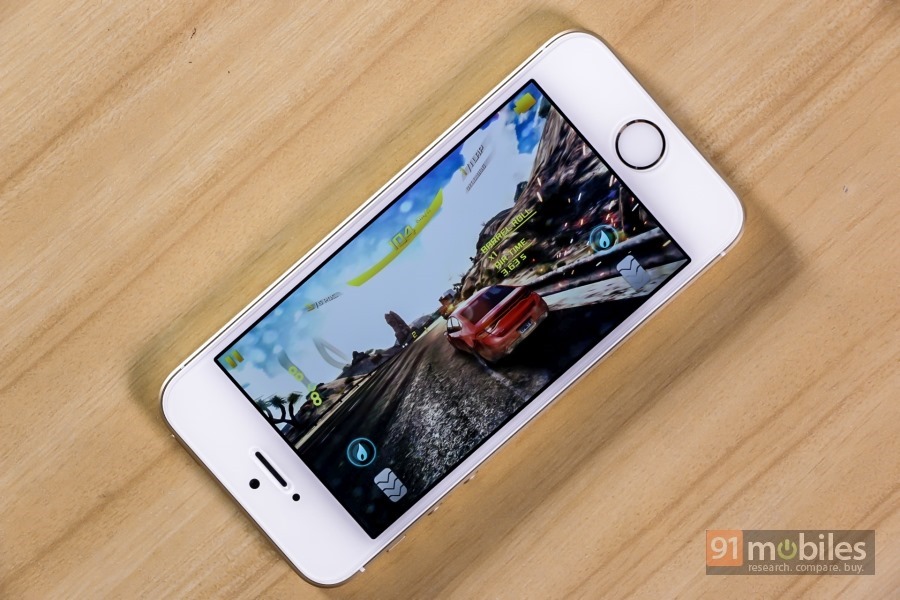 With its 64-bit A9 chip, coupled with the M9 motion co-processor, the SE is a performance powerhouse. This is the same combination that's found on the iPhone 6s, and apart from the smooth performance, also brings in features like an always-on 'hey Siri' mode that lets you invoke Apple's virtual assistant without even touching the handset. The interface animations are smooth, apps launch in a jiffy, and everything seems super smooth – no complaints there. The Touch ID sensor seems a tad slower than the one on my 6s Plus, but it works quite accurately. And as far as battery life is concerned, it's decent – I can't really call it great, but it isn't bad either. In my usage, it lasts me a working day and leaves me with around 20-30 percent in the tank till the time I reach home late evening, but that's with light usage. On days when I'm out of the office, and using 4G and other features like navigation, music and generally using my phone more actively, I'd need a topup charge by sundown.
Admittedly, I've come to like the iPhone SE. Where it does feel limiting, at least to me (coming from a larger screen), is of course, the size itself. The initial fiddling gave way to much better usage once I (re-)acclimatised myself to the small size. Sure, the smaller window meant video-watching felt a little limited, and the experience with games I usually play, such as Hitman, seemed less immersive. Also, as I mentioned earlier, everything from web pages to lists required more scrolling. The typing experience improved as I let Apple's excellent text prediction capabilities take over, but I admit I still end up making a few errors even after a couple of weeks of usage.
But where it excels, is one-handed usage. If you look carefully, one-handed use with iOS is only possible on a small display, given that quite a few onscreen controls and navigation happens from the top of the screen, especially in first-party apps like Messages, Clock, Calendar etc. Other aspects like bringing down the notification panel, tapping on banner notifications, texting or replying to messages with a single hand etc, are all easily accomplished on the 4-inch display… an area where even the iPhone 6 / 6s might not be ideal due to the larger 4.7-inch screen. The overall physical size of the iPhone SE is also compact enough for me to slip it into my pocket, and forget about it till the time I need it or it buzzes. I'm a biker, and before I started using the SE, I was always mindful of my phone poking my thigh each time I rode out… but not with the SE. (Bike mode, anyone?) The SE also accompanied me on a long flight recently, where it spent most of its time safely ensconced in my jeans pocket instead of the seat pocket (which would've been the case normally if I'd been using a larger phone), with me dozing peacefully most of the way. It's also a cinch to text one-handed when I'm driving and stop at a traffic signal, check my notifications, and come across an email or a message that needs a quick reply. In fact, there were quite a few other instances where the SE's handy size has turned out to be a life saver.
I remember taking a Mini Cooper out for a spin a while ago, and thinking, "wow, this baby can go fast for a small car". In a lot of ways, the iPhone SE is like the Mini Cooper. It's small, and it's zippy. I thought of quite a few different headlines for this review – "an iPhone 6s in the body of a 5s", "old bottle, new wine", and another that I almost ended up using, "the second most fun you can have with one hand"… and they're all apt in their own way. However, if you look it, the SE really goes back to the basics – turning the personal gadget that is your smartphone back to an easily accessible, easily portable, and easily usable device that focusses more on basic, fundamental usage, and delivers smooth performance and great photos while it's at it too.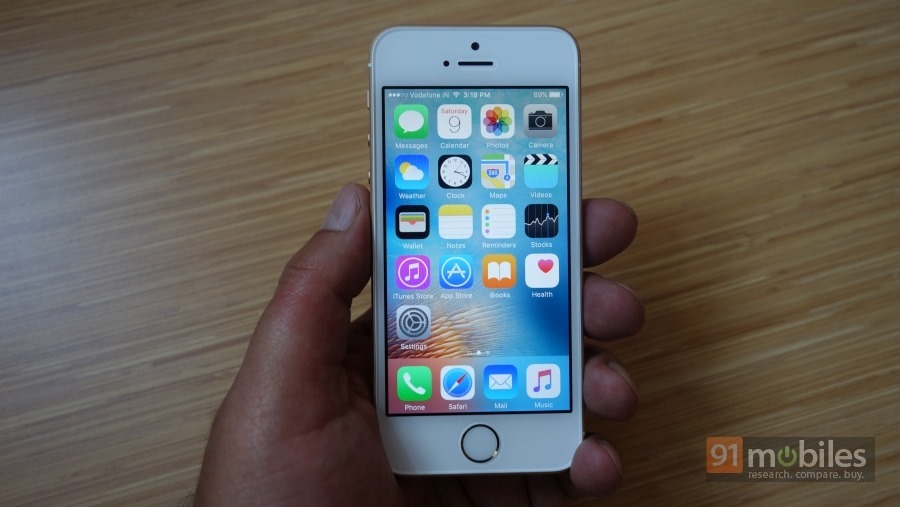 Unfortunately, the Mini Cooper isn't for everyone, just like the iPhone SE. There are two things that could keep the SE from being a chartbuster – the pricing that goes into iPhone 6s territory, and the design that isn't exciting enough to flaunt by those who typically like to show off their new iPhones. I'm almost ruling out the 16GB version of the iPhone SE, which is priced at Rs 39,000, but thanks to the limited storage, feels less than ideal for anyone who wants to use it for more than just the basic stuff. The 64GB model, which is priced at Rs 49,000, is really the one that makes some sense, and doesn't have any competition except from its own sibling, the iPhone 6s. Sure, the 6s 64GB is a tad pricier, but it does boast a newer design and features like 3D Touch, which the SE misses out on. And this means that the iPhone SE may not appeal to too many people, except those who're massive fans of one-handed usage and need a powerful, and capable daily driver… which is a shame because the SE is a worthy smartphone by itself.
Considering that the SE came out in the middle of Apple's annual iPhone cycle, it seems like an anomaly, a blip in the matrix, a missed heartbeat, a spike (or a trough) in an otherwise flat graph… no wonder it's labelled as a special edition. It may not be for everyone, but if you know what you're getting into and choose to buy it, it won't disappoint. As far as I'm concerned, I'm not really in a tearing hurry to switch from the SE just yet… this ride is turning out to be quite enjoyable.
Editor's rating: 4 / 5
Pros
Handy size
Smooth performance
Excellent camera image quality
Cons
No 3D Touch
Pricey
The design feels outdated
Photos by Raj Rout