"Despite the launch of the iPhone 11, the iPhone XR emerged as a best-seller in Q3 2019 by capturing 3 percent market share"
Counterpoint Research has released the list of top ten highest-selling smartphones globally for Q3 2019. Despite the launch of an upgraded Apple iPhone 11 with dual-rear cameras and a more powerful processor, the iPhone XR emerged as a best-seller in the third quarter by capturing 3 percent market share. This comes as a surprise, considering Apple's overall shipments declined during the same period. Following the iPhone XR are budget Samsung offerings — the Galaxy A10 and Galaxy A50 — in the second and third spots with 2.6 percent and 1.9 percent market shares, respectively. OPPO A9 ranked as the fourth best-seller, while iPhone 11 settled in the fifth position with a 1.6 percent share. On close observation on the list of top five best-sellers, it's evident that the market is being divided between affordable phones and value-for-money budget flagships.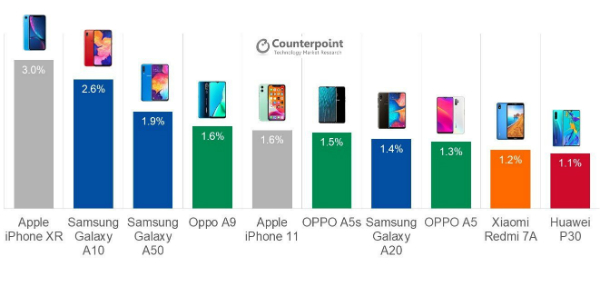 The other models in the top ten list include the OPPO A5s in the sixth position with 1.5 percent share, Galaxy A20 in the seventh spot with 1.4 percent share, OPPO A5 at the eight position with around 1.3 market share, and Xiaomi Redmi 7A in at the ninth place. Lastly, it is the Huawei P30 grabbing the tenth spot with 1.1 percent market share.
Though Huawei is banned by the US government owing to security concerns, the Huawei P30 model seems to be quite popular in its home soil, China. Surprisingly, none of the Samsung and Xiaomi flagships models made it to the top ten list, which could be suggesting that users aren't very much eager to upgrade to newer flagships every year. It's the recent price cut that brought in massive numbers for the iPhone XR.
The volumes contributed by the top ten best selling models combined increased by 9 percent YoY and captured 17 percent of the total sales when compared to 15 percent in Q3 2018. However, the combined revenue from the top ten models declined 30 percent YoY, according to Counterpoint. The main reason for this being that there were a total of five flagships in the top ten in Q3 2018, which isn't the case this time as there are only three. This mix of a more mid-tier and fewer flagship phones in the top ten list also led to a fall in the revenue for smartphone OEMs during the quarter. The overall global smartphone profits also declined 11 percent YoY during Q3 2019.