Highlights
Mahindra's upcoming e-scooter, which has been developed jointly with Peugeot, has been spotted in testing again
The Mahindra-Peugeot e-scooter has been spied being benchmarked alongside an Ather 450X
The new Mahindra e-scooter will compete with premium e-scooters in India
Mahindra is working on an upcoming electric scooter launch and will pitch it against some of the most popular offerings in the segments. Mahindra is likely to launch a global product from Peugeot's stable, called the Peugeot Kisbee. Interestingly, both an ICE powered and an electric-powered model of Kisbee scooter has been spotted in India. Mahindra could a jointly developed electric powertrain to cater to the growing EV two-wheeler sector in India.
Follow us on WhatsApp, Click to Join
Mahindra e-scooter spied testing alongside an Ather 450X
Mahindra could launch the Peugeot Kisbee in India in an electric guise to compete with the likes of the Ather 450X and Bounce Infinity E1 premium electric scooters. The upcoming Mahindra e-scooter has been spotted testing for the second time, and this time around, it has been spotted alongside an Ather 450X electric scooter. To recall, earlier, the Mahindra-Peugeot e-scooter was spied testing in the ICE-powered and electric form factor in the country.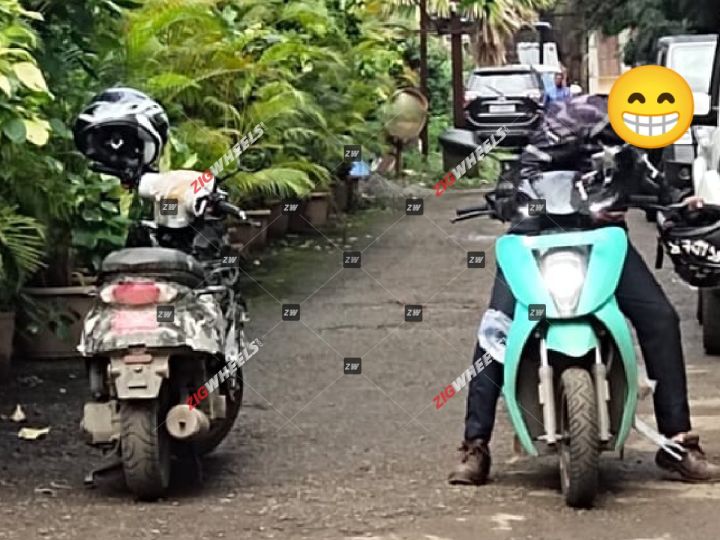 The Peugeot Kisbee is sold internationally as a 50cc ICE-powered scooter. The scooter develops 3.35bhp of peak power and 3.2Nm of peak torque at around 7,000rpm. The 50cc scooter segment in India is insignificant and the company is unlikely to introduce a product in the space. The more feasible option for Mahindra is likely to be an electrified two-wheeler product which in the recent past has seen healthy growth.
Peugeot sells the E-Ludix electric scooter in the international markets which comes with a 1.6 kWh 48V lithium-ion removable battery pack. The E-Ludix is good for 42km of range and tops out at 45kmph. Mahindra however might retune it for better performance and could even plonk in a larger battery to support the added performance. Not to mention, a larger battery would also mean a better riding range.
Other technical details, information on a launch timeline, and pricing are unknown at the moment. But the new Mahindra-Peugeot e-scooter can be expected to be priced competitively.