"nubia Red Magic looks stunner and the RGB LED strip will draw attention, irrespective of which room you are sitting in"
If you are asked to think of a modern gaming smartphone, the Razer Phone might immediately pop into mind. Along with the powerful hardware and the butter-smooth 120Hz display, the phone's bulkiness has been well documented over the last one year. But is it necessary to make this compromise for a phone dedicated to gaming? If we are to believe nubia, the answer is no. nubia's Red Magic (first impressions), launched initially in April this year, comes with a sleek design and features RGB lighting strip, which is usually associated with gaming accessories and PC towers in general. Now that the phone is up and ready for launch in India, does it hold up in real-world usage and make for a good phone in general? Read my review to find out.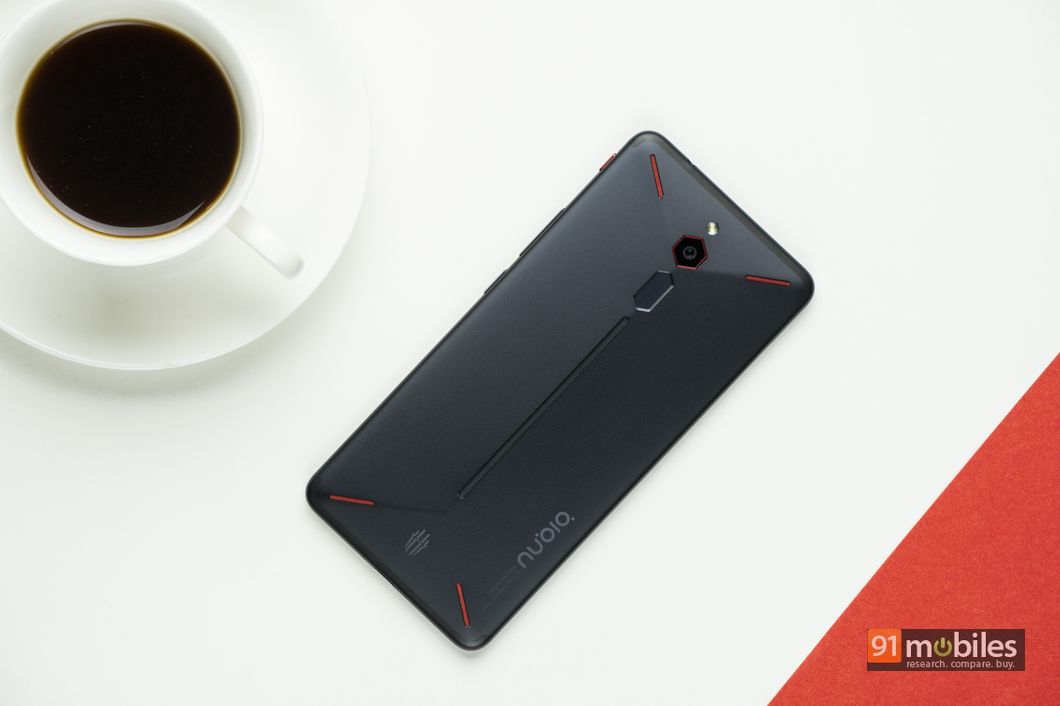 That design though
We all love sports cars. The sharp edges, fancy design, and sometimes over-the-top elements that make these cars unique, make them stand out from the crowd. This is what I feel about the nubia Red Magic as well. The phone comes with sharp edges on the back panel with an RGB strip in the middle below the hexagon-shaped camera module and fingerprint sensor. To say that the phone looks good when this RGB strip glows for notifications, would be an understatement.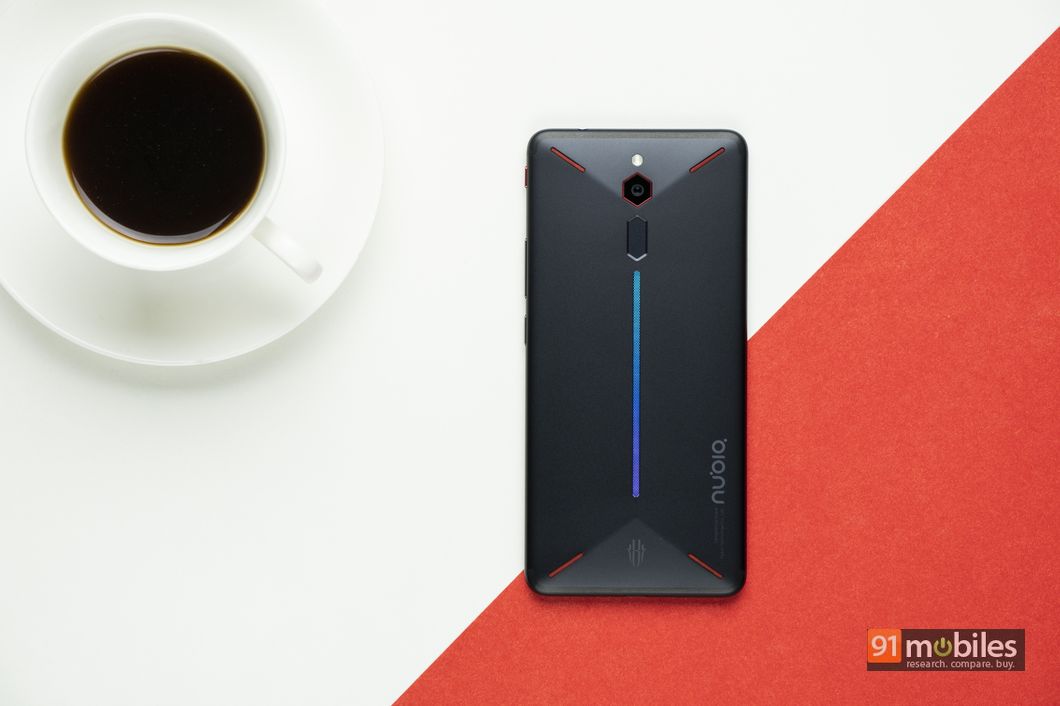 The cherry on top of the cake is that you can customise the LED pattern on this strip for notifications from the settings menu. You even get the toggles to choose when the multi-colour LED strip should jump into action. These options include incoming call, charging, and notifications. There are four red strips, located on opposite ends as you can see in the images above, with the bottom left strip featuring the loudspeaker. I found the quality and the volume levels to be impressive on the phone, which is good from the gaming perspective. Aesthetically speaking, this is one of the best handsets I've seen in recent times. On the ergonomics side, the fingerprint sensor is sometimes hard to locate with the index finger and the phone wobbles if you try typing on it when it's lying on a flat surface.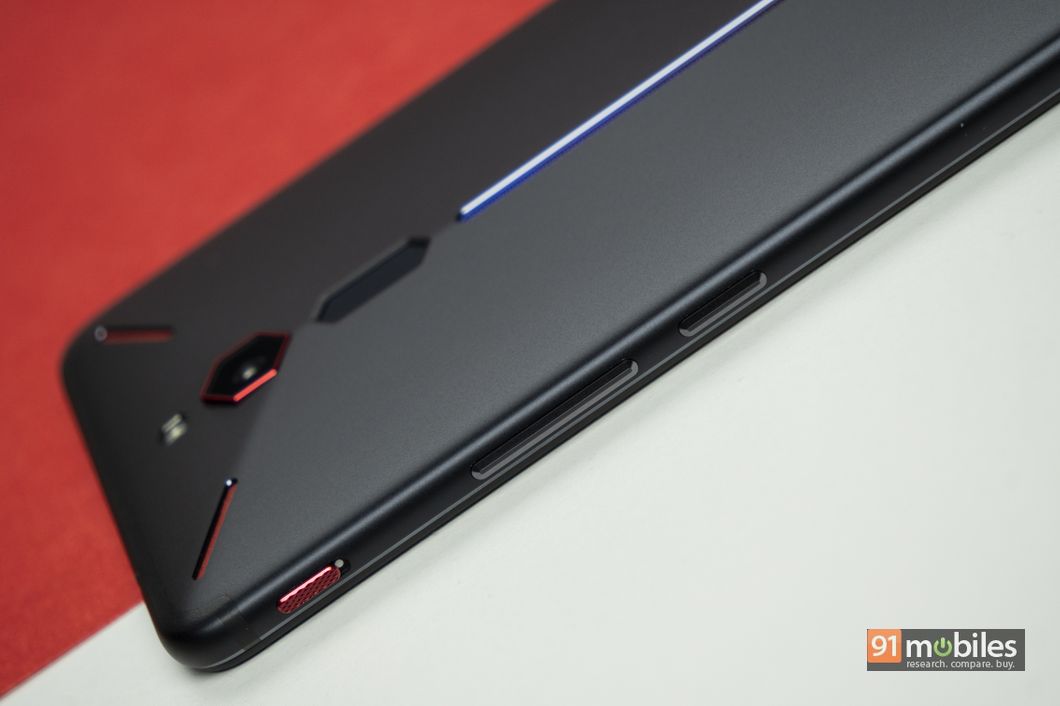 Talking about the build quality, the phone feels sturdy and premium in the hand. The volume rocker and power button are easy to reach and located on the right side of the phone. The SIM card slot can be found on the left spine with the bottom housing the USB Type-C charging port. Audio accessories can be connected via a 3.5mm headphone jack on the top side of the phone. Needless to say at this point but I have come to expect this placement from most phones these days. But as the saying goes, if it ain't broke, don't fix it, right?.
Apart from the standard set of buttons and ports, on the right side of the phone (above the volume rocker) you get a dedicated slider for GameBoost mode. This slider, which can easily be mistaken for an alert slider, helps you block app notifications while playing, optimises the phone's performance for gaming, and locks the navigation bar to prevent accidental touches during a gaming session. A design like this deserves a closer look, so go ahead, feast your eyes.

nubia Red Magic Design Gallery
Notchless Display
When you are gaming on a phone, any kind of obstructions on the screen would be unbearable. nubia understands this and likely decided to go ahead with a thin bezel design instead of a notch for this same reason.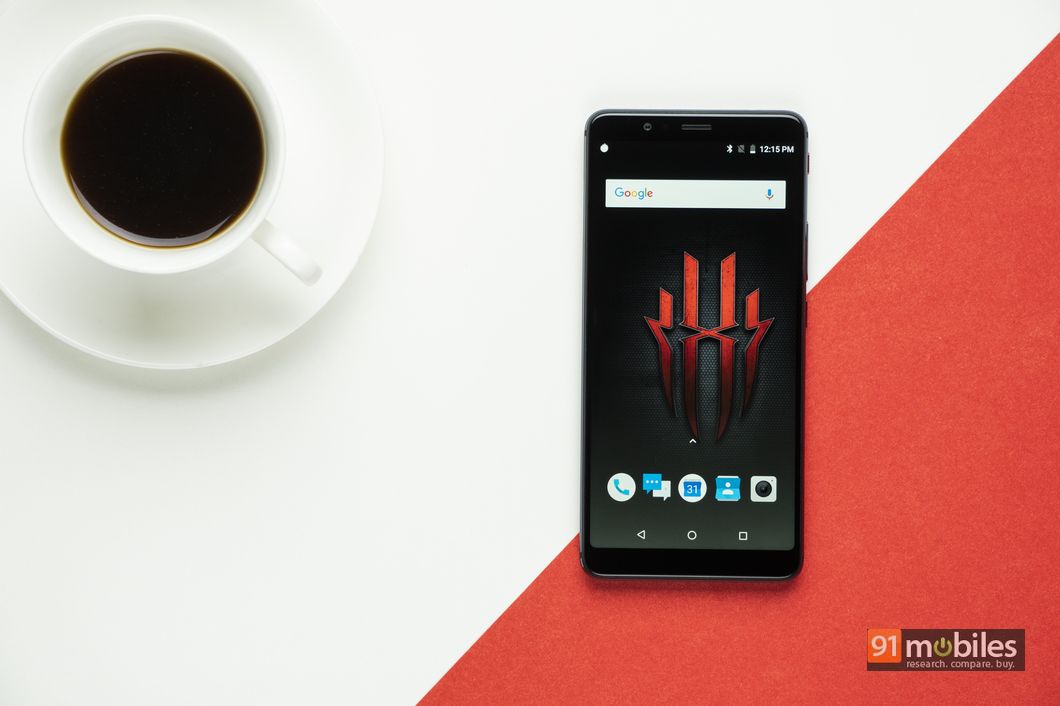 If I talk about the panel itself, the 6-inch FHD+ panel comes with an 18:9 aspect ratio and a pixel density of 403ppi. Numbers mean nothing if the panel itself lacks quality but nubia delivers on this front. The Red Magic packs an impressive display, which is an LCD panel (for those of you keeping track), and the colour reproduction is mostly on point. I won't lie, a 120Hz panel would have been perfect, but as we are talking about an affordable gaming phone, expectations should be kept in check.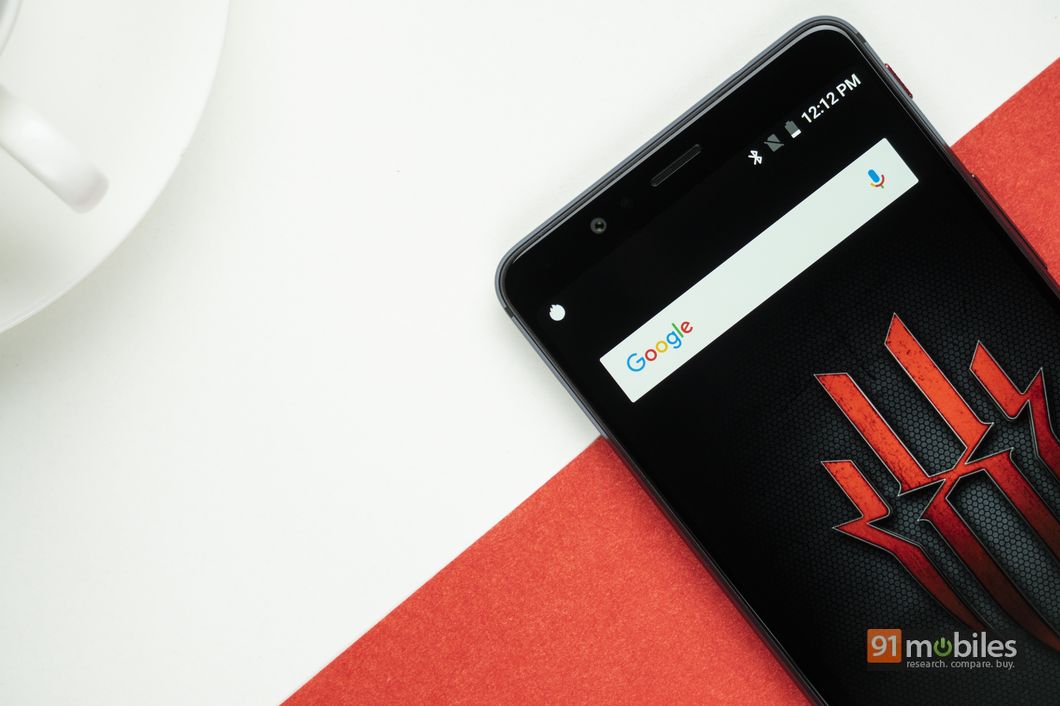 As the display quality is good, it should work well for enjoying watching Netflix or YouTube videos on the go too. OLED displays tend to perform better under sunlight and as we have an LCD offering here, the outdoor usage is not particularly great.

Software and performance
nubia has opted for a near-stock iteration of Android on the Red Magic. There are very few companies that actually add value to the software with their custom Android builds, and in almost all cases, the additions are not worth the bloatware that comes along as part of the package. This is why I am glad that the brand opted for the near-stock version of the platform for its flagship. As the phones that feature stock Android tend to get faster software updates and security patches, there is all the more reason for phone brands to stick with Google's idea of its operating system. There is just one additional keyboard app, apart from Google's set of standard apps, that comes pre-installed into the phone, and that can easily be disabled too.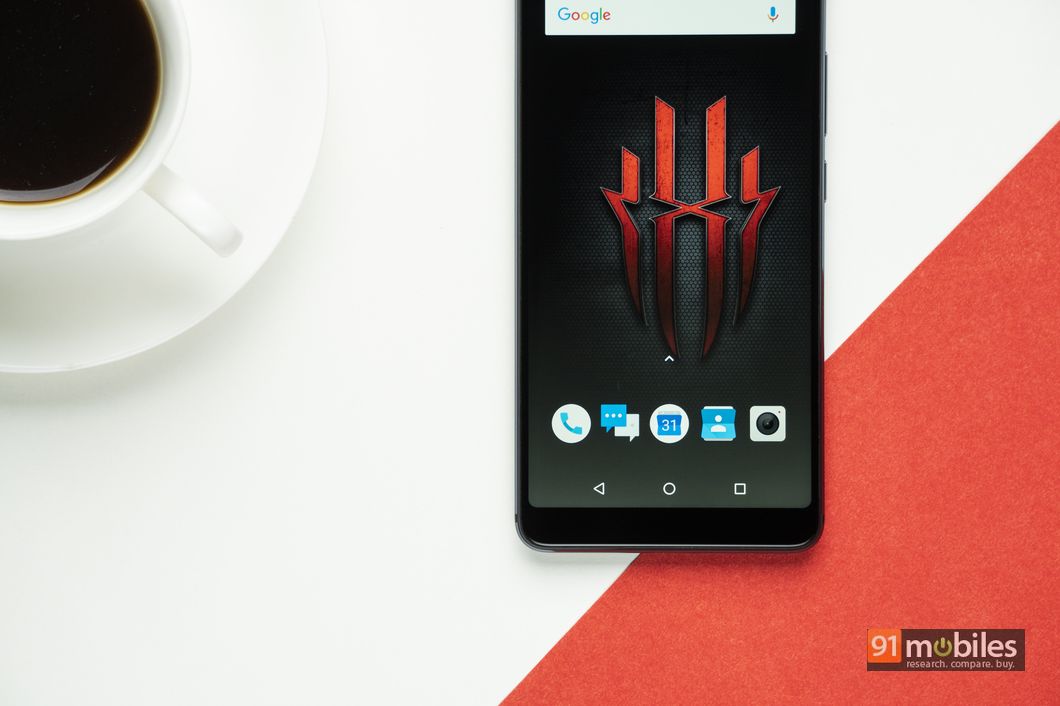 In the settings menu, you'll notice just two additional options from the usual – 'Multi-Color LED strip' and 'GameBoost'. I have already mentioned the customisation options that you get with these features so I won't repeat myself here.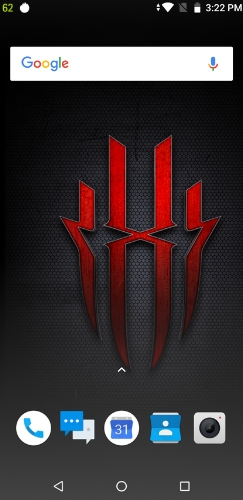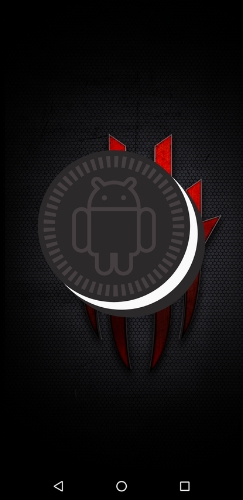 Now let's dive into the most important aspect of this phone, its performance. To drive the gaming needs, nubia Red Magic packs a Snapdragon 835 processor coupled with Adreno 540 GPU, 8GB of LPDDR4X RAM, and 128GB of UFS2.1 2-LANE storage. A gaming smartphone from 2018 running last year's flagship processor is definitely not an ideal scenario but in real-world performance, I did not face any stutter or lags playing intensive games like PUBG and Asphalt 9: Legends at the highest graphics settings. Having said that, an older processor will eventually run out of steam sooner than one would hope. For a gaming smartphone, this can be a dealbreaker for some. On its own, the Snapdragon 835 is still a very capable SoC and managed to handle everything that I threw at it with ease.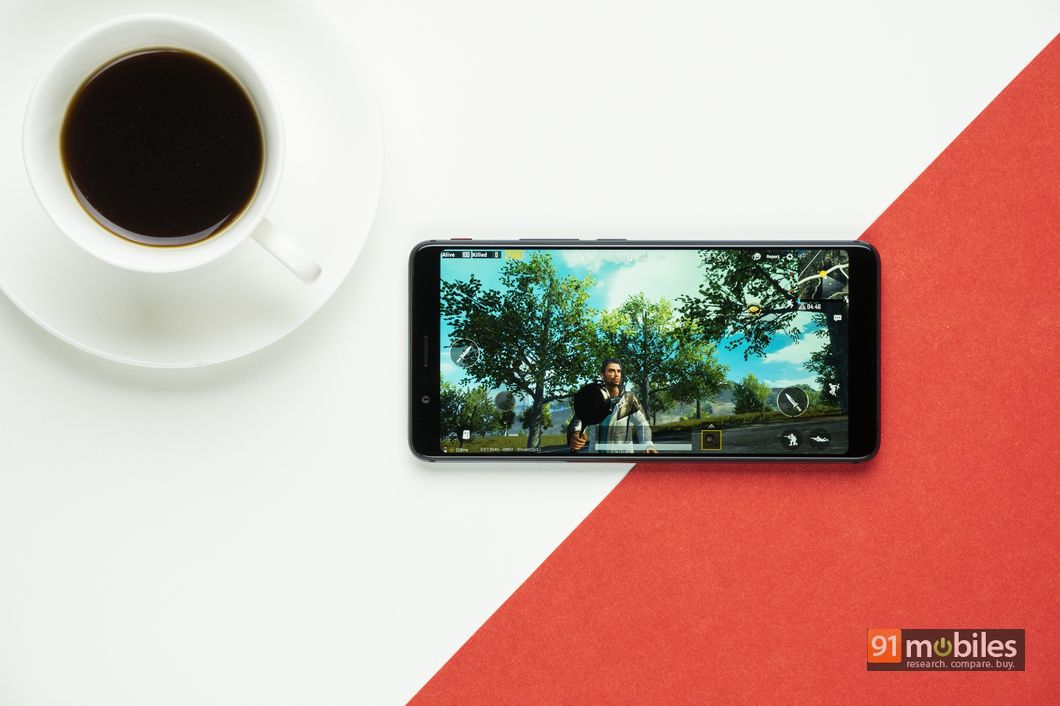 The phone does not heat up excessively even after extended sessions of gaming and does not break a sweat taking up multitasking either. This may partly be because of the multi-layered cooling system that the company has introduced in the phone. Overall, if you are not looking from a long-term perspective, nubia Red Magic will most likely not disappoint you in this aspect particularly.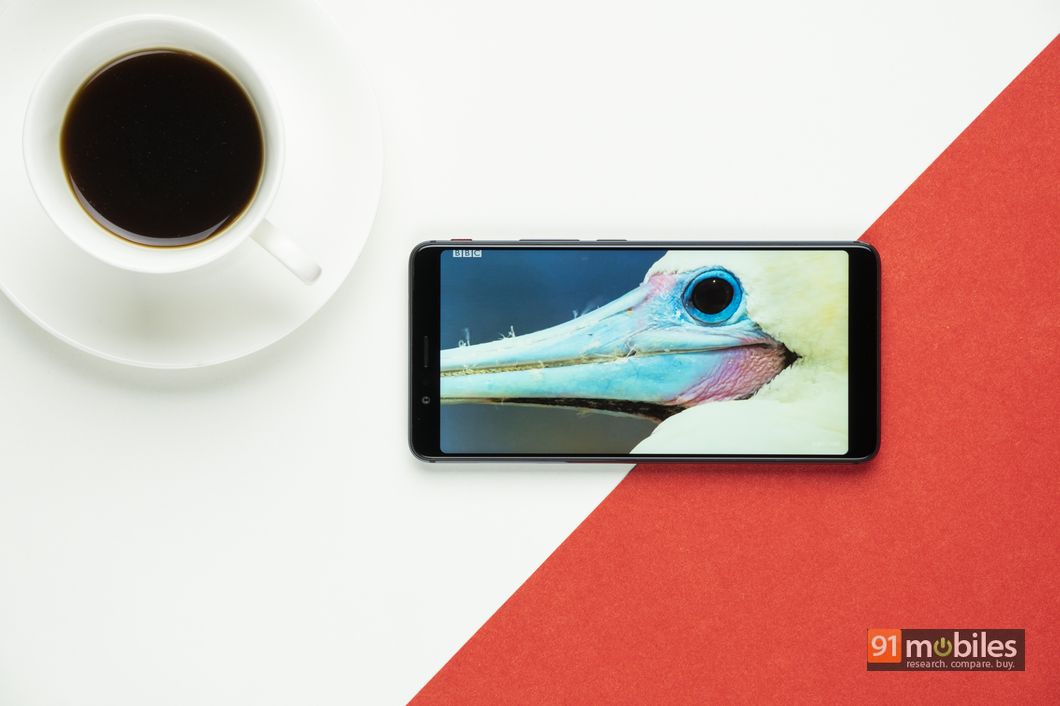 Despite a sleek design, nubia has blessed the Red Magic with a respectable 3,800mAh battery with support for fast charging. In the HD video loop test, the phone managed to last for around 17 hours before running out of juice. Talking about a regular day usage, the Red Magic easily lasts a day if you don't end up gaming a lot. However, this is not why you would buy the phone. With some decent sessions of gaming, you will have to find a charger to refuel the phone by the end of the day.

Cameras
Just because you are buying a gaming smartphone doesn't mean that the optics on the handset can get away by being average. We have come to expect decent cameras on phones across different price segments and anything less would definitely be a downside in terms of the recommendation for any phone. Getting the spec sheet out of the way, the nubia Red Magic comes with a single 24MP Samsung 5K2X7SX sensor, with f/1.7 aperture at the back, assisted by an LED flash, and placed in a hexagon module. For selfies, there is an 8MP SK Hynix 846 sensor with f/2.0 aperture at front.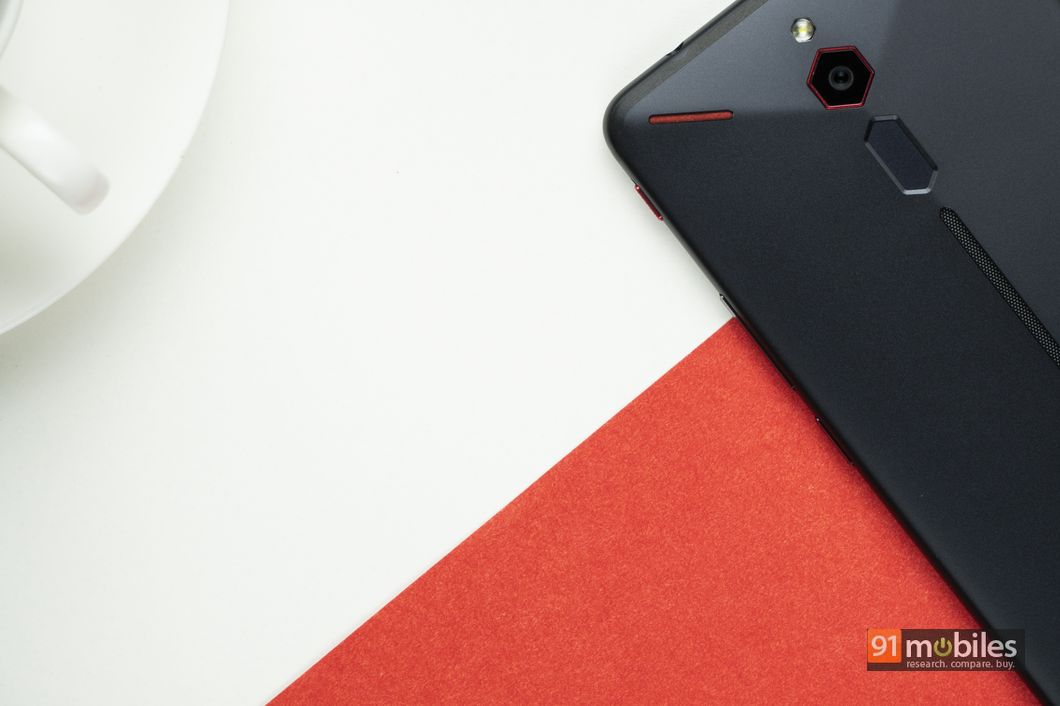 Coming to the actual on-field performance, I was actually impressed with the details captured by both front and rear sensors. The HDR mode takes some time for post-processing but eventual results are pretty good. The default camera app presents you with an option to click pictures in Pro mode, where you can adjust the ISO and white balance. You also get a 'Camera Family' option, which further offers Multi-Expo, Light Drawing, E-Aperture, Clone, and Time-lapse modes. Unfortunately, there is no Portrait mode available here. As there are many phones with single camera sensors that offer a bokeh effect through software, the absence of this feature is a bit of a letdown.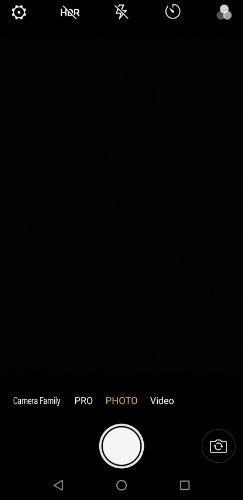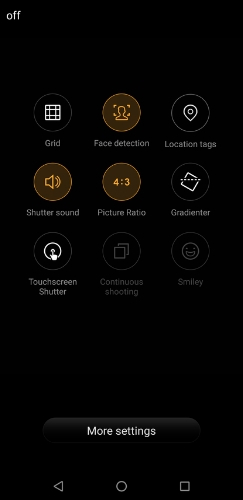 I personally found these options to be slightly gimmicky but for those of you who like to experiment, these could be fun modes to try out. The rear camera is capable of recording videos in up to 4K resolution, while the front sensor can be used to shoot up to full HD videos. Alternatively, you can capture slow-mo 720p videos at 120fps with the phone. In my time with the phone, the quality of videos turned out to be good but not overly impressive. Here are some of the camera samples taken from the nubia Red Magic.

Nubia Red Magic Camera Samples
Verdict
nubia has made a great phone in Red Magic. The handset performs well, looks great, and comes with good overall value. There are some gaming-specific features and design choices that make the Red Magic stand out from the crowd as well. Currently, we don't have the pricing for the phone in India but it's expected to be launched below the Rs 30,000 mark. This means it will go up directly against the POCO F1 (review), which costs lower and also offers this year's flagship Qualcomm SoC, the Snapdragon 845. Another phone that might pose a problem for the Red Magic will be the ASUS Zenfone 5Z (review), which also features Qualcomm's latest SoC. Now, both the POCO F1 and the Zenfone 5Z work well for gaming and offer better images in low-light conditions as well. This is why it becomes hard for me to recommend the Red Magic over these two models. Having pointed out this issue, I would definitely say that the Red Magic looks much better than either of these phones and offers a better build quality as well. If you want your phone to look like a beast in gaming sessions with friends, Red Magic should be the go-to choice. In case the processor is the bone of contention for you, the nubia Red Magic 2 with Snapdragon 845 will be launched very soon, and hopefully, won't take as much time as its predecessor to land on our shores.
Editor's Rating: 3.5 / 5

Pros:
Stunning design
Near-stock Android
Good performance
Cons:
Features last year's flagship processor

Fingerprint sensor takes some getting used to
Competitors for Nubia Red Magic
| | | |
| --- | --- | --- |
| Nubia Red Magic | vs | Xiaomi Poco F1 128GB |
| | | |
| --- | --- | --- |
| Nubia Red Magic | vs | Asus Zenfone 5Z 128GB |