"The user was woken up by the fumes of the burning OnePlus One that was placed just a feet away"
OnePlus has come under the spotlight for the wrong reasons. According to a tweet, a user's OnePlus One phone randomly caught on fire in the middle of the night. Luckily, the user was safe as he managed to douse the fire before the phone could explode. The smartphone was disconnected from the power adapter and was also switched off, an email he sent to the OnePlus team claims (as per the screenshot in the tweet). Despite that, the OnePlus One just burst into flames.

The user has sent an email to OnePlus care asking the team to redress his grievances. The phone is said to have burst into flames at around 3:15 AM on the 3rd of July. As per the user, the air conditioning in the room was set to 19 degrees. He was woken up by the smell of the burning phone and noticed the fumes filling the room. He then grabbed some water and doused the fire. The user states that the phone was placed just about a feet away from him, and if hadn't woken up, things could have been disastrous.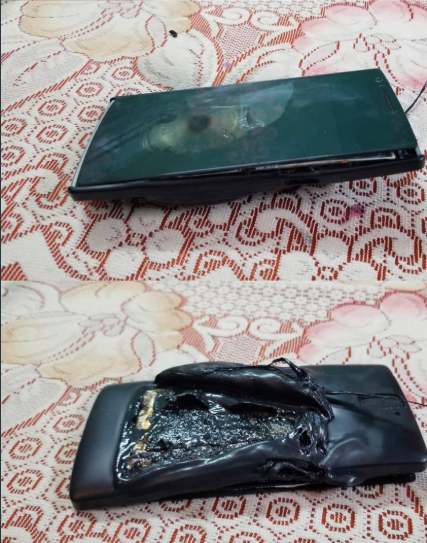 He states that the phone is more than 5 years old, but it shouldn't endanger someone's life. The user has asked both OnePlus and Amazon India to look in to the matter. The incident was brought to light after India Today anchor Chaiti Narula posted about it on Twitter.
She also attached images of the exploded phone and asked OnePlus to explain how this could happen. The OnePlus Support team responded on Twitter by stating that the Critical Escalations Team is looking into it. The team has already reached out to the customer and is working on solving the issue.
This is a very uncommon and an odd case of misfortune, as we have rarely seen OnePlus phones exploding or catching fire. In this case, it is even more peculiar as the phone was apparently not charging or even turned on. Perhaps the battery just couldn't take it anymore and was at the end of its life. Even then, the thought of a phone exploding randomly is scary and companies should take measures to prevent this.