As things are getting back to normal, you probably want to keep your passport ready for all overseas trips planned. It's an essential document issued by the government of India to all its citizens who are looking to go abroad for education, tourism, pilgrimage, medical attendance, business purposes and family visits. You can renew or apply for a new passport online from the comfort of your home. The Ministry of External Affairs (MEA) has made all passport applications online to ensure that the process is as efficient and transparent as it can be. There are different types of passports, namely Ordinary Passport, Diplomatic Passport, and Official Passport. Below are the steps on how to apply for passport (ordinary) online, check its status, and renew if the passport has expired. Before we jump to that, here is the list of documents required to apply for a new ordinary passport.
Documents required to apply for passport online
Proof of birth, which can be:-
Aadhaar Card/E-Aadhaar;

Election Photo Identity Card (EPIC) issued by the Election Commission of India;

PAN Card issued by the Income Tax Department;

Driving License;

A birth certificate issued by the Registrar of Births and Deaths or the Municipal Corporation or any other prescribed authority;

Transfer/School leaving/Matriculation Certificate issued by the school last attended/recognised educational board;

Policy Bond issued by the Public Life Insurance Corporations/Companies having the DOB of the holder of the insurance policy;

Copy of an extract of the service record of the applicant (only in respect of Government servants) or the Pay Pension Order (in respect of retired Government Servants), duly attested/certified by the officer/in-charge of the Administration of the concerned Ministry/Department of the applicant;

A declaration issued by the Head of the Orphanage/Child Care Home on their official letterhead of the organization confirming the DOB of the applicant
Proof of residence, which can be:-
Aadhaar Card;

Rent Agreement;

Election Commission Photo ID card;

Water, telephone or electricity bill;

Income Tax Assessment Order;

Certificate from Employer of reputed companies on letterhead;

Spouse's passport copy (First and last page including family details mentioning applicant's name as spouse of the passport holder), (provided the applicant's present address matches the address mentioned in the spouse's passport);

Parent's passport copy, in case of minors(First and last page); or

Photo Passbook of running Bank Account (Scheduled Public Sector Banks, Scheduled Private Sector Indian Banks and Regional Rural Banks only)
How to apply for passport online
Now, that we have gotten you up to speed with documents, here's how to apply for passport online: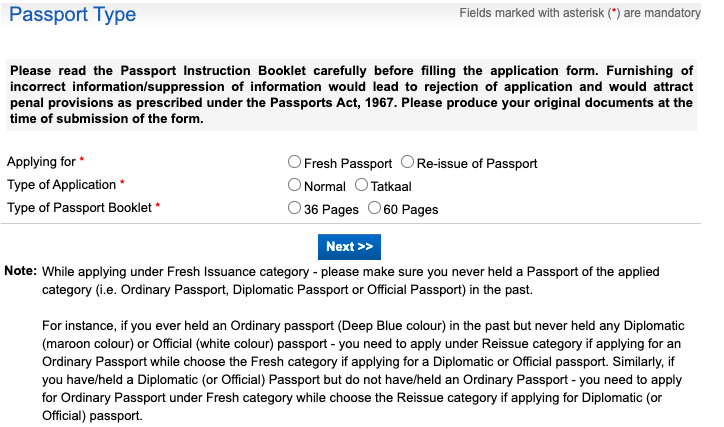 Registration
Fire up your browser and visit

Passport Seva

– the centralised portal to apply for passport across the country

Select the 'New User Registration' option from the screen and complete the registration. If you're a registered user, click on 'Existing user login' and login with your ID
Choose the application type
After this, select the 'Apply for fresh passport/ Re-issue of passport' option if you're applying for an ordinary passport.

Choose the 'fill the application form online option', followed by your 'State' and 'District'. Alternatively, you can select '

Click here to download the soft copy of the form

', fill it offline and upload it back to the site

Select 'Fresh passport' next to Applying for… –> then 'Type of Application' (Tatkal/ Normal) –> 'Type of Passport Booklet' –> and hit 'Next"

Now, fill in the required details in the form and submit.
Pay and schedule appointment
Click the 'Pay and Schedule Appointment' link on the 'View Saved/Submitted Applications' screen to schedule an appointment. It's mandatory to make online Payment for booking appointments at all Passport Seva Kendras/Passport Offices.

An SMS with your appointment details is sent to your registered mobile number
Visit the Passport Seva Kendra (PSK)/Regional Passport Office (RPO) where the appointment has been booked, along with original documents, for physical verification. You can also partially fill-in the form and complete the process at a later date. However, double-check everything before submitting the form.
How to renew passport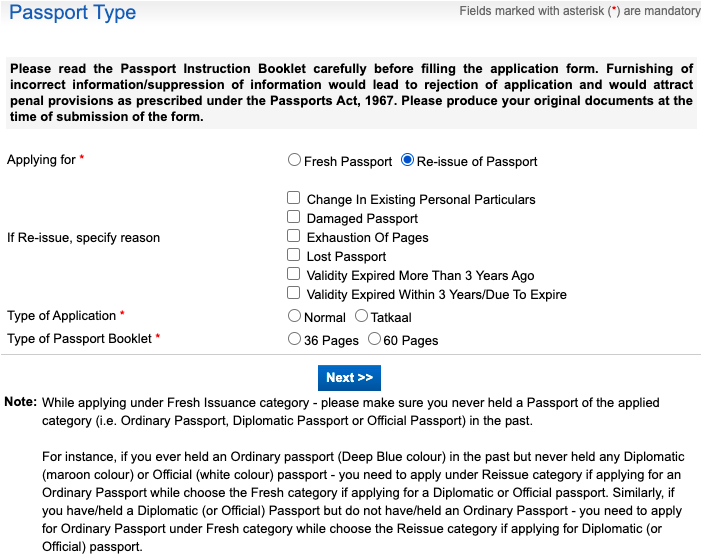 The process of passport renewal is pretty much the same as applying for a new one. You can do it online via Passport Seva Web Portal. A passport is reissued if the old one is expired, lost, exhausted, or needs to be updated with the latest personal details.
Login with your ID after clicking on 'New User Registration/ Existing User Login'

Go to the 'Apply for Fresh Passport/Re-issue of Passport' tab and select the 'fill the application form online option'. Alternatively, you can select '

Click here to download the soft copy of the form

', fill it offline and then upload it back to the site

Choose your 'State' and 'District'

Select 'Re-issue of passport' –> Reason why you want to renew the passport –> 'Type of application' (normal/ tatkal) –> 'Type of Passport Booklet', and hit 'Next'

Fill in the details to renew passport

Hit the 'Validate' button to save the details

Upload all necessary documents (scroll down to find out the list of documents required to renew passport)

Now, make payment and book an appointment

On the day of the appointment, carry all the documents with originals to the passport office near you for physical confirmation
Documents required for passport renewal
Old Passport

Copies of the first two and last two pages of the passport (self-attested).

Copy of the ECR/Non-ECR page (self-attested).

Copy of the page of observation, if any, made by the Passport Issuing Authority (self-attested).

Copy of the validity extension page, if any, with respect to the Short Validity Passport (SVP)

Proof of documents that eliminate the cause of issuance of Short Validity Passport (SVP).
How to check passport status
To check new/ renew passport status,
Visit the 'Passport Seva' portal again and this time select 'Track application status'

Select application type, which will of course be passport, and enter your file number and DoB

Click on 'Track Status' to check your passport status online
FAQs
How long does it take to receive a passport?
Once all the formalities are processed, it takes around 3 more weeks to get a fresh or reissued passport delivered to your doorstep via a registered post. Under the Tatkal system, passports are dispatched strictly within 3 business days.
Type of passports
There are three types of passports. First is, 'Ordinary', which is blue in colour and issued to individuals for vacation and business travel. The other two are Diplomatic Passport with maroon colour and Official Passport with grey colour, given to government officials and non-gazetted government servants respectively.
Police verification for passport
Police verification for the issuance of a new/ reissued passport is an important security step. This is done for every individual, the exception being government servants. There are two modes of police verifications for passports: post-passport issuance basis and pre-passport issuance basis. In simpler words, there will be a verification when you apply for a passport and when you've received the passport. "Depending on whether an application is for issue of fresh passport or re-issue of passport, Passport Office (PO) shall decide whether Police Verification is required for issuance of Passport to you," per MEA's website.
The police verification is initiated by the passport office after receiving the applications.
Passport validity
An ordinary passport is valid for 10 years from the date of issue and can be renewed for another 10 years. That said, a minor's passport is valid for only five years or till they attain the age of 18, whichever is earlier.
New passport/ Re-issued passport charges
Charges for new and re-issued passports vary, based on the type, age, and pages. A fresh passport with 36 pages and a 'normal' scheme for individuals above 18 years, will cost you Rs 1,500. The same passport 'Tatkaal' will set you back to Rs 3,500. Click on the link to calculate new/ re-issued passport fees.