"The Sony Xperia M2 Dual is worth a look if you need a mid-range dual-SIM smartphone"
The smartphone segment in India is in a state of flux, in a way it's never been before. While budget Android devices have become quite usable now thanks to infusion of KitKat and decent specs, the mid to premium range has become extremely confusing courtesy specs like octa-core processors and full HD displays making things hazy for consumers. The likes of the Moto E (review)/ Micromax Unite 2 (review) and the Alcatel OneTouch Idol X+ (first impressions) are great examples for both categories – all defying the usual specs-to-price correlation. On the high-end side, smartphones such as the Oppo Find 7 (first impressions) are trying to find their own niche.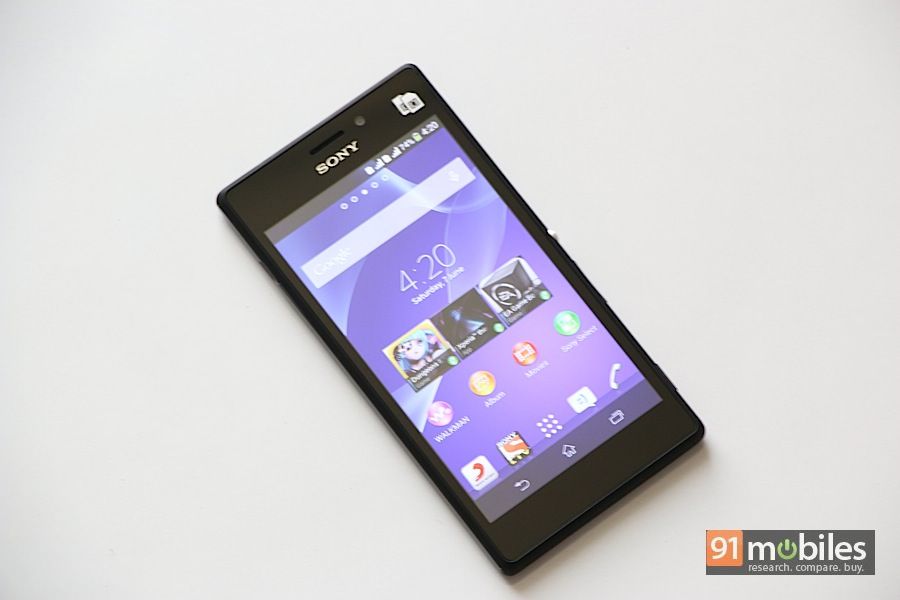 In the midst of all this turmoil, a few devices can easily be overlooked, especially those that don't boast too many frills. The Xperia M2 Dual from Sony could be one such smartphone, but as we found out, does score where it matters the most. Read on.
Specs at a glance
4.8-inch, 540 x 960 display
8MP primary camera, VGA front shooter
1.2GHz quad-core Snapdragon 400 processor
Adreno 305 graphics
1GB RAM, 8GB expandable internal storage
2,300mAh battery
Dual-SIM 3G, Wi-Fi, Bluetooth 4.0, A-GPS, DLNA, USB OTG
FM radio with RDS
More of that OmniBalance design
Pretty much all of Sony's smartphones we've seen in the recent past have religiously followed the brand's OmniBalance design, and the Xperia M2 Dual is no different. The same blocky design without any curves to speak of, the same glossy back (though it's plastic in this case) and the same circular metal key – we wonder if it's time now for Sony to come up with a different design. It's not that we have any major gripes with this one, except that it doesn't feel as ergonomic as it should. It looks elegant and clearly distinguishes a Sony handset from others. On the flip side, it's now getting to be a tad boring and makes all Xperia phones look the same.
The Xperia M2 isn't waterproof like some of its more accomplished siblings, but still chooses to use a flap-covered slot design – the microSD card slot on the left and the pair of micro-SIM slots on the right.
The right side also sports the metal power key in the middle, with a volume rocker below and a dedicated shutter key for the snapper. The 3.5mm headset socket is on top, while the bottom is home to the phone speaker. The micro-USB port is on the left, above the microSD slot.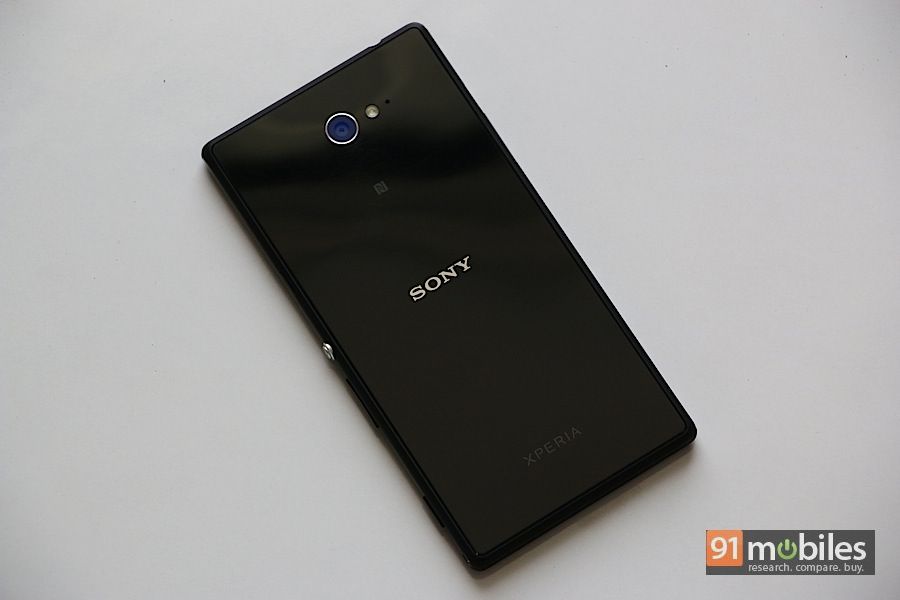 The fascia is the usual mix of screen, with branding, earpiece, sensors, front camera and a notification LED above. A sticker indicating its dual-SIM capabilities is also affixed on the top. The glossy rear, which is quite prone to scratches and smudges, sports the rear shooter and LED flash, along with an NFC logo and more Sony branding. The reasonable screen size of the Xperia M2 means that the device isn't too large and unwieldy, despite the wide bezels above and below the display.
The display is its Achilles' heel
Speaking about the display, that's where the Xperia M2 Dual disappoints slightly. The 960 x 540 pixel resolution on its 4.8-inch display (~229ppi) feels a tad low, and translates into a little bit of visible pixelation.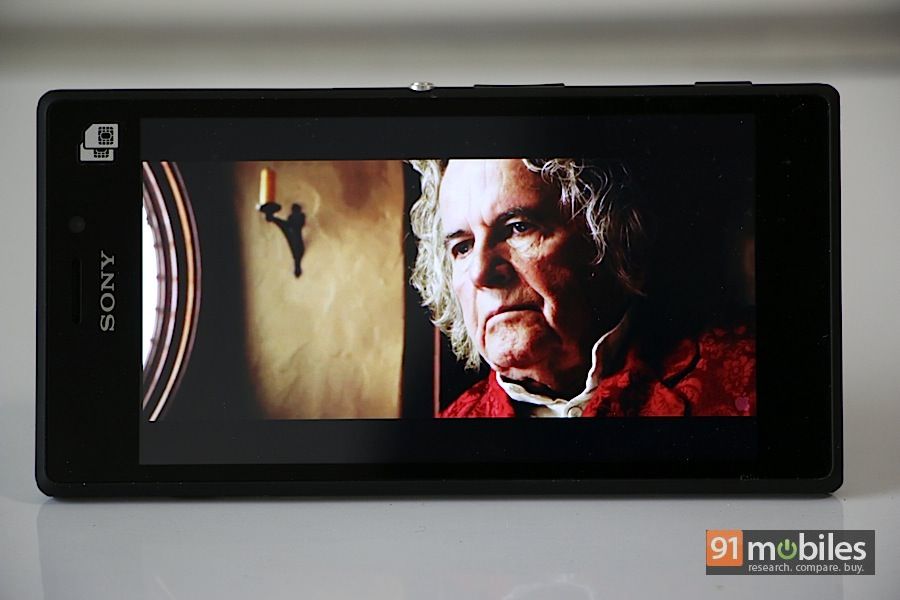 The colours look pale and slightly washed out, while sunlight legibility also isn't one of its strong points. It's not as if playing around with devices toting full HD displays have spoilt us – we've seen some lovely displays even on budget smartphones, and that's the reason why the one on the M2 fails to impress.
A feature-loaded shooter, but one that doesn't impress
The set of snappers on the Xperia M2 aren't too flaunt-worthy in terms of specs – there's a basic VGA shooter at front, while an 8-megapixel camera handles the primary shooting at the rear.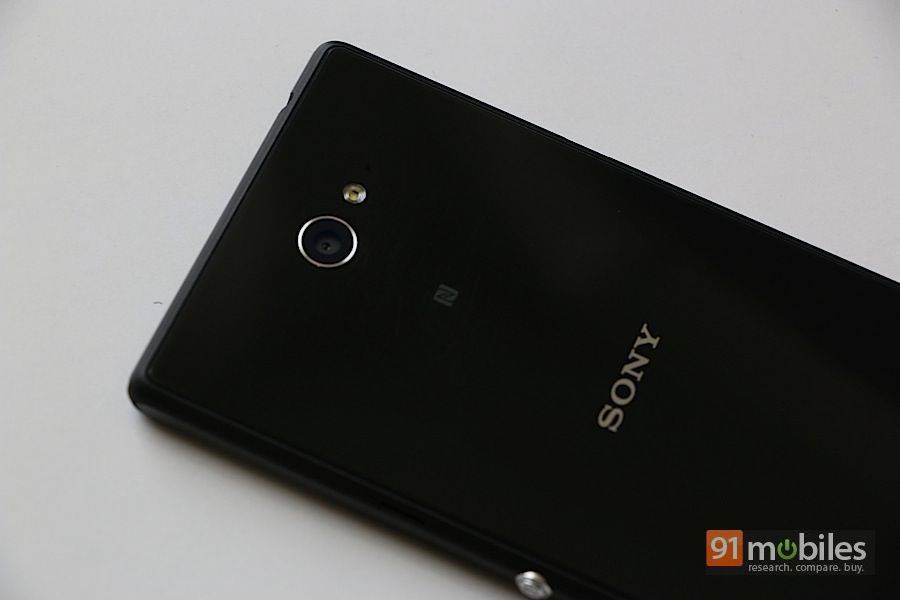 The camera app isn't as loaded as the one we saw on the Xperia Z2 (review) of course, but still offers a fair share of features, including modes such as Timeshift burst, AR effect and Sweep Panorama.
As usual, it shoots in Superior Auto mode by default, optimising settings automatically based on surrounding conditions. Switching to Manual mode lets you shoot in full resolution and also gives you access to a ton of tweaks – allowing you to adjust white balance, exposure, ISO, metering, etc. A bunch of modes such as HDR, Smile Shutter, along with quite a few scene presets are available too. Unfortunately, background defocus, which is a fad these days, isn't available. The dedicated hardware key to launch the camera and snap pics is a handy addition though.
In terms of image quality, the Xperia M2's snapper is no great shakes, churning out reasonably good pics in daylight, while shots captured in low light are usable, though grainy. The images do show a little bit of over-sharpening when you zoom in, even for those captured in daylight, imparting a surreal feel at times. While it may be fine for the basic stuff, it's clear that the M2 is not going to win any photography awards.
Here's a look at a few camera samples.
Sony's Jelly Beans on the plate
As far as the software is concerned, Sony sticks to what we're already used to with the Xperia M2 Dual. With Android 4.3 as base, the device runs Sony's custom skin on top. We've said it before, but it's worth mentioning again that Sony's implementation isn't as overpowering as some of the other custom skins out there. That said, everything from the lockscreen to the recent tasks setups have been tweaked.
The usual sidebar that slides out from the left of the app drawer is around, giving you access to the Play Store and letting you manage, search and sort installed apps.
Sony's Small Apps are around too, accessible via the recent apps virtual key. These, in case you haven't heard of them before, are commonly-used apps like browser and calculator that run as floating windows atop any existing app you may be using. You can add more Small Apps via the Play Store or even convert widgets into these.
While the customisations may not be too many, Sony makes up for it by loading up a slew of apps, which, apart from its usual multimedia stuff such as custom apps for music, video and images, and content hubs, also include TrackID, File Commander, X4 Video Player, Pixlr Express, Sketch and BIGFLIX.
No rocket this, but fast enough for the daily grind
With a quad-core Snapdragon 400 processor ticking at 1.2GHz and 1GB of RAM, things can't really be super-speedy when it comes to pure performance. It may not be a rocket, but it's no wimp either – so most routine tasks run smoothly, and multitasking isn't an issue too.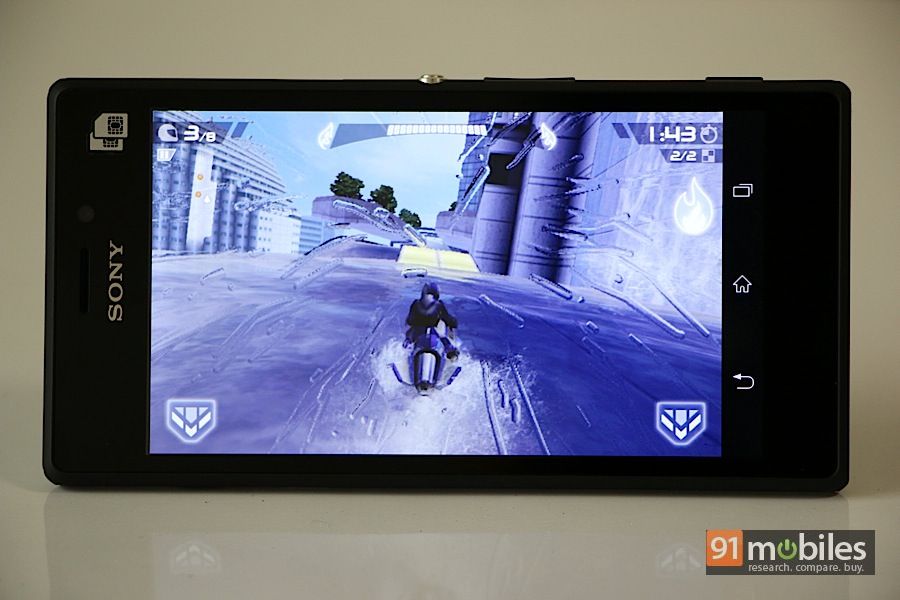 There are a few tiny hiccups while running intensive games like Riptide GP2, but not to the extent of making the games unplayable.
Out of the 8GB internal storage, about half is actually available to use. Adding a microSD card would definitely be required, and the USB OTG capabilities can be handy in a crunch.
Now the Xperia M2 Dual is a dual-SIM device, and handily supports 3G on both SIM slots, even offering a Smart SIM feature to forward calls between the two numbers so you don't end up missing calls when one of them is in use. The connectivity options are quite loaded otherwise too, with everything from dual-band Wi-Fi to NFC and DLNA on board, along with the other usual suspects such as A-GPS and Bluetooth 4.0.
When it comes to battery life, the M2 Dual shines. Its sealed 2,300mAh battery pack delivered an excellent 11-hour runtime in our video loop test, but more importantly, keeps the device going for a full work day even with reasonably heavy usage. This also means you could stretch it into the second day if your usage is light. There's a Stamina mode to enhance available battery life too.
Verdict
Considering that the Xperia M2 Dual doesn't really have any killer features to boast of, and loses out on the specs race considering its pricing, it could be tough to pass a verdict. And from what we've seen, it does come across as a mixed bag, with its screen not being impressive enough and so-so snapper.
There are quite a few competitors in the same price band for the M2 Dual, making things uncomfortable for it. If a bigger screen isn't a problem, the Samsung Galaxy Grand 2 is worth a look, while the LG L90 Dual (review) and the Micromax Canvas Knight (review) are also quite compelling – all dual-SIM options. If you're fine with a smaller screen, the dual-SIM Moto G (review) takes the cake anyway.
While we do have a few gripes with it, the fact is that the Xperia M2 Dual scores where it counts… which is its reasonably smooth performance and the ability to stay away from a power socket for long durations. And for a lot of uses out there, these could be reasons enough.
Price: ~ Rs 19,000


Editor's rating: 7 / 10


Pros
Reasonable performance
Supports 3G on both SIM slots, complete with Smart Dual capabilities
Useful software and Sony's Small apps
Excellent battery life
Cons
Sony's OmniBalance design is now getting a tad boring
Washed out screen
Scratch-prone back
No exciting feature

Photos by Pratik Vyas
Competitors for Sony Xperia M2 Dual
| | | |
| --- | --- | --- |
| Sony Xperia M2 Dual | vs | Sony Xperia M2 Aqua |
| | | |
| --- | --- | --- |
| Sony Xperia M2 Dual | vs | Samsung Galaxy Grand 2 |