Google released the first developer preview of Android 12 in February for developers to work on apps around it. The preview gives us a glimpse at what to expect from the upcoming operating system that will succeed last year's Android 11. From what Google has revealed so far, the Android 12 features will include a revamped UI, a new notification system, scrolling screenshot, enhanced privacy features, and more. The Android 12 Developer Preview 1 is available for download on Pixel smartphones already. Here's a quick look at the Android 12 release date in India, features, wallpaper, and compatible devices, among other things.
Android 12 release date
Android 12 release date is expected later this year in September
Google, in a blog post, said that the Android 12 will be released in Developer Preview 1, 2, and 3 until mid-April for app developers. This will be followed by beta programs (Beta 1, Beta 2, Beta 3, and Beta 4), which even the regular user will also be able to download. The final stable version of Android 12 is expected to release in September, though the company is yet to confirm this.
Android 12 features: Developer Preview
Media Transcoding
Android 12 Developer Preview 1 comes with enhanced Media Transcoding that helps the app work with the latest video formats such as HEVC and AVIF. Additionally, the feature automatically transcodes the file to a format that is widely compatible. For example, if an app doesn't support HEVC, Android 12 will transcode the file into AVC, which is more accessible.
Revamped UI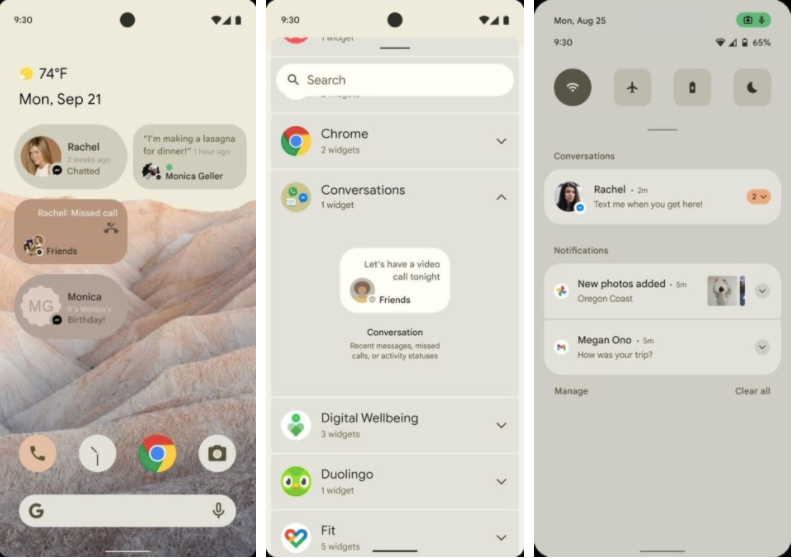 Android 12 UI also gets a new look. "In this first preview, you'll notice changes from the drawer and controls to the templates themselves," Google said in its blog. The company has also optimised transitions and animations across the system to make them smoother. As part of the updates, the apps targeting Android 12 will have decorated notifications with custom content with icons and expand affordances to match all other notifications.
New Unified API
The Android 12 feature allows apps to accept content from sources like a clipboard, keyboard, or drag and drop. This will make it easier for users to copy-paste the content, like images and videos, into apps.
Optimisation for tablets, foldable phones, and TVs
Google is expanding support for Android 12 to large display devices like foldable, tablets, and TVs. The first Android 12 preview for Android TV is also available, but we would advise against installing it if you're not a developer.
Wallpapers-based theming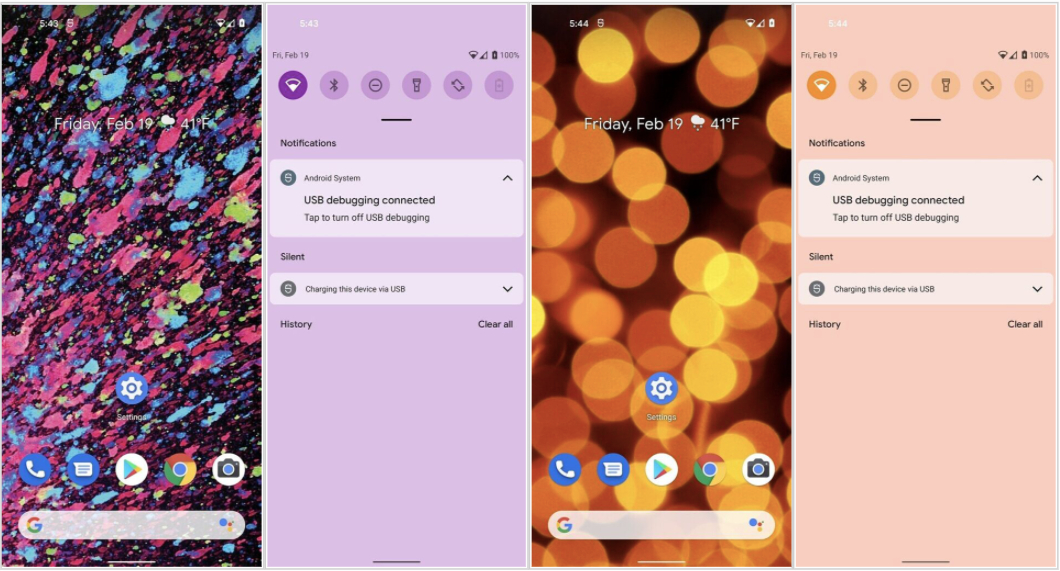 Wallpapers on Android 12 are rumoured to recolour system elements to make them look more uniform. The software will change the colour of the UI to the predominant colour on the wallpaper. Screenshot (above) reveals the changes will apply to the notification panel, as well as settings menus, and lock screen. This could be the new theming system Google has been working on.
App compatibility
In Android 12, apps will be more consistent and secure across devices. Google has also added the Android Runtime (ART) module that lets it push updates to the core runtime and libraries on devices running Android 12. This will help improve the app's runtime performance, manage memory more efficiently, and make Kotlin operations faster, all without requiring a full system update.
Enhanced privacy controls
Google is also updating its privacy features with Android 12 to make it more secure for users with added new controls over identifiers that can be used for tracking, and safer defaults for app components, among other things. A handful of other privacy and security features such as restricted Netlink on MAC, Moder SafeSite Cookie behaviours in WebView, and safer handling of intents will be released in future previews.
These were some of the highlighting features of Android 12 Developer Preview 1. In addition to these, the upcoming OS also comes with One-Handed Usability to enable easy controlling of the smartphone with one hand, scrolling screenshots, that was spotted in Android 11 Developer Preview last year, a new button to snooze unimportant notifications, and a new ability to redirect haptic feedback to a gamepad or a gaming controller. Separately, XDA Developers' report notes that the Android 12 Developer Preview 1 brings a blue colour tint to the UI; this is visible when the dark mode is enabled. The placement of the quick settings-icons like DND and Battery Saver toggles have also been rearranged to the top spot column in the new operating system.
Android 12 wallpapers: how to download
Android 12 wallpapers are out and you can download them on any device of your choice, including smartphone, laptop, and tablet. The collection is not very large – there are only six variations for smartphones (courtesy: ROZETKED). To download them on your device, follow the instructions below:
Head over to this Google Drive link to download Android 12 wallpapers in high quality
The link contains a handful of HD wallpapers, download the one that you prefer
Check for the downloaded Android 12 wallpaper on your downloads folder and set it as your device's Wallpaper. That's it!
Android 12 supported devices
Pixel 3

Pixel 3XL

Pixel 3a

Pixel 3a XL

Pixel 4

Pixel 4 XL

Pixel 4a

Pixel 4a 5G

Pixel 5
These are the only devices on which Android 12 Developer Preview 1 is available for download right now. Once the developer preview ends and open betas start rolling out, Android 12 should be expanded to other devices, including phones by OnePlus, Realme, Samsung, and Xiaomi. These OEMs will start testing the tweaked version of Android 12 according to their own roadmap.
Android 12 name
Android 12 will be released with the numeric moniker only, much like its predecessor. However, internally, it'll be known as Snow Cone, as per folks at XDA Developers.