"A similar Jio free data SMS scam circulated back in October 2019 and Jio warned users against clicking any links"
An SMS is being sent out to Android users across India that claims to offer Jio 25GB free daily data and free calls for six months to all Jio Prime users. Before you get excited, this Jio offer is fake and the SMS is a trojan that aims to lure users into clicking on ads, as discovered by Lukas Stenfanko, a malware researcher at ESET. The message reads "Good news!! Jio has announced today to give 25GB data with free calls for 6 months. Register to activate the offer." It also contains a link that redirects to a custom-made Github page that has a 'Download Now' button along with the offer description. Upon tapping the button, it redirects to a webpage that looks a lot similar to the Jio website where you are asked to enter the mobile number to activate the so-called offer. Once done, it then moves you to the advertisement page and forces you to click on the ad.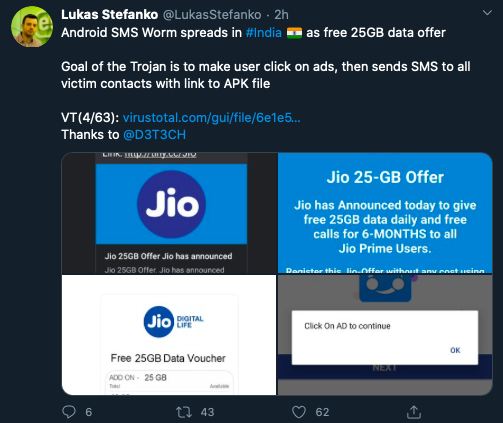 This SMS trojan wants users' to click on ads and once they do, it sends a message to all the victim's contacts with the link to the APK file. A similar scam SMS was sent back in October 2019 and Jio warned users against clicking any links or entering data as it compromises their personal information. The messages are framed in a way that they look authentic and can make one believe as if they're are coming officially from Jio. This has been the case during the Jio Fiber announcement as well where users received fake 'activation request' emails.
Given the current coronavirus lockdown situation across the country and growing reliance on cellular data as people work from home, the Jio free data SMS scam has the potential to trick a lot of users thanks to its lucrative 25GB free daily data claim. Many Jio customers on Twitter have reported receiving this free daily data offer SMS. We advise our readers against clicking any such links as we will keep you updated if Jio or any other telecom network makes any such announcements.