"Lenovo-owned Motorola might be planning to launch a new ROKR, apart from the foldable RAZR smartphone"
Several reports in the past have suggested that Lenovo-owned Motorola is planning to launch a 2019 variant of the Moto Razr smartphone in the near future. We've already seen multiple patent images, as well as the concept renders of the forthcoming Moto Razr handset. Now it looks like the Moto Razr isn't the only classic phone that the brand is planning to resurrect as Motorola has just trademarked "ROKR" handset name.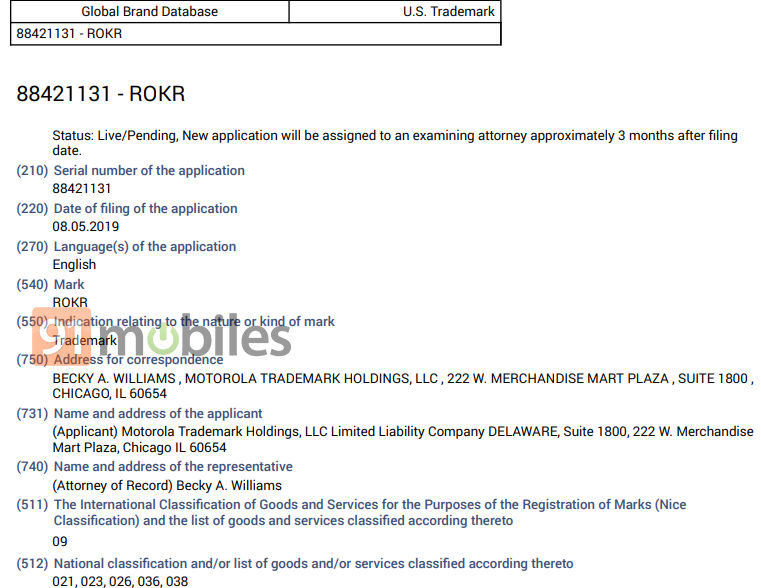 Motorola Trademark Holdings filed a trademark for the "ROKR" on May 8th, 2019. The class of the trademark is "09", which is for "mobile phones, smartphones and accessories". This suggests that Lenovo could be planning to release a new Motorola ROKR phone in the near future, apart from the next-gen Moto RAZR. Sadly, the certification hasn't revealed anything about the features of the upcoming Motorola ROKR phone at the moment, or when we could expect the handset, if at all.
For the uninitiated, Motorola introduced the ROKR series phones between 2005 and 2009. Some of the most interesting models in the series include the Motorola E1, E2, E6 with a stylus, Z6 with a slider build, Z6m with a colourful design, and the Moto E8. Similar to HMD Global, which has launched a few classic Nokia phones with a newer design, Lenovo also seems to be planning to release the new variants of some of yesteryear's popular Motorola devices to bank on the nostalgic factor.
Unfortunately, even with so many rumours floating around the web, there's no word when exactly Lenovo is planning to launch the 2019 editions of the Motorola RAZR (and now ROKR) at the moment. We'll surely be on the lookout as and when we hear something, so stay tuned to 91mobiles.