"The Nokia N9 was a one of a kind smartphone from Nokia which was released in 2011 with MeeGo OS"
In June 2011, Nokia announced the N9 smartphone, which featured a brand new design and the MeeGo OS. This particular OS was designed specifically for devices with full touchscreen and no hardware buttons. It consisted of swipe gestures that allowed the user to control the phone. The MeeGo OS and the Nokia N9 were revolutionary at the moment. Now, the phone could make a comeback later this year, but with KaiOS on board.
During the CES 2019 event, Google had a massive setup where it showcased all the devices that currently support its Google Assistant. Among all the devices, the KaiOS based feature phones were also being displayed. Particularly, the Jio Phone and the Nokia 8110 were being shown under phones running KaiOS and supporting Google Assistant. However, there was another phone between the two, the Nokia N9.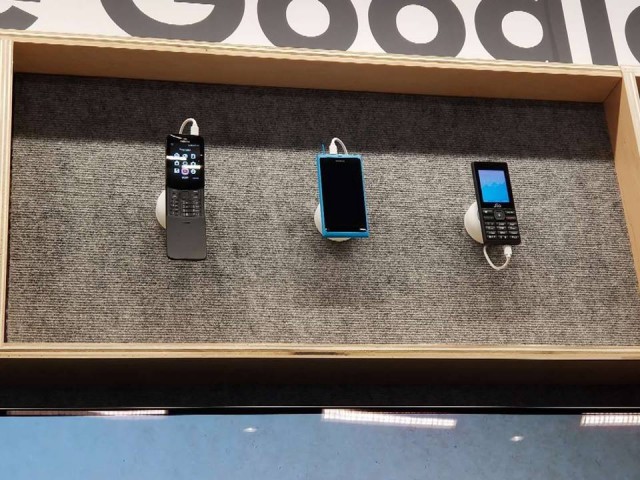 This was first reported by the French blog Nokians.fr, who noticed the Nokia N9 placed with the phones running KaiOS. However, the screen of the phone was off and we can't really see it running the OS. You can clearly see the Nokia branding in the image above. Perhaps, HMD Global is working on resurrecting the N9 and launching it as a feature phone with KaiOS. There has been no confirmation regarding this, so do take it with a pinch of salt.
The Nokia N9, when launched, featured a 3.9-inch AMOLED display, a TI OMAP 3630 processor, 1GB of RAM, up to 64GB of internal storage, an 8MP rear camera, a VGA front camera, and a 1450mAh battery. This would be a really good feature phone if HMD global plans on launching it with upgraded internals and KaiOS.
HMD Global, who now has the rights to sell Nokia devices, has been relaunching some old classics such as the Nokia 3310 and the Nokia 8110. Both of these devices have been relaunched as feature phones with updated design and internals. The phones run the Linux based KaiOS, which is an OS built specifically for modern feature phones. The OS can run light versions of several Google apps such as Maps, Gmail, and even Google Assistant.