"Realme says the Realme 5 unit that exploded was damaged due to external forces that caused a puncture in the battery"
Realme has issued a statement regarding the Realme 5 blast incident that was reported earlier today. The original story by MySmartPrice reported that a Realme 5 unit exploded while the user was riding his motorcycle. Following the incident, the user took the burnt unit to the service center, which demanded 50 percent cost of the handset. Following the report, Realme issued a statement, claiming that the phone was damaged due to external forces that caused a puncture in the battery, which in turn cause the phone to explode. The company added that it offered a replacement unit at a discounted price, which the user did not agree to.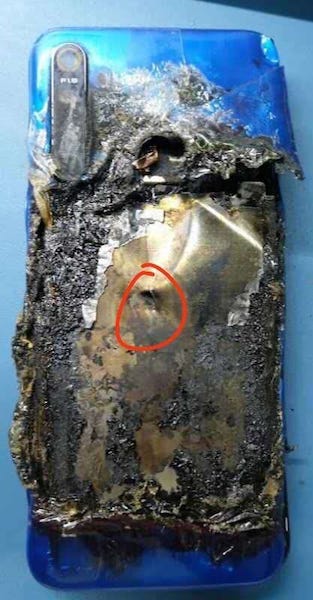 The Realme statement reads: "The user's phone battery caught fire, and we have analyzed the phone. The phone was badly deformed by external forces, and the battery was punctured, causing the battery to catch fire. From the user's point of view, we have offered him a discount, asking him to replace a new mobile phone with 50% of the cost of his paid mobile phone, but the user did not agree, so he complained to social media. Please note that we are now in further communication with users."
In the images above, the company alleges the puncture in the middle of the device as an external force that has been applied. Regarding the second image, the company claims the motherboard has been damaged on purpose. As per the brand, these damages are not possible during normal usage. In an analysis of the damage, the company noted this external force to the back panel led to the deformation of the battery. Moreover, the company says external force was also applied to the front panel, which caused the display to come out of the frame.
As per the original story, the incident took place on March 17th. The Realme 5 user, Amit Rathi, alleged that he was riding his motorcycle when the unit in his pocket caught fire and exploded. The user escaped with minor burns in his body, but the phone was completely destroyed. Based on Realme's statement, it now seems that the issue was caused due to user-induced reasons rather than a pre-existing fault in the unit.
News of a Realme 5 unit exploding comes just days after we reported on a Redmi Note 7 Pro unit blasting. In that incident, the user found his Redmi Note 7 Pro unit heating up and eventually catching on fire, which also managed to set his bag ablaze. Xiaomi later stated that the device had been physically damaged before it was brought to the service center. The company also gave a free replacement smartphone and a Mi Backpack to the user to compensate him for the bag that was set ablaze.