"While the Samsung Galaxy A91 is said to support 45W super fast charging, the Galaxy A90 5G is expected to come with 25W fast charging"
Two new, upcoming Samsung smartphone model names have surfaced, with reports speculating at a possible launch soon. The names of Samsung Galaxy A90 5G and Galaxy A91 were first spotted on the product description and compatibility page of the Samsung 45W fast charging adapter, which is Samsung's newest 'Super Fast Charging 2.0' standard introduced alongside the Galaxy Note 10 and Note 10+. As per the listing on the fast charging adapter's support page, the Samsung Galaxy A91 will likely come with the 45W fast-charging standard, while the Samsung Galaxy A90 5G will only feature 25W fast-charging.
Not a lot is still known about these two smartphones, but given that they have both been spotted sporadically in leaks recently, a potential launch may not be too far away. The Samsung Galaxy A91 will likely become the most premium smartphone in the sub-flagship Galaxy A series of devices, which is presently headlined by the Galaxy A80. The Galaxy A91 will seemingly feature a 6.7-inch display, with a hole in display front camera placed in similar style as the Galaxy Note 10 series. The Galaxy A90 5G, meanwhile, will certainly come with 5G connectivity support and a display of the same size with a teardrop notch for the selfie camera.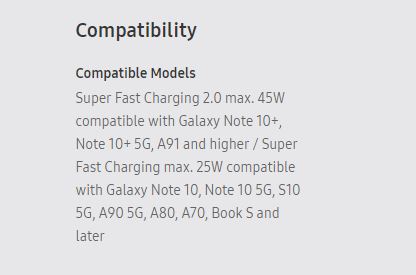 The Galaxy A90 5G is additionally expected to feature a triple camera setup, while both the phones are slated to be powered by flagship SoCs — be it the Qualcomm Snapdragon 855, or the new Exynos 9825. It will be interesting to see if Samsung does equip phones from its non-flagship ranges with top of the line SoCs, since that is something that the company has so far refrained from. At the same time, Samsung's pricing of the Galaxy A80 drew a considerable amount of flak, especially in a market where companies such as Xiaomi, OPPO, and others offer flagship-class devices at ridiculously low prices.
Given that the devices have been listed as compatible with Samsung's latest fast-charging standards, a launch within the next few months is highly likely. Despite having introduced the 45W Super Fast Charging 2.0 standard, Samsung is yet to offer a 45W adapter bundled in smartphone boxes. The same might not change with the upcoming Galaxy A series devices, but a shift to higher current rating wall adapters is indeed on the cards for Samsung.