"The Galaxy A90 5G will also be available in Europe and carry the model number SM-A908B"
The Samsung Galaxy A90 is an upcoming A series smartphone from Samsung, which is said to be powered by the Snapdragon 855 processor. It will also be a flagship class phone, obviously, and have some new tech developed by Samsung. We have already heard quite a bit about the Samsung Galaxy A90, but there's more. A recent report states that the smartphone will have a large battery, one that is bigger than what's available on the Galaxy A80. Apart from that, the Samsung Galaxy A90 5G variant will also be launched in Europe.
Last month, a report stated that Samsung would be launching two variants of the upcoming Galaxy A90. A 4G variant and a 5G variant, both powered by the Snapdragon 855 processor. The phone is said to carry the model number SM-A908 and recently, a battery that belongs to this phone has surfaced online. The battery is said to have a typical capacity of 4,500mAh and is quite a bit larger than the 3,700mAh unit found on the Galaxy A80. In fact, that's as big as the one found on the Galaxy S10 5G.
The SM-A908 model was accompanied with another model carrying the number SM-A908B. Now, Samsung has been using the 'B' letter to identify international variants of its devices. Therefore, the SM-A908B appears to be the European variant of the Galaxy A90 5G. It should be available in regions such as UK, Germany, France, Scandinavia, and Italy. Earlier, it was believed that Samsung would launch the 5G variant of the Galaxy A90 only in Korea.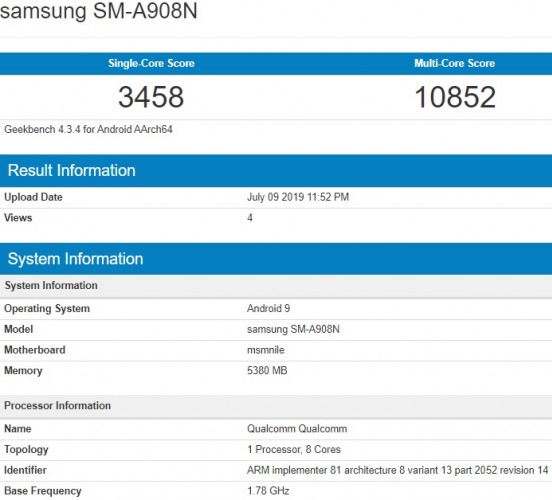 The phone has also appeared in a Geekbench listing, but that did not reveal any new details. The listing shows that the phone is running Snapdragon 855 processor, has 6GB of RAM, and is running Android 9.0 Pie. This is the 5G variant of the Galaxy A90, which is also said to feature a 6.7-inch FHD+ Super AMOLED display, in-display fingerprint scanner, and a triple-camera setup at the back. The phone may not have a swivel/sliding pop-up camera system as expected. We still have no details regarding the launch date for this phone.