Highlights
Based on responses from our Buyer Insights Survey 2020, it seems Samsung could see more growth in the months to come, possibly at the cost of rivals such as Xiaomi and others
The Samsung Galaxy M Series and A series smartphones have been quite popular
Realme has seen staggering growth, while OnePlus might need some more work to gain user mindshare
"Which smartphone brand do you plan to buy next?" This question forms a vital pillar of the 91mobiles Smartphone Buyer Insight Survey, and the responses to this have thrown up insights that show how the landscape will change in the months to come. While this is a query that looks into the future, responses reflect the current brand preferences of smartphone users, indicating which brand they'd prefer to own.
What the numbers say
We recently published ownership trends that emerged out of our Buyer Insight Study. With 23.7 percent respondents saying they'll likely buy a Samsung phone whenever they upgrade next, the South Korean brand tops the chart, and Xiaomi comes in second with 20 percent share. These are interesting numbers indeed, but we get even more interesting insights when we analyse the responses for this question and then compare them between 2019 and 2020. Worth mentioning that we conducted the same survey last year as well, and posed the same question about users' brand preference at that time too. These responses essentially indicate user preferences, and by by comparing the numbers, we're analysing how these preferences are changing over time.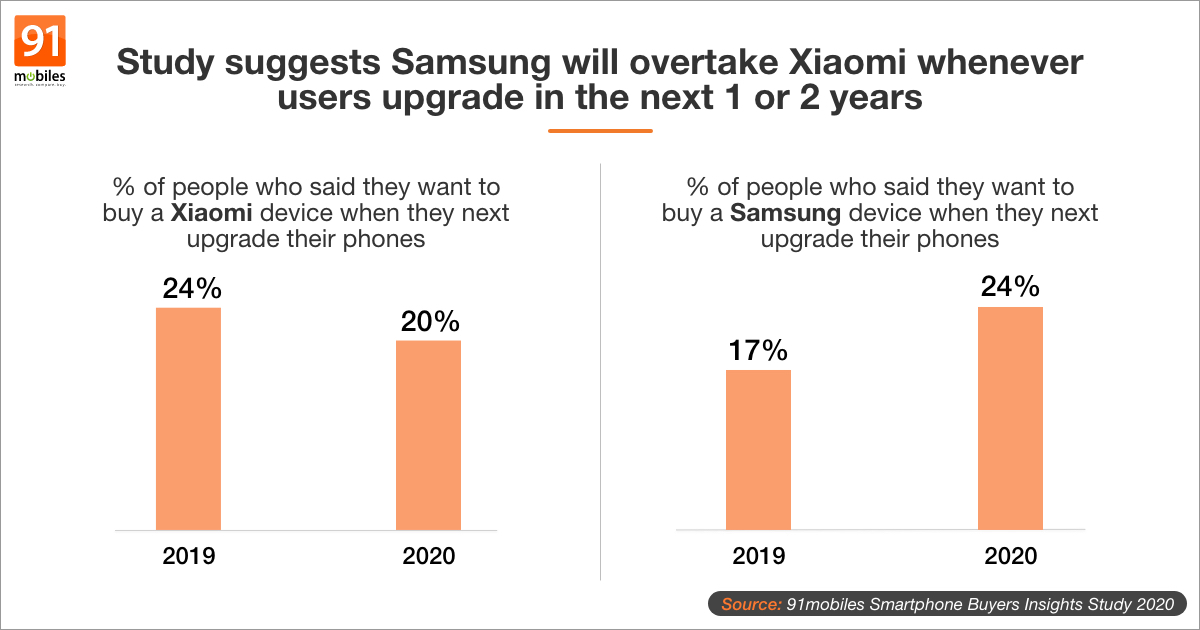 Comparing this data between 2019 and 2020, we see that Xiaomi topped the chart in 2019 (with 24 percent respondents saying they'd buy a Xiaomi phone next), and Samsung came second with 17.1 percent users voting in favour of the Chaebol. In 2020 however, the positions have reversed, and Samsung seems to be overtaking Xiaomi as the smartphone brand people are most likely to buy next.
Reasons: The M series effect?
The above data means we could be witnessing a resurgent Samsung as it tries to gain more marketshare. This comeback of sorts can be attributed to the new strategy that became apparent in late 2018 / early 2019. This was the time when it retired its Galaxy J and Galaxy ON series, and introduced the new M series. This new range, which took the online-only retail route in the initial days, made its debut in India with the Galaxy M10 and M20, and over the course of the year, the company added one compelling model after another to the series.
As per search data on 91mobiles, the Galaxy M30 was among the most popular smartphones of 2019
There was a time when Samsung wasn't able to compete with the specs offered by rivals in the affordable segment. However, the Galaxy M series changed that status quo, and included the M30 that came as the most affordable phone with triple rear cameras at launch time, along with a 5,000mAh battery. As per search data on 91mobiles, the Galaxy M30 was among the most popular smartphones of 2019. In fact, in March 2019, the M30 and its sibling the M20,
were among the top six most popular smartphones
among 91mobiles readers. Similarly, Galaxy M40, which was the first smartphone with a punch hole display under Rs 20k at the time of its launch, was
the most popular smartphone in June 2019
. The Galaxy M30s, which launched in September 2019 and topped the popularity chart for that month, is a good example that highlights Samsung's serious intentions for the affordable segment. This device boasted a 48MP primary camera (among the first ones to do so), an AMOLED screen and a massive 6,000mAh battery to come across as a compelling all rounder.
We reached out to Samsung to get an idea behind the strategy, and
Sandeep Singh Arora, Senior Director, Mobile Business, Samsung India, had this to say. "Galaxy M, designed from the ground up in India, is steeped with insights from our young millennials who shop online. The USP of Galaxy M brand is powerful performance, whether it's the display, camera or the industry-leading battery technology."
The Galaxy A series, which was given an overhaul last year, has also been quite popular. The Galaxy A50, A30, A70, A51, and A50s are among the most popular A series phones of 2019 (as per 91mobiles search data). Worth mentioning is the fact that apart from the youthful, edgy designs that many A series smartphones sport, there are a fair bit of innovations too. The Galaxy A80 for instance, came with a unique pop-up and twist mechanism for its camera module, enabling the same set of cameras to handle both primary as well as selfie shooting. As per Aditya Babbar, Director, Mobile Business, Samsung India, "With Galaxy A Series, our philosophy is to make 'best of everything' accessible to the young generation that continuously explores, experiences & expresses. With an incredible battery life, impressive camera technology, improved display & design and Samsung Knox – our defense-grade security – the new Galaxy A Series sets a new standard for mid-segment smartphones."
Samsung all the way?
Apart from the insights based on which smartphone brand people are planning to buy next, there are some other data points that also point towards Samsung's rise.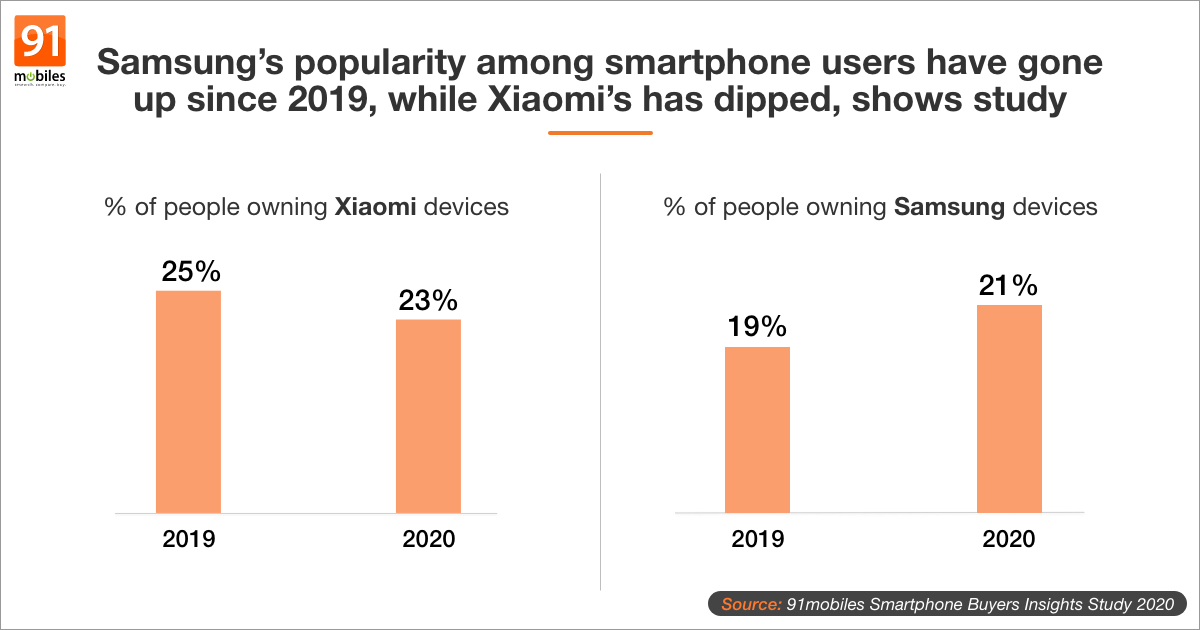 Take current ownership data for instance. When the data is compared across 2019 and 2020, the numbers say that 25 percent respondents owned Xiaomi phones in 2019, with the same percentage dropping to 23 this year. For Samsung, the percentage stood at 19 and 21 for last year and this year respectively.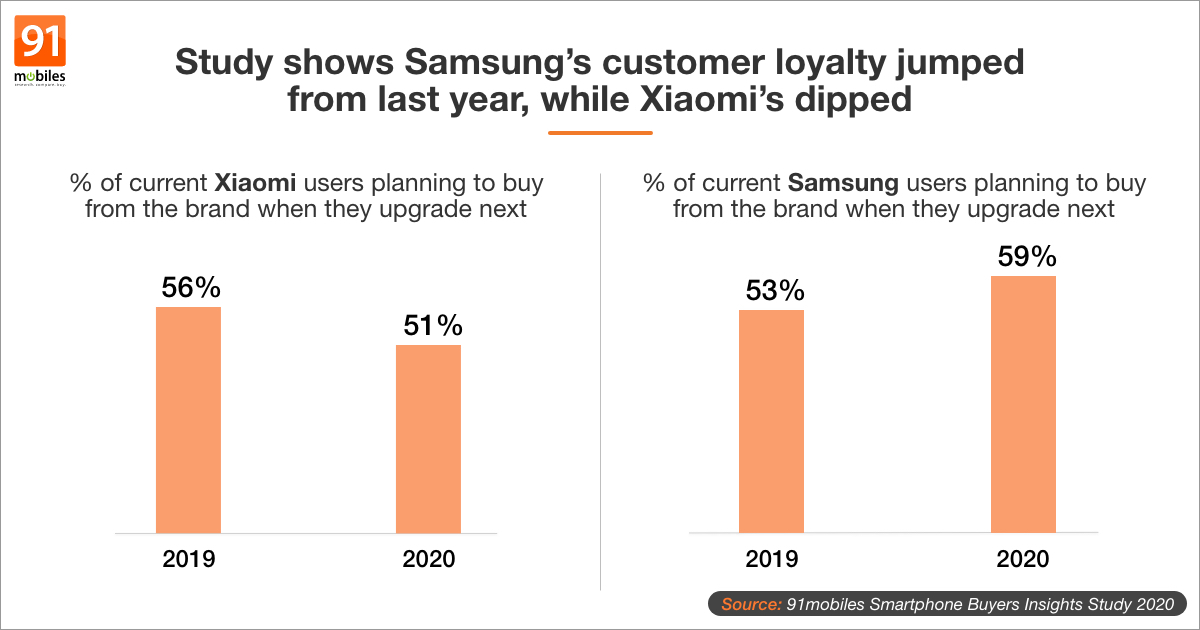 Similarly, when we look at brand loyalty data, things look favourable for Samsung. By brand loyalty, we refer to the percentage of users who plan to buy a smartphone from the same brand as the one they're using currently. 53 percent Samsung users wanted to buy from the same brand on 2019, a future that rose to 59 percent in 2020. For Xiaomi, the numbers stood at 56 percent in 2019, dropping to 51 percent in 2020.
What's Xiaomi been up to?
While analysing the data and figuring out the reasons behind Samsung's expected growth, we also need to consider the other side of the story and see why Xiaomi's numbers might be declining, as per survey data. Xiaomi has been the numero uno smartphone brand in India for a while now, and devices like the Redmi Note 8 Pro, Redmi Note 9 Pro etc have been immensely popular. In fact, the top five most popular smartphones of 2019, as per 91mobiles search data, were all from Xiaomi. The brand's journey so far has been great, and while it has been a little slow in adopting new features like punch hole display, fast charging etc in comparison to others (in recent times), it is still a very strong player.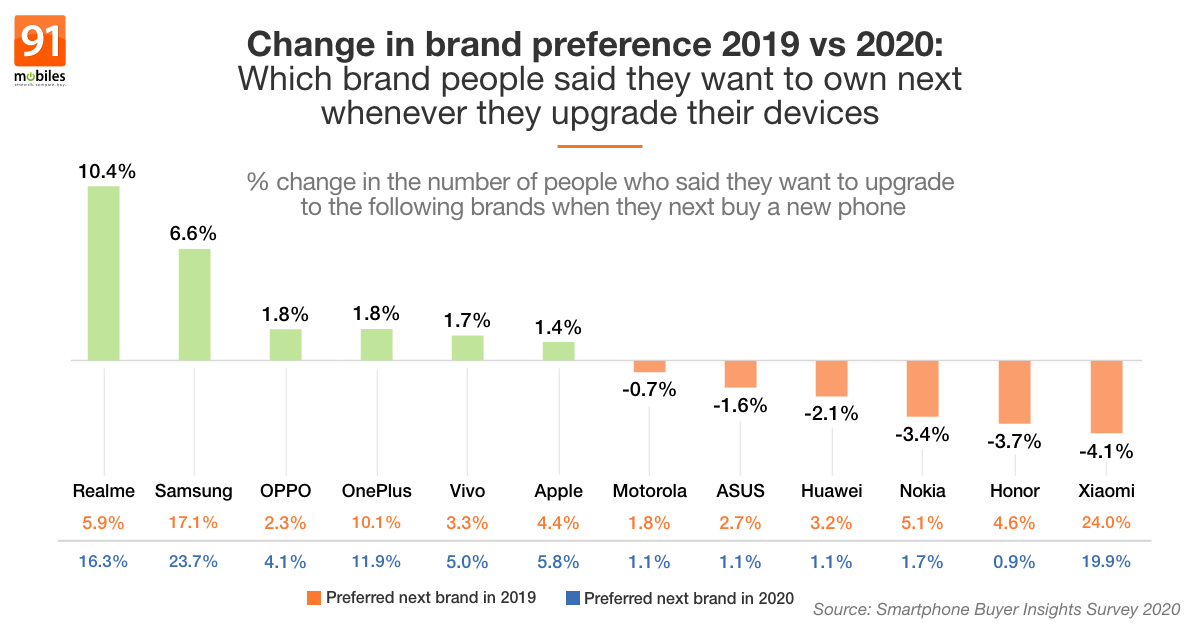 Xiaomi's fall in numbers, as evident from the survey figures, might actually be due to the fact that rivals like Realme and Samsung are coming up in a big way in the affordable smartphone egment. By cloning Xiaomi's specs-based strategy (the one Xiaomi focussed on in the initial days) and taking it a notch or two higher, Realme has quickly become an important brand. Samsung on the hand, is now armed with the VFM Galaxy M series, and is playing its brand card well too.

You do need keep in mind that these inferences have been made based on what users are saying in response to the survey questions. But the smartphone world is very dynamic, and there's nothing to stop users from changing their minds when the time comes to actually buy a new phone. We've seen that many customers tend to forgo brand loyalty in favour of a new device that seemingly offers better specs and features, especially in the affordable space. In many cases, the purchase decision would also be dependent on the devices these brands launch in the time to come. So the reality could, in fact, turn out to be quite different than what these numbers suggest.
What about other brands through?
Apart from the insights related to Samsung and Xiaomi, survey data threw up some other interesting tidbits as well.
Realme
Based on the smartphone brand users are likely to buy next, and comparing data between 2019 and 2020, Realme shows the biggest leap. This brand preference data for Realme shows a whopping 10.4 percent jump as compared to last year (going from 5.9 percent in 2019 to 16.3 percent in 2020). Clearly, Realme seems to be doing a lot of things right, and its strategy of following Xiaomi's footsteps by offering maximum bang for the buck with its smartphones, and then (more recently) foraying into ecosystem devices like TVs, fitness bands and audio accessories could be paying off.
OnePlus
The brand preference data for OnePlus shows the brand might be plateauing in terms of growth, showing just 1.8 percent jump in the number of users who want to buy a OnePlus phone whenever they upgrade next. The reasons for this could be the brand's smartphone offerings moving into the premium flagship segment with their pricing, and the emergence of rivals like Realme and iQOO in the affordable flagship category. Maybe this is the reason why OnePlus is ramping up its efforts in the smart TV space, and changing strategy by launching an affordable smartphone. If you recall, OnePlus briefly ventured into the affordable smartphone segment with the OnePlus X back in 2015. And now, there's news of the brand launching a new affordable smartphone, that too as soon as next month.
For more insights from our User Insights Survey, keep watching this space.