"YouTube Music Premium and YouTube Premium student plans cost Rs 59 and Rs 79, respectively"
Google-owned YouTube launched YouTube Music and YouTube Premium subscription services in India back in March, with prices starting at Rs 99. On Wednesday, the company introduced new student plans with up to Rs 50 off from the standard plans. As part of the new program, eligible college students can purchase YouTube Music at Rs 59, while YouTube Premium costs Rs 79 instead of Rs 129.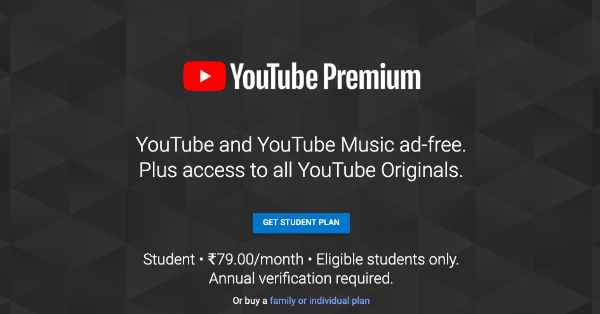 YouTube Music streaming service offers all the music videos, official albums, singles, remixes, traditional, album versions of songs, live performances, tracks from unsigned artists, covers, and more available on YouTube. This means the service is built on top of all the music on YouTube — "personalised and presented in a simplified manner." The paid YouTube Music Premium streaming service also comes with 'Offline Mixtape' that lets you download up to 100 songs that you like and listen to the most. The list will keep getting refreshed and you can turn it on and off from Settings. Furthermore, it'll suggest users trending videos in the world right now on their dedicated 'Hotlist' screen.
As for YouTube Premium, it offers everything Music Premium offers, plus access to the full slate of original shows and movies. The 'Student Plans' are currently available to full-time students from accredited colleges or universities in India. Users can visit YouTube Music and YouTube Premium websites to sign up for the student plan.