"The new Black Shark 3 gaming smartphone will support 5G and feature the Snapdragon 865 processor"
Black Shark has officially revealed the launch date for its next flagship gaming smartphone. The all new Black Shark 3 will be launched on March 3rd according to an official post on Weibo. The company also confirmed that the phone would be powered by the Snapdragon 865 processor, and will be the first 5G smartphone from the brand. Although Xiaomi has invested in Black Shark, it is an independent brand that has seen some success with its gaming focused smartphones. Its last device, the Black Shark 2 Pro, was launched in August last year.
The Black Shark 3 launch poster doesn't reveal much in terms of design. However, we do know that the phone will feature 5G and uses the Snapdragon X55 modem, which supports dual 5G modes. The phone will run JOY UI, which is a custom Android skin with a focus on gaming. As per previous rumours, the Black Shark 3 will likely feature a 120Hz display with a QuadHD+ resolution. The device will also feature up to 16GB LPDDR5 RAM and UFS 3.0 storage for improved performance while gaming.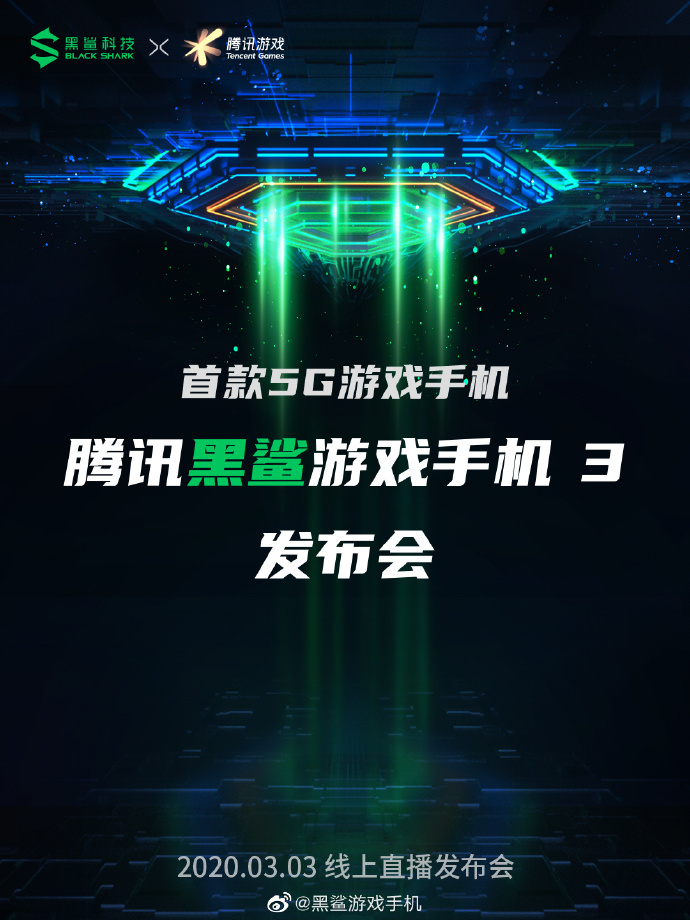 Not much is known apart from the above specifications, but it won't be long until we find out. The announcement will be live streamed, and we can also expect some gaming related releases from Tencent. That's pretty much all the details that we've gathered from the official poster. The Black Shark 3 is going to be a great smartphone to lookout for. It will compete with other big brands such as OnePlus and Samsung in terms of performance. However, the phone may not fare very well when it comes to photography.
We expect the latest Black Shark 3 smartphone to feature a triple-camera setup at the back. Its predecessor came with a dual-camera setup that included a primary 48-megapixel camera, and a 12-megapixel telephoto unit. As for the battery, the phone will most likely feature a 5,000mAh capacity with super-fast charging support. We should know more in another weeks time, so stay tuned.