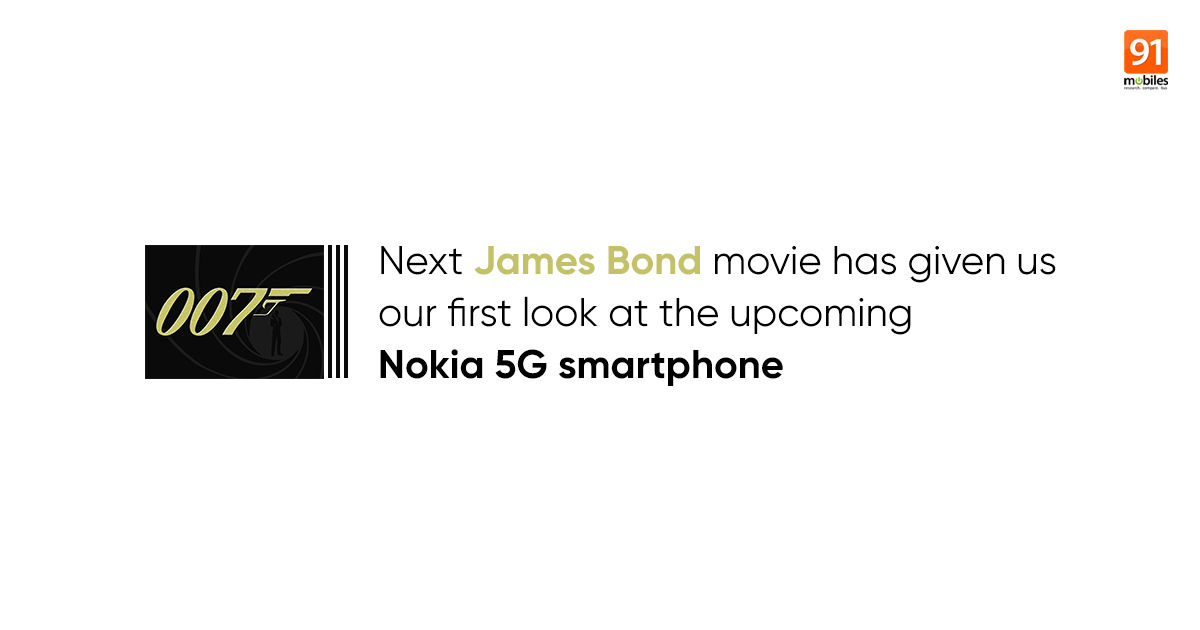 "No Time To Die release date may have been postponed, but we do get our first look at the upcoming Nokia 5G phone"
The next James Bond movie, No Time To Die, will have a special easter egg for Nokia fans. Turns out HMD Global's first-ever Nokia 5G smartphone, which is scheduled to launch on March 19th in London, will be seen in No Time To Die. HMD Global has announced it is the official mobile partner for the upcoming James Bond movie. The film will not only feature the Nokia 5G phone, but also a range of future-proof Nokia phones that we haven't seen yet. A 90-second video will be released on March 8th that will show a glimpse of the 5G Nokia phone in the hands of Agent Nomi, played by Lashana Lynch. Ahead of the video's release the company has teased the smartphone through some still images, and we also get a clear look at the phone through leaked stills as well. The images reveal the 5G Nokia phone could be the rumoured Nokia 5.2 going by the design. The smartphone could also end up being the Nokia 8.2 5G.
No Time To Die release has unfortunately been delayed to November. The film was initially supposed to hit theatres in April first-week after premiering on March 31th in London, but is now being pushed to November 12th 2020, owing to coronavirus outbreak across the globe.
First look at Nokia 5.2/ Nokia 8.2 5G
As you can see from the images above, the Nokia phone being used by the agent reveals a quad camera setup on the back in a circular module, a fingerprint sensor below it and a waterdrop display on the front. The design looks identical to the Nokia 5.2 live images that were leaked by tipster Evan Blass in February. The phone seems to have a premium glass finish in a Forrest Green colour much like the Nokia 7.2.
Talking about the experience with HMD Global, Lashana Lynch said, "My first phone was actually a Nokia 3210 when I was about ten years old. In retrospect, it was my smartphone of the '90s. Being able to change the buttons and faces, whilst playing Snake blew my mind! So, after seeing how much Nokia smartphones have evolved over the years from my childhood to now, it's exciting to play Nomi who helps unveil a new smartphone for this iconic brand."
Juho Sarvikas, HMD Global Chief Product Officer, said, "Following the announcement to postpone the movie launch to November 12th, we now have a really exciting year ahead of us in the build-up to this much-anticipated release. Few cultural properties place technology at the heart of their appeal quite like No Time To Die. The film's commitment to innovation, paired with the amazing technology built into each Nokia smartphone, making our devices the only gadget that anyone – even a 00 agent – will ever need, makes this partnership a real force to be reckoned with."